There haven't been any earth-shattering upsets in the first round, but the balance of power has already dramatically shifted.
When the playoffs started, it was hard to find a reason why the Miami Heat and Oklahoma City Thunder wouldn't put on a repeat performance of last year's NBA Finals.
Then Russell Westbrook went down, and took the Thunder's title hopes with him.
Now, this doesn't mean the Thunder will be an easy out for anyone, but they are in a jam at the point guard position, which means more minutes for the aging Derrick Fisher. That's not good for the Thunder. Take a look at the point guards the Thunder will have to face in order to win the West, and your hopes for the Thunder will rapidly fade.
As a result, I have decided to add a fifth seed to my ranking of championship contenders.
*All stats via Team Rankings.
No. 3: Memphis Grizzlies
The Memphis Grizzlies dropped their first two games to the Clippers and looked uninspired in the process. Then their defense began to take over.
The Grizzlies ranked second in team defense efficiency for the regular season, and they have put the clamps down on a Clippers offense that ranked fourth in offensive efficiency.
Since scoring 112 in the first game, the Clippers have not mustered more than 93 points in the ensuing four games.
This kind of defense is tough to handle in a seven-game series. It will wear an offense down and destroy its confidence.
So, while Memphis lacks the kind of elite perimeter player we'd expect to find on a championship hopeful, this team definitely has the ability to run the table.
With Zach Randolph and Marc Gasol forming an interior presence that can't be matched by any team remaining, and Mike Conley doing a nice job at point, this team will not be an easy out.
No. 2: San Antonio Spurs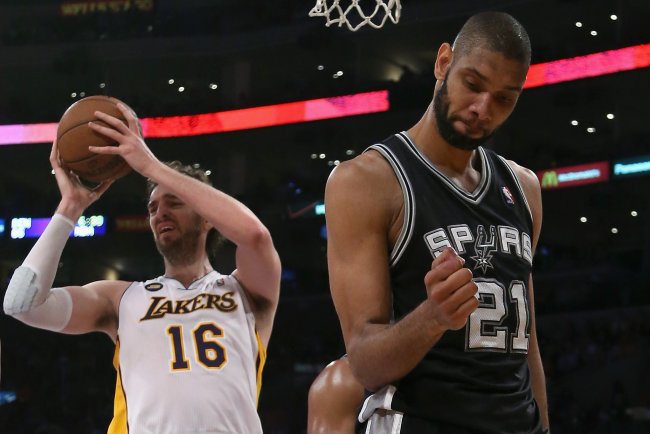 Jeff Gross/Getty Images
The San Antonio Spurs just swept the Los Angeles Lakers after not a single game was decided by fewer than 11 points.
It was an impressive showing, and it afforded this aging team some extra rest.
The Spurs have been gearing up all year to have their legs under them for the playoffs, and so far, it looks like it's working.
This team is disciplined on offense and defense, and despite the many lineup shifts due to resting players or injuries, the Spurs still finished the season seventh in the league in offensive efficiency and third in defensive efficiency.
Playing against the Lakers' elite frontcourt, Tim Duncan was balling like it was 1999. The future Hall of Famer averaged 17.5 points, 7.5 rebounds and a block while playing 32.3 minutes per game. And he did so while shooting over 51 percent from the field.
If Duncan can maintain this level of play, it's hard to see the Spurs losing because they certainly have the perimeter game.
This team is loaded with shooters and knows how to move the ball, and with Tony Parker and Manu Ginobili both looking healthy, this team has the perimeter players to handle one-on-one situations.
No. 1: Miami Heat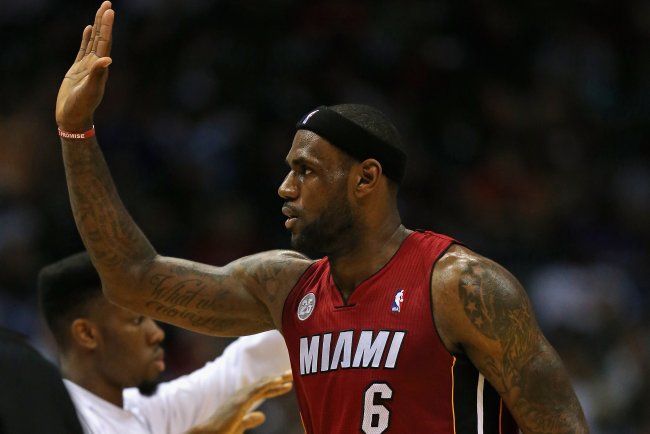 Jonathan Daniel/Getty Images
The Thunder aren't the only power suffering injuries to a backcourt star. The Miami Heat's Dwyane Wade has been slowed with knee issues.

However, the Heat are ready to romp through these playoffs. This will allow the Heat to take it easy on Wade's knee as he recovers.
And the fact of the matter is, the Heat could win the championship without him. They won by 11 to close out the Bucks in Milwaukee when Wade didn't play, and they won by 13 the game before when Wade played 36 minutes but was just 1-of-12 from the field.
That's just how good LeBron James is right now. He can take games over himself, but he usually doesn't have to because he puts his teammates in a position to succeed. With LeBron commanding the majority of the defense's attention, he is routinely finding guys for open looks and easy buckets.
The Heat are still a poor rebounding team, and this will invariably bite them a few times in these playoffs, but as long as James is out there playing at the level he has been all year, this team is not going to lose.