NBA Playoffs 2013: Each Surviving Team's Most Unsung Hero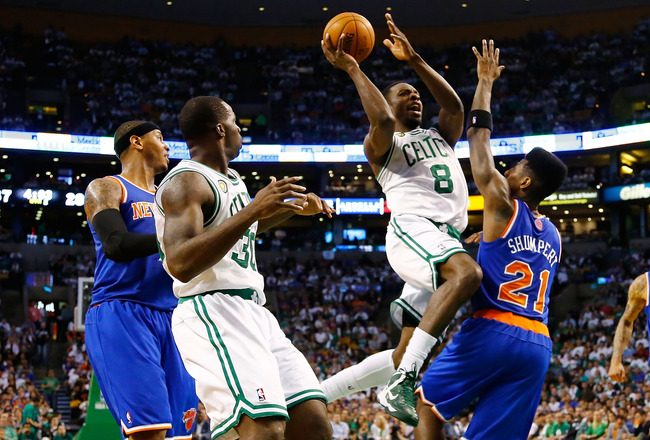 Jeff Green will have to continue scoring at a consistent rate if the Celtics want to come back against the Knicks.
Jared Wickerham/Getty Images
Each year, the NBA playoffs act as the biggest stage for superstars to showcase their talent.
It also allows those middle-tier role players to make a name for themselves by contributing on both ends of the floor.
Of those role players, some are recognizable, but then there are those who go unnoticed—the so-called "unsung heroes."
These are the guys who don't get the first interview after the game, who don't get the ball on the last possession and who may not even be on the floor in the latter stages of a close game.
With all that being said, these players do help their teams win basketball games—or at least keep them in it.
Let's take a look at each surviving team's unsung hero, thus far. As a reminder, these teams have either advanced or are on the verge of advancing, while the others are hanging on by a thread.
Miami Heat: Chris Andersen, PF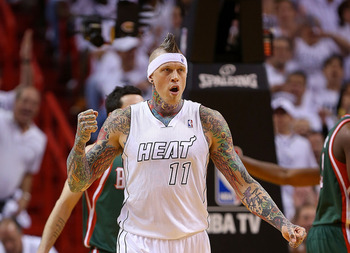 Mike Ehrmann/Getty Images
As expected, the Miami Heat swept away the Milwaukee Bucks in the first round with ease.
To no one's surprise, the Heat were led by LeBron James, Dwyane Wade and Chris Bosh.
Chris Andersen was there to provide a spark off the bench in every game. He scored in double figures in the first three games of the series. The "Birdman" was everywhere on the court.
His high energy also resulted in efficient rebounding numbers. He grabbed seven rebounds in 16 minutes in Game 1. He snatched six rebounds each in Games 2 and 3, playing just 12 and 14 minutes, respectively.
Perhaps, what stands out the most about Andersen's numbers are his plus-minus lines. He was an overall plus-48 on the series, exemplifying what he brings to the team.
The Heat are dangerous enough as it is, but with Andersen coming off the bench and providing numerous second-chance opportunities for the likes of LeBron, they may just very well be scarier.
Indiana Pacers: Gerald Green, SF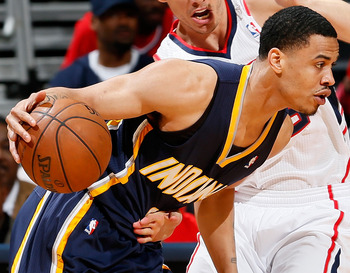 Kevin C. Cox/Getty Images
Consistent scoring off the bench can propel teams over the top in terms of playoff-series wins.
The Indiana Pacers have that scorer in Gerald Green. More importantly, Green is capable of driving the ball or stepping back and knocking down jumpers, an important dual threat which keeps defenses off-balance.
In Game 1 of the series, Green added a solid 11 points off the bench in just 11 minutes of play. He knocked down three, three-pointers in the Pacers' win.
In Game 2, Green saw his minutes and production increase. He played 27 minutes and finished 6-of-11 from the field, good for 15 points.
When Green comes into the game to spell Paul George, his main responsibility is to weather the storm in terms of scoring at the small forward position. His shooting at home has been efficient off the bench and has shown he can get hot at any moment.
For the Pacers to close this series out, however, they will need Green to start scoring away from home, where he is just 5-of-15 from the field in the two games in Atlanta—both Pacers' losses.
Atlanta Hawks: Ivan Johnson, PF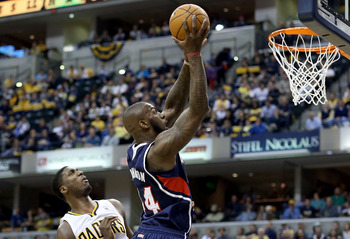 Andy Lyons/Getty Images
Sometimes, it doesn't hurt to have a player come off the bench and simply intimidate the other team with his aura and physical presence.
Ivan Johnson is that physical presence in the lane for the Atlanta Hawks.
He isn't just a player who throws his weight around to prove he can do so, however. Johnson has been productive and a vital factor in tying this series.
Johnson does the little right things, and you can usually find his name in most areas of the stat sheet. He recorded seven points, seven rebounds, two steals and a block in the Hawks' Game 3 victory in Atlanta.
It is these types of performances that go unnoticed, but are crucial in sealing a team's victory. Johnson has shown that he is willing to bang with anyone on the inside and won't be intimidated.
If Johnson continues to be productive and set the physical tone off the bench for the Hawks, they have a very good shot at taking this series.
Chicago Bulls: Nate Robinson, PG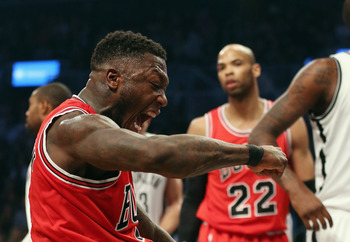 Bruce Bennett/Getty Images
It is all the usual suspects for the Chicago Bulls who are producing in the playoffs, thus far. While he may not exactly be "unsung," Nate Robinson has undoubtedly been the hero for this team.
And he has been doing most of his damage off the bench, minus a start in their Game 5 loss in Brooklyn.
Robinson comes off the bench and brings about an energy that is extremely rare to find in the NBA. Along with that energy comes creativity and productivity coupled with a knack to score the basketball.
His spectacular 34-point performance in the Bulls' Game 4 double-overtime victory has been the most game-changing performance of the playoffs, thus far.
Robinson comes off the bench and scores the ball, but he also creates for teammates. He is a nice change-of-pace guard which keeps the opposition's backcourt off-balance.
If Robinson continues to produce at the rate he has been, it will be hard-pressed to see the Bulls bounced by the Brooklyn Nets in the first round.
Brooklyn Nets: Reggie Evans, PF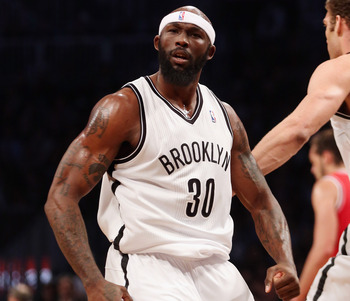 Bruce Bennett/Getty Images
There may not be a player in the NBA with a motor as relentless as Reggie Evans. He just simply gets after it every single possession.
Evans scraps, fights, dives and does just about anything to secure rebounds. He does so on the offensive glass, too, providing second chances for the Brooklyn Nets at important times.
He has had double figures in rebounding in every game minus one in this series. Evans is unsung because he doesn't light up the scoring or assist column, he just plays the game hard.
The Nets aren't going to rely on Evans to take shots down the stretch of games, but you can bet they would trust Evans to be the first guy hunting down the rebound and first on the floor for a loose ball.
Evans will inevitably keep collecting rebounds in bunches, but it is up to the Nets' scorers to take advantage of those second-chance opportunities.
New York Knicks: Kenyon Martin, PF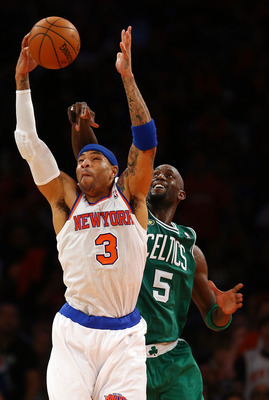 Elsa/Getty Images
This unsung hero for the New York Knicks deserves this credential because of his veteran leadership and tenacity on the glass.
Kenyon Martin is playing inspired basketball once again in his career, and the Knicks are overwhelmingly benefiting from his performance. When Tyson Chandler leaves the game, Martin is able to sufficiently fill a rebounding void.
In Game 1 in New York, Martin collected nine rebounds, five of which were on the offensive glass, giving Carmelo Anthony second-chance points is a deadly formula.
Martin added 11 rebounds and four blocks in Game 2, playing a total of 23 minutes.
When Martin is on the court, other players look to him to provide leadership based on his experience. If the Knicks players learned from his continued hustle on the boards, they are in good shape.
Boston Celtics: Jeff Green, PF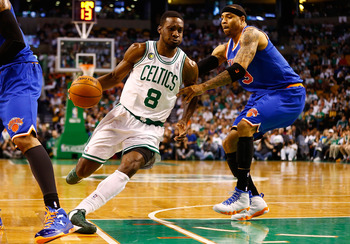 Jared Wickerham/Getty Images
We know Jeff Green can score in bunches, and, in both games in Boston, he has not disappointed.
Green scored 21 and 26 points in Games 3 and 4, respectively. This is the Jeff Green the Boston Celtics will need to show up in New York if they want to survive in this series any longer.
He has the ability to take the scoring pressure off Paul Pierce, as it seems, no one else can shoulder that secondary responsibility. Green must continue to be physical inside and take the ball to the rim. When Green is scoring at a consistent rate, the Celtics can relax and slow the game down instead of forcing shots.
Crashing the glass is something that Green has to continue to do and not allow the New York Knicks second-chance opportunities.
Hopefully for the Celtics, Green sees the ball go through the hoop enough times to continue confidently pulling the trigger.
Oklahoma City Thunder: Reggie Jackson, PG
Christian Petersen/Getty Images
When the news broke that Russell Westbrook would miss the rest of the NBA playoffs due to surgery, the Oklahoma City Thunder knew they would need someone to step up in their backcourt.
That someone has been point guard Reggie Jackson.
Jackson has stepped in very nicely, scoring 14 and 18 points in both Games 3 and 4, respectively.
He must understand, though, his job is mainly to control the tempo of the game and let fellow teammate and All-Star Kevin Durant handle the bulk of the scoring. Jackson's assist numbers are a little low for the amount of time he has played and who he is playing with.
Jackson just needs to set the table for his teammates and drive the ball when he sees an open lane. If Jackson can weather the storm in the Thunder backcourt, Oklahoma City should be able to manage sufficiently.
Houston Rockets: Patrick Beverley, PG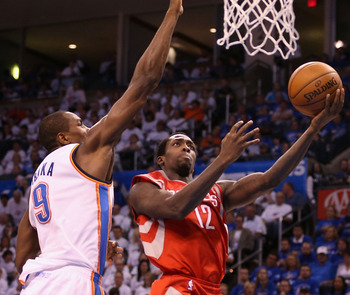 Christian Petersen/Getty Images
Patrick Beverley started to turn heads in this series with his double-double in Game 2, collecting 16 points, 12 rebounds and six assists.
While Chandler Parsons and James Harden have carried the bulk of the scoring, Beverley has handled the very simple task of scoring when he has to commendably.
Beverley is playing as the primary ball-handler for the Houston Rockets and has done a very fine job. He drives the ball at a quick rate and knows when to finish himself or kick the ball to open shooters.
Beverley must keep creating for other teammates and seize his scoring opportunities when they arise. Defensively, he must continue to force turnovers and create transition baskets, as that is the only way the Rockets can make a comeback in this series.
San Antonio Spurs: DeJaun Blair, C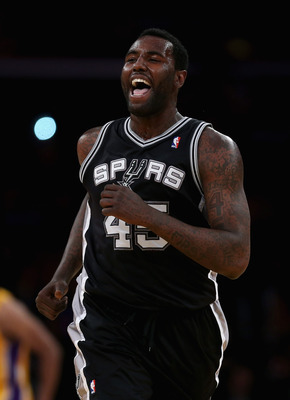 Jeff Gross/Getty Images
The San Antonio Spurs didn't just sweep the Los Angeles Lakers, they dismantled them.
While it took a team effort on most of the nights, it was DeJuan Blair who made the most of his minutes for both games in Los Angeles.
Blair didn't miss a shot in Game 3, going 6-of-6 from the field and finishing with 13 points coupled with seven rebounds. This is the type of performance that the Spurs' frontcourt could use when it digs into its bench.
It is obvious that Tim Duncan and Blair are very different players with very different skill sets, but this actually benefits the Spurs. Blair plays very physical and enjoys playing with his back to the basket. Duncan, on the other hand, can face up any time and knock down that sweet jumper of his.
By just having Blair on the court, the Spurs can spread the ball and play team-oriented basketball as they are accustomed to doing.
Golden State Warriors: Carl Landry, PF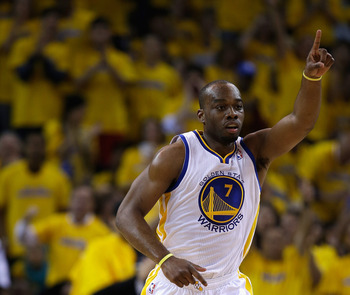 Ezra Shaw/Getty Images
With all the attention, and deservedly so, on Stephen Curry, Carl Landry has been extremely productive and valuable at the power forward position off the bench for the Golden State Warriors.
He has scored in double figures in three out of the four games in the series. And in the Warriors' two-point Game 3 victory, Landry took as many shots as Curry (17).
He may not be getting the amount of praise that Curry is receiving, but Landry has quietly excelled as an efficient player in these playoffs.
Landry has been able to take the load off Curry, and all perimeter players for that matter, and contributed more than nicely.
With the rate at which the backcourt can score being extremely high, production from any inside presence is a great bonus and a welcomed sight for Warriors' fans.
Denver Nuggets: Corey Brewer, SF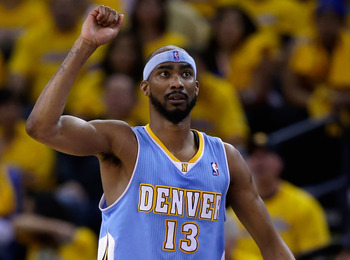 Ezra Shaw/Getty Images
Corey Brewer has certainly aided in keeping this Denver Nuggets team afloat in this series.
Brewer has scored in double figures in every game coming off the bench, and he remains a constant threat from behind the arc.
While he won't pad many stats in categories other than scoring, the Denver Nuggets aren't necessarily asking him to. They have plenty of other players who can rebound the ball and dish the rock.
When Brewer enters the game, it extends the defense just a little more than usual as he is able to shoot the ball and also take it strong to the rim.
It is always nice to have a viable scoring option coming off the bench, and Brewer is just that. His scoring has helped keep a few of these games closer than they should have been, but the Nuggets can't rely on him to keep up this pace.
Los Angeles Clippers: Jamal Crawford, SG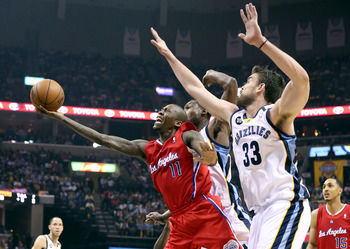 Andy Lyons/Getty Images
In the L.A. Clippers' two wins at home in this series, Jamal Crawford has come off the bench and scored the ball efficiently, not to mention his dazzling ball-handling skills.
It is inevitable that Crawford plays the most of anyone off the bench because of his ability to score the basketball.
While their three-point shooting hasn't been eye-popping, the Clippers rely on Crawford to come in the game and knock down shots. When they're falling, the Clippers are successful.
Crawford creates his own success which leads to team success. When Crawford's shots aren't falling at a consistent rate, he won't hesitate to drive the ball and initiate contact in order to get to the line.
If Crawford comes off the bench as the sixth man and is scoring right away, the Clippers just have too many scoring options for defenses to match up with.
Memphis Grizzlies: Quincy Pondexter, SF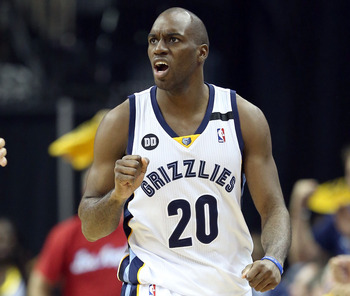 Andy Lyons/Getty Images
Quincy Pondexter picked a good time to start scoring at a more consistent rate than he usually does. And for good reason, as the Memphis Grizzlies have tied up the series at two games a piece.
The small forward has come off the bench and played efficient basketball. In their most recent Game 4 victory, Pondexter scored 10 points and grabbed three rebounds in 29 minutes. He was an impressive plus-15.
When Pondexter is able to come in the game, there is no drop-off between him and Tayshaun Prince in terms of production. Pondexter is younger and plays with more energy.
The starting lineup of the Grizzlies usually shares the bulk of the scoring, so when Pondexter can get it going, Memphis adds another dimension to an already dynamic offense.
Keep Reading