Stock Up, Stock Down for Top 20 NBA Prospects at End of April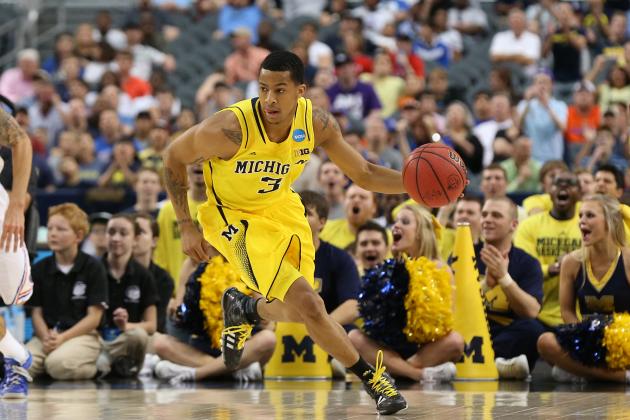 Matthew Emmons-USA TODAY Sports

There hasn't been much action over the past couple of weeks, however, some of the prospects who decided to return have improved the stocks of those who became draft-eligible.
When a top prospect like Marcus Smart announces he'll be returning, point guards who declared will have one less hurdle to hop over.
This edition of Stock Watch has been customized to include only those who will be in the 2013 draft, or are expected to declare.
Begin Slideshow

»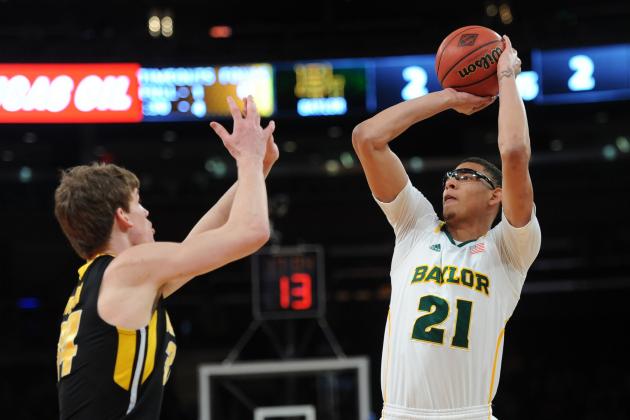 Joe Camporeale-USA TODAY Sports

Stock Report: ↔
Isaiah Austin is another one of those prospects who triggers intrigue based on his physical tools and skill set.
We've just seen glimpses of what he could look like if it all comes together, but questions still need to be answered.
Austin showed off a reliable high-post scoring touch and a promising spot-up jumper, but banging inside and putting it on the deck are both areas that need improvement.
We're still waiting to hear if he'll return to school or declare, but considering his size and talent, chances are a team snags him somewhere in the mid-to-late first round.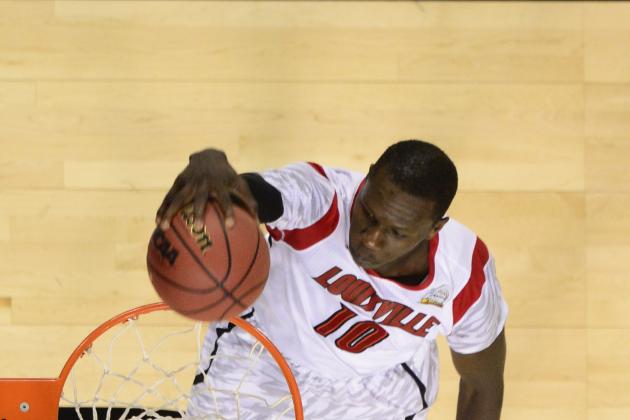 Bob Donnan-USA TODAY Sports

Stock Report: ↔
Gorgui Dieng impressed a lot of people during Louisville's championship run, but now comes the hard part.
He'll be going up against centers during workouts who have better ball skills and smoother athleticism. Dieng has already put himself on first-round radars after looking confident in the mid-range and deceptively effective finishing at the rim, but with a plethora of centers fighting for position, he'll have his work cut out for him if he wants to crack the top 15.
Stock Report: ↑
Though only few have flown to Greece to actually see the kid play, my gut is telling me he'll be a trendy name over the next few weeks.
His appeal is driven from his upside. At 6'9'', he's essentially a point forward who can handle the ball or score from the wing.
Adetokunbo has done most of his damage against subpar competition overseas, so his numbers and production should be taken with a grain of salt.
But sometimes intrigue alone could trigger a team to reach. If there was ever a draft to take a chance and dip into international waters, this one is it.
I like what I've seen on tape, for what that's worth.
Stock Report: ↑
After torching the United States during this year's Nike Hoops Summit, Dennis Schroeder put his name in the NBA draft pool.
He's lightning quick with the ball in his hands and defines the term "breakdown guard." Schroeder has improved his on-court decision-making as well as his range and jumper.
With a number of teams in the market for a point guard and very few standout options, Schroeder has put himself in the first-round conversation.
In terms of the NBA eye test, Schroeder passes with flying colors.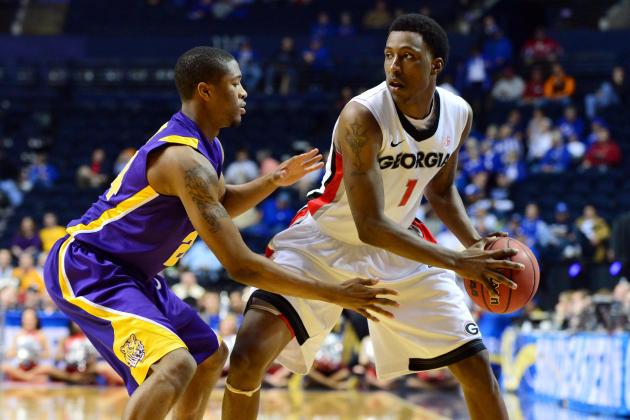 Don McPeak-USA TODAY Sports

Stock Report: ↔
One of the more under-the-radar power-six Conference Players of the Year, Kentavious Caldwell-Pope will be an attractive option for teams looking for backcourt athleticism.
The best thing going for Caldwell-Pope is how few shooting guards will be available. He can shoot, slash and defend, and as a long, 6'6'' athlete, there isn't much risk here.
Caldwell-Pope projects as a complementary scorer who could start on a team with creators around him.
Stock Report: ↔
Rudy Gobert has been the top international prospect on our board throughout the year, and now is the time where he can justify that status.
At 7'1'' with a 7'9'' wingspan, it's Gobert's physical tools that are driving his NBA draft stock. He won't be viewed as a go-to scoring option, but with his kind of size, length and mobility, he's capable of making plays off the ball that nobody else is capable of making.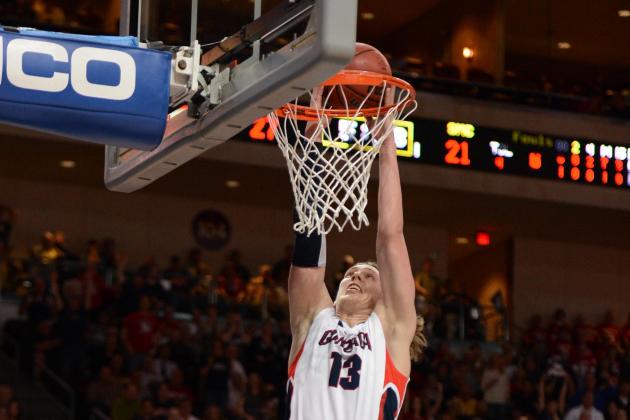 Kyle Terada-USA TODAY Sports

Stock Report: ↔
Kelly Olynyk's stock remains steady heading into predraft festivities. Scouts love his refined skill set for a seven-footer, but he'll have to show them his lack of athleticism won't be a problem in terms of making the transition.
He seems like a top-20 lock, but has the potential to rise if he outplays guys like Alex Len, Cody Zeller, Gorgui Dieng or Mason Plumlee during workouts.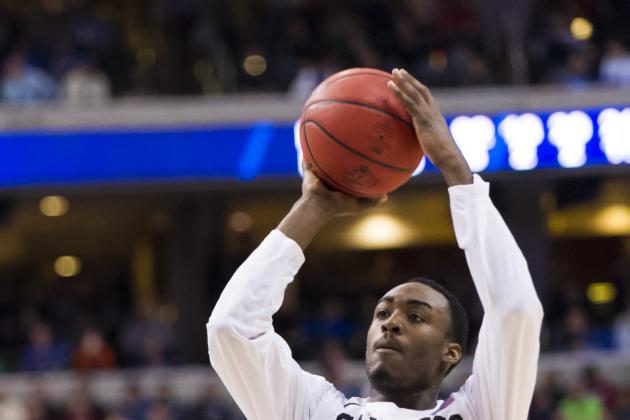 Howard Smith-USA TODAY Sports

Stock Report: ↔
Jamaal Franklin should be salivating at the opportunity to show off his athleticism at the NBA combine. It's a chance for him to stand out amongst the top prospects in the country and prove he's worth a look in the lottery.
We've had Franklin as a top-20 guy all year with this being the time we project him to shoot up NBA draft boards. I've said it a million times, but Franklin was the only player in the country to lead his team in scoring, rebounding, assists and steals.
Franklin has unteachable versatility, and remains a B/R favorite heading into the Combine.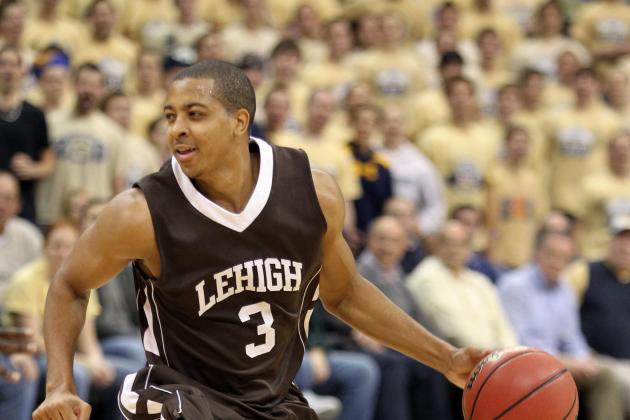 Charles LeClaire-USA TODAY Sports

Stock Report: ↔
Despite breaking his foot in January, C.J. McCollum's draft stock has remained unchanged. He's a strong candidate to shoot up into the top ten during workouts the way Damian Lillard, another mid-major stud, did in 2012.
McCollum is extremely polished and has the talent and fundamentals to really shine during workouts. He'll be an option for a team looking for some offensive firepower in its backcourt.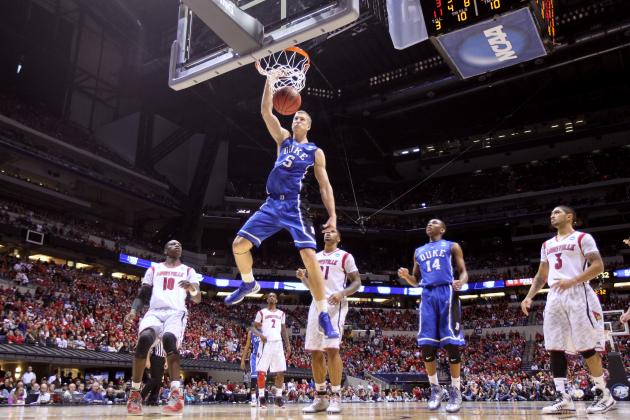 Andy Lyons/Getty Images

Stock Report: ↔
Mason Plumlee's stock remains steady, as he'll enter the predraft festivities as one of the safer picks in the field.
He'll be competing for position with Cody Zeller, Alex Len, Gorgui Dieng and Kelly Olynyk. Plumlee is the most athletic of the four, but will have to show off his skill set during workouts and prove he's a viable option for points in the post.
Plumlee will likely land anywhere from the late lottery to the mid-to-late first round.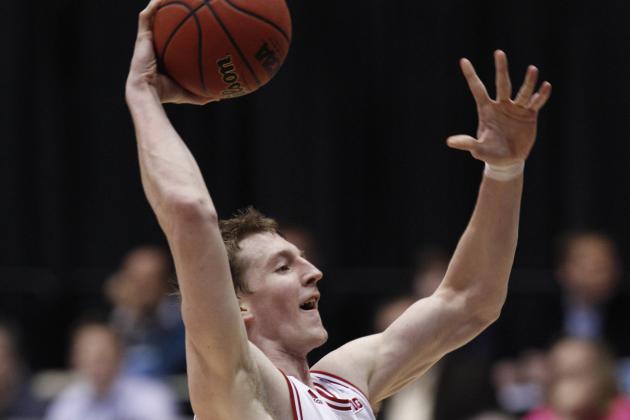 Frank Victores-USA TODAY Sports

Stock Report: ↔
Nothing has changed for Cody Zeller, who can either be viewed as safe or risky depending on where he falls.
There's no doubt he's a rotational big man at the pro level. He's got the size, athleticism and talent to make an impact. But we've seen physical front lines push him around on the interior, and that dents his stock and lowers his ceiling.
Ten picks deep in the draft and you'll get value with Zeller. Top five, and you might be reaching.
Stock Report: ↔
Victor Oladipo remains one of the safer picks in the draft, and because of his motor and athleticism, he's likely to be a fan favorite as well.
Personally, I see Tony Allen as opposed to a future NBA All-Star. But Tony Allen is an important contributor and starter for a top team in the league.
Oladipo will fit best on a team where his job requirements involve slashing, finishing and defending. Improving his creativity will come with time.
I like Minnesota as the best fit for his services later in the lottery.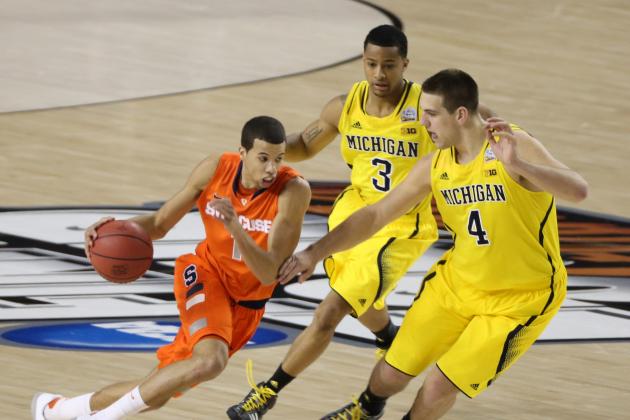 Daniel Shirey-USA TODAY Sports

Stock Report: ↑
You can probably move Michael Carter-Williams up your boards after Marcus Smart decided to return for his sophomore year.
As the likely No. 2 point guard in the field, Carter-Williams will have numerous potential suitors from Sacramento, New Orleans and Detroit to Dallas and Utah at the back end of the lottery.
Between his upside, a lack of top point guards and the number of teams in the market for one, Carter-Williams is unlikely to slip out of the lottery.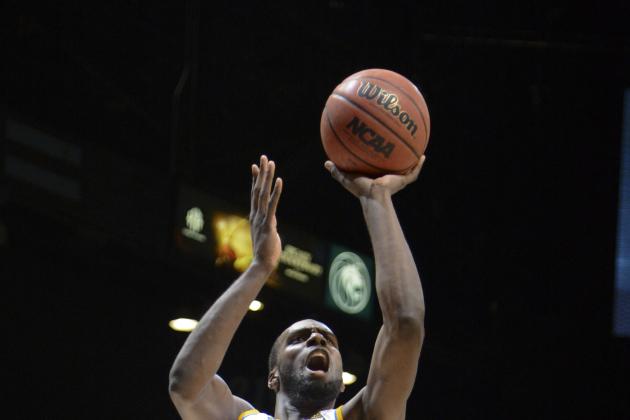 Kyle Terada-USA TODAY Sports

Stock Report: ↑
Shabazz Muhammad got good news when Michigan's Glenn Robinson III decided to return for his sophomore year.
Robinson had jumped Muhammad on our board, so this moves him right back into the top 10.
He may not have the go-to scoring arsenal we originally anticipated he would, but in a weak draft, that may not be much of a factor.
Muhammad managed to average 18 points a game, and with a strong frame, long arms and NBA athleticism, someone will take a chance on him in the lottery.
Stock Report: ↔
Alex Len will have work to do once the NBA Combine and workouts get underway. He'll be competing directly with guys like Cody Zeller, Mason Plumlee and Kelly Olynyk for draft position, all three of which have had more productive college careers.
Len has the most upside considering his size, athleticism and skill set. He just has to put it all together.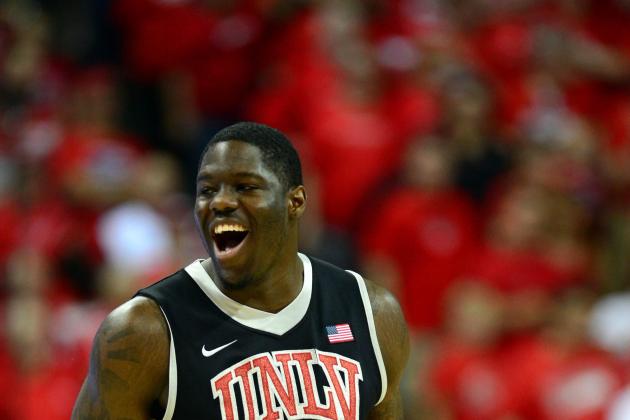 Ron Chenoy-USA TODAY Sports

Stock Report: ↔
Like Otto Porter of Georgetown, Anthony Bennett hasn't played since Round 2 of the NCAA tournament. And like Porter, he'll be competing for a spot in the top-five with a combo-forward label on his chest.
Bennett is the sexier pick of the two in terms of upside. He's the high-risk, high-reward prospect with All-Star potential, but there's risk here considering his lack of size for a 4 and unrefined skill set for a 3.
If he figures out how to exploit his strengths as a mismatch instead of getting exposed as a tweener, he'll be one of the more rewarding picks in this draft.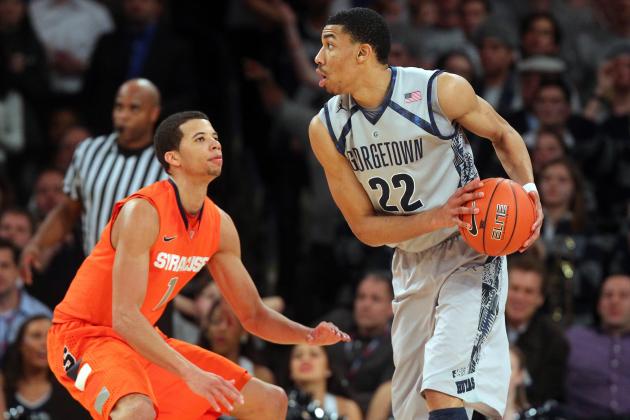 USA TODAY Sports

Stock Report: ↔
Otto Porter hasn't played in weeks after Georgetown lost in Round 2 of the NCAA tournament. His direct competitor on draft day will be Anthony Bennett of UNLV, who wears the same combo-forward label as a versatile frontcourt option.
Porter is clearly the safer of the two, and arguably the safest pick of anyone on the board.
Cleveland, New Orleans, Phoenix, Detroit, Sacramento and Washington could all use a wing like Porter, so expect him to have plenty of suitors in the top eight.
Stock Report: ↑
The best news for Trey Burke came after Michigan lost in the championship game, when Marcus Smart announced he'll be returning to school.
That quickly put Burke in the top-five conversation, considering the amount of teams that need a point guards and the lack of great ones in the field.
Though it hasn't been talked about, Orlando will certainly be giving Burke a look at No. 1 overall. New Orleans, Sacramento and Detroit are also likely to bring in Burke for workouts.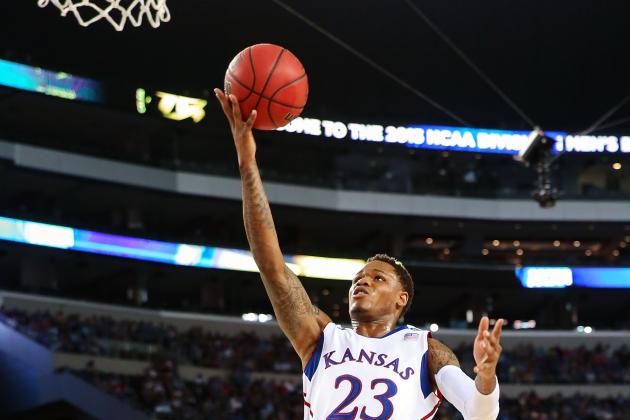 Kevin Jairaj-USA TODAY Sports

Stock Report: ↔
Nothing has changed for Ben McLemore, who remains the clear-cut top shooting guard prospect in the field.
He'll be fighting for position with Nerlens Noel, Otto Porter and Anthony Bennett for draft position at the top.
McLemore would fit the rosters of Orlando, Charlotte and Phoenix, though if he slipped to Detroit or New Orleans it would be hard to imagine either passing.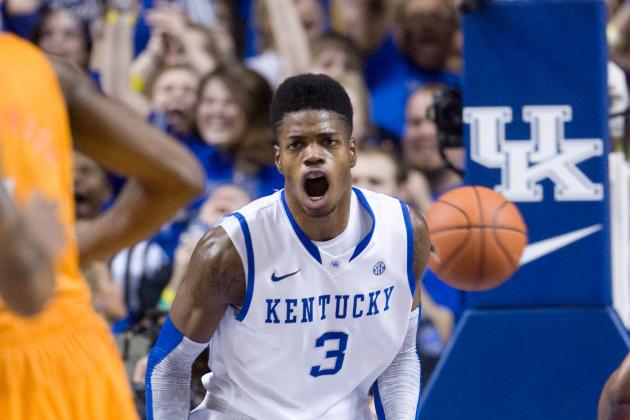 Mark Zerof-USA TODAY Sports

Stock Report: ↑
With Marcus Smart returning to school, that's just one less obstacle in Nerlens Noel's pursuit of being the No. 1 overall pick.
It's especially important considering the Orlando Magic have the best odds of winning the lottery. Orlando is a team in need of a point guard and likely had their eyes on Smart all along.
Though Orlando seems set at center, I'm not sure Nikola Vucevic is valuable enough to allow the Magic to pass on Noel.
If Orlando does go in a different direction, both Charlotte and Cleveland would likely jump at the opportunity of scooping Noel up.