Late-Season Breakout Players Who Are NBA Fool's Gold
Sam Greenwood/Getty Images

At the end of every NBA regular season, some players—usually those in contract years—come out of the woodwork to put up respectable numbers.
General managers around the league should not be fooled though. The stats these players put up in limited time are usually NBA fool's gold.
Even though that's often the case, breakout performers usually find a sucker to pay them a hefty contract when free agency rolls around.
Whether these players are putting up stats for a bad team, filling in for an injured teammate or a combination of the two, there's reason to overlook their statistical breakouts due to their lack of past consistency.
Note: All statistics in this article are accurate as of April 6, 2013.
Begin Slideshow

»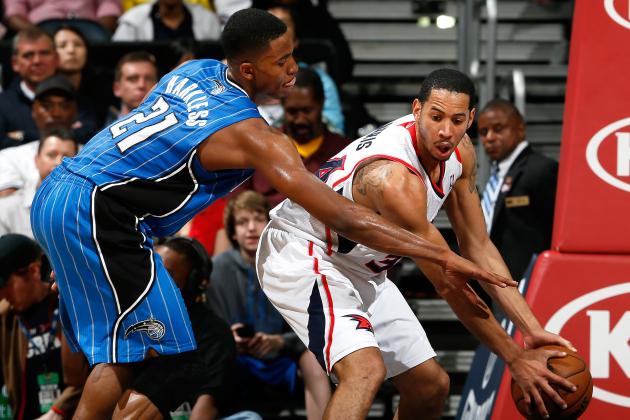 Kevin C. Cox/Getty Images

The reason Atlanta Hawks general manager Danny Ferry acquired Devin Harris last summer was not because the team needed an upgrade at point guard (where they have the talented Jeff Teague). Rather, Ferry traded for Harris because he was entering the final year of his contract.
The Hawks were able to simultaneously dump Marvin Williams' egregious contract in a deal with the Utah Jazz. Needless to say, this move was a no-brainer.
Harris's best statistical campaign came in 2009 when he averaged 21.3 points and 6.9 assists per game for the New Jersey Nets (now the Brooklyn Nets). Since then, his numbers have been on a steady decline.
This year with Atlanta, the 30-year-old point guard is averaging just 9.9 points and 3.3 assists per game. Although those numbers leave a lot to be desired, Harris has started to regain his old form to some degree.
Over the past 15 days, Harris has averaged 16.5 points, 5.5 assists, 2.8 rebounds and 1.5 steals while knocking down 2.3 three-pointers per game. He's also shooting 47.7 percent from the floor over that span.
His numbers have been inflated due to back-to-back solid performances against bad teams. Harris scored 17 points against the Orlando Magic on March 30, then 25 points against the Cleveland Cavaliers on April 1. He has since been sidelined with a toe injury.
It's safe to say that Harris won't garner anywhere near his 2012-13 salary of $8.5 million next season. His abilities on the court are predicated on quickness, which is something that has been taken away from Harris by age and various injuries.
So even though Harris has been a spark plug recently for Atlanta, his overall decline in recent years and injury woes provide two evident red flags for NBA general managers.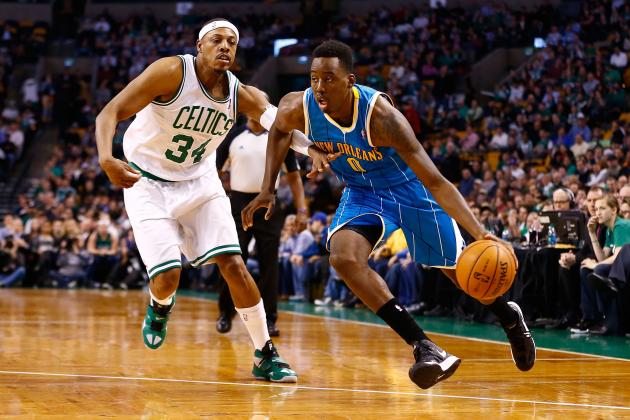 Jared Wickerham/Getty Images

Al-Farouq Aminu has provided some sparks for the New Orleans Hornets this season, but the overall package has been admittedly lackluster.
A recent 14-point, 7-of-8 shooting game against the Golden State Warriors and a 16-rebound game against the Miami Heat might intrigue NBA teams this summer should New Orleans turn down his team option for next season. However, attaching Aminu to high expectations has often led to disappointment.
Aminu was one of the key focal points of the trade that sent Chris Paul to the Los Angeles Clippers, but his sample size over three seasons has failed to impress.
His numbers haven't been stellar, but Aminu is still just 22 years old and has rebounded the ball well this season (grabbing 7.5 per game). Even so, Aminu has been in and out of Monty Williams' playing rotation on a bad Hornets team, which is not a good sign.
The young swingman could continue to have solid performances in regular-season garbage time, but his overall inconsistency should scare NBA owners away.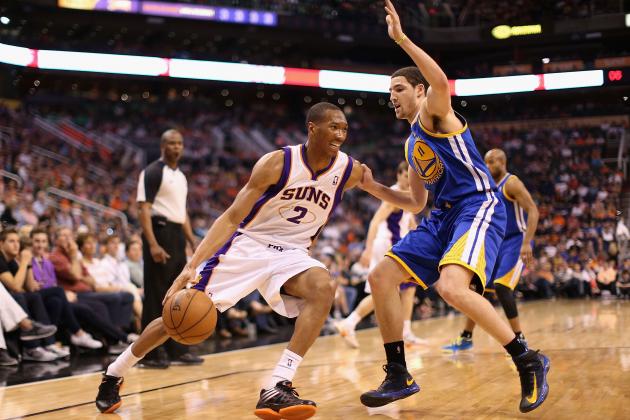 Christian Petersen/Getty Images

During the atrociously handled coaching change by the Phoenix Suns earlier this season that saw Lindsey Hunter get hired over worthy candidates Elston Turner and Dan Majerle, fans began to speculate about certain scenarios.
One of the most notable, as stated in a transcript from the Dave Burns and John Gambadoro radio show, is that Hunter was simply a puppet to Suns GM Lance Blanks. It was thought that because Hunter would play Michael Beasley, Kendall Marshall and Wesley Johnson (three guys brought in by Blanks), he got the job over more qualified coaching candidates.
Suns owner Robert Sarver shot down that claim on the radio show, but it's hard to ignore the increased minutes Johnson and Marshall have seen since Hunter took over. Johnson specifically has seen a massive increase in minutes: 30.3 minutes per game in March versus 6.4 minutes per game in November.
Over the past 15 days, Johnson has put up a respectable 14.9 points per game. However, the former fourth overall draft pick is shooting just 39.8 percent from the field during that span.
Of course, that poor shooting percentage is probably to be expected. Johnson has never shot higher than 39.8 percent from the field in his three NBA seasons. For his career, Johnson is shooting 39.7 percent from the field and 34 percent from three-point range (not a quality you want in a scorer).
Considering that Johnson doesn't add much of anything in other categories (2.8 rebounds and 1.3 assists per game for his career), he's certainly fool's gold as a solid NBA player.
It appears as if Johnson will continue to get big minutes for Phoenix moving forward. If he doesn't display a big increase in scoring efficiency, though, there's no reason why he should be in the Suns' rotation moving forward.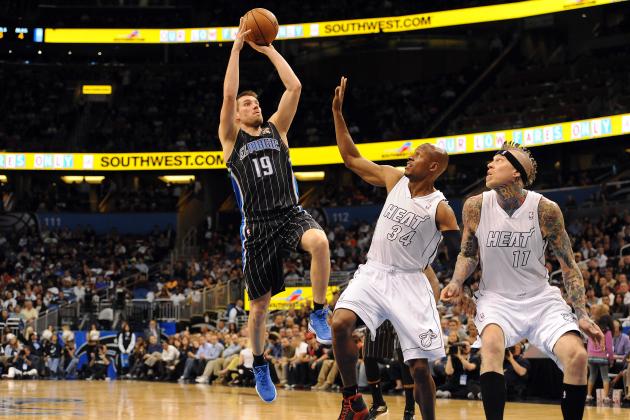 Gary Bogdon/Getty Images

Beno Udrih, whom the Orlando Magic acquired in the J.J. Redick trade, has put up solid numbers with Jameer Nelson sidelined due to an ankle injury.
Over the past 15 days, Udrih has averaged 14.6 points, 7.1 assists, 3.5 rebounds and 1.5 steals per game. To put that in perspective, Deron Williams has averaged 19.7 points, 8.9 assists, 2.1 rebounds and 1.1 steals over that same span. Remarkably, there isn't a gigantic difference in numbers between the two.
Of course, D-Will has put up numbers similar to that throughout an eight-year career, while Udrih has usually been relegated to a backup role.
Udrih has proven throughout his career that he can put up respectable numbers if given the minutes. He's one of the better rebounding point guards in the game today, but he doesn't add much on the defensive end.
Additionally, he's never been able to put up 27-point, seven-assist, five-rebound performances (like he did against the Chicago Bulls on April 5) with regularity. Usually, Udrih will break out with a stellar game or two, then regress back to mediocre numbers (something Sacramento Kings fans know all too well).
Yes, Udrih is putting together a solid run. However, he's certainly not worth big money to become a team's starting point guard.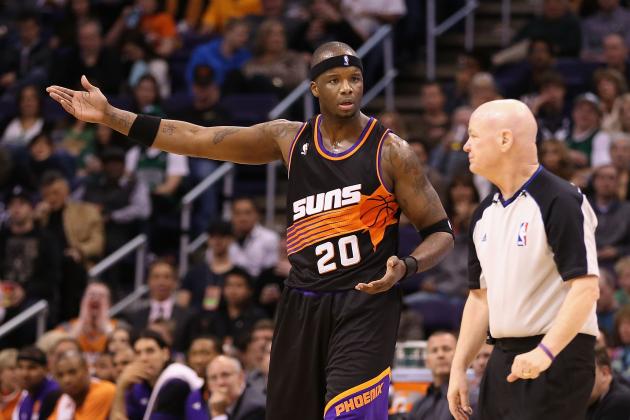 Christian Petersen/Getty Images

As is often the case, the Phoenix Suns' group of magicians...um, "training staff," has done a phenomenal job rejuvenating a player with a history of injury troubles.
Like Grant Hill, Michael Redd and Shaquille O'Neal before him, Jermaine O'Neal—who played just 49 games in two seasons with the Boston Celtics prior to joining the Suns—has already played 53 total games for Phoenix.
The former MVP candidate has shown flashes of his old All-Star form by knocking down mid-range jumpers, showcasing a pretty post game and blocking shots with regularity. His 22-point, 13-rebound effort in a surprise road win over the San Antonio Spurs was a true blast from the past.
O'Neal has continued to fill in admirably for injured center Marcin Gortat. The 34-year-old veteran has been consistently healthy for the first time in a long time, and his game is reaping the benefits.
From what Suns fans have seen this season, a contending NBA team really could have benefited from adding O'Neal at the 2013 NBA trade deadline.
Although O'Neal's 2012-13 campaign has been a great story and one of the only positives of a brutal Suns season, his performance to this point could very well be NBA fool's gold.
The veteran had a seemingly impossible time staying healthy prior to joining the Suns and their amazing training staff. If another team decides to add him this summer when his contract expires, O'Neal could once again regress due to health reasons (like other players have since leaving Phoenix).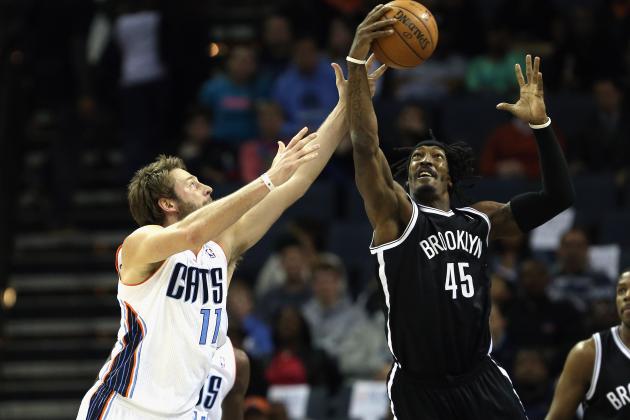 Streeter Lecka/Getty Images

Josh McRoberts (and his expiring contract) will likely benefit greatly from his late-season outburst.
The 6'10" power forward has averaged 9.2 points and 8.1 rebounds per game over the past 30 days. Over that span, he's shooting 50.5 percent from the field.
He's also notched three double-doubles since joining the Charlotte Bobcats via trade. That's three more than McRoberts had prior to the trade this season and also three more double-doubles than he had all of last season.
McRoberts has been getting massive amounts of minutes with a terrible Bobcats team. He's actually notched more than 40 minutes twice for Charlotte, a barrier he'd never broken before during his six previous NBA seasons.
When given an opportunity, McRoberts has proven himself to be a reliable rebounder. That said, he's a role player at best and shouldn't be notching more than 40 minutes per game for any NBA team.
Don't be surprised if an NBA GM overpays for McRoberts based upon his late-season surge, even though he's the definition of NBA fool's gold.