Breakdown and NBA Draft Outlook for San Diego State's Jamaal Franklin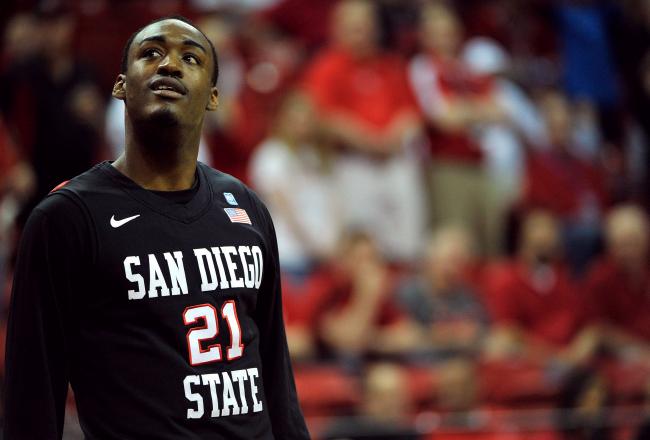 Jeff Bottari/Getty Images
Jamaal Franklin may not be a household name as a college player, but that should change when he gets to the next level.
The San Diego State wing is one of the most intriguing prospects in the field. Franklin is an off-ball playermaker who spends a good amount of his time above the rim. He's averaging nearly 17 points, 9.5 rebounds and 3.2 assists as a junior, and has emerged as a potential sleeper in the 2013 NBA draft.
Physical Tools
At 6'5'', Franklin plays a lot bigger than he really is. His athleticism is sickening. Franklin is a highlight waiting to happen, thanks to incredible hops, effortless mobility and long, active arms.
If you're looking for an example that illustrates what he's capable of doing athletically, look no further than the clip below. It could be the wildest play you'll see all year.
Physically, Franklin could add some bulk to his frame, but it hasn't been a problem for him at the college level. His ability to play above the rim allows him to compete among the trees who protect the paint and man the glass.
Despite having the size of a shooting guard, Franklin is second in the Mountain West in rebounding. With an active motor, strong instincts and electric springs, he's capable of getting to loose balls at their highest points above the cylinder.
He's always a threat for a putback dunk, thanks again to his leaping abilities and timing.
Franklin's physical tools also project favorably on the defensive side of the ball. He's got quick feet and solid length, and offers the versatility to cover both wing positions. Watch him pickpocket Shabazz Muhammad and take it the other way for two.
Offensive Versatility
Franklin doesn't possess a refined offensive skill set. Instead, he takes advantage of his physical tools, using the right ones at the right times.
For example, when isolated with his defender, Franklin will face the basket and use his quickness, strength and flexibility to get a step on his defender and create an easy look at the rim.
He's not going to shake anyone with the crossover dribble or a go-to move in the post, but he does a great job of taking what the defense gives him.
As a shooter, Franklin is much more accurate when his feet are set and he's shooting off the catch. His jumper is still a work in progress, as he only shot 32.5 percent from downtown as a sophomore, which has turned into a troubling 27 percent as a junior.
But Franklin has the confidence and shot-making ability to make it work over time. It's going to be a major factor in determining how valuable Franklin can be in an NBA rotation. Without a reliable three-ball, he'll be limited in the half court to line drives to the rim and finishing off others' creativity.
A three-point stroke will give him more of a purpose on the floor and increase his chances of seeing time at the next level.
Franklin does most of his damage off the ball as a slasher, catch-and-finisher or spot-up shooter. His ability to score off the ball without needing the dribble allows the offense to stay fluid.
NBA Draft Outlook
Jamaal Franklin should get first-round looks based on his ability to produce in areas of the game that can't be taught.
He's a guy you can plug into any lineup and expect him to give it a jolt.
His appeal as an NBA prospect stems directly from his athleticism, versatility, defensive potential and high activity rate. Franklin doesn't project as the 16.7-point scorer he is in college, rather a role player who can do a little bit of everything.
There's minimal risk associated with Franklin. Worst comes to worst, a team finds an energizer off the bench who can make things happen without dominating the ball.
Expect Franklin to be a trendy name at the NBA combine, where he should ace the athletic testing and physical measurements.
This article is
What is the duplicate article?
Why is this article offensive?
Where is this article plagiarized from?
Why is this article poorly edited?