Oklahoma City Thunder vs. Houston Rockets: Postgame Grades and Analysis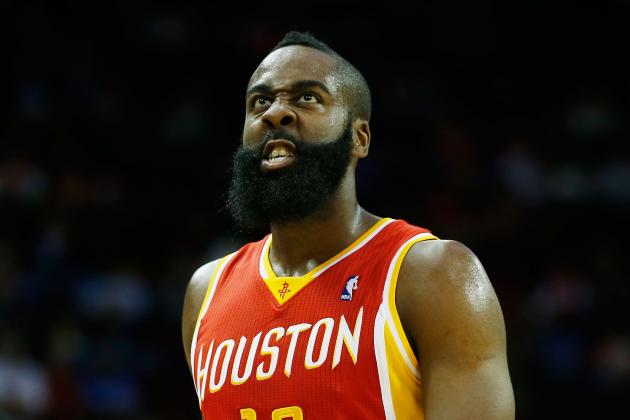 Scott Halleran/Getty Images

Thanks to another active NBA trade deadline by general manager Daryl Morey, the Houston Rockets fielded a skeleton crew against the Oklahoma City Thunder on Wednesday night.
Lacking Patrick Patterson, Marcus Morris, Cole Aldrich and Toney Douglas (all of whom left Houston in a pair of deals that netted Sacramento Kings rookie Thomas Robinson, per USA Today's Sam Amick), the Rockets were going to need a massive effort from James Harden to stay close against the mighty Thunder.
And they got one.
Harden poured in a career-high 46 points on a comically efficient 19 shots, helping pull the Rockets ahead after trailing by 14 with seven minutes to play in the fourth quarter. Houston roared back to stun the Thunder by a final score of 122-119.
He didn't do it alone, though, as Jeremy Lin hit a pair of late threes that helped Houston complete its comeback. Lin's 29 points were critical, as they offset the career-high 28 that OKC improbably got from Thabo Sefolosha.
Kevin Durant registered his second career triple-double and Russell Westbrook even flirted with the rare quadruple-double in one of the league's most entertaining affairs of the season.
With the statement win over Harden's former team, Houston improved to 30-26. The Thunder dipped to 39-15 in defeat.
Begin Slideshow

»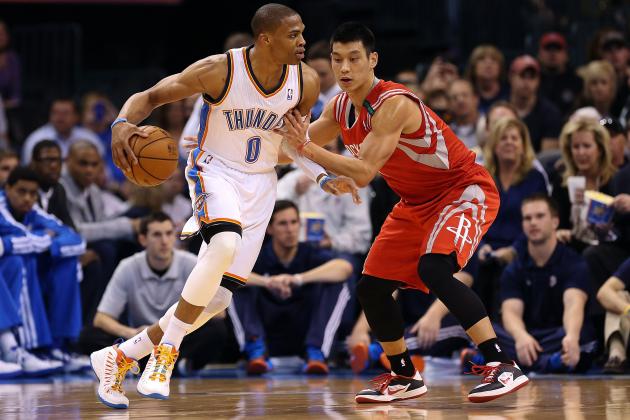 Kevin Jairaj-USA TODAY Sports

Russell Westbrook, OKC: B+

It's not often anyone even sniffs the fabled quadruple-double, but Westbrook's stat-stuffing performance came close.
Unfortunately, the reason Westbrook came so close to the rare feat was because he piled up seven turnovers in addition to his 28 points, 10 rebounds and eight assists. With some of those giveaways coming at critical late-game junctures, OKC's point guard will come away from this contest with some seriously conflicted emotions.
Hyperaggression is Westbrook's calling card, though, and it's not likely to change at this point in his career. OKC will continue to have to live with the incredible highs and head-slapping lows with its point guard.
Jeremy Lin, HOU: A

Lin more than held his own against the immensely physical Westbrook, fighting through constant pressure and more than a few not-so-subtle forearm shivers en route to 29 points.
Continuing a very positive recent trend, Lin hit 3-of-5 triples after making 48 percent of his shots in Houston's 10 games prior to the matchup with Oklahoma City.
A pair of Lin's threes came with less than two minutes remaining in the game, and his shots were as much responsible for finishing the Rockets' comeback as Harden's points were for starting it.
On a night when a couple of trades made Rockets GM Daryl Morey look pretty smart, Lin's play made his offseason signing look positively genius.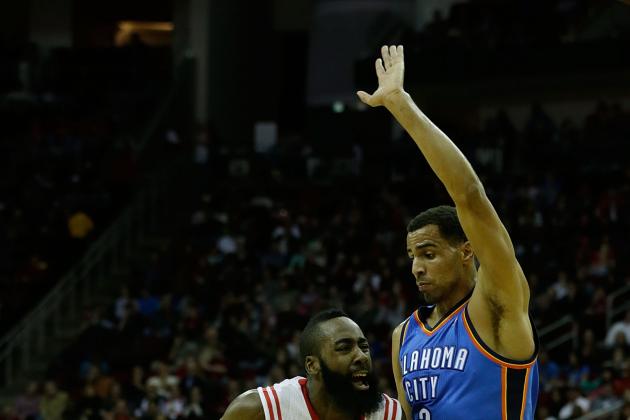 Scott Halleran/Getty Images

Thabo Sefolosha, OKC: B

I'm going to go out on a limb and guess that Kevin McHale didn't devote a whole lot of Wednesday night's game plan to Sefolosha.
Maybe he should have.
Sefolosha scored a career-high 28 points on 11-of-16 shooting, including a scorching 6-of-10 from downtown. What's odd, though, is that his typically sound defense basically disappeared.
To be fair, nobody without an address on the planet Krypton was going to stop Harden on this night. But because he was the defender primarily responsible for checking Houston's top scorer, the career high in points comes with an asterisk.
James Harden, HOU: A+
James Harden started the game by making his first four shots, all of which were from beyond the arc. All he did after that was play one of the very best games by any player this season.
Put simply, he was phenomenal.
On the way to registering his third career 40-point game, Harden blew by the Thunder in transition, forced defenders to foul him at the rim and rained threes.
The numbers hardly look real: 7-of-8 from long range, 11-of-12 from the foul line, eight rebounds, six assists.
And of course, those 46 points on 19 shots.
The Thunder may be doing just fine in the post-Harden era, but with his performance in this game, the Bearded One showed them just how much better things could have been.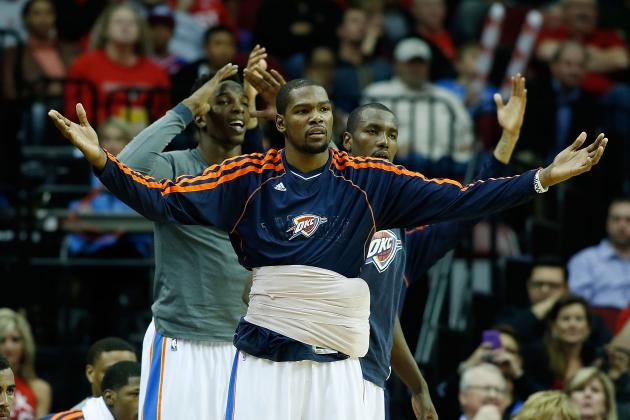 Scott Halleran/Getty Images

Kevin Durant, OKC: A-

After an awkward collision in the early going, Durant didn't look quite right. Whether it was a new injury or an aggravation to the sore rib he suffered before the All-Star Game, KD spent much of the rest of the game favoring his left hip.
Of course, that didn't stop him from tossing up 16 points, 12 rebounds and 11 assists on the way to his second career triple-double.
And if it seems like this game had more career-high figures than any in recent memory, that's probably because it did.
Anyway, Durant clearly realized that he wasn't quite right after getting an inadvertent kick from teammate Serge Ibaka. So instead of firing away in his usual fashion, KD did something like a LeBron James impression—minus the shooting efficiency.
He was just 4-of-13 on the night and missed his last five shots, but it was impressive to see Durant completely assume the role of facilitator when he knew he wasn't fit enough to score.
A little more scoring would have helped, but for his gritty, adaptable effort, Durant is still worthy of a very high grade.
Carlos Delfino, HOU: C-

Pressed into starting duties, Delfino faltered at the small forward position. He started the game by making just one of his first six shots and finished just 3-of-12.
All's well that ends well, though, as the Rockets overcame his rough scoring night.
To his credit, Delfino chipped in in other ways. He played 42 minutes, registering six rebounds, five assists and four steals.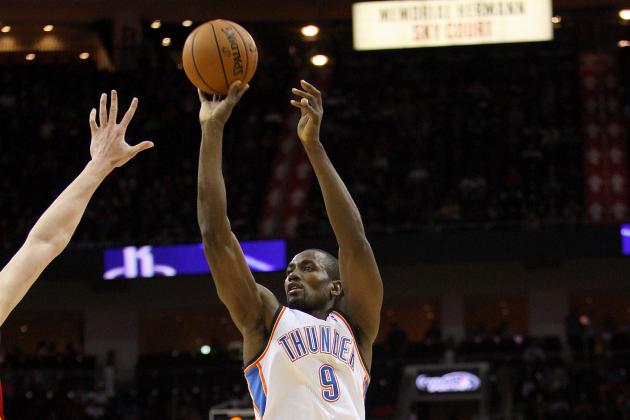 Troy Taormina-USA TODAY Sports

Serge Ibaka, OKC: B

Given the glaring lack of size on Houston's front line, it stood to reason that Ibaka would be able to impose his will underneath.
And although he played a solid game, it was a little disappointing Ibaka didn't take more advantage of the much smaller players forced to guard him.
In a glimpse of how things could have gone if the Thunder had chosen to focus on the obvious frontcourt mismatch, Ibaka easily backed Delfino down for a point-blank jump hook in the third quarter.
Considering neither Parsons nor the frequently cross-matching Delfino came even close to matching the size and athleticism of OKC's big man, it certainly seemed like the Thunder left a few buckets out there.
Still, a final line of 16 points and seven rebounds on 7-of-11 shooting is nothing to sneeze at.
Chandler Parsons, HOU: B

Thanks to the departure of the two players (Morris and Patterson) who started the bulk of Houston's games at power forward, Parsons slid over to the 4 as an undersized frontcourt fill-in.
At a new position, Parsons essentially did the same things he's become known for at his old one: solid scoring, a nice all-around game and a highlight or two.
He delivered on that last facet in spades, ramming home a huge baseline slam on Hasheem Thabeet (and, seemingly, half of the Thunder team) in the third quarter.
Parsons finished with 17 points, six boards and four assists, and his only blemish was a quintet of turnovers.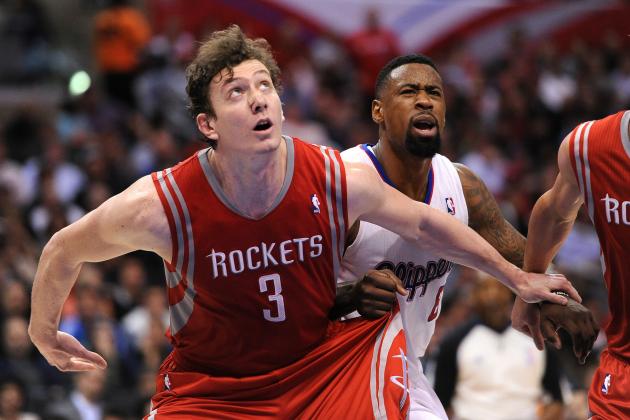 Jayne Kamin-Oncea-USA TODAY Sports

Hasheem Thabeet, OKC: D

With Kendrick Perkins out nursing a knee sprain, Hasheem Thabeet got the call to start for the Thunder at center.
Of course, if you didn't catch the first six minutes of the game, you probably wouldn't have known that.
The former No. 2 overall pick pulled down a defensive rebound and blocked a shot in his scoreless first-half impression of a starting center. Fortunately, he picked up his play after the break, finally getting into the scoring column and looking a bit more active.
Still, his 11 minutes were largely ineffective and left some questions as to why coach Scott Brooks didn't start Nick Collison as an undersized center instead.
Omer Asik, HOU: C-

More than almost any other Rocket, Asik will be glad when Thomas Robinson gets into town. As the only Houston big to play significant minutes, the Turkish import looked like a giant among his undersized teammates.
Unfortunately, Asik seemed to shrink at the most inopportune times against OKC.
He shot just 3-of-10 and looked positively awful in a number of close-range situations. Poor hands and a few awkward attempts on what looked to be easy layups made for a forgettable offensive night for Asik.
He did a nice job of defending the paint and pulled down 10 rebounds, but some of the shortcomings that have plagued him all year cropped up against the Thunder.
Better hands and more touch around the rim are really the only qualities preventing Asik from being an All-Star-caliber center. He'll improve those areas eventually, but they definitely hurt him in this one.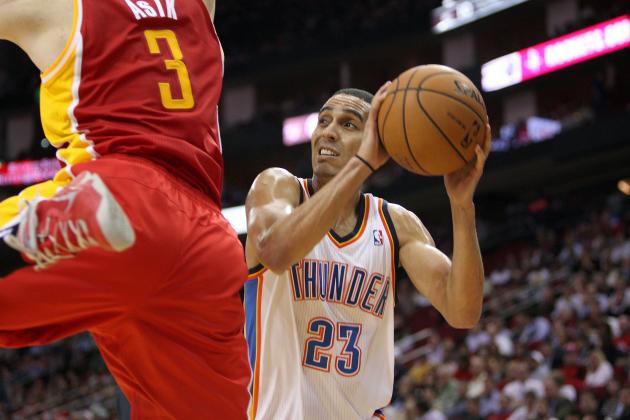 Troy Taormina-USA TODAY Sports

Kevin Martin, OKC: C
Though he was the principal acquisition in the deal that sent Harden to Houston, Kevin Martin hardly looked like adequate compensation on Wednesday night.
As one-dimensional scorers go, Martin delivered with 15 points on 13 shots. That's actually a subpar performance for his typically efficient standards, but there was really nothing he could have done to measure up to Harden.
Fortunately, he's only being graded as a sixth man, a task at which he performed at a decidedly average level.
Martin escapes with a "C" here, but if we were comparing him to Harden, we'd have had to invent a grade lower than an "F."
Greg Smith, HOU: B
Before anyone gets bent out of shape over Smith earning a higher mark than Martin, consider the fact that he put up his eight points on 4-of-5 shooting and played 14 fewer minutes than OKC's sixth man did.
We like efficiency around here, and it's not just because Harden has inspired us.
Smith will probably see more minutes in the future, as Thomas Robinson won't take up all of the minutes vacated by Patterson and Morris' departure. If his efficient night is any indication, he's more than up to the task of increasing his court time.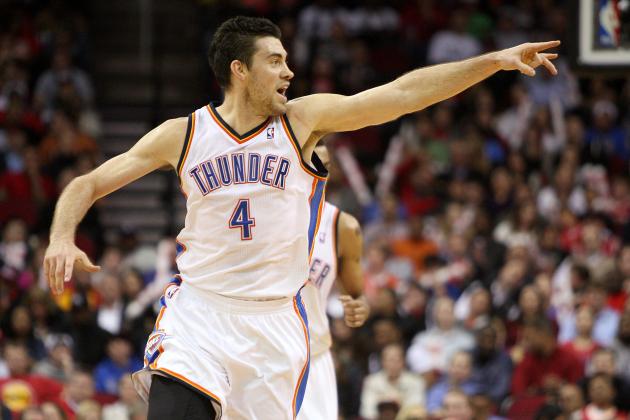 Troy Taormina-USA TODAY Sports

Thunder Bench, OKC: C+
As a unit, OKC's bench (excluding Martin) shot 5-of-11 from the field and grabbed just eight rebounds. If you subtract Nick Collison's contributions, that picture gets a lot uglier.
The Thunder's primary backup big man scored four points and pulled down four boards in 17 minutes of plus-12 basketball.
Reggie Jackson went 0-of-4 from long range and had as many turnovers (one) in his 15 minutes as assists.
Other than that, only rookie Perry Jones III logged any minutes at all. And he managed just two points.
Rockets Bench, HOU: F
It's a little unfair to grade the Rockets bench so harshly, considering it was decimated by the trade that sent away half of the team's reliable reserves.
But these guys are going to play much more in the near future, so it's important to start out on a firm-but-fair basis.
Patrick Beverley played 18 minutes at the point and failed to score. Donatas Motiejunas registered just two points on four shots, but his basket was actually a nice little bank shot that showed some potential skill.
Still, these guys were awful, and it's no secret that Houston's dominant starters carried the load.