2013 NBA Mock Draft: Biggest Risers and Fallers of Next NBA Class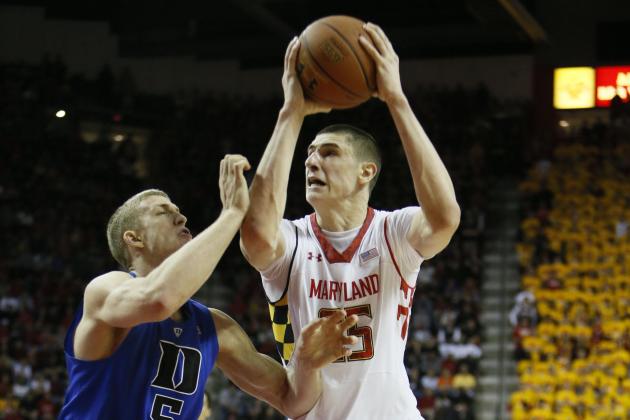 Mitch Stringer-USA TODAY Sports

This week's big winner was Maryland's Alex Len, who outplayed one of his direct draft-day competitors in an upset over Duke.
Victor Oladipo continues his head-turning play, while Glenn Robinson bounced back with one of his best games of the year.
We also added a new member to the draft board at the end of the first round, where the New York Knicks will likely select.
The projected order has changed, as we've taken into account the win-loss records of current NBA teams and adjusted the order accordingly.
Notes for the first round
Oklahoma City gets Toronto's first-round pick, which the Thunder acquired in the James Harden deal from Houston (it originally acquired the pick in the Kyle Lowry trade).
If the Lakers miss the playoffs, their pick goes to Phoenix, which is something we anticipate.
Portland gives up a top-12 protected pick to Charlotte from the Gerald Wallace-Joel Przybilla trade in 2011.
The Atlanta Hawks receive Houston's top-14 protected pick, which they obtained from the Brooklyn Nets in the Joe Johnson deal.
Team needs were taken into account, although rosters are likely to change once June rolls around.
Stats current as of February 19, 2013.
Begin Slideshow

»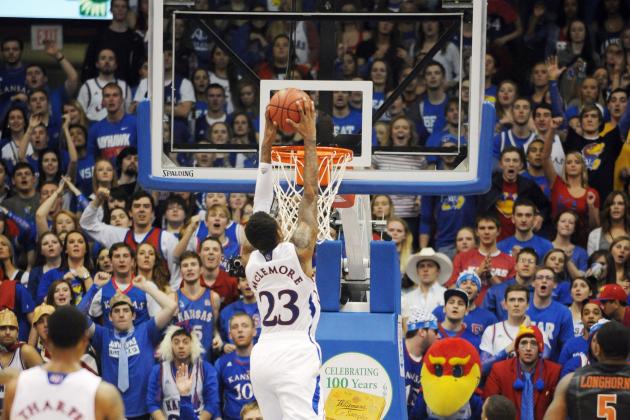 USA TODAY Sports

High Riser Alert
You have to assume that the Charlotte Bobcats will be entertaining offers for whichever pick they get. But if they end up sticking, I'd like to imagine they'd go with the surest thing out there.
Right now that guy is Ben McLemore, whose 30-point game against Kansas State last week came at the same time that Nerlens Noel went down.
Traditionally, the best athletes on the floor need the most work on their jump shots, but McLemore breaks that trend. Being able to light it up from 25 feet away and attack the rim and soar above it can be a potent offensive combination.
It will be repeated for the next few months, but the lottery is likely to decide who goes when and where at the top of the 2013 draft. If the Bobcats get the first pick, McLemore should be the guy they target.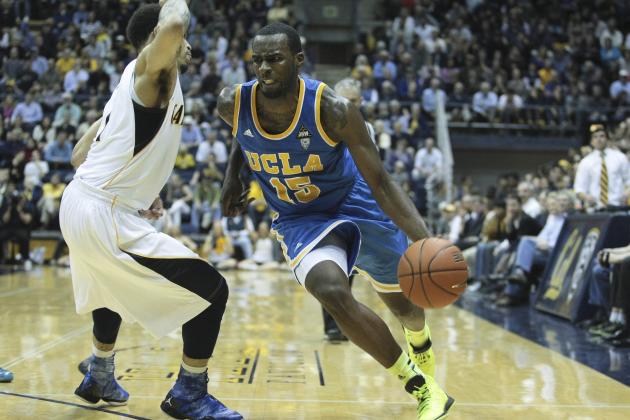 USA TODAY Sports

Games like the one Shabazz Muhammad had against Stanford should make him a target for the Orlando Magic.
He scored 25 points, creating offense and finishing off the ball.
Orlando needs a multidimensional scorer who can generate his own offense.
Scoring in volume with consistency in UCLA's offense is like trying to run a record-breaking marathon with weights strapped to your shoes. Yet Muhammad averages 18.5 points, and he's doing so efficiently on 46.3 percent shooting and 42.5 percent from downtown.
Some expected a different type of scorer and have consequently downgraded him on their boards. But I still see someone with the drive of an NBA star, the physical tools to translate and the offensive skill set that can get buckets on command.
Orlando needs offense, and that's what Muhammad offers.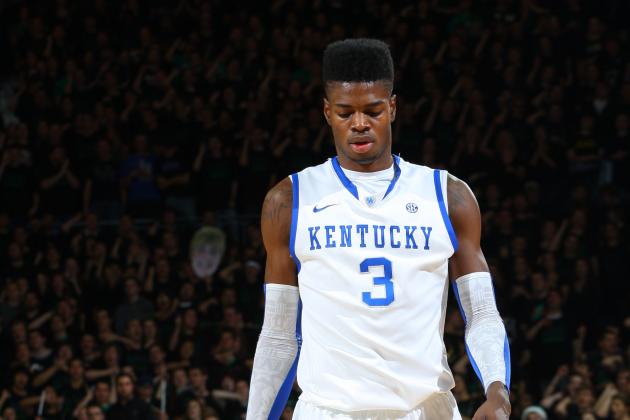 Brian Spurlock-USA TODAY Sports

Nerlens Noel sure picked a good year to tear his ACL, if that's possible.
In this draft, a serious injury shouldn't change much at all.
Since most rookies won't be able to contribute until their second and third years, being out until March isn't that big of deal.
Noel could still be viewed as a first overall candidate depending on which team lands the pick at the lottery.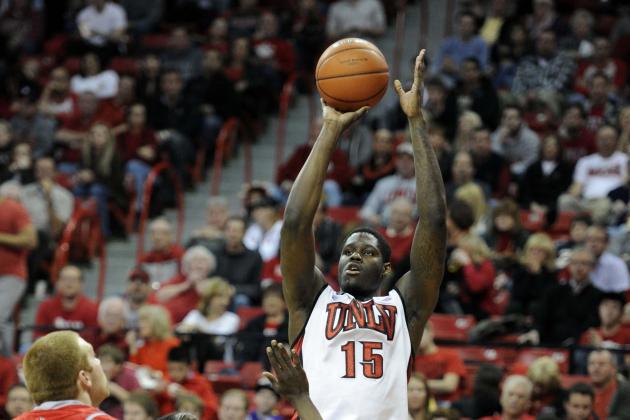 USA Today Sports

This fit just seems too good to ignore. Anthony Bennett could plug a hole at the wing and provide some athleticism inside, filling a need and a want based on the star power he potentially offers.
Bennett had a double-double with 21 and 12 in a strong win over San Diego State, nailing four three-pointers in a full display of offensive versatility.
There's so much Larry Johnson in his game that it's scary.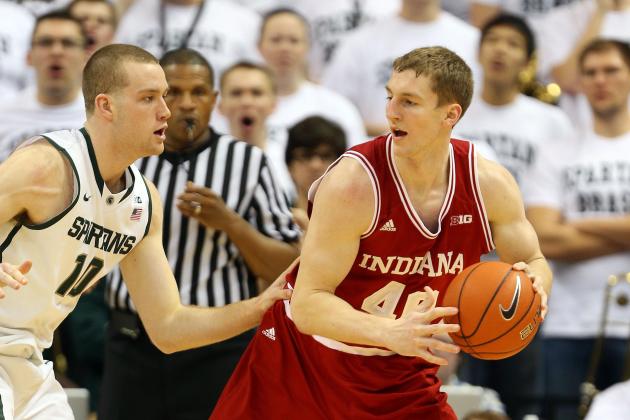 Mike Carter-USA TODAY Sports

Cody Zeller has been showing off his diverse offensive repertoire over the past several games. He's sticking 18-footers with confidence. We've seen him attack and finish with his left hand and spin over his shoulder to his right.
The only knocks at this point are his strength and toughness inside, but you have to imagine those traits will build as he ages.
Zeller is going to have a prominent NBA role when it's all said and done, and he has the chance to contribute sooner than his direct competitors such as Alex Len and Mason Plumlee.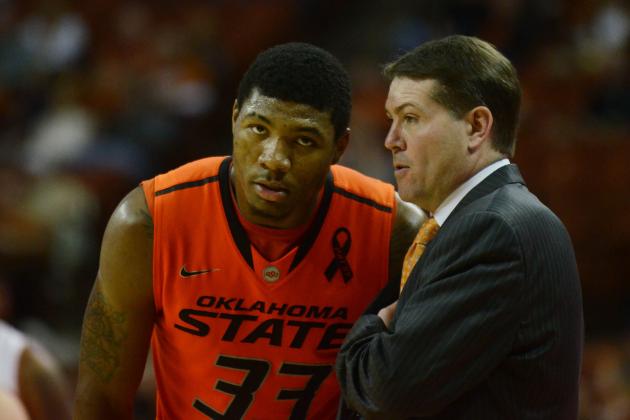 Brendan Maloney-USA TODAY Sports

High Riser Alert
Marcus Smart went off for 28 points in an overtime win over Oklahoma and continues to generate buzz as an elite NBA prospect.
This is a guy whose flaws can be overlooked based on the intangibles he brings to the table.
Smart has the "it" factor, which translates better than any extra inch ever can.
The Kings need a ball-handler they can trust to put the rest of lineup in position to succeed. If he's on the board, Marcus Smart's playmaking ability could be just what the doctor ordered to maximize the talent that's already on the Sacramento roster.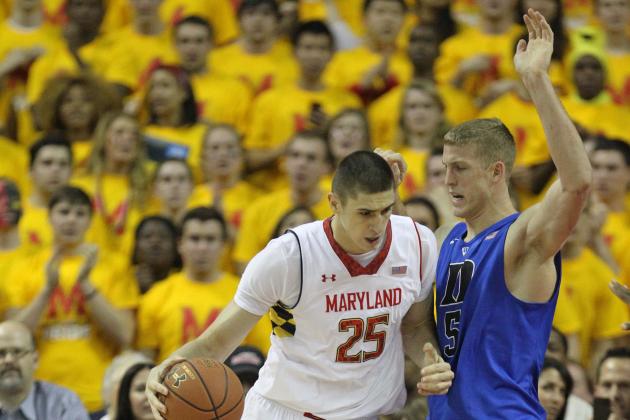 Mitch Stringer-USA TODAY Sports

High Riser Alert
Alex Len had one of those games against Duke that could potentially move the draft needle.
He owned Mason Plumlee, a direct competitor applying for the same NBA position.
Len went for 19 points, nine boards and three blocks, providing Maryland with an easy source for half-court points.
He's light on his feet and fluid in the post. Half the battle for most bigs is getting off clean, comfortable looks, but that's just not an issue for Len.
Once he starts converting them with more consistency, Len is going to be an awfully difficult defensive assignment and critical offensive weapon.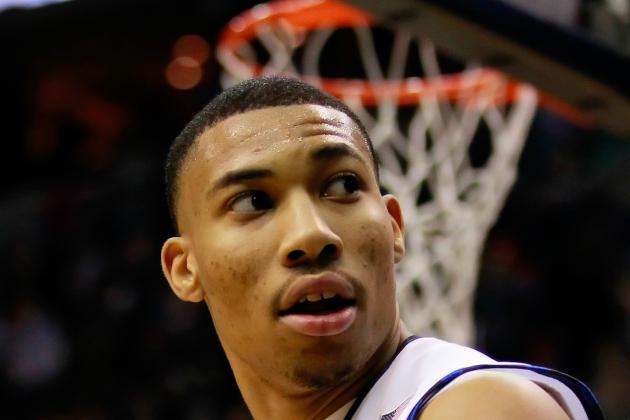 Geoff Burke-USA TODAY Sports

Though not the most adept shot-creator, Otto Porter has a good feel for how to rack up the points.
He's now scored at least 16 points in nine of his last 10 games, putting himself in position to catch and finish without using the dribble.
In Detroit, Brandon Knight has struggled since being forced to play off the ball with the arrival of Jose Calderon. Drafting a point guard would mean the team ultimately has given up on Knight altogether, which I'm just not sure the Pistons are ready to do.
The Pistons need a reliable two-way presence on the wing, and Otto Porter's ability to score, defend and glue the lineup together are all attractive services.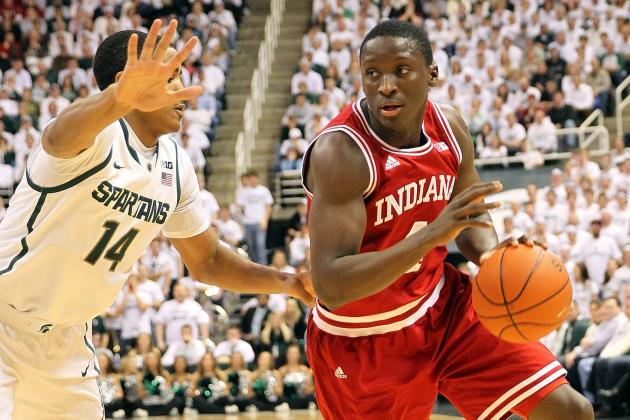 Mike Carter-USA TODAY Sports

High Riser Alert
The legend continues, as Victor Oladipo strengthened his case for National Player of the Year with some game-changing plays in a win at Michigan State.
This dude is just relentless. His motor and athleticism can take over a game, even if his skill set can't.
However, he's clearly improved fundamentally in every area of the game and can no longer be looked at as just a raw athlete playing basketball. Oladipo is officially a basketball player with plenty of services to offer an NBA rotation.
His perimeter defense, high activity level and ability to finish at the rim could all be used in a backcourt with Ricky Rubio, Luke Ridnour, Alexey Shved and J.J. Barea.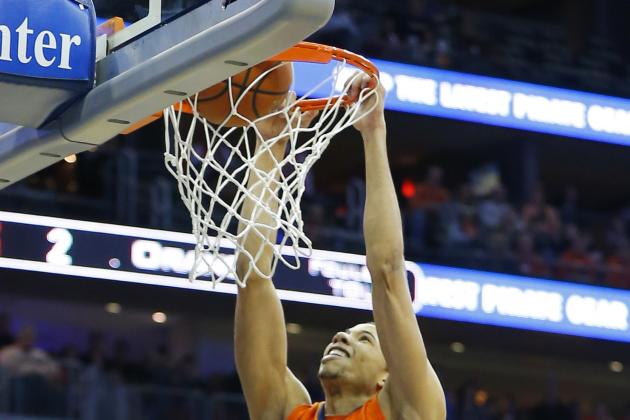 Jim O'Connor-USA TODAY Sports

The Oklahoma City Thunder should be in the market for a backup point guard, and they can likely get a good one at No. 10 in this year's draft.
Michael Carter-Williams still has a number of things to work on, like his range and handle. In Oklahoma City, he'd have the time to develop and sharpen his tools.
Though he struggles at times creating offense for himself, his ability to create for others makes him appealing as an NBA facilitator. He's a stronger weapon when he's surrounded by weapons.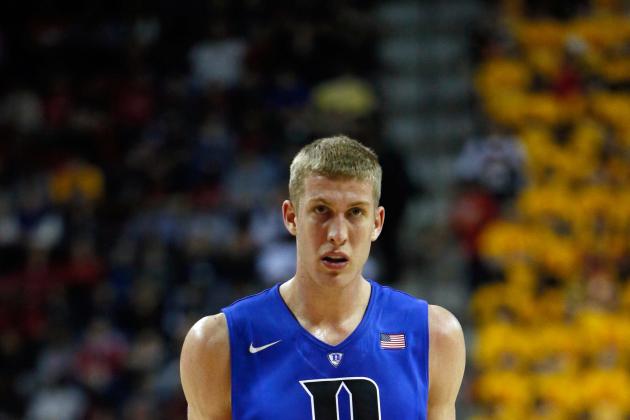 Mitch Stringer-USA TODAY Sports

Mason Plumlee might have gotten leapfrogged by Alex Len on most NBA draft boards, but he can still be an asset to a rotation.
Plumlee is arguably the most athletic of all of the lottery centers. Neither Elton Brand nor Chris Kaman are under contract for next year, leaving a gaping hole at the 5 for Dallas.
In terms of his overall body of work, Plumlee has been awesome. One messy game shouldn't destroy his future outlook. Plumlee's ability to play above the rim on the interior should be highly coveted by a team with an aging front line.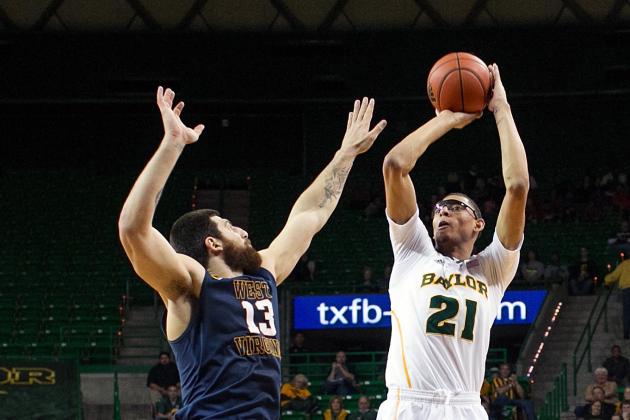 Kevin Jairaj-USA TODAY Sports

Based on intrigue alone, Isaiah Austin is an enticing option anywhere outside the top 10, given how few potential studs could eventually emerge from this class.
Austin has slowed down a bit over the past couple of weeks, but it doesn't negate the fact that he's a skilled 7'1'' big man who can operate on the perimeter.
He obviously needs pounds of muscle and a more refined in-between game, but the upside is there if he finds the right path to reach it.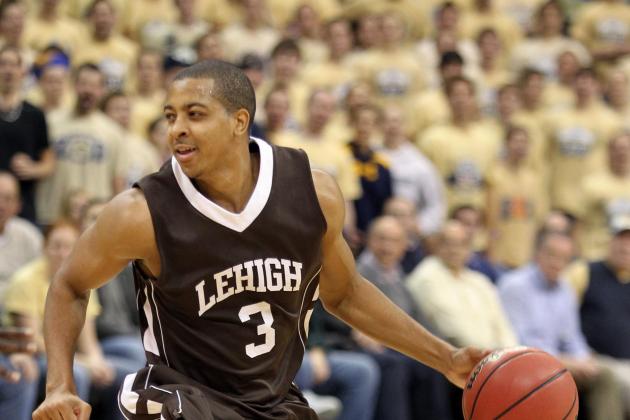 Charles LeClaire-USA TODAY Sports

Though C.J. McCollum has been out with a broken foot for the past six weeks, his stock remains steady.
The Suns could use a scorer, and they won't find a better one on the board 13 picks into this draft. McCollum was second in the country in scoring at 23.9 points per game, showing the ability to play on the ball as a game manager and off it as a primary offensive option.
The Suns should be in best-player-available mode without any legitimate long-term building blocks on the roster. McCollum wouldn't be a bad one to come away with at the back end of a weak draft lottery.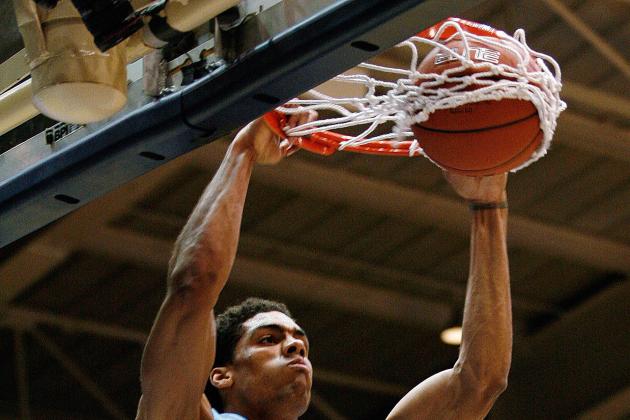 Mark Dolejs-USA TODAY Sports

Fading Star
James McAdoo bounced back from two single-digit scoring games with a 19-point, nine-board effort in a win over Georgia Tech.
While we keep seeing flashes of potential, McAdoo hasn't given off a steady stream to solidify his position as an elite NBA prospect.
Between the weak field and the North Carolina-Michael Jordan connection, I'd find it hard to believe McAdoo makes it out of the lottery. He'd provide solid value at No. 14 based on his upside, if it's ever reached.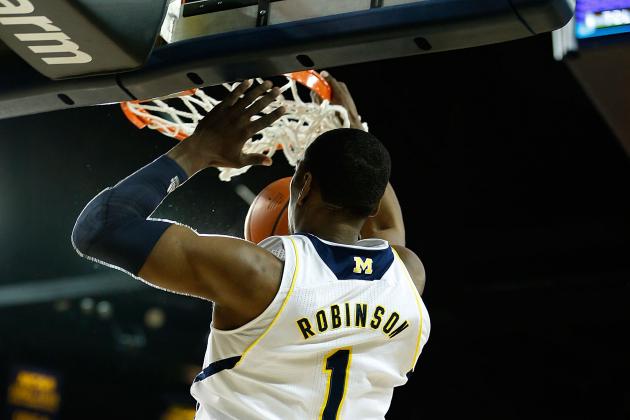 Gregory Shamus/Getty Images

There's a little more to this than just the Milwaukee Bucks taking the son of the guy they took first overall nearly two decades ago.
Glenn Robinson III's NBA-caliber athleticism was on full blast against Penn State, when he went for 21 points and 10 boards. Robinson plays best on the move, where he's a glowing target in transition and an alley-oop threat running the baseline.
He's just the athlete that Milwaukee lacks on the wing, and although he's not necessarily NBA ready, neither is anyone else available this late.
Robinson has a chance to be a top-10 pick in 2014. If he enters, getting him outside of the lottery would be a value selection in 2013.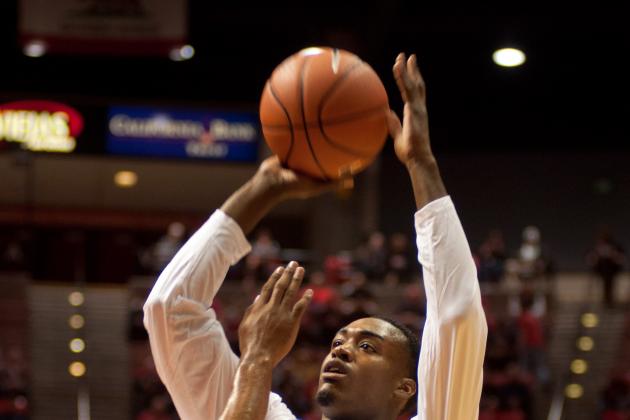 Kent Horner/Getty Images

More than anything else, the Atlanta Hawks need to inject some athleticism to their wing positions.
They can suit up Jamaal Franklin at either the 2 or the 3 and watch him make plays without having to draw them up.
Though he isn't someone to be featured in an offense, Franklin has the potential to fill a long-term role as a supporting cast member. He contributes across the board, averaging 17 points, nine rebounds and more than three assists per game.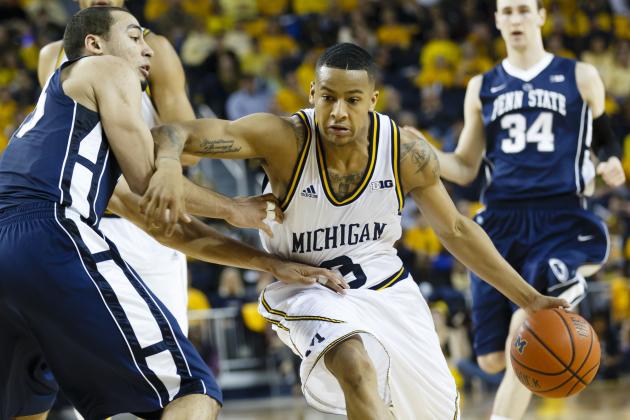 Rick Osentoski-USA TODAY Sports

The Boston Celtics just aren't going to find an impact player this deep in the first round who can fill a starting role.
Without any depth at the point guard position and a starter coming off a partial ACL tear, they'll need someone to handle the rock.
Trey Burke's motor and intensity will likely be coveted by Doc Rivers, who loves players who play with passion.
A backup point guard is a need, and Burke could be an awfully good one. In a shallow field, coming away with a need would be a success in the mid-to-late first round.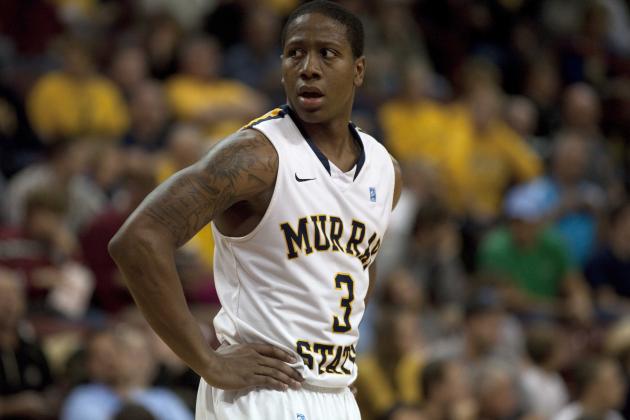 Joshua S. Kelly-USA TODAY Sports

The Utah Jazz likely have a ranked list of point guards whom they will be targeting with this pick.
Isaiah Canaan has the leadership qualities and skill set to fulfill a starting gig once he adjusts to the new game.
Canaan is quick off the bounce and can finish at the rim or pull up from from close to 26 feet away. He's as tough as a competitor as you'll find and someone to trust with the ball down the stretch.
Rudy Gobert is going to float around this range until predraft festivities get under way.
Right now he's just an object with measurements and dimensions. He is 7'2'' with a 7'9'' wingspan and a mobile, active body, which is all the information we need.
Teams that lack bounce and above-the-rim activity should be in the market for Gobert's potential services down the road.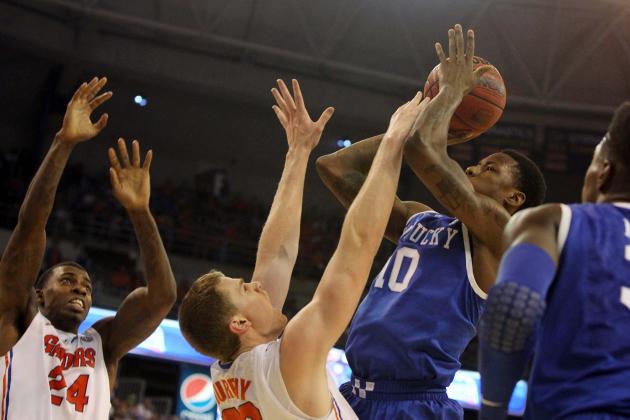 Kim Klement-USA TODAY Sports

Fading Star
Though Joe Johnson is more of a east-west scorer who can pull up in the mid-range, Archie Goodwin is a north-south attacker who can explode toward the rim and finish above it.
With MarShon Brooks falling out of favor in Brooklyn because of his low-percentage perimeter offensive approach, most of Goodwin's activity comes moving toward the basket instead of away from it.
He's a project, but one that should pay off down the road as he eases his way into the NBA game.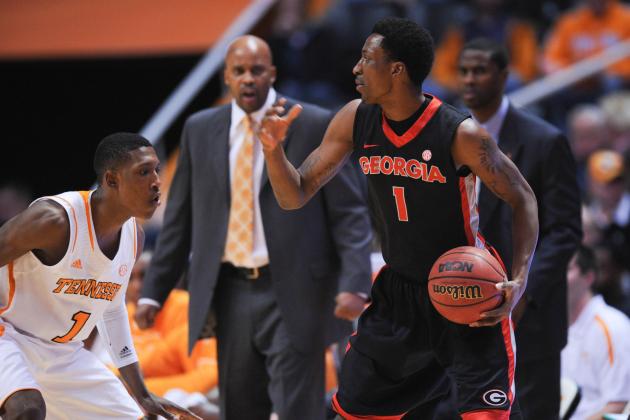 USA TODAY Sports

High Riser Alert
The Chicago Bulls have a hole at the off-guard slot, and Kentavious Caldwell-Pope can fill it by providing just the services they need.
Caldwell-Pope's primary strengths are his deep range and long ball, which could help with spacing and open up lanes in the half court. But unlike Marco Belinelli, Caldwell-Pope is an excellent athlete with lockdown perimeter tools. At 6'6'' with long arms, he offers versatility on the wing, which the Bulls lack from their current personnel.
He's averaging 17.7 points, 6.6 rebounds and 2.2 steals, making 2.5 threes per game on 37 percent shooting from behind the arc.
Mark Zerof-USA TODAY Sports

Fading Star
Though Alex Poythress would be best off returning to Kentucky to develop his game, the Wildcats have a loaded incoming class and his opportunities could be limited.
He's a project, but one with serious potential because of his offensive versatility.
Poythress will likely be much more effective in an offense that allows for freedom and with a point guard who can set the table.
He'd be an upgrade athletically on the wing for Utah.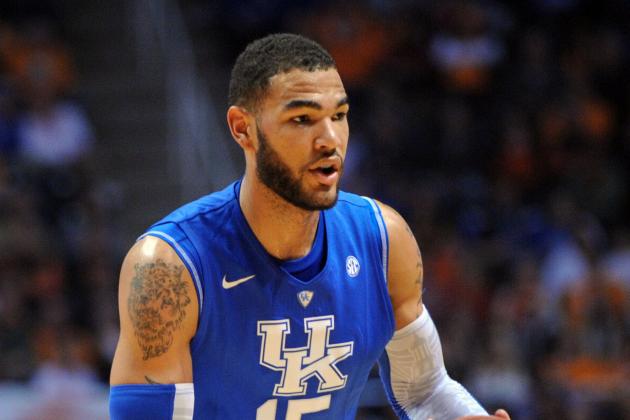 USA TODAY Sports

Willie Cauley-Stein is arguably the most raw first-round prospect on the board but offers substantial reward if he learns how to play.
He's a power athlete at 7'0'' with long arms and the ability to pull the basket down with a two-handed slam.
There's no question that he lacks a refined skill set. But this is a kid who was built to play sports, and pure athletes tend to improve with more practice and live reps.
With Kenneth Faried undersized defensively and Kosta Koufos and JaVale McGee more of finesse players, Cauley-Stein can be that physical complement.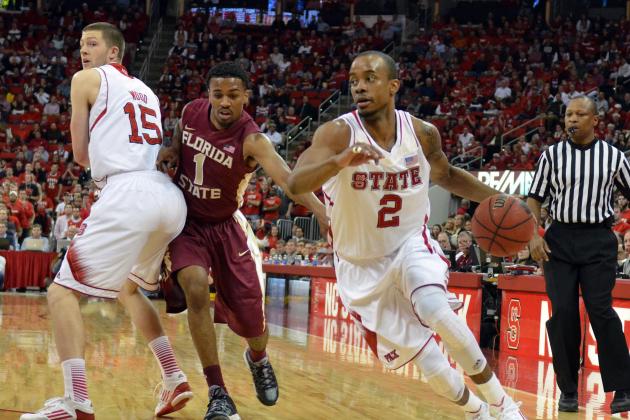 Rob Kinnan-USA TODAY Sports

I think it's fair to say that there might be better options than D.J. Augustin in the 2013 draft pool.
Lorenzo Brown is a true pass-first facilitator and has starting potential given his 6'5'' size and fluid athleticism.
Not even George Hill is a natural fit at the point for Indiana, so drafting a pure orchestrator could be the best move.
Brown leads the ACC in assists and is one of the most undervalued prospects in the country.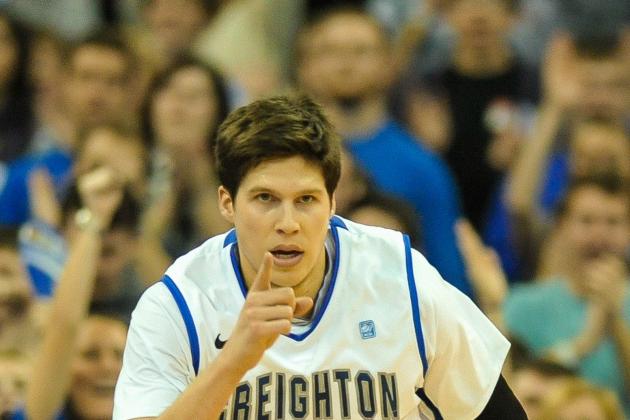 Eric Francis/Getty Images

The Minnesota Timberwolves have to surround their playmakers with shot-makers. Cue Doug McDermott.
He's shooting a scorching 47.8 percent from downtown this year and has maintained that electrifying rate over a two-year span, proving the numbers aren't a fluke.
Whether or not he turns out to be more than a specialist is irrelevant 25 picks deep into a draft. If a team can find a contributor late with the skill set to fill a need, then there's nothing wrong with pulling the trigger.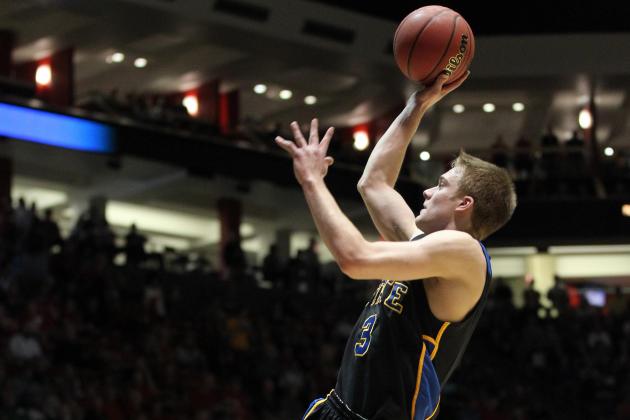 Nelson Chenault-USA TODAY Sports

High Riser Alert
We've been trying hard to ignore Nate Wolters' inflated production as a mid-major star, but enough is enough.
After going off for 53 points earlier this month, he followed up with 36 against Oakland and 28 against Western lllinois.
Wolters is a point guard with size who can score from every angle on the floor. And it's not just scoring—Wolters is averaging 5.4 assists to go with 22.8 points per game.
He's incredibly crafty with the dribble, specializing in creating offense off the bounce.
The Knicks have expressed interest in Luke Ridnour for years, and Wolters is essentially a bigger, more dangerous version.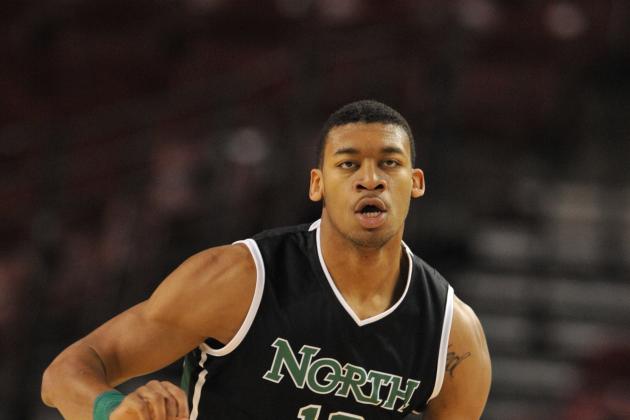 Andrew Fielding-USA TODAY Sports

Fading Star
If Tony Mitchell can't find a way to produce in the Sun Belt conference, I'm not sure how he's going to manage in the NBA.
His numbers are severely down across the board, most notably his field-goal percentage (56.7 percent to 44.4 percent), rebounding (10.3 rebounds per game to 8.3 rebounds per game) and three-point percentage (43.9 percent to 29 percent).
It's a good thing he's arguably the most dynamic pound-for-pound athlete in the draft class.
The NBA draft combine couldn't come soon enough for Mitchell, who will have the chance to outclass his competitors during measurements and athletic testing.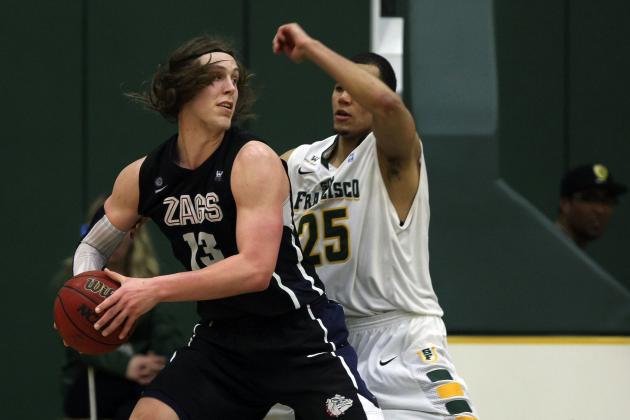 USA TODAY Sports

High Riser Alert
Kelly Olynyk could end up being a steal wherever he goes based on his size, talent and mobility.
He simply can't be stopped at the college level despite lacking the ideal athleticism that the game seemingly now requires.
Olynyk is scoring 18 points per game but lacks the ability to play above the rim, which limits him as a rebounder and rim protector.
But he's an obvious talent and should attract numerous suitors. The back of the first round is probably his basement.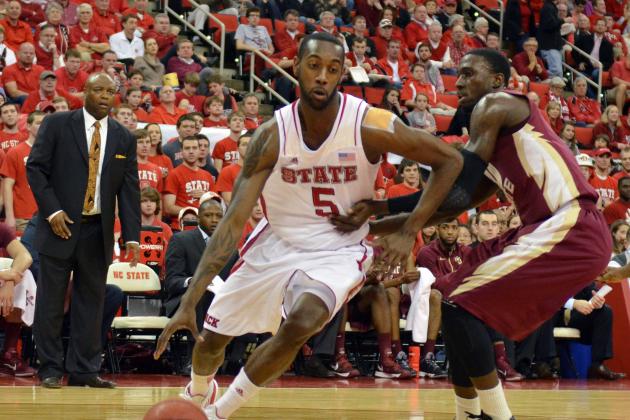 Rob Kinnan-USA TODAY Sports

C.J. Leslie is just too talented and athletic to let pass by this late.
The Cavaliers frontcourt doesn't have a versatile forward who can play above the rim inside or run the floor like a wing.
His jump shot and decision-making both need work, but these two areas of the game can be fixed over time.
The only concern is his "tweener" size and weight; however, this late in the first round the risk is worth the reward.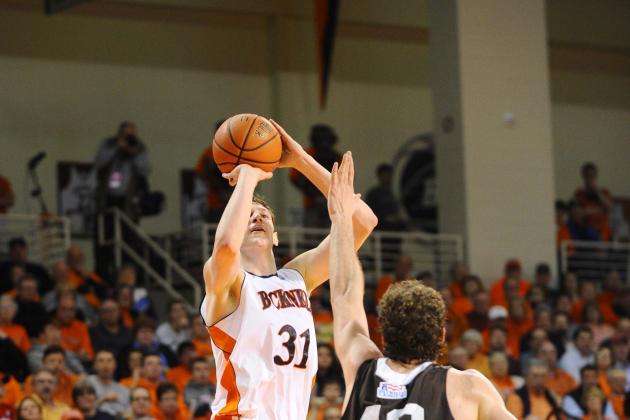 James Lang-USA TODAY Sports

High Riser Alert
Mike Muscala is a hidden talent, and the San Antonio Spurs have the best draft detectives.
Muscala is averaging 19.1 points and 11.5 boards per game, illustrating a skill set that should translate to the NBA level.
He's a true inside-outside big with the ability to step out and knock down pick-and-pop jumpers or control the glass and finish on the interior.
If San Antonio is looking to go big, Muscala will likely be on its radar.