NBA Trade Rumors: Running Potential Deals Through the ESPN Trade Machine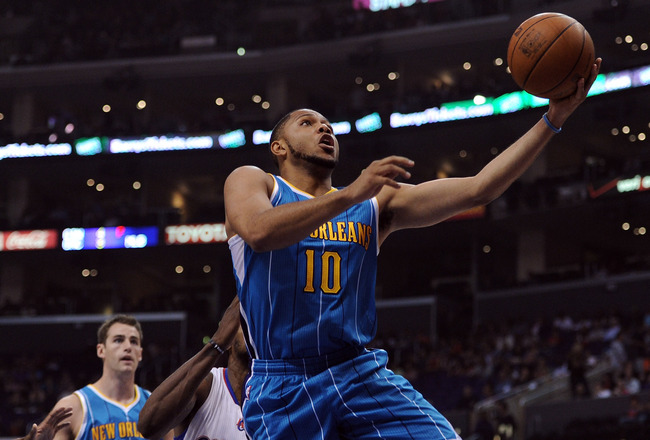 Harry How/Getty Images
It's that time of year ladies and gentlemen. The NBA trade deadline is right around the corner, and trade speculation is starting to spread like wildfire. However, unlike wildfire, trade speculation can be controlled thanks to the prerequisites that need to be met in order to properly facilitate a deal.

In order to give fans a true sense on if a particular deal makes sense—both financially and basketball wise—ESPN put together a little thing called the ESPN Trade Machine. Now every basketball fan can put on their GM hats (or ties rather…since GMs don't wear hats) and really get a feel for what these guys go through on a day-to-day basis.

With the deadline fast approaching, let's take a look at a few deals that have been rumored and reported and run them through the Trade Machine test.
Paul Millsap for Eric Bledsoe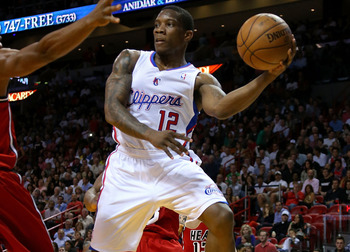 Mike Ehrmann/Getty Images
According to Ramona Shelbourne and Marc Stein of ESPN.com, the Clippers and Jazz have "mutual interest" in a deal that would land Paul Millsap with Lob City and Eric Bledsoe being shipped to Utah.

From a basketball standpoint, the trade makes sense on both sides. Bledsoe has shown flashes this season of being borderline spectacular. "Flashes" is the key word here. When one is playing behind arguably the best point guard in the league in Chris Paul, opportunities tend to come few and far between. Oh, and there's also guard minutes that need to go to the likes of Jamal Crawford and Chauncey Billups, so Bledsoe has become expendable. He would have a solid chance in Utah to become the starter with no top-tier PG in place.

Acquiring Millsap would provide some much-needed depth behind Blake Griffin, which will be key if the Clippers hope to make a deep playoff run. Paying $8.6 million isn't exactly ideal for someone who would essentially be a backup PF, but winning never comes cheap in the NBA.

Financially is where this deal hits a snag. A straight-up swap of the two players doesn't work, as Millsap makes almost eight times more than Bledsoe. The Clippers would obviously have to throw in another player to make this work, but the only two players who are remotely within that pay scale are Caron Butler (who the Jazz would probably be unwilling to bring on board with the two years left on his contract) and Lamar Odom (insert Kardashian joke here).


Unfortunately, as much as this deal looks and sounds good, on paper, it simply doesn't work out.
Eric Gordon to the Golden State Warriors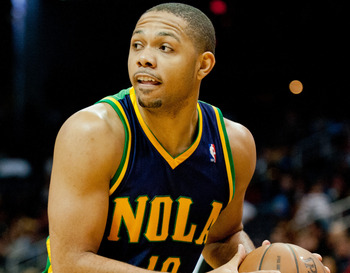 Kevin Liles-USA TODAY Sports
The New Orleans Hornets and Golden State Warriors are two teams heading in two different directions. That's usually a solid ingredient to igniting any type of trade talk.

Although he just signed a massive four year, $58 million deal this summer, Gordon's time with the Hornets has been pretty rocky. A change of scenery for both parties would most likely be best for all involved, which is why it makes sense that a few teams are inquiring about the services of the former Hoosier.

The Warriors could very much use a guard of Gordon's playmaking ability alongside Stephen Curry. He can do a little bit of everything, but scoring remains his specialty. Gordon would provide the Warriors with a guy who can create his own shot, thus creating better opportunities for Curry and David Lee.

In order to get him, they would definitely have to part ways with either Klay Thompson or Harrison Barnes. Trading one of them obviously doesn't make sense, given the size of Gordon's contract and the rookie deals that Thompson and Barnes are still on. Trading both would be a huge risk for the Warriors, therefore making that swap highly unlikely.

Golden State's offer would likely have to look something like this:




The Hornets would get two young pieces in Thompson and Green that would fit in well with their rebuild. Obviously Andris Biedrins is the unattractive part of this deal, given his inability to play effective basketball anymore. But if it helps rid them of Gordon's contract and they only have to pay Beans for two more years, then that's something that New Orleans would have to explore.
Josh Smith to the Celtics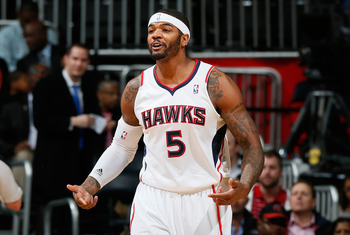 Kevin C. Cox/Getty Images
What? Josh Smith on the trading block? You don't say.

If we all had a penny for every J-Smoove trade rumor that has been floated out this year…well, let's just say we'd have a lot of pennies (unless you live in Canada).

The report that the Boston Celtics are kicking the tires on acquiring the former dunk contest champion is very interesting. He would instantly inject athleticism and excitement that's been missing from the Celtics for a few seasons now.

If the price for nabbing Smith is really only Jeff Green and Brandon Bass, then that's an absolute steal from a basketball perspective.

It seems like Danny Ferry and the Hawks fully understand that Smith is not in their long-term plans and with his upcoming free agency, they are looking to get whatever they can in exchange for him. The Green-Bass tandem isn't exactly the most ground-shaking move, but it's better than the nothing they will get this summer if/when Smith walks.

Money-wise, it works out as well:




If Danny Ainge can somehow pull this off after the season Boston has had, you'd have to chalk it up as a win no matter what happens to them this season.
Keep Reading