Is there ever a bad time to see the defending champion Miami Heat in action? Not if you're Micky Arison, apparently.
According to the Daily Mail, the franchise owner and Carnival Cruise Lines CEO attended the Heat's Tuesday night game with the Portland Trail Blazers as thousands of passengers aboard the Carnival Triumph endured another day of unbearable conditions on the stranded ship.
Through patchy cell phone service, passengers were able to relay some descriptions of the putrid setting. An engine room fire is reportedly blamed for the disaster that has left the ship without power and water and nearly wiped out its food supply (via the Daily Mail).
With only five bathrooms serving more than 4,000 people on board, most have been forced to urinate in cabin showers and defecate in bags. There are even reports of fights breaking out over the available food.
Carnival Cruise Lines president, Gerry Cahill, detailed the list of reimbursements for the ship's passengers (including a full reimbursement for the travel cost and credit toward a future trip), and promised that, "Our shipboard and shoreside teams are working around the clock to care for our guests and get them home safely."
Apparently, Arison is not a part of that shoreside team.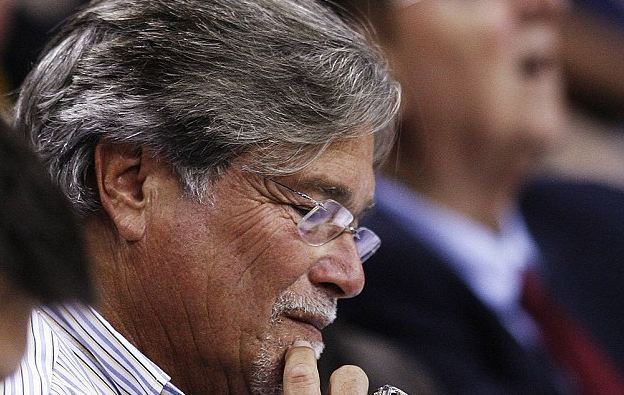 His decision to attend the game amidst the cruise's days-long nightmare has since sparked controversy among the public and those close to the situation:
Did I just hear @mickyarison was at a #Heat game while I'm hanging out with feces? #CarnivalTriumph

— Jayme Lamm (@jaymelamm) February 15, 2013
Some family members awaiting Triumph at Ala. Cruise Terminal are griping about @mickyarison watching basketball while loved ones suffered.

— Gene Sloan (@CruiseLog) February 14, 2013
The Twitter world has taken exception with Arison's lack of involvement in the crisis:
Hey, Micky Arison, if you wanna feel the HEAT take a Carnival Cruise and stay outta the players'locker-room!

— G. E. Schwartz (@GEschwartz) February 14, 2013
Nero fiddled while Rome was burning. Carnival owner Micky Arison took in a Miami Heat game.

— Wile E. Quixote (@ScottLinnen) February 14, 2013
If The Heat lose I'll just blame it on Micky Arison's deservedly bad karma.

— TortiousTroll (@TortiousTroll) February 14, 2013
MiamiHeat Owner and also Owner of the Carnival Cruise Lines MickyArisonneed to get into contact with Olivia Pope from Scandal

— Leo (@kingleo702) February 15, 2013
Tip for Miami Heat/Carnival Cruise lines owner, Micky Arison: May want to stay away from court side seats at Heat vs Thunder tonight

— Ana Navarro (@ananavarro) February 14, 2013
The prolonged fiasco appears finally close to closing the first chapter of the catastrophe, as the Triumph is expected to dock in Mobile, Ala., Thursday night.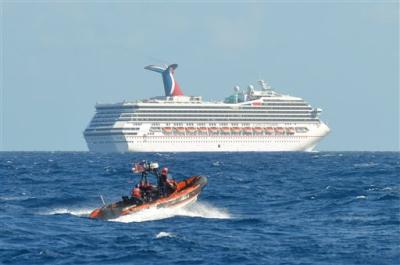 No one knows exactly what Arison is doing in response to the fire and subsequent dire conditions, but his decision to attend the game reeked of poor decision-making (at best) and indifference (at worst).
He undoubtedly has a horde of public relations pros at his disposal, and it's impossible to think that none of them mentioned this outing might be seen as poor judgment (or worse).
Do you have a problem with Arison attending the game?
He has put people in place to handle these types of situations, but the passengers and crew on board and their families back home needed to see some sort of public support from the cruise magnate. No matter how deep our passions may run, life comes before sports.
Perhaps his avoidance of the disaster shouldn't be a surprise at all. After all, this is the same behavior that he's exhibited before:
Tough times for Miami Heat owner and Carninval CEO Micky Arison. First the Costa Concordia, now the Triumph.

— darren rovell (@darrenrovell) February 14, 2013
The Costa Concordia, another Carnival vessel, was on the first leg of a week-long Mediterranean cruise when it ran aground last January off the Tuscan coast. Over 4,200 passengers and crew were on board the ship, and 32 people lost their lives in the wreck.
Arison sparked outrage over that incident by avoiding the media after the accident and not traveling to Italy for firsthand exposure to the tragedy.