New Orleans Hornets vs. LA Lakers: Live Score, Results and Game Highlights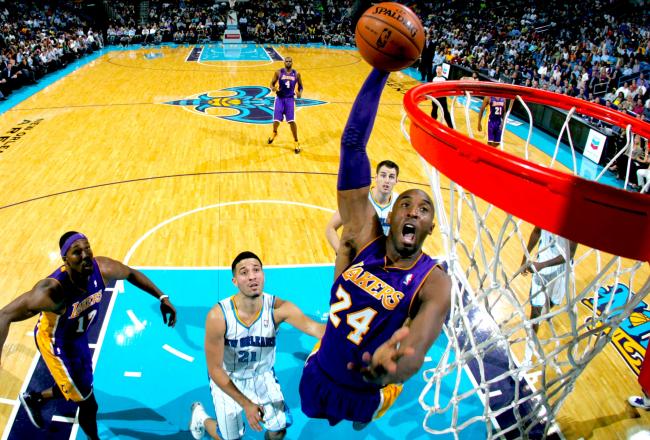 The Los Angeles Lakers looked like they were primed to run away with their third straight win, but a furious run by the New Orleans Hornets in the last five minutes of the game made things a little more interesting than Kobe Bryant and Co. would have liked.
In the end, L.A. prevailed thanks to its best ball movement of the season and a terrific bench performance from Antawn Jamison.
The Lakers registered a season-high 34 assists on 39 made baskets, and Bryant was at the center of the team's new-found penchant for passing. Kobe had a team high 11 assists, which gave him a three-game total of 39 during L.A.'s recent winning streak.
The pick-and-roll was effective, Pau Gasol had seven assists of his own and Dwight Howard put up 24 points on just 13 shots. In other words, the Lakers' offense looked like everyone thought it would before the season started.
Contributions came from just about everywhere, as Earl Clark hit four threes and the aforementioned Jamison led all Laker reserves with 16 points—including a huge bucket with less than a minute remaining that made it a two-possession game.
New Orleans got great performances from Eric Gordon and Anthony Davis, who each made 7-of-12 shots and combined for 43 points. If Ryan Anderson could have heated up a little earlier, the Hornets easily could have won this game. But the NBA's leader in three-point makes shot just 6-of-15 and only started scoring during the Hornets late, ultimately ill-fated run.
The Lakers moved to 20-25 with the win, while the Hornets fell to 15-30 in defeat.
Going forward, L.A. looks to have found the offensive rhythm that has been eluding it all season. Defense is still an issue and the aging Laker core played far too many minutes on the front end of a back-to-back set, though. So there are still plenty of issues to resolve.
Final Score: Lakers 111, Hornets 106

Postgame Storylines
Three's a Streak
The L.A. Lakers are officially on a winning streak now, and it seems like this run might be for real. "Seems" is the operative word, though.
Offensively, the Lakers moved the ball brilliantly against the Hornets, registering 34 assists on the night. L.A. whipped the ball around the perimeter, inside-out from the post and even got a few outlets up the floor in transition. Suddenly, it looked like the Lakers figured out how to play with one another.
That's all great, but sustaining such a massive stylistic change will be easier said than done. Can Kobe continue to be satisfied with so few shots? 17 years of his career say that's unlikely. Can Pau Gasol continue to operate primarily as a facilitator off the bench? Who knows?
There are going to be questions until the Lakers show that their new unselfish offensive philosophy can last. For now, though, it's a pretty good source of optimism for desperate Laker fans.
The Hornets Are Close
If New Orleans finishes this season with more than 50 losses, it won't surprise anybody. But make no mistake; the Hornets aren't very far away from being a playoff team.
Eric Gordon can be an explosive scorer, Anthony Davis is a certain star and Greivs Vasquez looks like a legitimate distributor. Wtih Ryan Anderson gunning off the bench and Robin Lopez playing a serviceable center for the time being, New Orleans has some nice pieces.
All five of those players contributed against the Lakers, but their teammates pulled a collective no-show. Outside of Anderson, the bench shot 5-of-23 combined. That's a killer in a game that was ultimately decided by just five points.
If New Orleans can surround its core with a couple more decent bench players, the Pelicans will be onto something next year.
The Curious Case of Mike D'Antoni
Nobody seems to be able to pin down whether Mike D'Antoni is a genius, an idiot or both. The Lakers suddenly dynamic offense must owe at least some credit to his guidance, but their horrible defense must also fall at his feet.
Those are larger themes, but a couple of small decisions in this game illustrated the complicated nature of any effort to analyze D'Antoni's coaching acumen.
Holding a 14-point lead with less than five minutes to go, D'Antoni summoned Steve Nash and Kobe Bryant from the bench, where they'd been sitting for nearly 20 minutes in actual time. With a game tomorrow night against the Phoenix Suns, logic would seem to have dictated that the Lakers should rest their ancient backcourt tandem.
Instead, the pair came into the game and presided over a wickedly quick Hornets run that cut the lead to four. Clearly, D'Antoni wasn't aware that aging players don't tend to pop off the bench ready to go; it takes time for them to get loose.
Bryant and Nash never should have come into the game; the Laker reserves were playing just fine and there's no way L.A. will be able to put a run together if those two are worn down in March and April.
Of course, a huge three from Nash helped the Lakers hang on in this one, so D'Antoni was oddly vindicated. He's either the dumbest genius or the smartest idiot in the NBA coaching ranks—nobody's quite sure which.
Final Score: Lakers 111, Hornets 106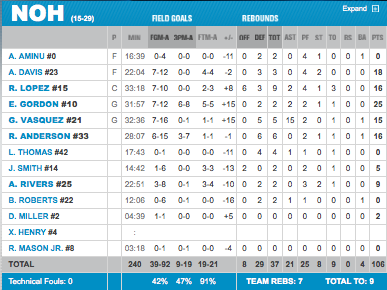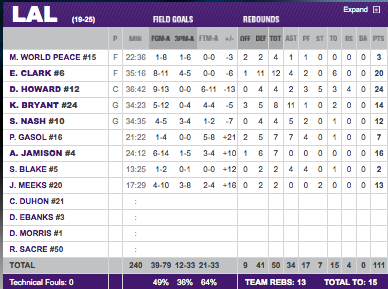 Final box score via NBA.com.
Final Score: Lakers 111, Hornets 106
Lakers Leaders
Bryant: 14 points, 11 assists, 8 rebounds
Howard: 24 points, 4 rebounds, 5 steals, 4 blocks
Gasol: 7 points, 7 rebounds, 7 assists
Hornets Leaders
Gordon: 25 points, 2 rebounds, 2 assists
Davis: 18 points, 3 rebounds, 2 steals
Vasquez: 15 points, 15 assists, 5 rebounds
Final Score: Lakers 111, Hornets 106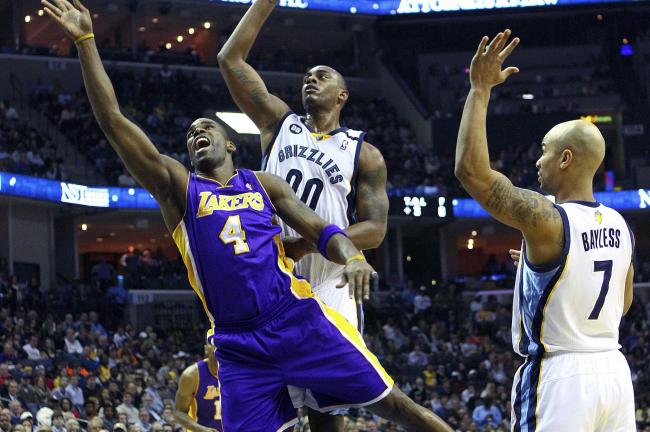 A transition three by Gordon cuts the lead back to three. Jamison promptly hits one of his patented runner/floater thingies to put L.A. back up by five. Antawn has 16 tonight, but none were bigger than those two.
Lakers 109, Hornets 104—:15 remaining in 4th quarter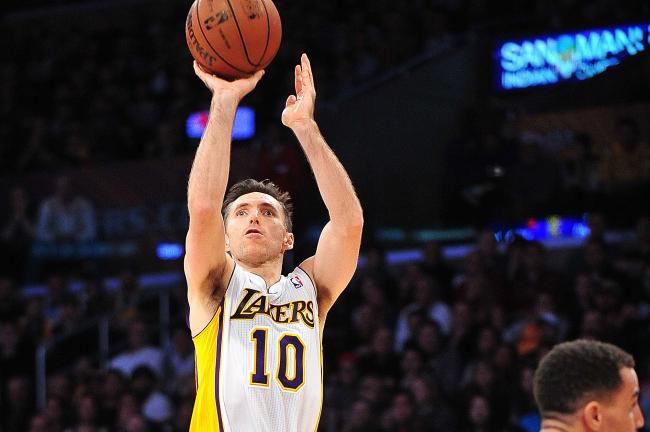 Humongous three by Steve Nash gives the Lakers a six-point lead. Kobe started the possession with a skip pass out of the mid-post area to Earl Clark, who found Nash. L.A. may hang on after all.
Lakers 107, Hornets 101—1:21 remaining in 4th quarter
Anderson with another three. One-point game. NOH is on a 21-4 run right now. There have been a few back-breaking losses for L.A. this year, but this would be the worst.
Lakers 102, Hornets 101—2:03 remaining in 4th quarter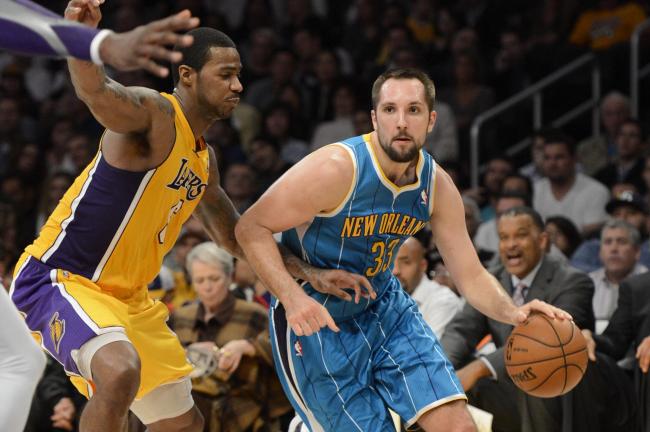 16-2 Hornets run has cut the Laker lead to four. Ryan Anderson hasn't been able to buy a bucket, until his last three induced a D'Antoni timeout.
Lakers 100, Hornets 96—2:54 remaining in 4th quarter
Kobe & Nash should have ice bags around their knees right now

— Mark Medina (@MedinaLakersNBA) January 30, 2013
Nash has been knocked flat twice in the last two minutes and the Hornets have cut the lead by 10 since he and Kobe returned. Weird, it's as if guys in their mid and late-30s don't just heat up right away.
D'Antoni should be fired for this.
Lakers 100, Hornets 96—3:00 remaining in 4th quarter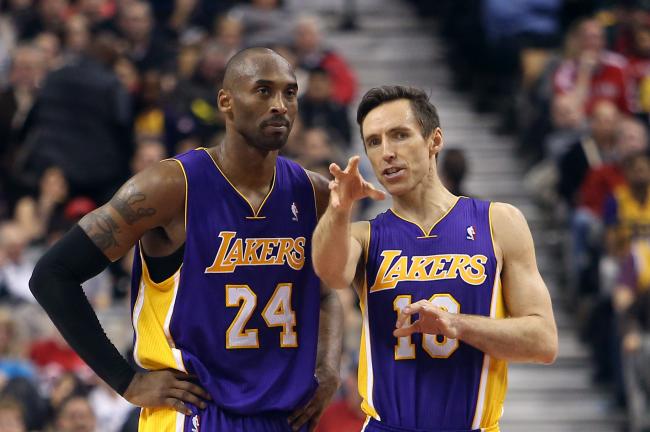 So, the Lakers have a game tomorrow night against Phoenix and a 14-point lead with less than five minutes to go tonight. And Kobe and Nash re-enter the game.
I'm not a huge fan of blaming D'Antoni for everything, but this is indefensibly stupid. Just absurd.
Lakers 98, Hornets 84—4:54 remaining in 4th quarter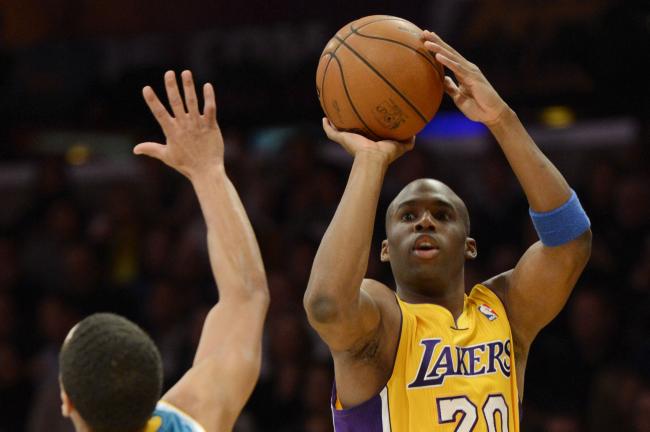 The bench showed up: 14 points for Jamison and 13 for Meeks. They've got the two highest plus-minus figures on the team at plus-23 and plus-20, respectively.
Lakers 98, Hornets 80—5:47 remaining in 4th quarter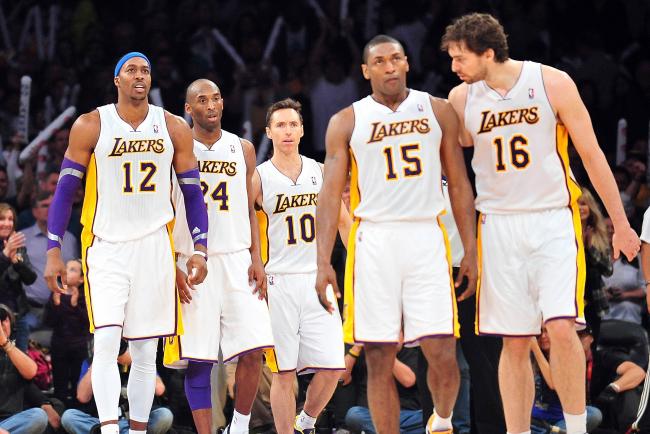 If the Lakers are to have any hope of fighting back into the playoff race down the stretch, they've got to get a few wins by a wide enough margin to rest their aging starters. Nash, Bryant and Howard are all right around 30 minutes tonight.
Lakers 96, Hornets 80—6:09 remaining in 4th quarter
Great block and outlet pass by Howard. Those are the little things that once made him such a dominant defensive force. He has shown some signs tonight of returning to that status.
He's got to get more than three boards, though. That's ridiculous.
Lakers 93, Hornets 78—7:50 remaining in 4th quarter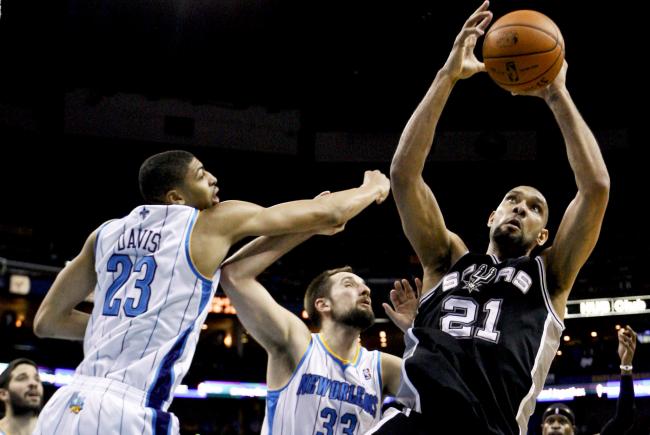 Bold prediction: the New Orleans Pelicans will make the playoffs next year. This is a team that is ready to compete right now, and they've got a lottery pick coming.
Plus, Anthony Davis and Ryan Anderson give them a pair of very efficient, albeit very different, front-court options.
Lakers 91, Hornets 78—8:35 remaining in 4th quarter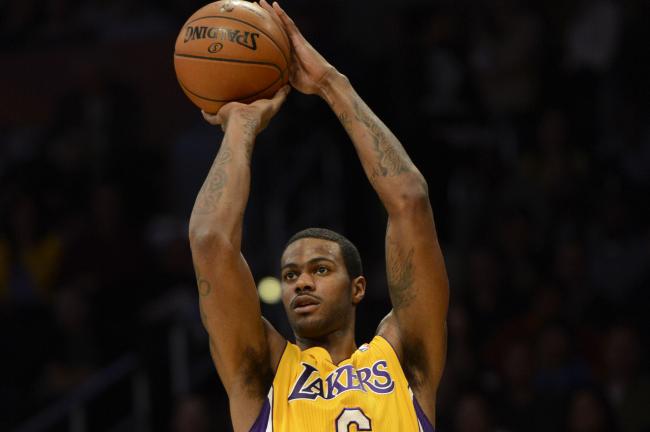 Earl Clark bottoms a three, giving him 18 points on 7-of-9 shooting. He's also got eight boards. There's a chance he really is the stretch-4 D'Antoni seems to want so badly.
Lakers 91, Hornets 77—9:04 remaining in 4th quarter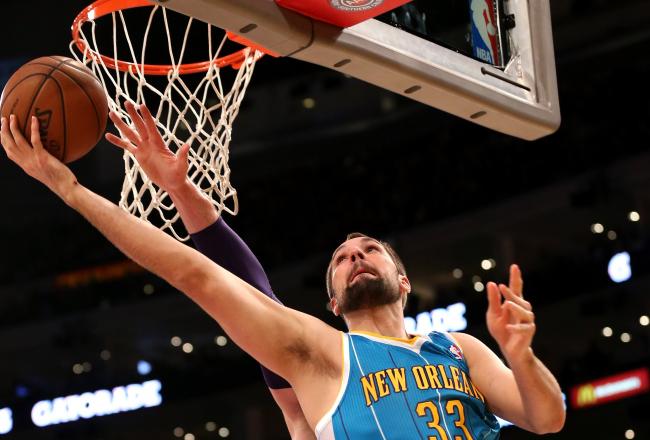 Just a horrible performance from New Orleans' bench, which ash combined to shoot 6-of-26. A halfway decent performance from their reserves, and the Hornets are in business.
Lakers 87, Hornets 75—10:18 remaining in 4th quarter
Lakers Leaders
Bryant: 10 points, 10 assists, 7 rebounds
Howard: 24 points, 1 rebounds, 4 steals
Gasol: 7 points, 7 assists, 7 rebounds
Hornets Leaders
Gordon: 22 points, 2 assists, 2 rebounds
Davis: 18 points, 3 rebounds, 2 steals
Vasquez: 10 points, 10 assists, 3 rebounds
Lakers 83, Hornets 73—start of 4th quarter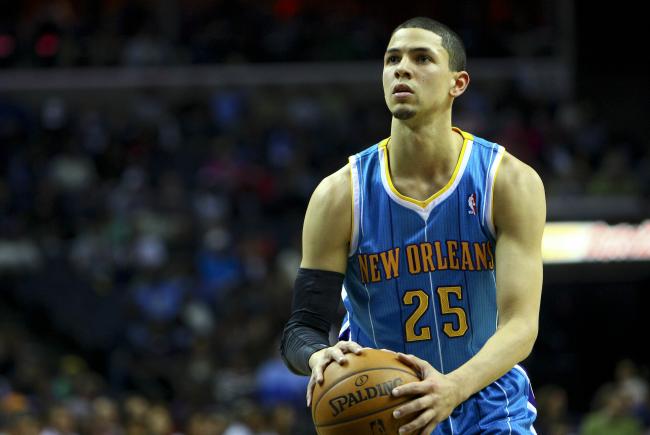 Austin Rivers is 1-of-4 and has a team-worst minus-16 plus-minus. And he just missed the first two free throws of the night for the Hornets.
This has been your obligatory "Austin Rivers is terrible" update.
Lakers 83, Hornets 73—end of 3rd quarter
With his 8th assist tonight, Kobe now has 36 over his last 3 games. The MOST he has EVER had over 3-game stretch in his career.

— SportsCenter (@SportsCenter) January 30, 2013
Make it nine tonight, as Bryant hits Meeks on the break for a dunk. L.A. closing out an ugly quarter nicely right now.
Lakers 78, Hornets 70—1:29 remaining in 3rd quarter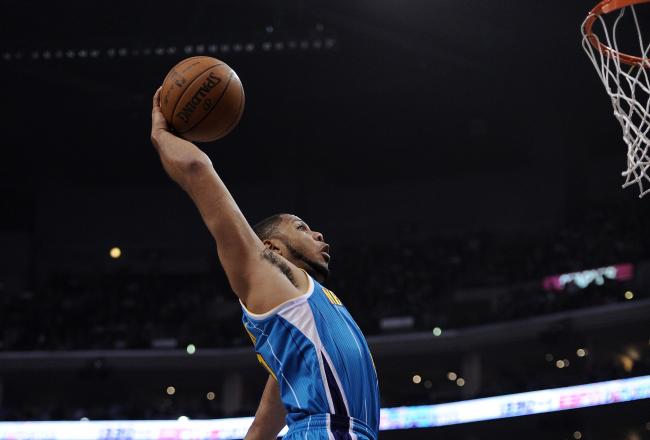 It feels like the Lakers are playing extremely well, but this is now a four-point game. Credit the Hornets for hanging in despite 41 percent shooting from the field. Gordon, Davis and Vasquez have been terrific.
Lakers 72, Hornets 68—3:28 remaining in 3rd quarter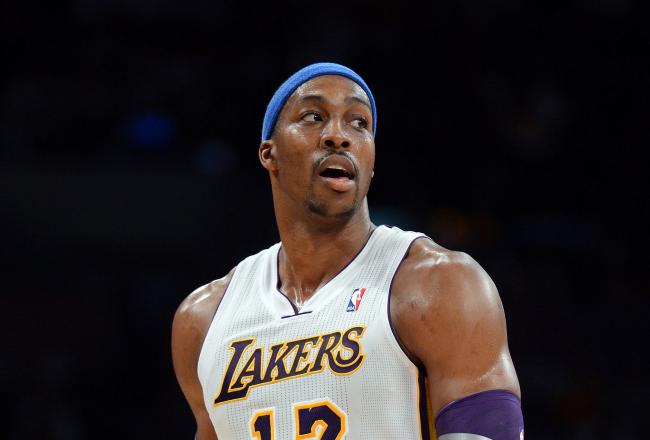 Every time Howard rolls hard to the hoop, good things have been happening for the Lakers. Kobe just picked up his eighth assist on a dime to D12.
New Orleans is defending the pick-and-roll like they've never seen one before.
Lakers 72, Hornets 66—4:04 remaining in 3rd quarter
New Orleans smartly playing aggressive defense, which is forcing the Lakers to go to the line. L.A. is shooting under 50 percent from the stripe tonight. The Lakers should be a little worried about letting the Hornets hang around.
Lakers 70, Hornets 62—5:16 remaining in 3rd quarter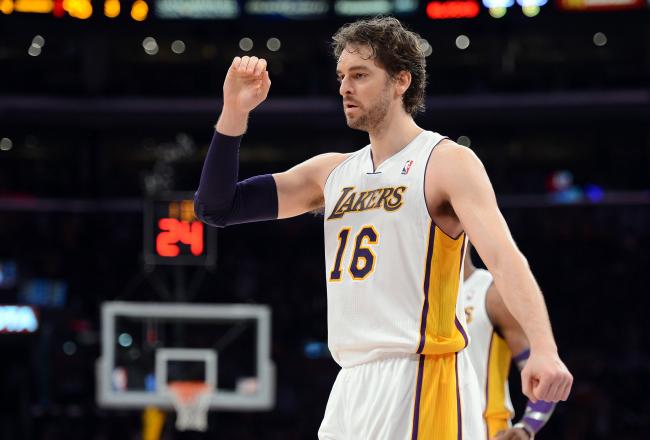 The good: Pau Gasol has seven assists tonight.
The bad: Pau Gasol is 0-for-2 from the field tonight.
The ugly: Pau Gasol has made just 4 of his last 14 free-throw attempts.
Lakers 69, Hornets 62—5:40 remaining in 3rd quarter
Best job Hornets have done of capitalizing on Anthony Davis' strengths on offense in a while. He has 4 dunks (3 in third quarter)

— Jim Eichenhofer (@Jim_Eichenhofer) January 30, 2013
This feels like a backhanded compliment, but Davis has been pretty amazing. Not sure it's fair to say his offensive strength is limited to "dunking," though.
Lakers 69, Hornets 60—5:59 remaining in 3rd quarter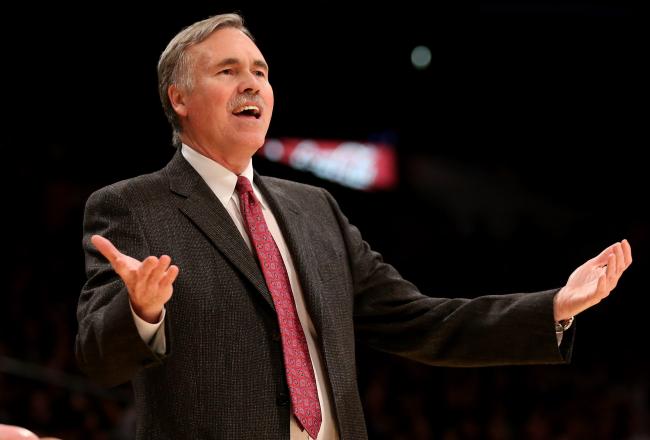 Clark, Gasol and Howard are all on the floor together right now, giving L.A. the biggest lineup possible. Does Mike D'Antoni still coach this team? What's going on?
Lakers 69, Hornets 58—6:08 remaining in 3rd quarter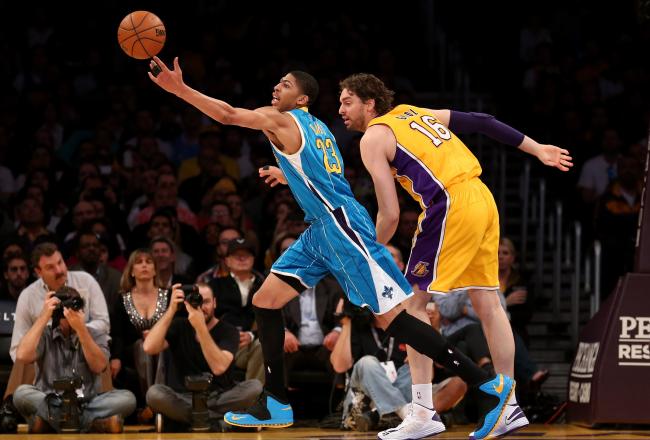 Anthony Davis manages to dunk the ball when you think he's too far away from the bucket to do anything but flip up a little floater. He's long.
16 points on 7-of-11 for Davis, and he's keeping the Hornets in the game right now.
Lakers 67, Hornets 58—6:52 remaining in 3rd quarter
This article is
What is the duplicate article?
Why is this article offensive?
Where is this article plagiarized from?
Why is this article poorly edited?