Predicting Which Players Will Be Impacted by NBA Trade Deadline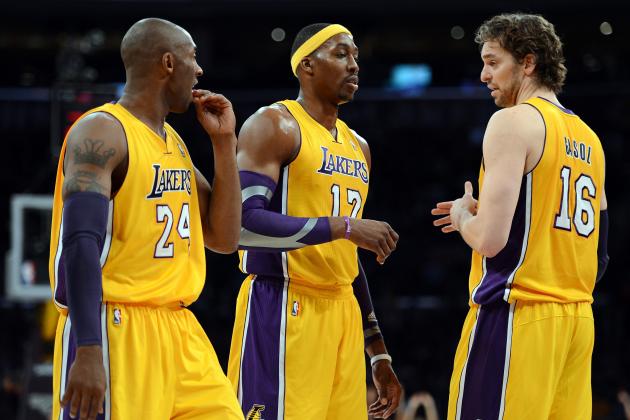 Harry How/Getty Images

The NBA trade season is officially under way.
The unassuming trade that kicked things off (a salary dump by the Memphis Grizzlies that sent three reserves and a pick to the Cleveland Cavaliers) was barely a blip on basketball's radar.
If things don't take a drastic turn, that could be an ongoing theme for the 2013 NBA trade deadline.
Outside of Los Angeles and Memphis, there aren't many sexy names being bandied about in the rumor mill. The few names that are out there are more Bs than As: a declining Pau Gasol, a half-season rental of an injury-riddled Dwight Howard, along with some familiar faces (Josh Smith, Rudy Gay).
But what this deadline may lack for in quality, it may overwhelm in quantity.
The anticipation of the trade deadline is often far more enticing than the day itself (Feb. 21 this year), but this season could be an exception to the rule. With expiring contracts looming and certain franchises underperforming, the league looks ripe for activity.
History has shown that the affects of trades extend well beyond the players involved in the transaction. If the dominoes start falling, there could be a slew of names facing some major role reversals.
Begin Slideshow

»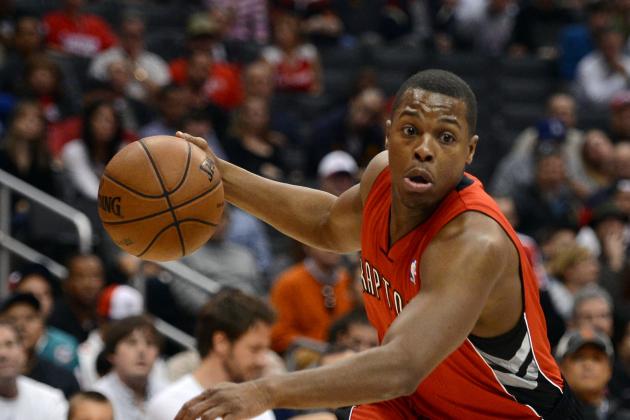 Harry How/Getty Images

The Toronto Raptors moving a point guard would not be a surprise.
The fact that it might be Lowry instead of Jose Calderon would be, though. But that's apparently where the franchise could be headed (according to what league sources told Ken Berger of CBSSports.com).
Lowry's debut season north of the border hasn't quite gone as planned, with the Villanova product shooting a hair over 42 percent en route to his 13.8 points per game.
But he still holds value on the market, given that he's still only 26 years old and has just a $1 million guarantee for next season.
For as highly acclaimed as the league's current point crop has become, there are still some teams with glaring voids at the spot. Per Berger's report, the Los Angeles Lakers, Atlanta Hawks and Dallas Mavericks are all logical landing spots.
If Lowry's able to find a new home, he should instantly move back into the starter's role he'd grown accustomed to over the past two seasons with the Houston Rockets.
It would also bring a calm to Calderon's Toronto tenure unseen in recent seasons. While he's typically been the more discussed trading option, his prolific floor-general numbers (7.5 assists to 1.6 turnovers per game) and three-point stroke (43.8 percent on the year) have made it increasingly difficult to consider him in any potential trades.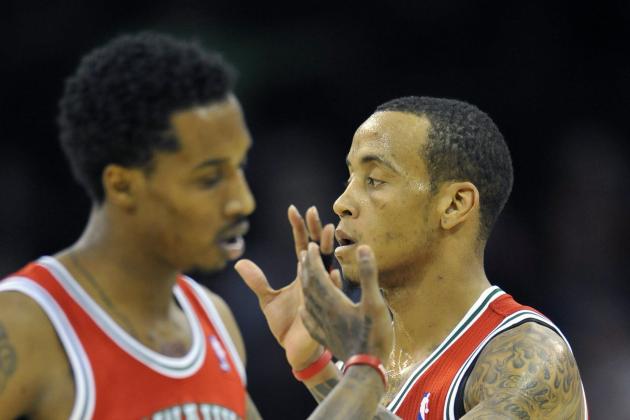 USA TODAY Sports

The Milwaukee Bucks have long been rumored to be trading one of their backcourt starters, Brandon Jennings or Monta Ellis.
With both players likely headed for the free-agent market (Jennings will become a restricted free agent since the team opted not to offer him an extension, while Ellis holds an $11 million player option for next season), the franchise can ill afford to risk seeing both players walk.
Flawed though they may be (neither player is shooting above 41 percent), they still remain two of the better scoring guards in the NBA.
Even though the team cut ties with Milwaukee mainstay Andrew Bogut to acquire Ellis, the former Golden State Warrior appears the more likely trade candidate. Jennings is younger (23, as opposed to Ellis, who's 27), with similar scoring ability and already superior decision-making.
An Ellis trade could be the start of rebuilding the relationship that had to be damaged as Jennings idly watched fellow 2009 class point guards Ty Lawson, Stephen Curry and Jrue Holiday sign extensions earlier this season. With Bogut and Ellis removed from the equation, Jennings would be the obvious face of the franchise for the coming seasons.
As for Ellis, any move would offer him his second fresh start in the past 12 months. Although his relationship with the Bucks appears far more comfortable than what he endured with the Warriors, his reputation as a scorer has taken a hit as his shooting percentage has plummeted.
The Bucks appear stuck in the repetitive cycle of mediocrity that plagued the Warriors during Ellis' tenure. The Warriors took a massive gamble in letting him go, and have since responded with a 26-16 start. It might be worth the risk for Milwaukee to do the same.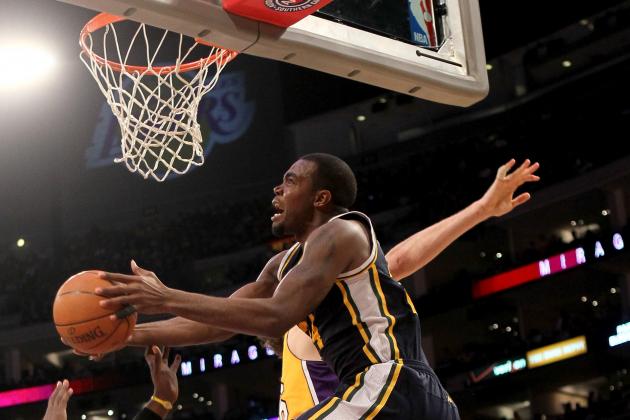 Stephen Dunn/Getty Images

Like the Bucks, the Utah Jazz face some critical personnel decisions.
With their starting frontcourt (Al Jefferson and Paul Millsap) playing on expiring contracts and two young, former top-five picks (Derrick Favors and Enes Kanter) waiting in the wings, the Jazz appear likely participants at the deadline.
The Jazz may ultimately stand pat and battle for one of the final playoff spots in the Western Conference (as Alex Kennedy of hoopsworld.com suggests), but any benefit gained would last long as it would take to be bounced from the first round.
Between Jefferson and Millsap, the Jazz hold two of the most valuable bigs on the market. For them to risk losing one (or both) over the summer could send this club spiraling back into rebuilding mode.
Millsap appears to have the better chance at staying in Utah past the deadline, given his ability to share the floor with both Favors and Kanter. In other words, Millsap could remain with the franchise beyond this season and still open the door for development of the younger bigs.
Jefferson pairs well with the athletic Favors but couldn't play more than spot minutes with Kanter without forcing the Jazz offense to drastically slow the pace (Utah averages the 11th-most points in the league with 98.5). Given that recent lottery picks Gordon Hayward and Alec Burks look best suited for a wide-open style of play, it's unlikely that Utah would consider changing to a more deliberate offensive approach.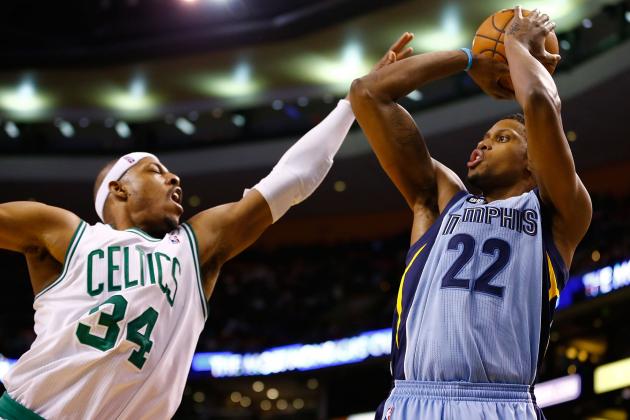 Jared Wickerham/Getty Images

That aforementioned Memphis-Cleveland trade removed luxury tax worries for the Grizzlies next season, but that doesn't mean the team is done dealing.
In fact, Comcast Sports scribe Ric Bucher has heard the Grizzlies are still interested in dealing Gay, and the trade with Cleveland just bought themselves more time to find the right deal.
Even if they're not thrilled with Gay's 41.0 field-goal percentage, they'd have to be overwhelmed to break up a roster that's tallied the fourth-best record in the Western Conference (28-14). But a player like Gay is the most likely to draw the most tantalizing offers.
The Grizzlies struggle from the outside (34.0 percent from deep) and cut ties with one of their most reliable marksman (Wayne Ellington, 42.3 percent).
If the right shooter becomes available and offers this club the kind of offensive spacing that will allow Zach Randolph and Marc Gasol to become even more dominant in the post, Memphis sounds more than ready to make a deal.
Even with Gay's shooting struggles this season, the career 45.2 percent shooter could stand for a change of address. He's an annual participant on the rumor-mill circuit, despite posting some gaudy offensive numbers (18.9-plus points per game in each of the past five seasons) and physically imposing defense.
If Gay is moved, expect a major increase in playing time for third-year player Quincy Pondexter. He has similar length and athleticism to Gay, plays hounding defense and has discovered a reliable three-point shot this season (42.3 percent).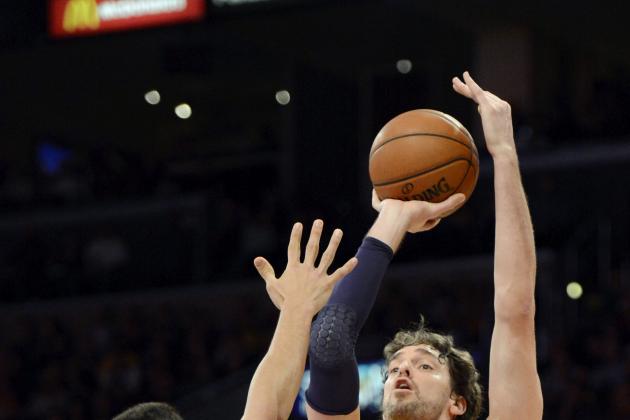 Richard Mackson-USA TODAY Sports

Trading away Gasol isn't labeling him as the cause for the team's struggles, but rather an admission that he'll never be properly cast under coach Mike D'Antoni.
The hard part will be convincing clubs that not only can he recover from his season-long offensive woes (his 12.7 points per game and 43.1 field goal percentage are both career worsts), but also that he's worth the hefty $19-plus million owed to him next season.
A tough sell if there ever was one, but not an impossible one—not with the obvious flaws in the Lakers system and the impressive numbers gracing Gasol's resume (18.5 points, 9.2 rebounds, 1.7 blocks per game for his career).
Gasol has long been cast the scapegoat for the Lakers problems, and as those issues have magnified this season, so has the blame.
He's more than ready for a fresh start, and it's one he's expecting to see at some point during the next month (according to Adrian Wojnarowski of Yahoo! Sports). D'Antoni may have seen Gasol's success from the mid-range and assumed that's where he's most effective, but he's forgotten that the Spaniard's proficiency from that range results from his work in the paint.
The trade might come as welcome news to Gasol, but it'd also be a blessing for Earl Clark. Forced into action by an injury-depleted rotation, the fourth-year player out of Louisville has finally appeared worthy of his lottery-pick status.
But Gasol's exit might not be such a joyous occasion for Kobe Bryant. A longtime Gasol supporter, Bryant would rather see the big man cast in the correct role, not shipped out of town.
Considering the club already failed to heed his advice in their coaching search (Phil Jackson would've been his choice), moving Gasol could bring about a tumultuous end to Bryant's storied career with the franchise.