The Los Angeles Lakers have declared that Pau Gasol will be benched permanently in favor of Earl Clark, which is going to get the trade talk going immediately.
On the surface, it definitely looks like a precursor to a trade, even though there is some logic behind bringing Gasol off the bench.
It allows the Lakers to have a seven-footer on the floor at all times, something that is invaluable. Plus, it moves Gasol back to a more natural position scoring in the post.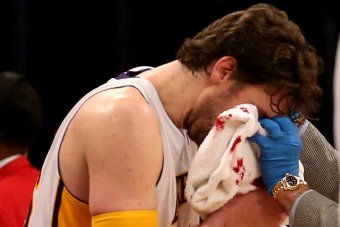 Stephen Dunn/Getty Images
Of course, that means the Lakers are going to have to tinker with their lineup endlessly over the next few weeks, and that could mean another chunk of losses for Los Angeles.
In the end, Gasol's demotion to the bench is more of an allusion to the style of play the Lakers subscribe to. Mike D'Antoni wants the Lakers to get as many possessions as possible, and Gasol's offensive game lends itself to a slowed, half-court set.
With that, it seems a trade is borderline inevitable, and even Gasol has admitted that it seems more likely than ever.
So where will Los Angeles look, and who will actually want to trade for the big man who is obviously on the downslope of his career?
Well, there are a lot of familiar teams on the list of trade partners for the Lakers, and they're the ones that make the most sense at this point.
Lou Williams went down with a torn right ACL Friday against the Nets. It will require surgery and keep him out for the remainder of the season.
With that, Atlanta needs some sort of move in order to keep its scoring rate up and to continue competing in the Eastern Conference.
A Gasol-Josh Smith swap has been vehemently denied by both sides over the course of the past few months, but it's likely a situation to be talked about again and again over the next few weeks.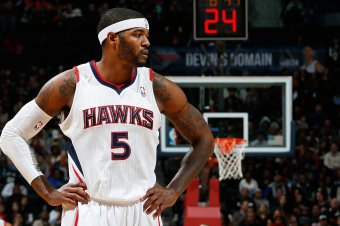 Kevin C. Cox/Getty Images
With the situations each team finds itself in thanks to occurrences of the past week, it's something that could end up helping both teams.
Another team dealing with injury issues, the Minnesota Timberwolves have also been linked to Gasol in the past.
The Timberwolves apparently tried to trade for Gasol back in December, and then denied it about eight minutes later, as is practice in today's NBA.
So, what does Minnesota have to offer the Lakers? Well, mostly injured guys and Derrick Williams.
Nikola Pekovic would be a good fit for the Lakers as a backup center as a part of the deal, but it seems unlikely they would be able to find a scorer in the deal. Additionally, Minnesota likely wouldn't want to part with Andrei Kirilenko.
Nonetheless, the Timberwolves have some players to work with.
As the Timberwolves called the Lakers about Pau Gasol (but totally didn't), the Toronto Raptors were right there with them.
It's unclear what the Raptors would be willing to part with, but a healthy and hot-shooting Andrea Bargnani would be nice, were that to actually come about when Bargs returns.
Otherwise, Los Angeles is likely to get something, including Amir Johnson or Ed Davis and possibly Jose Calderon or Kyle Lowry. It all depends on what the plan is for Toronto moving forward.
The Grizzlies could possibly have a twofold interest in Pau Gasol these days, depending on if they still like the idea of having Marc Gasol's brother.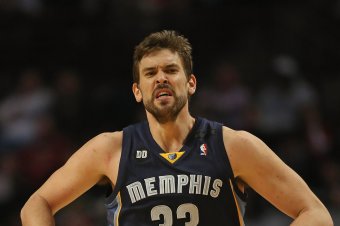 Jonathan Daniel/Getty Images
The Grizzlies were linked to Gasol over the summer—you know, the last time the Lakers tried to trade him—and had an interest in pairing him with his brother.
And of course, Memphis has talked about moving either Zach Randolph or Rudy Gay in the coming weeks, either of whom the Lakers could incorporate into their lineup.
Whether or not Memphis is all talk is still a legitimate question at this point.
The big Spaniard hasn't been linked to any Dallas trade talk yet, but Mavericks beat writers definitely have it in the back of their minds.
Plus, there's the fact that Mavs owner Mark Cuban has said there's a 100 percent chance that the team makes a trade before the deadline.
It seems that Shawn Marion would be going back the other way to play with the Lakers, with a big man coming along to work out as cap fodder.
This seems like one of the longer shots, but an inside-outside two-man game with Dirk Nowitzki and Gasol would sure be fun to watch.