New York Knicks vs. Indiana Pacers: Postgame Grades and Analysis for Knicks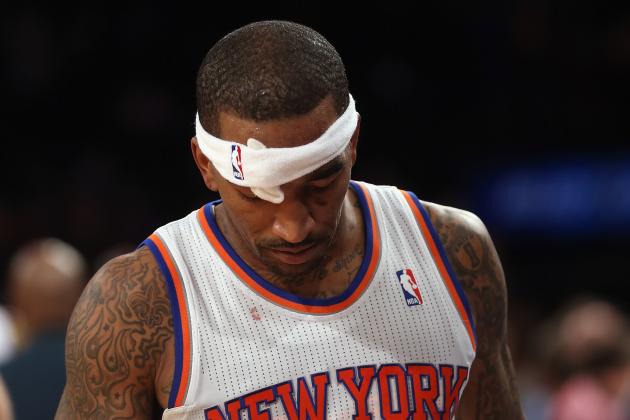 Bruce Bennett/Getty Images

The New York Knicks fell to the Indiana Pacers 81-76 Thursday night, in what can only be described as one of the ugliest games of the year.
The Knicks were short on scoring, as Carmelo Anthony was serving a one-game suspension for initiating a postgame confrontation with Kevin Garnett on Jan. 8 and Raymond Felton was still sidelined with a broken finger.
J.R. Smith certainly tried to shoulder the offensive load, but his low percentage output was one of the key reasons the Knicks never got anything going on offense. To be fair, New York didn't have many other options to help the shot-happy Smith, so his offensive aggression comes with a pretty decent excuse.
Defensively, the Knicks were just fine, holding the Pacers to 39.2 percent shooting on the night. But Indiana made New York play at its pace, which was a real issue for the normally freewheeling Knicks. Lacking a way to generate easy buckets, the Knicks scored just 14 points in the first quarter and 34 points in the first half, both of which were season lows.
As a team, New York hit just 34.8 percent of it shots.
The Knicks fell to 23-12 with the loss, while the Pacers won their ninth straight home game to inch closer to New York in the Eastern Conference standings. Indy's record now sits at an impressive 22-14.
Even though the horrible offensive game caused us to avert our eyes for long stretches, we still managed to compile grades for every Knick. Peruse them at your own ocular peril.
Begin Slideshow

»
Jason Kidd: F

Jason Kidd has had a surefire Hall of Fame career and has brilliantly reinvented himself as a three-point shooter this season, but there's no getting around it: This was one of his worst games of the season.
The Knicks generally don't count on Kidd to score, but they do need him to knock down open threes. He made just 2-of-9 attempts from long range against the Pacers.
Worse still, the usually judicious Kidd turned the ball over a season-high five times in 31 minutes. When compared to his paltry three assists, Kidd's final line looks like one that couldn't possibly belong to him.
With Raymond Felton out, Kidd has been somewhat exposed as a player who probably shouldn't be a primary ball-handler anymore. He can't penetrate at all and struggles to initiate the Knicks offense against halfway decent ball pressure.
He's still a useful guy to have around as a standstill shooter and locker room presence, but he's miscast as a starting point guard at this point in his career.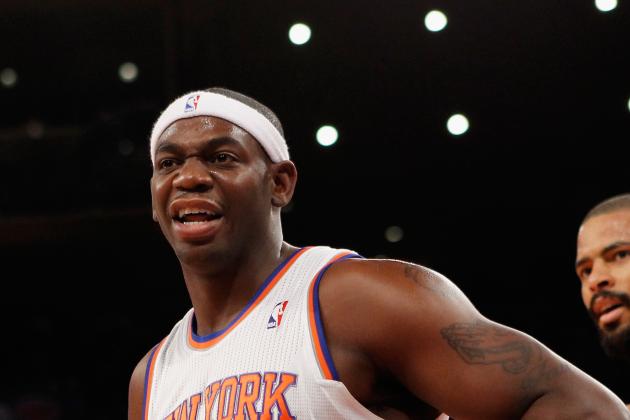 Bruce Bennett/Getty Images

Ronnie Brewer: F

Well, this was Ronnie Brewer's kind of game. The defense was stifling, nobody could make a shot and the whole affair was sort of a sloppy mess.
It's too bad he hardly played.
The Knicks' starting shooting guard came in averaging just 2.2 points on 25 percent shooting over his last 10 games, and he didn't do anything to improve those numbers against the Pacers. He scored no points, grabbed no rebounds and handed out one assist in a grand total of eight minutes.
The guy didn't even shoot. Not once.
It's understandable that coach Mike Woodson was looking for scoring, which led to Brewer's extremely limited role in this one. But it's a little ridiculous that a starting shooting guard only played eight minutes.
Oh, and as long as Brewer's playing the position, we're not going to call it "shooting" guard anymore. It makes no sense.
Christian Petersen/Getty Images

Chris Copeland: D+
Chris Copeland fit right in with the rest of the Knicks starters, although in this instance, that's not a compliment. He struggled to generate good looks against the Pacers' rock-solid defense, finishing with eight points and six rebounds on 3-of-9 shooting.
Hopes were somewhat high for Copeland coming into the game, as he had certainly made the most of his other two opportunities to start. In those games, he averaged 20 points on 63 percent shooting.
His 21-minute night certainly didn't live up to his previous exploits as a member of the starting unit, however.
Copeland is a nice piece to use against the right matchups, but his lack of strength and inability to finish inside didn't figure to lead to much success against the brawny Pacers.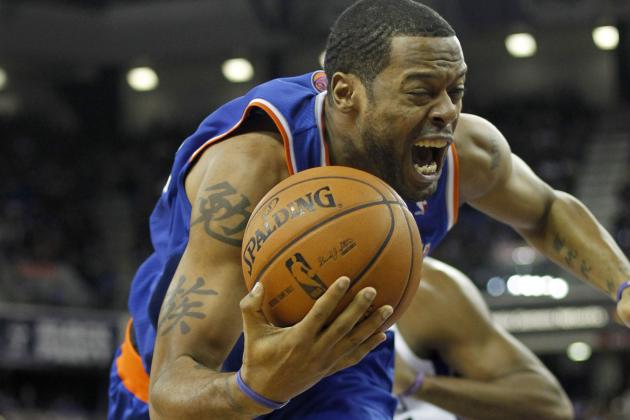 Cary Emondson-USA TODAY Sports

Marcus Camby: D
Marcus Camby sprang out of the gates with what can only be described as "shocking" aggression in the first quarter. Despite averaging less than two points per game, the Knicks' starting power forward made three of his first four shots (all of which came in the game's first six minutes) and finished the half with nine field-goal attempts.
Maybe all of that activity was too much for the 38-year-old veteran. Camby came out early in the third quarter after injuring his left foot. This isn't going to do much to curtail the jokes about his age:
#NBAFacts The first hardwood that Marcus Camby ever played on was Noah's Ark.

— Not Bill Walton (@NotBillWalton) January 11, 2013
Because Camby scored a season-high seven points, we won't fail him, but his abbreviated night and poor shooting left a lot to be desired.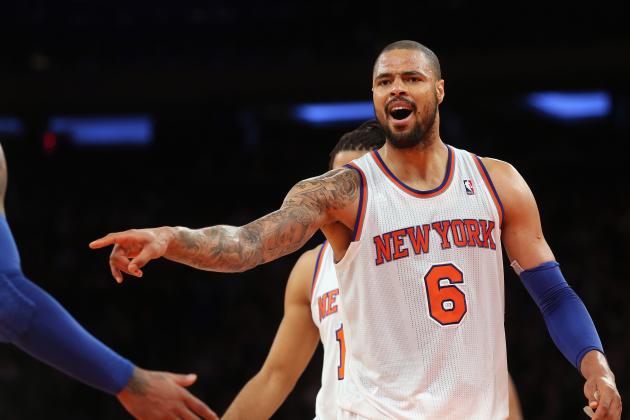 Bruce Bennett/Getty Images

Tyson Chandler: A-
It shouldn't be surprising that Tyson Chandler was the only New York Knick to shoot a respectable percentage in this one. He doesn't lead the NBA in field-goal shooting for nothing.
Chandler scored 12 points on 5-of-10 shooting and led the Knicks with 15 rebounds, so his contributions definitely stood out in a pretty ugly New York box score.
In terms of intangibles, Chandler continued his trend of effectively tapping offensive rebounds back out to teammates, which garnered the Knicks a handful of valuable extra possessions. Unfortunately, the Knicks shooters were so bad that nothing ever came of those extra looks.
Stylistically, you know Chandler had to love the ultra-physical, chippy nature of this one. He was born to play in low-scoring slugfests.
It's a shame the rest of the Knicks weren't quite as at home in this type of contest. That's not Chandler's fault, though, so he grades out with the highest mark of any Knick.
J.R. Smith: D
Aside from a couple of notable moments, it wasn't a night to remember for J.R. Smith.
New York's sixth man mashed an emphatic first-quarter dunk on Pacers center Ian Mahinmi and later earned a technical for a very nice hip toss against Lance Stephenson. In between those plays, Smith tossed up plenty of errant jumpers.
With Carmelo Anthony out, Smith assumed the primary scoring role for New York. And although he struggled to shoot a high percentage, he certainly stuck with it, shaking off a 3-of-11 start to make five of his next 10 attempts.
That short run helped pull the Knicks close, and his jumper actually gave his team a late third-quarter lead. But it was all downhill for Smith from there.
Thrust into the role of a No. 1 option, Smith made just 10-of-29 shots. He scored 25 points, but obviously didn't do so in an efficient manner.
Nobody else was capable of replacing Anthony's scoring against such a tough defense, so Smith basically had to fire away. Had he been able to shoot even 40 percent, the Knicks would have had a shot to win this one.
Smith avoids a failing grade because he gave an excellent effort in defeat—and we like effort around here.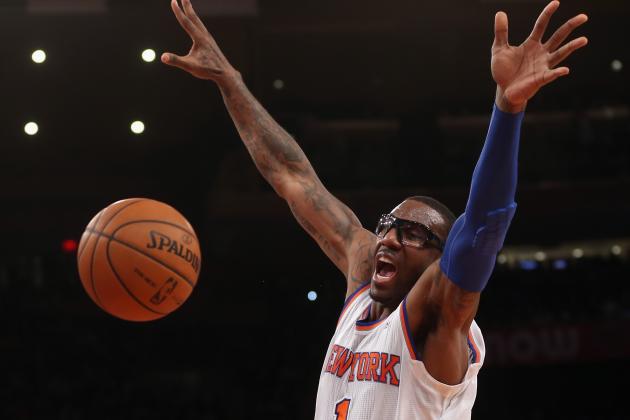 Bruce Bennett/Getty Images

Bench Grade: C-
Amar'e Stoudemire made a couple of nice moves and grabbed eight rebounds in 22 minutes, but he certainly looked like a guy still trying to knock the rust off. In particular, Stoudemire struggled to elevate in the lane, which made for plenty of contested looks inside.
Kurt Thomas played 16 minutes and was surprisingly effective. His four points and three rebounds don't look all that spectacular, but his quick hands led to a couple of blocks and he even drew a foul or two with some heady play in transition. To be clear, he wasn't sprinting out on offense to draw those fouls. Instead, he simply waited on D for the Pacers big men to bang into him as they tried to set up on offense.
That's some veteran savvy.
Steve Novak shot just 1-of-4, which basically rendered him useless. We've been over this before; when he can't hit shots, there's no reason for him to be on the floor.
Rounding out the Knicks' relevant subs, Pablo Prigioni played 19 minutes and shot just twice. He's got the ability to work smoothly as a pick-and-roll orchestrator, but smart teams like the Pacers have caught on to his total reluctance to shoot. He'll have to make an adjustment to remain effective going forward.
On the whole, the Knicks bench played a lot like the starters, which is to say "not very well."