LA Lakers vs. San Antonio Spurs: Postgame Grades and Analysis for LA
Doug Pensinger/Getty Images

The Los Angeles Lakers fell to the San Antonio Spurs, 108-105 Wednesday night, but at least they made it interesting.
Losers of four straight coming into this one, the Lakers certainly didn't figure to have much of a chance against the mighty Spurs, especially without the services of Dwight Howard, Pau Gasol and Jordan Hill.
But after a lackluster three quarters marked by woeful rebounding, missed defensive assignments and an epic chuck-fest by Kobe Bryant, the Lakers found themselves with a chance to steal the game down the stretch in San Antonio.
Earl Clark had a career night, and along with an inspired Metta World Peace, managed to keep L.A. in the game. Clark's last-second heave was off line, but the fact that the Lakers were close enough for that shot to matter is a testament to the performances of L.A.'s pair of forwards.
The loss was the Lakers' fifth in a row, and the fourth straight against the Spurs. Transition issues and a spectacular amount of ball watching on defense continued to be huge problems for L.A., but the short-handed Lakers deserve a bit of credit for battling back against a tough team on the road.
The Lakers fell to 15-20 with the loss, while the Spurs moved to 28-10 with the victory.
Begin Slideshow

»
Steve Nash: B-
Steve Nash put together a solid overall performance, but it was impossible not to notice how difficult things were for him with the Lakers' current personnel.
The veteran point guard seemed a bit out of sorts all night, particularly in pick-and-roll situations. The poor chemistry wasn't necessarily his fault, though, as the only Laker bigs still standing lacked the experience to work efficiently in Nash's pet play.
The inability of L.A.'s big men to read situations correctly had a profound effect on Nash's offensive game.
Nash scores as a last resort, or at least in response to the defense's relatively larger fear of his passing ability. But when the guys Nash plays with can't put themselves in the right places, or finish when he finds them, he's a heck of a lot easier to guard.
As further evidence that Nash wasn't comfortable on offense, he hit a pair of long jumpers that would have been threes if not for a toe on the line. He never did that in Phoenix.
Defensively, there's no real excuse for Nash's performance. He simply couldn't stay within shouting distance of Tony Parker on offense, and the Spurs point guard got anywhere he wanted. Parker finished with 24 points on 10-of-16 shooting, and the Lakers had to hide Nash elsewhere for long stretches on defense.
Despite the two-way struggles for Nash, he remained a valuable leader.
Interesting stuff from Nash now after Morris' technical foul. Advising him at length, grabbing his arm to keep him as Morris tried to go.
— KEVIN DING (@KevinDing) January 10, 2013
Nash totaled a solid 14 points, nine assists and three rebounds on 6-of-12 shooting.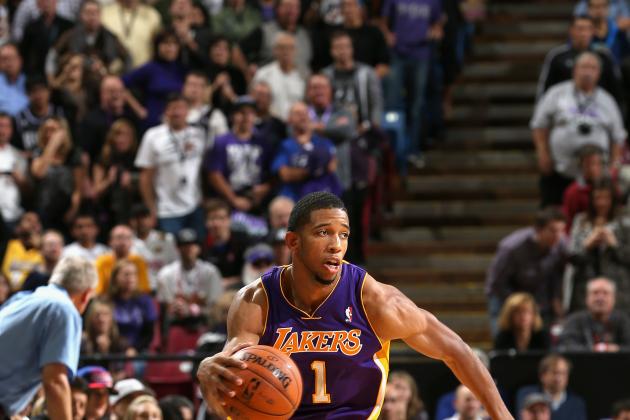 Ezra Shaw/Getty Images

Darius Morris: D-
You'll forgive us if we keep this one brief.
After scoring 12 points in an offensively-dominated affair against the Houston Rockets the previous night, Darius Morris returned to his usual level of total irrelevance against the San Antonio Spurs. The guy just didn't do anything to help his team win.
Starting for the 16th time this year, Morris played just 10 minutes and scored two points.
If his subpar play weren't enough, Morris compounded the issue with a bad attitude. In the third quarter, Morris turned the ball over after an out-of-control drive and never ran back on defense. The Spurs scored easily on the run-out, and then Morris earned a technical foul for good measure.
The only reason he avoids an "F" is because his paltry minute total kept him from negatively affecting the game over a long period.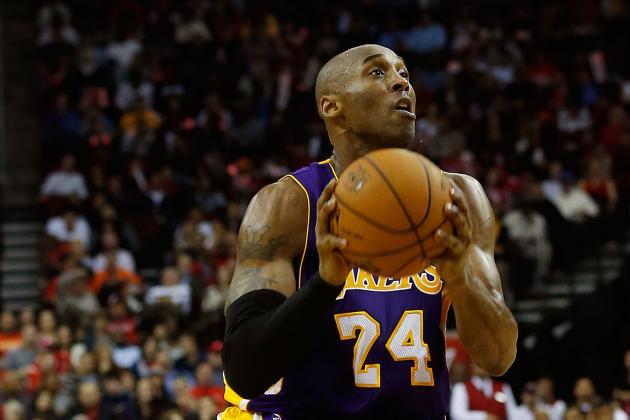 Scott Halleran/Getty Images

Kobe Bryant: C
Kobe Bryant got off to a rough start, thanks to constant double-teams and poor shot selection on his part.
But in the third quarter, Bryant got "that look." The lower jaw started to protrude and the eyes narrowed, signalling that Bruce Banner was about to go all Hulk on everyone.
After 13 shots in the third period, including a pair of ridiculously long (and contested) triples, Bryant calmed back down.
But that was just about the extent of Kobe's positive contributions. He finished with 27 points on 24 shots. And on defense, things were as ugly as ever.
In an early sequence, we saw a perfect example of exactly what makes Bryant a criminally overrated defender. He took an amazing charge on Parker, scored a beautiful bucket on the other end and then completely forgot Kawhi Leonard existed, yielding a easy, uncontested dunk.
That backdoor play was the third horrendously blown defensive assignment by Bryant in the half.
Kobe hits his own forehead over blown defensive assignment to end 1st half. ... SA 54, LA 45.

— KEVIN DING (@KevinDing) January 10, 2013
Perhaps the first two times weren't enough.
Bryant typically takes criticism because he shoots too much, but it's his defensive failings that hurt his team the most. Unfortunately for the Lakers, he was deserving of criticism in both areas against the Spurs.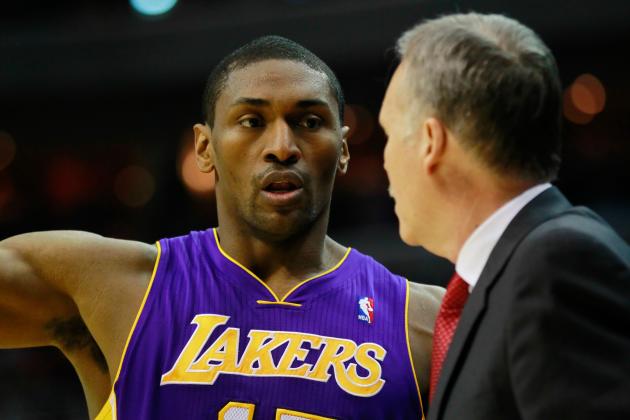 Geoff Burke-USA TODAY Sports

Metta World Peace: B+
Metta World Peace was probably the Lakers' best player in this one. He showed up with a relentless ferocity and a better sense of urgency than his teammates.
MWP finished with 23 points and eight rebounds in 40 minutes and his hustle yielded a couple of offensive boards to boot. Most impressively, he refused to make anything easy on San Antonio ball-handlers, which resulted in seven steals.
On D, World Peace was guilty of more than one blown defensive assignment, but his mistakes paled in comparison to those made by Bryant, Jodie Meeks and Darius Morris in the defensive rotation department.
Because of a couple of missed easy shots down the stretch, MWP suffers a slight downgrade. But overall, he did just about all he could for his team.
Robert Sacre: F
It sure looked like Robert Sacre was playing in the D-League two days ago.
In fairness to the rookie, he gamely defended Tim Duncan, forcing the Spurs center to make a handful of tough shots in the early going. On offense, though, Sacre struggled mightily to establish timing with Steve Nash on the pick-and-roll.
Those timing issues, along with his general inexperience, resulted in a final stat line that included four points and two rebounds in 25 minutes. That just doesn't cut it.
Nobody expected much from Sacre, and he played with decent energy. But a starting center simply can't fail on the boards and in the pick-and-roll if his team is to have any hope of winning.
And let's not forget the biggest tragedy of Sacre's increased minutes while Pau Gasol, Jordan Hill and Dwight Howard all sit with injuries: Nobody on the Lakers bench is filling the void as the league's most boisterous celebrator.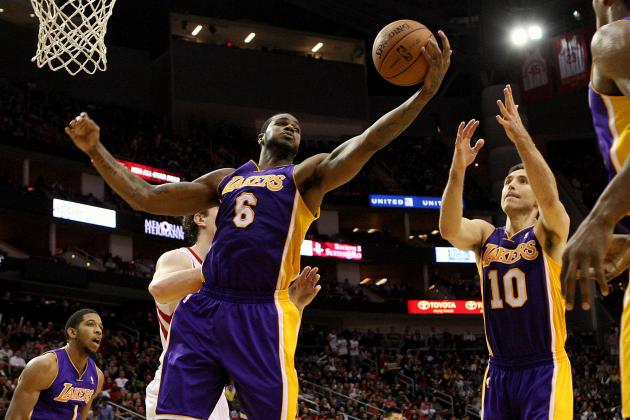 USA TODAY Sports

Earl Clark: A-

Earl Clark had a nice, nine-rebound night against the Houston Rockets Tuesday night, and he put up 22 points, 13 rebounds and three assists on 9-of-12 shooting in this one. Heck, he even hit a huge three down the stretch to trim San Antonio's lead to three with less than a minute left.
As a result, some folks are probably going to say some complimentary things about him.
Happy to see Earl Clark doing something with his minutes. Now I can talk to him about something other than his sneakers after the game

— Dave McMenamin (@mcten) January 10, 2013
Clark gave the Lakers a big boost on offense and led the team in rebounding, but in the interest of fairness, Clark's solid box score barely offset his dreadful defense.
Tiago Splitter went to work against the Laker reserves, and he was especially dominant against Clark in the early going.
Don't get us wrong—Clark gave the Lakers a massive boost on a night where they desperately needed somebody to step up. Going forward, Clark's mix of size and athleticism in the open floor could be a huge find for L.A. if he can sustain the run he's on.
We're only knocking his defense because that's where the Lakers need the most help. On balance, the 24-year-old Clark had a huge night.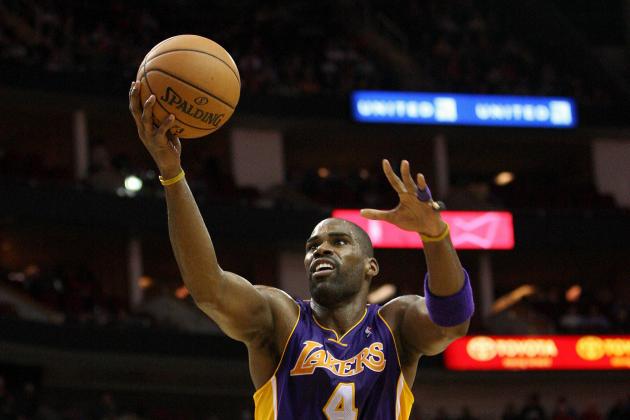 USA TODAY Sports

Bench Grade: D
Antawn Jamison finished with eight points on 4-of-9 shooting, and although he missed a bunch of wide open threes (0-of-5), he was actually on the court down the stretch because he was scoring with decent efficiency.
So ends our positive analysis of the Lakers reserves.
Other than that, Chris Duhon had as many baskets as technical fouls (one), and Jodie Meeks continued his rough stretch, scoring just two points in six minutes.
The best, most incisive analysis we can make about the Lakers bench leads us to one conclusion: It stinks.
That's it. Nothing else to see here.