Breaking Down NBA's Penalties on Dwight Howard and Dwyane Wade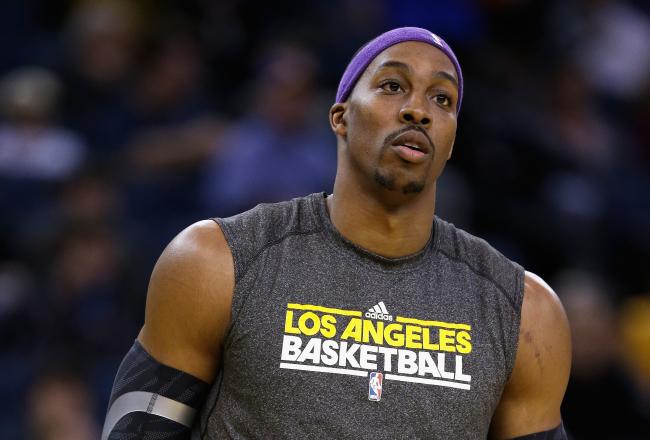 Ezra Shaw/Getty Images
The holiday season flexed its financial might on families across the globe. But Dec. 26 proved a little more costly for two of the NBA's biggest stars.
The league's front office handed down punishments on Thursday to Los Angeles Lakers big man Dwight Howard and Miami Heat guard Dwyane Wade in response to their actions on the day after Christmas.
Howard, the less egregious of the two offenders, received a hefty $35,000 fine for his shove to the face of the Denver Nuggets' Kenneth Faried, according to Eric Pincus of the Los Angeles Times.
Given the background of L.A.'s struggles and Howard's own challenge in playing under his own standards while still recovering from April back surgery, his frustration level is understandable.
But that's still no excuse for going at the face of the airborne Faried.
As lucky as Howard was to avoid a suspension, Faried was even more fortunate to escape serious injury, given the height of his fall and the wince-worthy collision of his head with the unforgiving hardwood.
The Manimal has staked his early career on the strength of his ability to play above the rim. And this sequence was no different, with the big man lifting off just two steps inside the free-throw line.
A typical shove to the face (if there is such a thing) isn't outside of the realm of a hotly contested basketball game. Howard even commented to CBSSports.com senior blogger Matt Moore that he's "been fouled harder than that before and nobody's ever gotten kicked out of the game for it," and he's probably right about that.
But the shove hit Faried directly in the face, and it presented unnecessary danger given his position. With Faried apparently leaving the incident unscathed, the league probably got this punishment right.
As for Dwyane Wade, though, that might be an entirely different story.
The Heat guard avoided ejection (or even a foul call) when he planted his shin directly below Charlotte Bobcats guard Ramon Sessions' belt.
To make matters worse for Sessions, he was the one assessed with the foul.
But Wade didn't shake discipline from the league office, which reportedly handed down a one-game, unpaid suspension for his actions, according to Adi Joseph of USA Today. The loss of a game check will cost him $156,200.00, according to SI.com's Ben Golliver.
Granted, Wade's suspension fell in line with the one handed down to Sacramento Kings big man DeMarcus Cousins, who was suspended for a game after delivering a low blow to the Dallas Mavericks' O.J. Mayo.
Yet, Wade's shot just looked worse on the eye test than Cousins'. And Cousins' blow looked pretty bad.
It's easier for Wade to feign ignorance for his actions, although no reporter decided to question the Heat star about his move following the game, but both plays looked pretty deliberate.
But a harsher penalty given to the Heat star wouldn't have shocked me, considering he brazenly made his move directly in front of an official.
For a league working on restoring confidence in an officiating crew still feeling the effects of the story of disgraced former referee Tim Donaghy, another game or two tacked on to the suspension felt in order.
This article is
What is the duplicate article?
Why is this article offensive?
Where is this article plagiarized from?
Why is this article poorly edited?