For both Neon Trees and the NBA, everything starts with a whisper.
Unfortunately, the NBA has entered a relatively quiet period over the holidays. The rumors surrounding some of the bigger names in the trade market have certainly died down of late. Pau Gasol and the Los Angeles Lakers have won five in a row, and the Cleveland Cavaliers are going to be asking for quite a return on Anderson Varejao.
We have to dig a little deeper to find some whispers floating about right now.
John Wall's Return
There has been little news out of the John Wall camp on any semblance of a timetable for the Washington Wizards getting him back.
Word on Dec. 17, out of ESPN, was that though Wall didn't foresee an entire season down the drain, that option was still very much in play. However, reading somewhat between the lines, the news is not great.
Elsewhere, the Wizards appear to be trying to find a more permanent solution at the point guard spot for the 2012-13 season. Running Jordan Crawford out there as the starter has not been working.
Washington signed Shelvin Mack and Garrett Temple, both point guards, out of the D-League. They were two of the top point guard prospects in the league thus far. Mack was leading the minors with 7.5 assists per game while also tallying 19.7 points a night. This is coming on the heels of the team waiving Shaun Livingston and Earl Barron.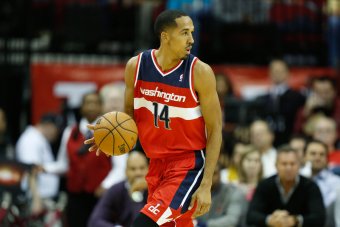 Thomas Campbell-USA TODAY Sports
Is this purely a move to try to field a competitive team, or is Washington choosing to pack it in early, keeping its star on the sidelines for the season?
Shaun Livingston Replaces Donald Sloan
In related small news, Livingston cleared waivers after leaving the Washington Wizards and was quickly gobbled up by the Cleveland Cavaliers.
The Cavaliers dropped Donald Sloan to clear space. Livingston will battle Jeremy Pargo for minutes backing up Kyrie Irving. Pargo has had a good season, but he recently missed four straight games.
Chicago Bulls Looking for the Odd Man Out?
Some light whispers are taking place over the NBA's trade market, though big names are scarce. The Chicago Bulls are shaping up to be major players in the second-tier market with a crowded backcourt of average players.
The impending return of Derrick Rose will create some flexibility in their decision-making, which, according to the Chicago Tribune's K.C. Johnson, could free up Nate Robinson or Richard Hamilton. Both are scoring guards who can come off the bench on any team to help bolster offense.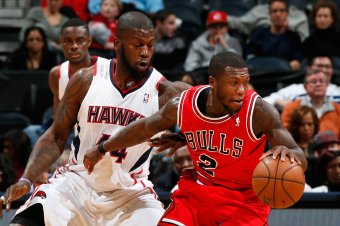 Kevin C. Cox/Getty Images
According to Aggrey Sam of CSNChicago.com, the Phoenix Suns are a team with interest in Hamilton. The shooting guard has not played since Dec. 1.
Robinson's contract is non-guaranteed right now, and it will remain that way until Jan. 10. That gives the Bulls some time to think about what direction to go with him. He has provided some valuable minutes off the bench, most recently scoring 27 points on Dec. 25.
Boston Celtics Out on Kenyon Martin?
One of the popular rumors of the early NBA season was the Boston Celtics looking to acquire Kenyon Martin or a Martin-like player to help on the boards and in the paint. Now, that light is looking dimmer than ever.
The Celtics opted to go the D-League route, signing Jarvis Varnado off of the Sioux Falls Skyforce. The 6'9" power forward has more athleticism than Martin, which could have been a deciding factor in this decision. Varnado was averaging a double-double in the minors with 14 points and 10 rebounds a night. He also leads the D-League with 3.9 blocks per game.
The C's made the move after Chris Wilcox was announced to be missing three weeks with an injury. This also could mean an end to the ideas of trades for Marcin Gortat or Anderson Varejao for the time being.
Kris Humphries and Avery Johnson's Relationship
Tough to say if anyone in the NBA has had a more varying role than Kris Humphries this season.
He has bounced in and out of Avery Johnson's starting lineup over the first couple months of 2012-13 and even racked up a couple recent DNPs. He now has a mild abdominal strain and will sit a couple of games.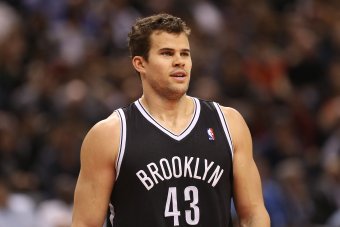 Tom Szczerbowski-USA TODAY Sports
This could be an accurate portrayal of the relationship Humphries and Johnson have. It has become apparent that Johnson doesn't find his particular skill set highly valuable. This is odd after he was given a big two-year, $24 million deal over the offseason. Now, players like Reggie Evans and Keith Bogans are earning starts over him.
Humphries rebounds no matter how he is used, so I wouldn't predict he'll be moving, but if Johnson continues jerking his minutes around, that prediction could change rapidly.
Who's Returning for Whom?
The New Orleans Hornets got a nice Christmas gift when Eric Gordon returned to practice over the holiday. The highly paid shooting guard has been anything but productive since being dealt to the Hornets in the Chris Paul trade.
This was Gordon's first practice of the regular season after missing 57 games in 2011-12 as well. While an exact timetable remains iffy, Gordon told The Times-Picayune that he hopes to be cleared to play before the new year.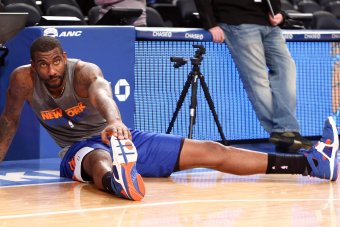 Debby Wong-USA Today Sports
Elsewhere, Amar'e Stoudemire is continuing to work his way back from knee surgery for the New York Knicks. His prediction is roughly the same as Gordon's, as Stoudemire told Newsday.com that he is shooting for a Jan. 1 return.
The 20-8 Knicks play two home games to start the new year against the Portland Trail Blazers on New Year's Day and the San Antonio Spurs on Jan. 3.
The Knicks' Atlantic Division rivals, the Boston Celtics, are also hoping to get an important player back around the turn of the calendar.
Avery Bradley has been practicing for some time now, but Doc Rivers is still tentative about bringing him back. After dealing with surgery on both of his shoulders, the young guard needs time to heal.
Rivers did tell the Boston Herald that there was a chance Bradley would play on the current road trip. Boston travels to the West Coast to finish out 2012 with games at Los Angeles (Clippers), Golden State and Sacramento.
Expect the whispers and rumors to heat back up at the start of 2013 and continue through the Feb. 21 trade deadline.