5 Things We've Learned about Kobe Bryant During Lakers' Downward Spiral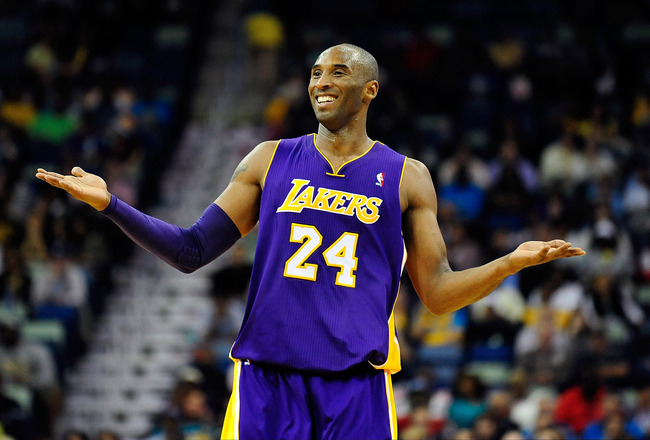 Stacy Revere/Getty Images
The Los Angeles Lakers entered the 2012-13 season with hopes of glory, greatness and NBA championships, and while Dwight Howard and Steve Nash were going to be the final pieces to the puzzle, it was Kobe Bryant who was supposed to lead them all the way.
Needless to say, things haven't gone according to plan for the team from L.A.
At just 11-14, Los Angeles is sitting as the lowly 12th-ranked team out West, and they're struggling to compete with even the most mediocre teams that the league has to offer. Things must improve for the Lakers to stand a chance, but sometimes adversity is when we find out the most about people.
At this point in Bryant's playing days, we haven't learned anything drastic about the 16-year veteran. But that in itself says something, doesn't it?
In the middle of the changes and struggles that have shaken the foundation of the franchise, Bryant is still the same player he's been since he first found success at the professional level.
Not everything we've learned about Bryant this season has been good, but it hasn't all been bad either. The legendary 2-guard is looking for his sixth championship ring, and he's not going to change his approach for anybody at this point in his career.
*All Statistics and standings are accurate as of December 17, 2012 at 12:00 A.M.
The 34-Year-Old Can Still Score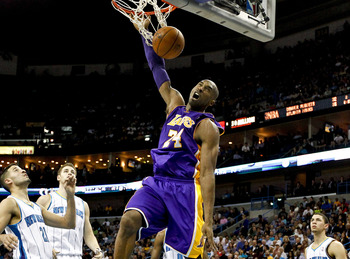 USA TODAY Sports
If we've learned anything this season about Kobe Bryant, it's that age is truly just a number.
At 34 years old, Bryant is having one of the best seasons of his career. He is averaging 29.5 points per game—the third-highest mark of his career—and he is leading the league in scoring.
What's maybe even more impressive is the efficiency he's displaying. His shooting efficiency has certainly dropped from the 50-plus percent he was shooting earlier in the year, but his current 47.8 percent is still the highest he's ever achieved.
Even his shot from behind the three-point line is falling, as he's shooting a near career-high 38 percent.
A sad day will come for fans in L.A. when Bryant can no longer play at an elite level, but even in the midst of a losing season, he's shown the league that he can still score with the best of them.
He's Not Giving Up His Shots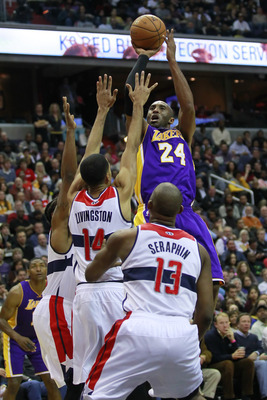 Geoff Burke-USA TODAY Sports
One of the biggest questions coming into the 2012-13 season was whether or not the Los Angeles Lakers could find enough shots to keep the Big Four happy.
While we still don't know the answer—all four stars have played less than two games together—we do know that Kobe Bryant has been as aggressive as ever when it comes to getting his attempts.
Despite playing some of the most efficient basketball of his career, Bryant is still putting up 20.6 shots per game. He's attempted 515 shots on the season, which is significantly more than the next highest, and he is still the go-to option despite being on the NBA's newest super team.
It's difficult to imagine Bryant conceding anything to anybody, and his shots are no exception.
When Steve Nash makes his return, the offense will be split between the two backcourt mates. Nash may be the one running the sets, but don't be surprised if the Lakers find a way to keep Bryant's attempts around 20 per game by the time the season comes to an end.
Even Superstars Need Help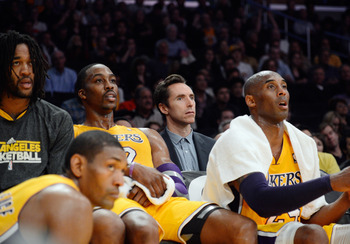 Kevork Djansezian/Getty Images
Kobe Bryant and the Los Angeles Lakers got a lot of help in the 2012 offseason when they traded for Dwight Howard and Steve Nash. The problem is that Nash is still injured and nobody else seems to be stepping up behind the stars.
Howard has averaged 18.2 points, 11.9 rebounds and 2.56 blocks per game, and while he's yet to truly look on top of his game for an extended period of time, he's been the one spot where Bryant can look when he needs help on both sides of the floor.
Behind the two of them, the roster looks completely shallow. Pau Gasol has underperformed when healthy, the point guards have struggled and the bench has been one of the worst in the entire NBA.
The Lakers need help, and more specifically, Bryant needs more players who can lighten the load.
The 2-guard's season has been beyond impressive, as he's shown he can still take over a game night in and night out, but not even he can get this team where it wants to be by himself.
The Man Is as Intense as Ever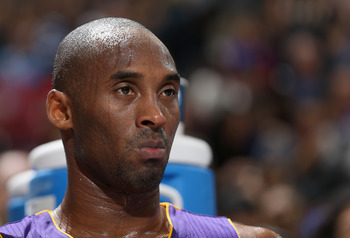 Ezra Shaw/Getty Images
Coming into the 2012-13 NBA season, Kobe Bryant made it clear that the Los Angeles Lakers were his team. He wasn't conceding the leadership role to any of the newcomers, and he was going to be the one to take this team to the promise land.
Unfortunately for Bryant, things haven't gone according to plan, and his intensity has been spotted on more than one occasion.
Bryant admitted that he "played with an anger and fire" following an early-season loss to the Utah Jazz (according to the Los Angeles Times' Mike Bresnahan). It was the same game that led to the infamous death stare, and things weren't much better a month later when he called out Pau Gasol and made the now-famous reference to the seven-footer putting on his "big-boy pants" (according to ESPN's Dave McMenamin).
Bryant doesn't like to lose, and he's never going to make that a secret.
Kobe Bryant Is Still Kobe Bryant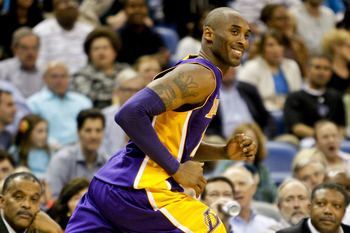 USA TODAY Sports
What all of this comes down to is that Kobe Bryant hasn't changed one bit despite the troubles that the Los Angeles Lakers have faced.
His game is the same, his demeanor hasn't changed and he is still The Man on the team he's spent his entire NBA career with.
There's no doubt that Bryant hasn't been pleased with the way the Lakers have played. He is a competitor by nature, and he's a player whose hunger to win is seemingly never satisfied.
As good as Bryant is, he can't turn the Lakers around on his own. He needs his team to step up behind him, and when they do, the combination of a solid roster and a talented superstar will create for great things in Los Angeles.
Keep Reading

Los Angeles Lakers: Like this team?