5 NBA Teams in Danger of Seeing Their Seasons Slip Away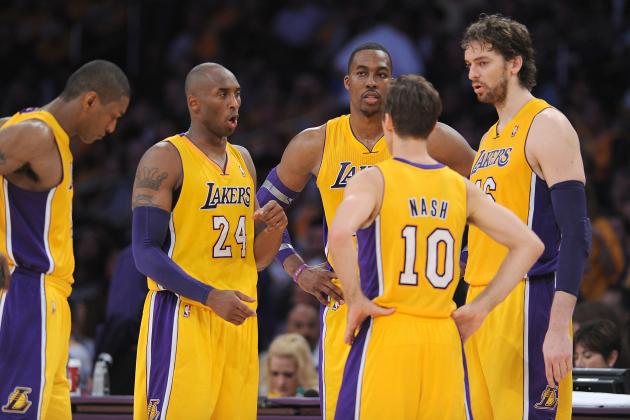 Jayne Kamin-Oncea-USA TODAY Sports

The NBA season is a quarter of the way through, and that means coaches of struggling teams are fully locked in and focused. This is the time to start righting the ship and stop hoping that the problems will sort themselves out. Unless changes are made, the season slowly becomes lost.
Plenty of teams fit the mold this season, and it would be a shame to see so much potential go down the drain. The Los Angeles Lakers have substantial talent on paper, but they cannot seem to get the formula right on the hardwood. The saddest part is that their coach, Mike D'Antoni, doesn't seem interested in making any immediate changes.
In Charlotte, the Bobcats are starting to look just like they did last season, always on a losing streak and ever young and inexperienced.
The fact of the matter is that both teams have what it takes to make grand statements this season, so long as their current flaws are dealt with accordingly. Otherwise, they will likely never dig themselves out of their current holes and be preparing for a high draft pick before they know it.
Begin Slideshow

»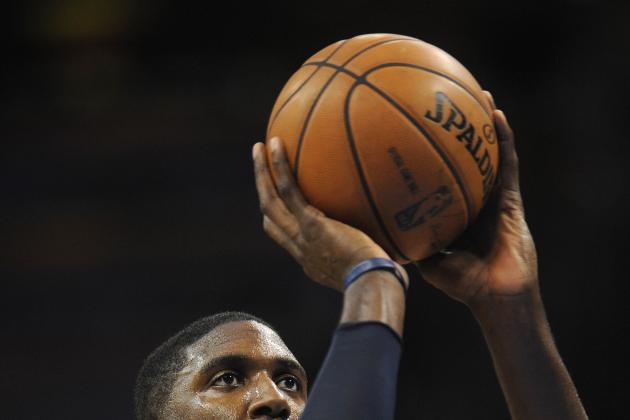 USA TODAY Sports

Record: 11-11
The Indiana Pacers were the No. 3 team in the Eastern Conference last season, but they would finish one game out of the final playoff spot were the season to end today.
Their struggles can be attributed to two factors. First, star forward and scorer Danny Granger has not played in a game this season due to knee trouble, and he is not expected back for at least a month or two.
On top of that, center Roy Hibbert has struggled mightily following a breakout campaign in 2011-12, one that earned him a long-term extension over the summer. The former Georgetown Hoya has averaged 9.5 points, 8.4 rebounds and three blocks per game this year, but he has shot just 38 percent from the field. This is unacceptable considering Hibbert is 7'2", 280 pounds.
Indiana is still the best rebounding team in the league, but it also ranks second-to-last in points scored, with just 91 per game. Head coach Frank Vogel needs to get Hibbert out of his funk and also help his young team find some rhythm on offense.
Yes, it is very possible that everything will be back to normal once Granger is back in the lineup, but the Pacers cannot afford to wait that long. The competition to secure the middle and lower Eastern Conference playoff spots is shaping up to be a dogfight, and Indiana will find itself on the outside looking in unless immediate changes are made.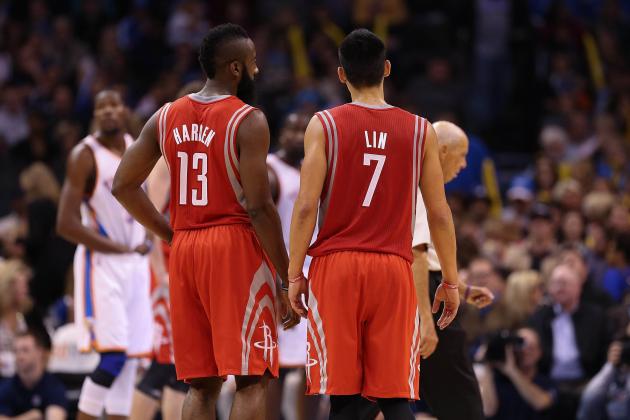 Kevin Jairaj-USA TODAY Sports

Current Record: 10-11
The Rockets have a good deal of talent on paper, namely guards James Harden and Jeremy Lin. Unfortunately, Lin is off to a slow start this season and has failed to consistently capture any of last season's "Linsanity."
On top of Lin's issues, Houston's second unit leaves a lot to be desired. Toney Douglas and Daequan Cook provide solid bench offense, but frontcourt defense is something that Houston's bench lacks.
The Kansas tandem of Marcus Morris and Cole Aldrich are decent role players, but neither really has the talent (yet) to help carry the team when the starters are resting.
The clear answer to performing better is for Lin to get out of his funk, but head coach Kevin McHale has little control over that. Rather, he should give more playing time to guys like Terrence Jones and Greg Smith.
Smith had a fine game against the Lakers on Dec. 4, and Jones offers incredible athleticism. By just regularly inserting their physicality and defense into the rotation, the Rockets can at least stay competitive and get into playoff contention while Lin works to get back on track.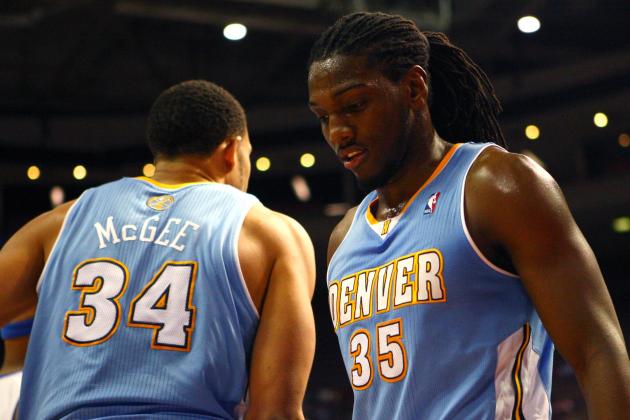 USA TODAY Sports

Current Record: 11-12
The Nuggets made a big splash during the offseason in acquiring the dynamic Andre Iguodala via the Dwight Howard trade. Head coach George Karl made him the starting shooting guard, and the former Arizona Wildcat's performance has been inconsistent.
Iguodala is averaging 13.6 points and 5.3 rebounds per game, but he is shooting just 42 percent from the field. He has struggled mightily over his last five games, posting just 8.8 points and shooting an abysmal 27 percent. If the Nuggets want to make some noise in the highly competitive Western Conference, he needs to heat up and start scoring more consistently.
Denver has also had some issues in finding consistency at center. For some reason or another, instead of having defined starter and backup roles at the position, head coach George Karl has opted to evenly split the minutes between Kosta Koufos and JaVale McGee.
Koufos plays a solid defensive game, but McGee is a better all-around center. Were he to get a majority of the minutes, Denver's frontcourt would improve in a heartbeat and the team would not rank 25th in points allowed.
This is an easy fix, and Karl should have noticed it by now. Unless he wants to waste all of the good young talent he has at his disposal, he'll make the change and watch as Denver goes from just barely out of the playoffs to a prime contender.
USA TODAY Sports

Current Record: 9-14
It hasn't been an easy season for the Lakers. First, Mike Brown was fired as head coach after the Princeton offense led to a 1-4 start. Mike D'Antoni was hired in his place over the legendary Phil Jackson.
The worst of it is that the Lakers have a great team on paper. GM Mitch Kupchak landed not only future Hall of Fame point guard Steve Nash last summer, but he also traded for All-Star center Dwight Howard.
Unfortunately for the Lakers, D'Antoni's fast-paced offense is virtually useless without a reliable point guard to run the pick-and-roll. This is a problem because Steve Nash has not played since fracturing his leg against the Portland Trail Blazers on Oct. 31. Throw in Pau Gasol's struggles and subsequent injury, and Los Angeles is a mess.
Even if Nash and Gasol return fully healthy, that is not going to be enough to fix the Lakers. D'Antoni needs to be willing to adjust his system to suit the strengths of his players and not be so reliant on simply outscoring the other team.
This Lakers squad can be one of the best in team history, and all D'Antoni has to do is find some sort of balance. Otherwise, this Lakers season will turn into one of the biggest wastes of talent in NBA history.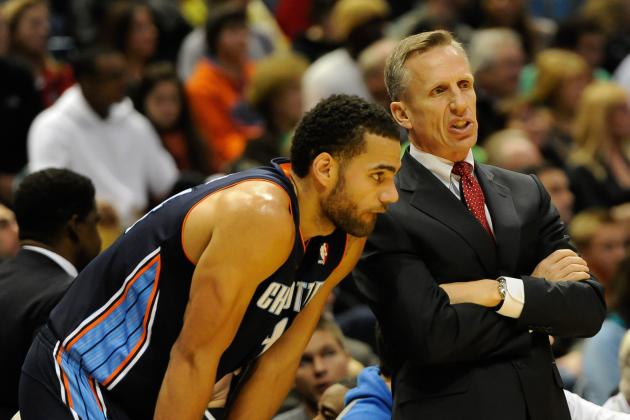 Benny Sieu-USA TODAY Sports

Current Record: 7-15
The Bobcats were the laughingstock of the NBA last season, winning just seven games and ending the season on a 23-game losing streak. Longtime college and NBA assistant Mike Dunlap was brought in as the young team's new head coach, and Charlotte has already matched last year's win total.
Suddenly, the house has fallen down. The Bobcats have lost 10 games in a row and rank 29th in points allowed. They also rank 28th in assists per game, which is unacceptable with two fine passers in Ramon Sessions and Kemba Walker on the roster.
Charlotte could also use some help on defense. Brendan Haywood and Bismack Biyombo provide two sturdy bodies in the middle, but they are not strong enough to carry the team on their own.
Byron Mullens has the size at 7', 275 pounds and has averaged 11.8 points and 7.4 rebounds per game, but he is shooting just 38 percent from the field.
Mullens' ability to stretch the floor is definitely important in Charlotte's future plans, but he needs to use his size in the paint more often. He has the build to be an exceptional rebounder and shot-blocker so long as Dunlap coaches him properly and shows patience.
If he can adapt to playing that type of game and the rest of the team shows more consistency as a whole, then Charlotte will slowly find itself getting over the hump and no longer a team of lovable losers.