Los Angeles Lakers vs. New York Knicks: Postgame Grades and Analysis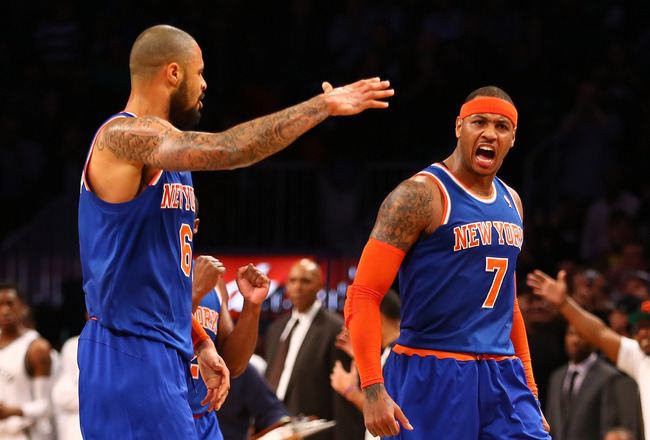 Al Bello/Getty Images
Carmelo Anthony and the New York Knicks absolutely exploded out of the gate on Thursday night, landing an early knockout blow against an overmatched and disjointed Los Angeles Lakers team. With spectacular perimeter shooting and a distinct edge in intensity, the Knicks handily dispatched Kobe Bryant and company, sending a reeling Lakers squad to its fourth straight defeat.
New York scored a season-high 41 first-quarter points, leaving the stunned Lakers in the dust. L.A. would eventually close the gap, but this game was never close. Anthony led the charge in the opening period, scoring an inspired 22 points (of 30 on the night) against his former coach's new team.
Kobe Bryant seemed to know he was on his own against the Knicks, but even his best efforts couldn't prevent the game from getting out of hand in a hurry.
With the easy win, the Knicks move to 17-5 and stay firmly perched atop the Eastern Conference.
For the Lakers, who fall to 9-14, the blowout loss only emphasized the very real issues that have plagued the club all season long. L.A. was embarrassingly slow in its defensive rotations, lost the effort battle by a mile, and simply didn't have the firepower to match the Knicks' devastating offensive attack.
Anyone still wondering whether it was time to hit the panic button on the Lakers' season likely has the answer now.
Both coasts are going to be heatedly discussing this one for a while, so let's get the trash talk started by grading the individual performances in this big-city battle.
Point Guards
Chris Duhon, Los Angeles Lakers: F

At this point, there's really nothing left to say about Chris Duhon.
Pressed into a starting role and asked to play minutes his skills clearly don't justify, Duhon was overmatched all night against the opposing guards. He couldn't score (three points), didn't create for others (four assists) and never made a difference on defense.
With Steve Blake sidelined following abdominal surgery and Steve Nash's return still uncertain, the Lakers are stuck with Duhon for the foreseeable future.
In a season that's been full of disappointments in LA, the complete nonentity at the point guard position certainly isn't helping.
Raymond Felton, New York Knicks: B+

Felton gave the Knicks exactly what they needed from their second option. After a slow start, Felton finished with 19 points, but his penetration was just as valuable to New York's perimeter barrage.
His ability to consistently blow by Chris Duhon and the other Laker point guards created chaos in the middle, and when the Lakers' secondary defenders came to help, Felton's kickout passes kept the D scrambling.
Felton did a terrific job of shouldering the load after Melo's departure. His aggressiveness kept the Knicks comfortably ahead even without their star.
Shooting Guards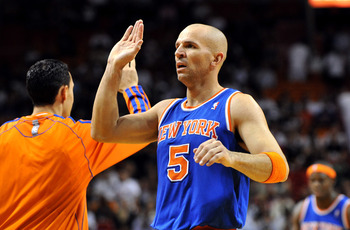 USA TODAY Sports
Kobe Bryant, Los Angeles Lakers: A-
It was obvious from the opening tip that Bryant felt like he had to try to win this game on his own. Considering how great he's been this season (and how much his supporting cast has abandoned him), Kobe's me-against-the-world approach was completely understandable.
Despite the discomfort of a sore back that clearly caused him pain all night, Bryant put up an impressive line of 31 points, six assists and 10 rebounds.
Bryant is a man on an island this season, and it certainly felt that way at the Garden Thursday night. None of his Laker teammates matched his early intensity, and they only seemed to start scoring after this one was already decided.
When Kobe cut New York's lead to seven with a corner three in the fourth quarter, it seemed for a moment like the impossible was about to happen. But LA promptly gave up five straight and Kobe's heroics were for naught (again).
Give Bryant credit for gutting it out with a cranky back, but even he couldn't drag the listless Lakers to victory.
Jason Kidd, New York Knicks: B+

Kidd made just one field goal on the night and still somehow managed to make a colossal impact on the game by continuing to masterfully play the role of the Knicks' emotional leader.
Don't misunderstand, Kidd isn't really the cheerleading type, but his even keel and heady play helped keep the Knicks from relaxing too much after their early blitz.
In addition to his steadying influence, the veteran was instrumental in the Knicks' trademark ball movement. Kidd consistently made the right pass and always found the hot hand (which was easier than usual, because every Knick had it going from the perimeter in the contest).
Kidd finished with five points, five assists and nine rebounds, but it's becoming clear that his importance to the Knicks goes much deeper than the numbers.
Small Forwards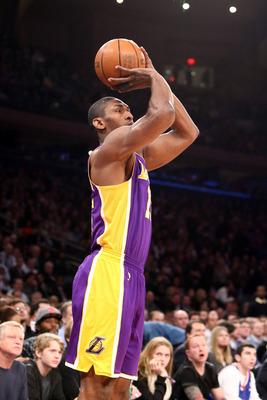 USA TODAY Sports
Metta World Peace, Los Angeles Lakers: C+

Usually, we excuse the occasional ugly box score from MWP because he expends his energy on the defensive end. Thursday night, though, World Peace's assignment on D was the offensively disinterested Ronnie Brewer, which allowed him to make a bigger contribution on offense.
Metta scored 23 points on 7-of-15 shooting, but he didn't register a single assist and never made an impact on the defensive end. It's a little curious that coach Mike D'Antoni never used World Peace on any of the Knicks' more threatening scorers, especially considering Bryant's health concerns.
Overall, Metta gets a decent grade for his much-needed scoring, but going forward, the Lakers need to be able to rely on him defensively.
And I mean, come on—anyone can guard Brewer.
Ronnie Brewer, New York Knicks: D
When your only job is to play defense and you allow World Peace to go for 23 points, you're not skating by without an ugly grade.
Brewer had what should have been an easy assignment in MWP, but he somehow allowed the Lakers forward to get going.
On the offensive end, Brewer scored just six points and failed to hit either of his open three-point looks. It isn't the end of the world for Brewer, who has real value to the Knicks as a defensive stopper, but he certainly didn't do enough to earn a high mark against the Lakers.
Power Forwards
USA TODAY Sports
Antawn Jamison, Los Angeles Lakers: F

Starting for the injured Pau Gasol for the fourth straight game, Antawn Jamison gave the Lakers just what they needed.
Just kidding! Jamison was utterly useless against the Knicks.
In fact, Antawn's first-half performance was so bad that D'Antoni actually started Devin Ebanks in his place after halftime.
If you didn't watch the game, you might question D'Antoni's decision to bench Jamison after an apparently solid three points and six rebounds in the first half. But Jamison's presence on the floor put the Lakers at an obvious defensive disadvantage. The veteran simply doesn't rotate, help or defend individually, and it's impossible to keep him out there against an offensive juggernaut like the Knicks.
Gasol can't come back soon enough.
Carmelo Anthony, New York Knicks: A+

Carmelo Anthony exploded out of the gate in front of his home crowd, sending a clear message by scoring 22 of the Knicks' 41 first-quarter points. His opening barrage included a trio of three-pointers, dunks in traffic, and everything in between.
The "MVP" chants felt particularly justified this night.
Anthony went down in the third quarter after being knocked out of the air by Dwight Howard and tweaking his knee and ankle in the awkward fall, but Melo finished the game with 30 points on 10-of-15 shooting in just 22 minutes.
Fortunately, the Knicks star had done enough in his in the early going to keep the Lakers from coming back.
In a game where the world was watching, Anthony proved his transformation from a "me first" gunner to a legitimate leader and MVP candidate was complete. He was the most dominant player on the court and his focus and intensity clearly propelled his Knicks to victory.
Centers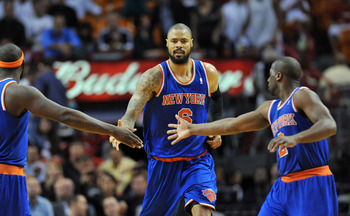 USA TODAY Sports
Dwight Howard, Los Angeles Lakers: B-

Other than knocking Carmelo Anthony out of the air, and game, Dwight Howard had virtually no effect on the contest. Sure, he put up 20 points, but he managed only six rebounds and took just 11 shots.
In what's becoming a disturbing trend, Howard didn't seem particularly bothered by the way the Knicks completely humiliated the Lakers in the first half. Frankly, his demeanor doesn't do a lot to dispel the notion that he's not fully committed to staying in LA when his contract is up this summer.
Athletically, Howard still isn't quite himself. But his team-killing and apparently disinterested attitude is inexcusable. He's got to find a way to get motivated before the Lakers dig themselves into an even deeper hole.
Tyson Chandler, New York Knicks: A-

By now, we should know not to worry about Tyson Chandler's box scores. Though he put up just 18 points and four rebounds on the evening, his defensive intensity and interior presence continued to be critical to the Knicks' success.
Because New York is such a perimeter-oriented team, coach Mike Woodson often plays to the club's strengths by spreading the floor with four outside shooters. That means Chandler is often all alone in the middle on the defensive end. And since many of the Knicks' perimeter bombers aren't terrific defenders, it's his responsibility to control paint.
Chandler did that brilliantly against LA, turning away penetration and rotating to help when necessary.
Though Howard technically outproduced him, Chandler mattered much more to his team this matchup.
Sixth Men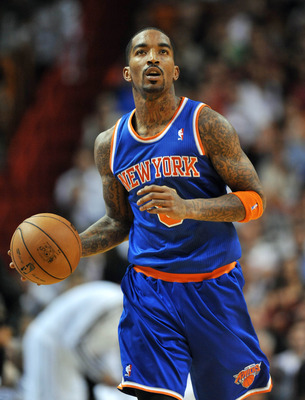 USA TODAY Sports
Devin Ebanks, Los Angeles Lakers: A-

Ebanks played with better energy than virtually any other Laker, and his 15 points in 34 minutes and 5-of-11 shooting stood out starkly against the total ineptitude that marked the play of the rest of the bench. He also chipped in a solid five rebounds in the effort.
J.R. Smith, New York Knicks: B

The Knicks got so much scoring from everyone else that they hardly needed J.R. Smith to provide his customary spark.
Never one to miss out on the fun, New York's sixth man chipped in anyway, finishing with 18 points.
Foul trouble limited Smith's minutes a bit (27), which reduced his overall impact on the game. Nonetheless, he continued to prove his worth as a reliable point producer off the bench. Even though his services were hardly necessary against the Lakers, his athleticism and knack for scoring will always be keys in the Knicks' relentless attack.
Bench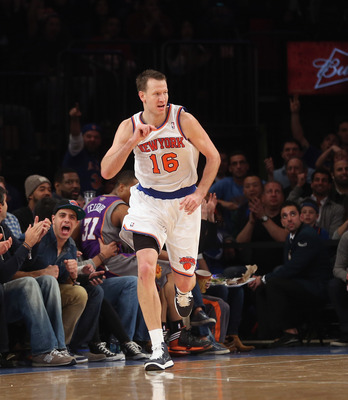 Bruce Bennett/Getty Images
Los Angeles Lakers: D
The rest of the Laker bench had better thank Devin Ebanks, because he's the only reason the L.A. reserves avoided a failing grade here.
Jodie Meeks had 12 points, but he needed 11 shots to get them, continuing his run of ugly inefficiency. Meanwhile, Jordan Hill played just three minutes, committed two fouls, turned the ball over once and failed to impact the game in any positive fashion. Other than that, he was great.
Robert Sacre and Earl Clark logged a combined nine minutes and failed to score.
Mike D'Antoni may not be the right coach for this team, but there's not a system on earth that fits players as bad as the ones coming off LA's bench.
New York Knicks: A-

Well, now Steve Novak is just showing off. Of course the Knicks sharpshooter buried a handful of treys (4-of-5), but his four assists and three rebounds seemed a little excessive.
In all seriousness, Novak might be the league's most important bench weapon. He can't be left alone, which makes it difficult to play good team defense. And whenever he gets even a hint of daylight, you can go ahead and put three points on the board.
In addition to Novak, New York got eight points from the ageless Rasheed Wallace, whose unusual mixture of long-range shooting and underrated post defense gave Dwight Howard fits on both ends.
The only other Knick to log significant minutes was point guard Pablo Prigioni, who failed to score. In order to avoid giving out too many high grades, his lackluster performance accounts for the "minus" portion of the grade above.
Keep Reading