Golden State Warriors vs. Miami Heat: Live Score, Results and Game Highlights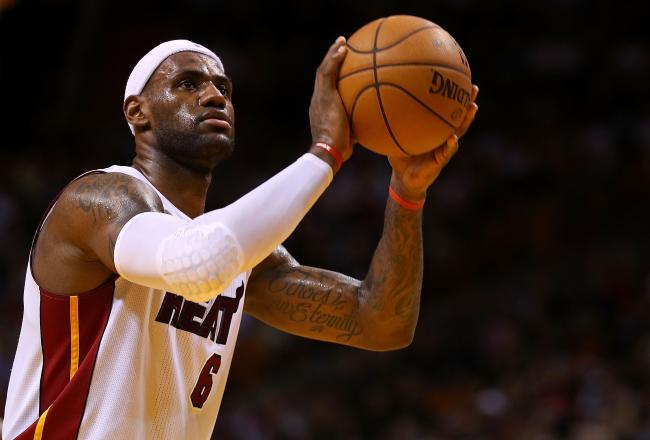 Mike Ehrmann/Getty Images
Jarrett Jack was able to find Draymond Green cutting backdoor, and the point guard fired a pass into the rookie for a wide open layup which resulted in a 97-95 win for the Golden State Warriors over the Miami Heat.
Despite 31 points from LeBron James, the Warriors were able to come out on top. Let's examine why.
1. Three-point barrage by Klay Thompson
Klay Thompson scored 27 points in this one, hitting all five of his three-pointers in the first half. He was sensational and was a thorn in the Heat's side all night. It wasn't just threes, either. Thompson was getting to the basket and scoring in transition. He even pulled down seven rebounds and dished out four assists. Outstanding night for the sharpshooter.
2. Maintained composure
Late in the fourth quarter, it looked like Miami was taking over. LeBron was starting to hit, Golden State lost its continuity offensively, and it appeared that the veteran Heat team would end up triumphant. Not so fast. Mark Jackson's group persevered and forced Miami into some tough shots late, and they turned those defensive stops into points on the other end. This win was absolutely huge for the Warriors' growth.
3. Huge night from Jarrett Jack
Stephen Curry only scored nine points, but thankfully for Golden State, Jack was there to drop 20 off the bench. He went through a stretch late in the third where he could not miss, and that came when the rest of the Warriors had gone quiet offensively. He also recognized the breakdown in Miami's defense on the final play and found Green cutting baseline for the easy two. Great game from the veteran.
4. Forced turnovers
Golden State forced the Heat into turning the ball over 18 times, including a couple of huge turnovers led that really killed the momentum that Miami had built. The Warriors are not known for their defense, but they certainly did a heck of a job out there tonight. Imagine if they had a healthy Andrew Bogut?
5. Draymond Green's toughness
Don't think for a second that Green didn't earn respect from his teammates when he jawed back at LeBron after LeBron stared him down and talked some trash after an and-one. Green got the last laugh, hitting the game-winner. He finished with a solid line of seven points and seven boards. He also did a solid job defending James.

Once again, the Warriors beat the Heat 97-95 tonight.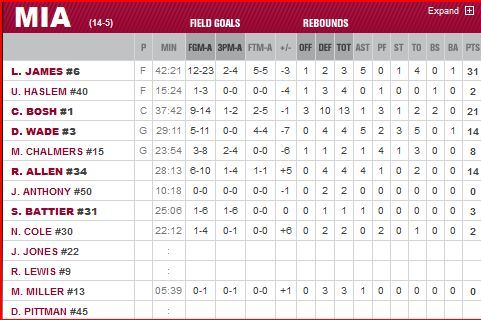 Heat final box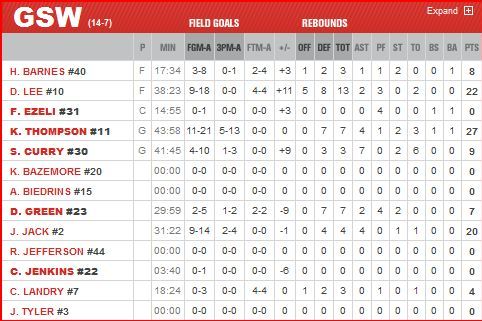 Warriors final box
And LeBron misses at the buzzer. The Warriors win it. What a win for the young Dubs, and they are pumped.
WARRIORS 97, HEAT 95 - FINAL
Battier tried to help on Curry off the ball. Completely left Green. I don't get it.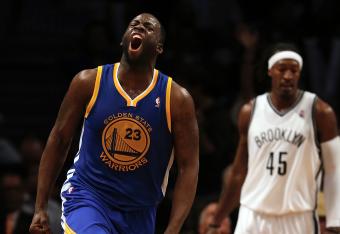 And a COMPLETE breakdown by Miami. Jack on the perimeter covered by LeBron with 1 second left, and Jack fires a pass to a WIDE OPEN Green under the basket for a layup. 0.9 seconds left.
WARRIORS 97, HEAT 95 - 0.9 SECONDS REMAINING IN 4TH QUARTER
Last time, Warriors ran screen-and-roll with Jack and Lee.
After misses by both the Warriors and the Heat, the Warriors get the ball with 11.4 seconds left and call timeout.
WARRIORS 95, HEAT 95 - 11.4 SECONDS REMAINING IN 4TH QUARTER
Should be interesting to see what GS draws up here. Another pick-and-roll with Curry, perhaps? Seems to be the plan down the stretch.
Ray Allen gets a great look from the corner for three. He misses, and the Dubs rebound. Timeout. What an ending.
WARRIORS 95, HEAT 95 - 44 SECONDS REMAINING IN 4TH QUARTER
Absolutely FANTASTIC defense by David Lee on LeBron to force a long three with the shot clock winding down.
The turnover leads to David Lee getting fouled and tying the game at the free throw line. If Miami loses this game, they have their carelessness with the ball to blame for it.
WARRIORS 95, HEAT 95 - 1:54 REMAINING IN 4TH QUARTER
Heat just turned it over for the 18th time.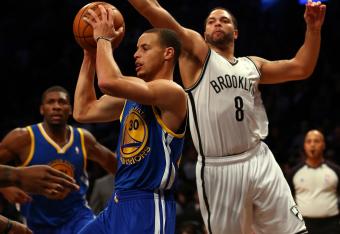 Curry has a three go halfway down and come out. He then comes back down and hits a two to bring GS to within two. The Warriors need him to take over offensively here over the course of these final couple of minutes. Looks like they are running nothing but pick-and-rolls for him right now. They want him taking the shots, and rightfully so.
HEAT 95, WARRIORS 93 - 2:16 REMAINING IN 4TH QUARTER
After a bad pass turnover by Curry, Wade gets an and-one opportunity; missed the FT. You can feel the game starting to get away from Golden State. All of a sudden, they are starting to lose composure.
HEAT 95, WARRIORS 91 - 3:18 REMAINING IN 4TH QUARTER
Some food for thought for Warriors fans:
Jarrett Jack is more valuable to this team than Monta Ellis was.

— Tim Kawakami (@timkawakami) December 13, 2012
Heat defense buckling down in this quarter. Warriors don't have much offensively. The floor spacing just isn't there anymore.
Bosh having a quietly good game. Just hit a jumper to put Miami up. He has 21.
HEAT 93, WARRIORS 91 - 4:00 REMAINING IN 4TH QUARTER
Bad call there. Ball clearly went off the Warriors and out of bounds, refs award the ball to GS.
David Lee fifth straight 20-10. Antwan Jamison, in 2001, last Warrior with such a streak.

— Ira Winderman (@IraHeatBeat) December 13, 2012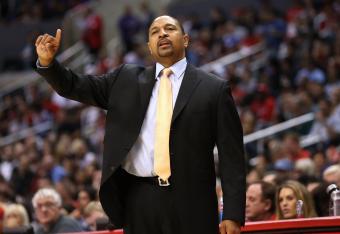 The Warriors are just not backing down. The Heat keep giving them body shots but the Dubs keep bouncing back. This does not look like a team filled with guys in their low 20s. Very impressive, and says a lot about the job Mark Jackson is doing.
Lee and Green fight each other for a rebound. It then lands in Bosh's hands. He gives Miami the lead.
Jack answers.
HEAT 91, WARRIORS 91 - 5:00 REMAINING IN 4TH QUARTER
LeBron ties the game with a three. He has 29. Remember when I said LeBron hadn't made his mark yet? He has now.
WARRIORS 87, HEAT 87 - 6:49 REMAINING IN 4TH QUARTER
Lee proceeds to hit two FTs on the other end after getting fouled.
WARRIORS 87, HEAT 84 - 7:40 REMAINING IN 4TH QUARTER
This article is
What is the duplicate article?
Why is this article offensive?
Where is this article plagiarized from?
Why is this article poorly edited?