Breaking Down Top Players for 2012-13 Scoring Title at NBA Quarter-Season Mark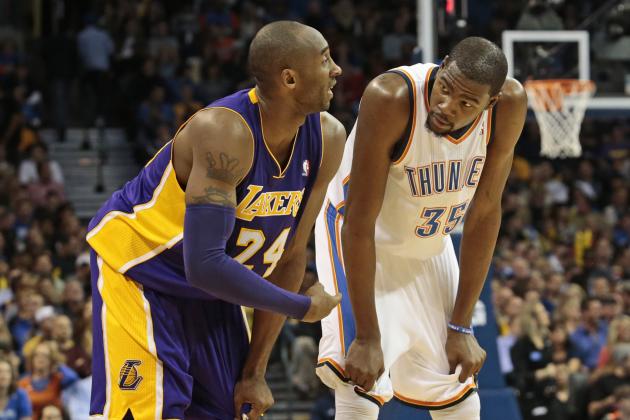 Brett Deering/Getty Images

For the past three NBA seasons, the league's scoring title has gone to one man: Kevin Durant.
The Oklahoma City Thunder's 24-year-old sharpshooter appears poised to win his fourth in a row, but there are other candidates for the 2012-13 season who may have something to say about that.
The league's top scorers are the guys who bring their A-game every single night, often times filling up the stat sheet. For a scoring title, however, the only thing that counts is putting the ball in the basket.
At the quarter-season mark, here are the top five scorers. Will they finish the season in this order?
Note: All statistics used in this article are accurate as of Dec. 10, 2012 (prior to games played).
Begin Slideshow

»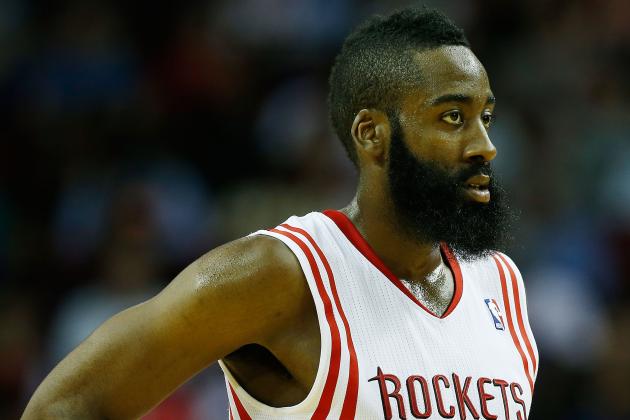 Scott Halleran/Getty Images

When James Harden was traded right before the 2012-13 season from Oklahoma City to Houston, he was given the opportunity to branch out from Kevin Durant and Russell Westbrook and become a team's alpha dog.
Through the Rockets' first three games of the season, Harden appeared poised to become one of the NBA's elite scorers. After three games, including a 45-point explosion against Atlanta, Harden was averaging 35.3 points per contest. In addition to that, Harden was shooting an impressive 52.9 percent from the field.
That early performance prompted Dallas Mavericks beat writer Dwain Price to say via Twitter, "Rockets guard James Harden will win the NBA scoring title this season."
That was certainly a bold prediction to make so early in the season. As some may have predicted, Harden has cooled off.
Since scoring 37 and 45 points in his first two games, respectively, Harden has eclipsed the 30-point barrier just twice in 17 games since. On Nov. 23 in a rout against the New York Knicks, Harden put up 33 points. In his most recent game, a loss against Dallas, Harden put up 39.
It was unrealistic to think that Harden could keep up his absurd pace throughout the entire season. Even so, his shooting percentage to this point (dropping down to 42.9 percent) has been a big disappointment.
Sure, it's great when Harden pours in more than 30 points for the Rockets. However, shooting the ball more efficiently needs to be a goal for the young guard moving forward.
Current average: 24.7 points per game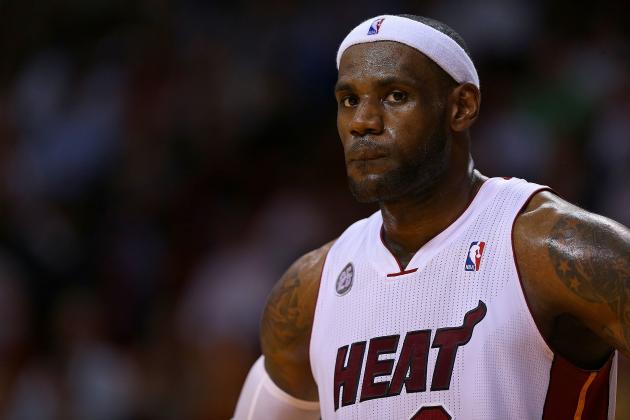 Mike Ehrmann/Getty Images

LeBron James is no stranger to the NBA scoring title, having won one of his own back in 2008. However, that was back when James was a member of the Cleveland Cavaliers.
Due to his supporting cast in Cleveland, James needed to be a more dynamic scorer. The second-best scorer on the Cavs that year was Zydrunas Ilgauskas, who averaged 14.1 point per game.
Now that James has joined the loaded Miami Heat, with former scoring champion Dwyane Wade and All-Star Chris Bosh on the roster, James hasn't had to score as many points to get wins.
In addition to that, James has matured and become one of the best distributors in the game at his position. He's averaging 6.9 assists and 8.9 rebounds per game.
James may no longer be in a position to compete for scoring titles given the team dynamic he plays with in Miami. However, James is looking for his fourth MVP award in five years, a total which would tie him with Wilt Chamberlain.
You have to think that winning MVP awards and winning championships is more important to him.
Current average: 25.1 points per game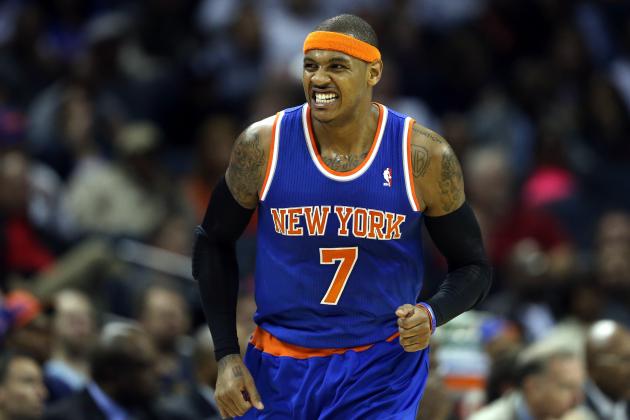 Streeter Lecka/Getty Images

Carmelo Anthony is averaging 20.2 field-goal attempts per game through 18 games this season, so it shouldn't come as a surprise that he's in the hunt for the NBA scoring title.
Anthony is shooting 45.5 percent from the field this season. That isn't the best percentage of his career, but it's an improvement from last season's 43 percent mark.
Where Anthony has really stood out this season is shooting from long distance. He's shooting 43 percent from three-point range so far—a career best. What's more impressive about Anthony's career-best mark from beyond the arc is the fact that he's attempting 5.6 three-point shots per game (the most per game of his career).
Anthony is shooting the ball with confidence from the beyond the arc this season, and there's no reason to expect anything less moving forward.
The Knicks finally have some semblance of team chemistry under head coach Mike Woodson, who has done a remarkable job so far this season.
It will be interesting to see how that chemistry holds up when Amar'e Stoudemire returns from injury and how that will affect Anthony's scoring output.
Current average: 26.8 points per game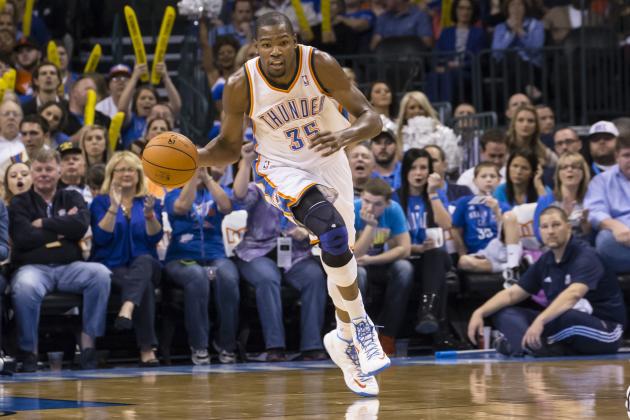 Shane Bevel/Getty Images

Once again, Kevin Durant is in the running for his fourth consecutive league scoring title, which should surprise nobody.
The three-time NBA scoring champion has consistently been the league's best scorer. If stats are any indication so far this season, he's well on his way to repeating past success.
Through 21 games so far this season, Durant is shooting 50.6 percent from the field and 44 percent from three-point range. Even for a three-time scoring champ, those are both career highs.
Durant's scoring efficiency has improved quite a bit, but he's attempting fewer shots on average this season (16.7 attempts per game versus 19.7 attempts per game last season). Both he and teammate Russell Westbrook are averaging more than 20 points per game.
In addition to that, Serge Ibaka has vastly improved this season. He's averaging 14.3 points per game, which is more than five points better than his career average of nine points per game.
Much like James' situation in Miami, Durant has teammates capable of shouldering some of the scoring load. However, Durant is scoring more efficiently this season than he ever has before, and he's been at the top of the league in scoring for three straight seasons.
The 2012-13 NBA scoring title will likely come down to the wire. Despite the fact that Durant has been taking fewer shots, counting out the three-time champ would not be wise.
Current average: 27 points per game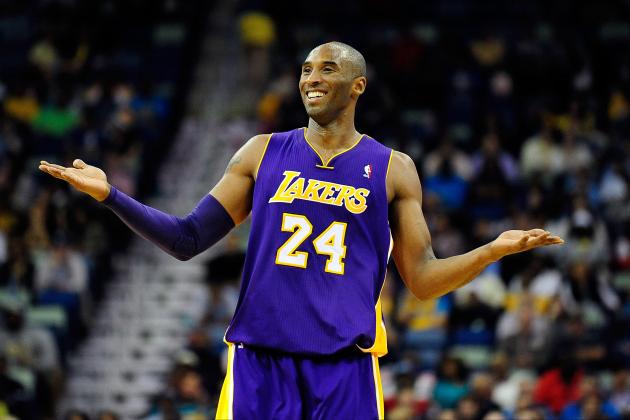 Stacy Revere/Getty Images

The Los Angeles Lakers season thus far has been marred by negatives: a 1-4 start led to the firing of head coach Mike Brown; Steve Nash has played in just two games due to injury; the Lakers currently have a 9-12 record.
The only Western Conference teams that have been worse than the Lakers so far are the Houston Rockets, Sacramento Kings, Phoenix Suns and New Orleans Hornets. Not only are the Lakers not going to even sniff the Chicago Bulls' single-season record of 72-10, but if the season ended today, they wouldn't even make the playoffs.
The lone bright spot for the Lakers this season has been Kobe Bryant.
At 34 years old, Bryant is playing arguably the best basketball of his entire career. Bryant's shooting percentages—48.2 percent from the field, 39.8 percent from three-point range and 87 percent from the free-throw line—are all career highs.
The scoring efficiency he has shown so far is unparalleled for a guy who is usually a volume scorer. He eclipsed the 30,000-point threshold this season as well, joining Kareem Abdul-Jabbar, Karl Malone, Michael Jordan and Wilt Chamberlain.
The only thing that could be better for Bryant this season is a winning record. What's truly baffling, though, is that the Lakers are 1-9 this season in games where Bryant scores 30 or more points, according to ESPN Stats & Information.
This has been a frequent problem for Bryant. When the Lakers get everyone involved, they're a vastly superior team. When it's just Bryant doing the bulk of the scoring, the Lakers become one-dimensional and don't win games on a regular basis.
Despite his age, Bryant is playing perhaps the best basketball of his career and is showing no signs of slowing down.
As is usually the case, the Black Mamba is in the running for the league's scoring title.
Current average: 28.6 points per game