Denver Nuggets vs. Los Angeles Lakers: Postgame Grades for Both Teams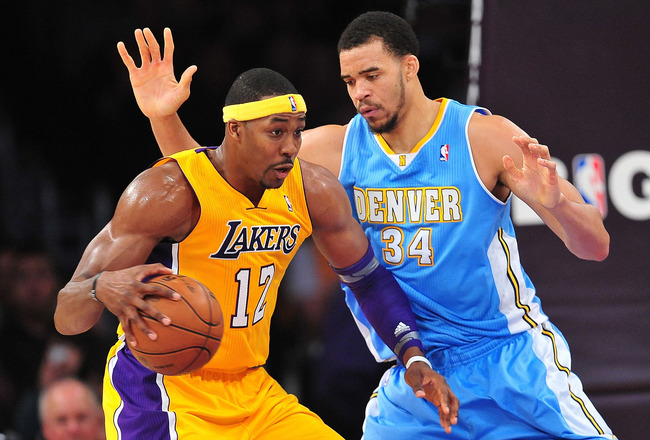 Gary A. Vasquez-US PRESSWIRE
The Los Angeles Lakers, who dropped 77 points in an entire game against the Indiana Pacers just a few nights ago, found their offensive groove against the Denver Nuggets, putting up 71 points in the first half alone.
The Lakers' 14-point halftime lead was too much for a struggling Nuggets team to overcome.
Led by 28 points and 20 rebounds from Dwight Howard and an incredible 54 combined points off the bench from Antawn Jamison and Jodie Meeks, the Lakers controlled this rematch of last year's first-round playoff series.
Los Angeles moved the ball around the perimeter much better than the Nuggets and played with more patience, leading to more open shots and easy baskets.
The Lakers ended the game with a season-high 33 assists, which goes to show just how dangerous they can be when everyone on the roster stays involved on offense.
The Nuggets didn't have an answer for anyone wearing a Lakers jersey, especially Howard in the paint, and Jamison, who was everywhere on the court. Jamison capped off a throwback performance with 33 points and 12 rebounds, shooting 68.4 percent from the field.
If the Lakers can keep this kind of production up, they are going to be a very hard team to beat. That said, it's doubtful that Meeks and Jamison will pour in 54 points on 71.4 percent shooting from the floor ever again.
With all that in mind, let's move onto the grades, shall we?
Point Guard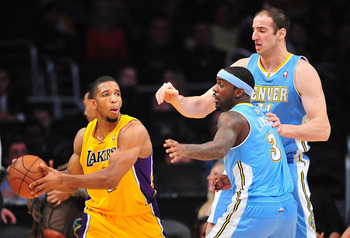 Gary A. Vasquez-US PRESSWIRE
Darius Morris, Lakers PG: C+
In a shocking turn of events, Darius Morris out-played Ty Lawson—at least from an efficiency standpoint. He was more effective spreading the ball around in the first half, and didn't turn the ball over nearly as much as his Nuggets' counterpart.
While he scored just three points on the night, he did exactly what the Lakers needed him to. Morris didn't didn't force shots or try to create opportunities for himself. Instead, he found his teammates and kept the pace of the game flowing.
Ty Lawson, Nuggets PG: D
The Nuggets were better off with Andre Miller running the point than Ty Lawson tonight. Lawson ended the first half with just five points and four turnovers.
It was clear that Lawson's ability to get into the paint and either create opportunities for teammates or finish strong at the rim was stymied by Dwight Howard's size in the paint.
Lawson kept trying to get into the paint all night, but he was unable to impose his will at the rim time and time again. Instead of taking what the Lakers defense gave him, Lawson forced it.
He ended the game with five turnovers and just nine points—an awful stat line for a player of Lawson's caliber.
Shooting Guard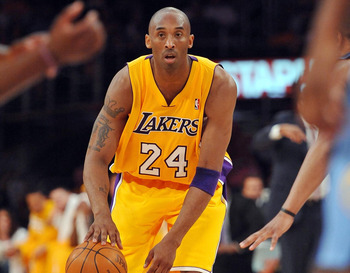 Jayne Kamin-Oncea-US PRESSWIRE
Kobe Bryant, Lakers SG: B-
Four assists and zero points through the first 8:30 of the game? It was certainly an interesting night for the Black Mamba.
His first-quarter performance could be chalked up to Andre Iguodala's lock-down defense. However, Kobe Bryant turned up the heat in the second quarter, pouring in 10 points to help the Lakers extend their sizable lead over the Nuggets.
Iguodala's presence certainly frustrated Bryant throughout the night, though, which is why he shot just 33.3 from the field.
Fortunately, he facilitated the ball well to the tune of eight assists to make up for his lack of offensive efficiency.
Andre Iguodala, Nuggets SG: C+
Iguodala was barely outplayed by his counterpart.
His defense on Kobe was fantastic, as usual, but he didn't do enough on offense to help the Nuggets get the win.
Instead of finding open teammates consistently on his drives into the paint, Iguodala forced up questionable runners.
His shot selection hurt the Nuggets in the first half, and he didn't do enough to overcome that rough start in the second half.
Small Forward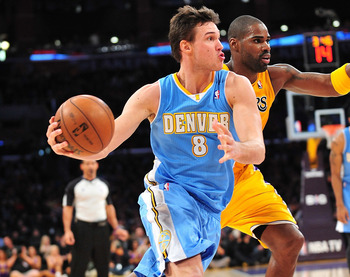 Gary A. Vasquez-US PRESSWIRE
Danilo Gallinari, Nuggets SF: B
When the Denver Nuggets needed a basket, they turned to Danilo Gallinari. He ended the night with 19 points on 46.2 percent shooting, and he was the main reason why the Nuggets hung around with the Lakers.
His one weakness throughout the night was settling for outside jumpers rather than taking advantage of Metta World Peace's overaggressive defense by getting into the paint.
Gallinari couldn't do it alone, though, and that's why the Nuggets ultimately fell short.
It was a solid performance for Gallinari—it just wasn't enough with the production his teammates were bringing to the court.
Metta World Peace, Lakers SF: C-
Metta World Peace would do well to forget about his performance about the Denver Nuggets, because aside from his two three-pointers, his play was atrocious.
He ended the night with 10 points on 27.3 percent shooting from the field and 28.6 percent shooting from beyond the arc.
The Lakers don't need World Peace putting up as many shots as he did against the Nuggets. Instead, they need him to focus on being a force on the defensive side of the ball and an opportunistic shooter on offense.
Luckily for Los Angeles, World Peace's lack of efficiency didn't end up hurting them when it was all said and done.
Power Forward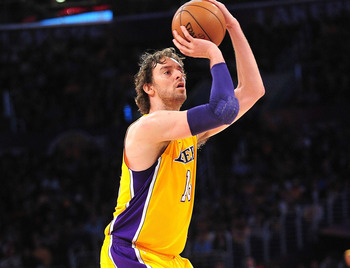 Gary A. Vasquez-US PRESSWIRE
Pau Gasol, Lakers PF: B-
Pau Gasol is quickly developing into a less explosive, but more balanced player.
We saw it tonight with six points, seven rebounds and eight assists. Gasol is starting to be more opportunistic rather than force himself into the Lakers' new offense schemes.
This phenomenon was perfectly displayed when Gasol lobbed an alley-oop to Dwight Howard after an offensive board instead of putting up a contested shot himself.
The more Gasol continues to focus on playing balanced, the better the Lakers will be.
Kenneth Faried, Nuggets PF: D+
Kenneth Faried wasn't his usual dominant self on the glass, ending the night with just two rebounds. Going up against Pau Gasol and Dwight Howard was a big reason for that.
Faried was aggressive throughout the night, but he never asserted himself as a major threat in the paint, which the Nuggets needed him to be on this night.
With just eight points and two rebounds at game's end, it's clear that Faried wasn't himself.
Center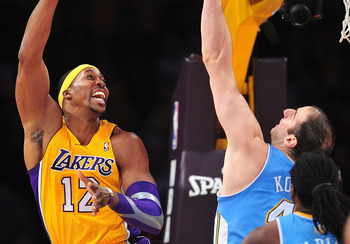 Gary A. Vasquez-US PRESSWIRE
Dwight Howard, Lakers Center: A
Talk about a dominant night for Dwight Howard. Totaling 16 points, five rebounds and two blocks in an entire game would be a strong performance, and Howard put up those numbers in the first quarter.
It's safe to say that Kosta Kuofos couldn't handle Howard from the tip. Howard imposed his will all night long, even when he was going up against the lanky JaVale McGee.
If this is a glimpse of how great Howard can be when he is at full health, the NBA better get ready for a dominant year from D12. Ending the night with 28 points, 20 rebounds and three blocks proves that Howard is ready to be the foundation of the Lakers franchise when Kobe Bryant hangs it up.
Kosta Kuofos, Nuggets Center: D
It's easy to get out-played and overshadowed by the NBA's most dominant center, and that's what happened for Kosta Kuofos against the Lakers. He ended the night with just nine minutes played, and that was probably nine more minutes than he should've seen.
Kuofos was out-played by Dwight Howard every time down the court. He got pushed around on defense and he looked overwhelmed on the glass.
The Nuggets have better options at center with JaVale McGee and Timofey Mozgov, and it would be wise to insert them into the starting lineup over Kuofos when they go up against the league's strongest big men.
Sixth Man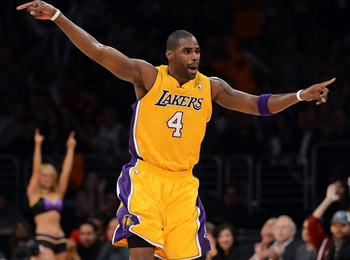 Harry How/Getty Images
Antawn Jamison, Lakers PF: A
Antawn Jamison could not be stopped by anyone on the Nuggets roster.
He ended the night with 33 points, outscoring all of his Lakers teammates. That's not too shabby for the 36-year-old power forward who had to sign the veteran's minimum this offseason.
The Nuggets were never really in this one, but Jamison's impressive production off the bench made sure that they never truly challenged the Lakers all night. Jamison's impressive shooting percentages included 68.4 percent from the field and 50.0 percent from beyond-the-arc.
I'm not sure what Jamison did before this contest, but whatever he did, it worked.
Jamison absolutely stole the show, and deserves to revel in this 33-point, 11-rebound outburst.
JaVale McGee, Nuggets Center: C+
Bringing energy off the bench is exactly what JaVale McGee did for the Nuggets.
He crashed the offensive glass and waited for high-percentage shots to come his way, showing that he is a different and, dare I say it, more mature player this season.
McGee ended the night with 10 points and five rebounds in just 17 minutes, but he could have done a lot more on the defensive side of the ball.
Bench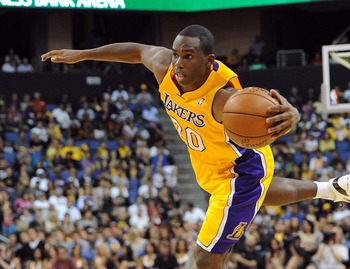 Jayne Kamin-Oncea-US PRESSWIRE
Lakers Bench: A
The Nuggets had a much more balanced bench, with five players combining to score 47 points. But that doesn't mean anything when Antawn Jamison and Jodie Meeks put up a combined 29 points in the first half alone.
Meeks ended the night with 21 points, shooting 87.5 percent from beyond-the-arc and 77.8 percent from the floor, which is impressive considering that he was averaging just 4.4 points per game heading into this matchup.
The Lakers bench ended the night with 61 points, which is the most they have scored all season.
Denver Nuggets: B
In terms of balance, the Nuggets bench clearly had the upper-hand. In the first half alone, the Nuggets had five players coming off the bench, combining for 25 points.
Balance doesn't always top pure production, though, and that is certainly the case here.
The one thing the Nuggets bench lacked was a defensive presence on the court. When the Nuggets second unit came onto the floor, the Lakers consistently took advantage.
Jordan Hamilton led three reserves in double figures with 13 points, but their efforts paled in comparison to that of Jamison and Meeks.
Keep Reading