5 Reasons Houston Rockets and OKC Thunder Both Won in James Harden Trade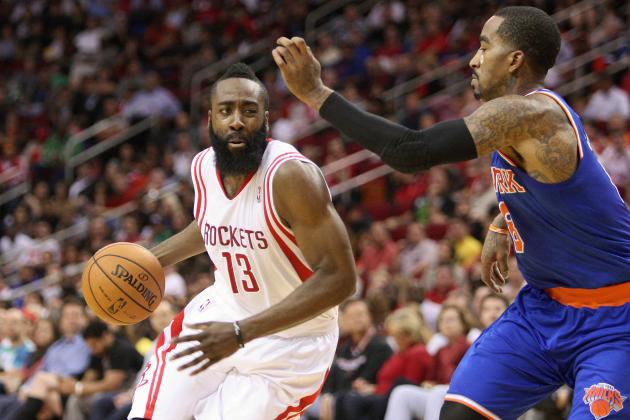 Troy Taormina-US PRESSWIRE

James Harden's journey to the Houston Rockets was unorthodox at best. Fittingly enough, the results following said journey have been unorthodox as well.
Rarely in the NBA do two teams win in the same trade. What took place between the Rockets and Oklahoma City Thunder, however, is an exception.
Whether or not you agree with the Thunder's decision to move on from Harden is irrelevant, because both teams were able to capitalize off a move that all parties involved arguably had to make.
Let's face it, Jeremy Lin is not cornerstone, so Houston needed a star pillar for the future. And Oklahoma City just needed to cover its financial behind; retaining Harden long term at the price he wanted would have cost the team an arm, a leg and any chance it had at turning a profit in the near future.
Simply put, the Rockets and Thunder did what had to be done.
And were able to make the best of a complex situation in the process.
All stats in this article are accurate as of November 28th, 2012.
Begin Slideshow

»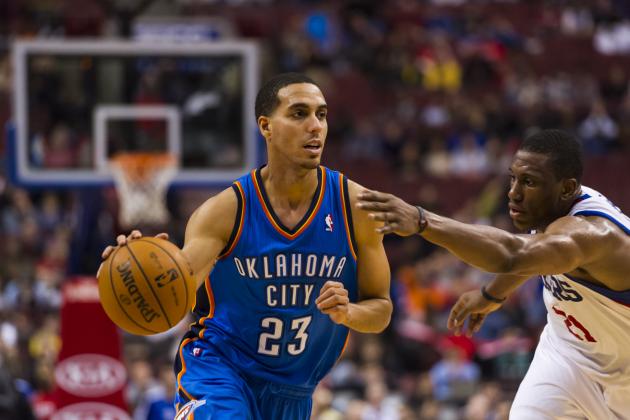 Howard Smith-US PRESSWIRE

Neither the Rockets nor the Thunder were a weak link offensively last season, but both teams' efficiencies on that end of the floor have improved as a result.
Houston is currently averaging 103.2 points per 100 possessions, up from the 102.8 it averaged last season. Boasting a scorer like James Harden has helped the Rockets move into the top 10 of this respective category, a feat they were unable to accomplish.
Oklahoma City, by comparison, is scoring 109 points per 100 possessions, a mark well above the 107.1 they posted with Harden last season.
Yes, we're still less than 20 games into the season, but that also means these two teams have had less than 20 games to build a collective chemistry. That makes such efficient offensive ratings at this stage more than impressive and is an early indication that life after the Harden trade is working out for both teams.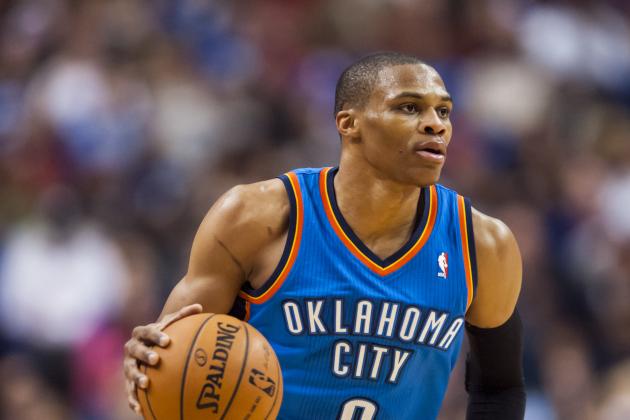 Howard Smith-US PRESSWIRE

After a rough start to the season, Russell Westbrook has caught fire.
The point guard is averaging a career best 8.6 assists per game, yet is committing the least amount of turnovers of his career, coughing up the rock just 2.9 points per contest. He's also assisting on 44.7 percent of scoring plays while he's on the floor—the third highest mark in the league.
Without James Harden to lean on, Westbrook has been forced to shoulder more of the playmaking responsibilities. And as his stat lines dictate, the added burden has looked good on him.
Jeremy Lin, on the other hand, is not playing well. He's averaging 10.6 points and 6.4 assists per game on a horrific 37.4 percent shooting from the field.
And yet, he'd be doing much worse if Harden wasn't around to draw a majority of the offensive attention. Could you imagine how much Lin would be struggling as the focal point of Houston's offense?
I can't. Mostly because of the 20 five-man units in which Lin has performed best in, Harden is in 14 of them.
So yeah, the Rockets should be disappointed in Lin's showing thus far. But they should be thankful Harden came along as well.
Or Lin would be doing much worse.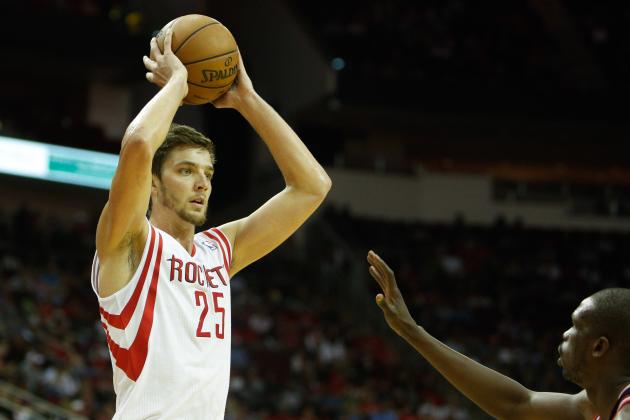 Thomas Campbell-US PRESSWIRE

We all knew Kevin Durant could ball, we apparently just never knew how hard.
Like Russell Westbrook, Durant got off to a slow start, but as he's adjusted his game to fit the needs of his team, his numbers have increased. Like really increased.
Durant is averaging 25.9 points and a career best 9.2 rebounds per game. He's also shooting 49.8 percent from the field, 43.6 percent from beyond the arc, forcing 1.9 steals and swatting 1.5 shots away per game—all career highs
How's that for life after James Harden?
Well, to put it bluntly, it's about as good as life has been with Harden for Chandler Parsons.
The sophomore has become an overnight sensation. He's averaging the second-most points per game behind Harden with 15.7, grabbing an impressive seven boards per contest and shooting a lights out 41.8 percent from downtown.
Parsons did have a stellar rookie season last year, but the floor has really opened up for him now that he's playing alongside a proven playmaker and defense-drawing athlete like Harden.
Houston was always going to need a second prolific scoring option to pair with their new pillar, and it looks like they have found one in Parsons.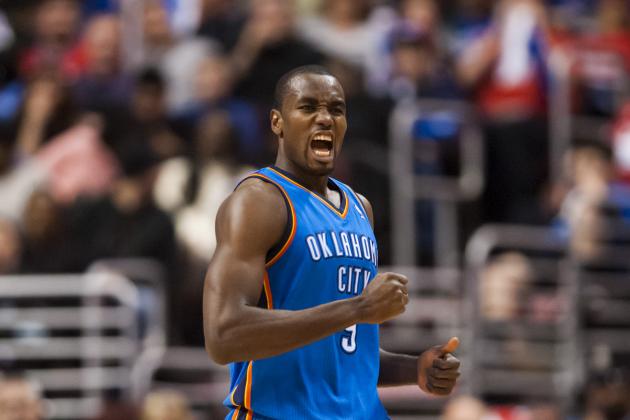 Howard Smith-US PRESSWIRE

Like it or not, James Harden's potential was stifled in Oklahoma City. Coming off the bench will do that to a player.
In Houston, however, he has been able to become an irrefutable superstar.
Harden is averaging a career high 38.8 minutes per game, and has turned such usage into 25.1 points, 5.4 assists and 4.4 rebounds a night—all career highs as well.
With the Rockets, he has been allowed to become the player he could never be with the Thunder, emerging from the shadows once casted by Kevin Durant and Russell Westbrook.
Just like Serge Ibaka has been able to emerge from the shadow once casted by Harden.
Though Ibaka has always been a starter, he was universally considered Oklahoma City's fourth best player. Without Harden around, though, the Thunder have been forced to lean on him more—on both sides of the ball.
Ibaka is averaging 14.5 points in 32.3 minutes per game, both career highs. He's also tied a career best by grabbing 7.6 boards per contest and is blocking 2.9 shots a night, good for the second-highest mark in his career.
Much like Harden needed to leave Oklahoma City to make a name for himself, it appears Ibaka needed him to leave to make a two-way name for himself as well.
And to date, it's worked out for both players.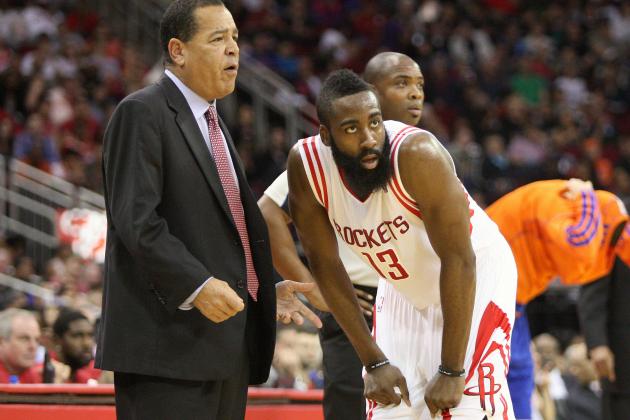 Troy Taormina-US PRESSWIRE

James Harden provided the Thunder with the chance to establish a future dynasty, yet that's not the future they needed.
The luxury tax bill Oklahoma City had to foot should they have retained Harden would have been astronomical. By the 2014-15 crusade, the team would have had to pay a total of $105 million in luxury taxes and general payroll.
For a team like the Los Angeles Lakers, who net $250 million off their TV deal alone, that's not a problem. For a small-market team like the Thunder, who generate just $15 million off theirs, it is.
Now, however, Oklahoma City doesn't have to worry about it. Kevin Martin's $13 million salary comes off the books after this season, and then the team is free to manage its remaining cash how it sees fit.
On the flip side, you have the Rockets. Houston isn't the largest market in the league, but unlike the Thunder, they have money to burn.
And yet, the Rockets had no real face of the future. Sure, there was Jeremy Lin, but he couldn't carry the hope of an entire organization on his shoulders.
Harden can. That's why Oklahoma City grappled with the decision to move him in the first place.
But it all wound up working out when an accord was struck between these two teams. The Thunder saved enough money to keep their wallet afloat, and the Rockets have a player in which they can truly build around
That's what we call a win-win.