Indiana Pacers vs. Los Angeles Lakers: Postgame Grades and Analysis for L.A.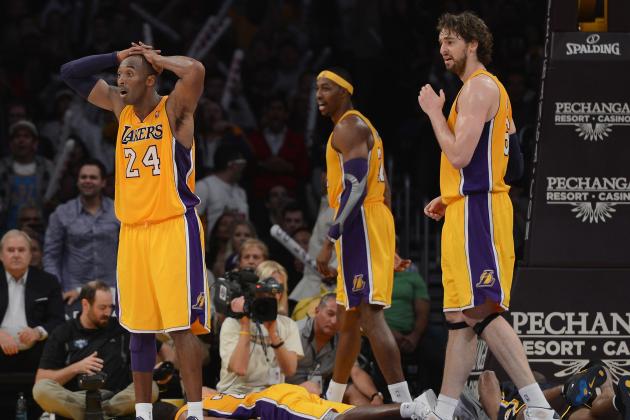 Harry How/Getty Images

Kobe Bryant was under the weather leading up to the Los Angeles Lakers' matchup with the Indiana Pacers, but it was the fans that left the Staples Center feeling sick. The L.A. faithful were treated to an atrocious shooting exhibition that featured just 33 first-half points by the Lakers, a stretch during which there were 38 combined turnovers and the Pacers missed 22-of-23 shots.
When the game mercifully ended, L.A. fell to the Pacers 79-77.
Overall, the Lakers simply couldn't score. They made 32 percent of their field goals, 21 percent of their threes and only 54 percent from the foul line.
L.A. entered the game with growing confidence in coach Mike D'Antoni's offensive system, but the Lakers' putrid offensive performance against Indiana certainly tempered whatever enthusiasm the team might have been building.
To be fair to the Lakers, they did hold the Pacers offense in check, limiting them to just 36 percent shooting in the first half and 37 percent for the game. If Indiana could have mustered even an average offensive performance, this game would have been a complete blowout.
Kobe Bryant gave a colossal effort, scoring 40 points despite his illness. But his efforts couldn't save the Lakers from a demoralizing last-second loss.
The game was tied with just a few seconds left, and George Hill blew by Metta World Peace. His game-winning layup arced gracefully over the outstretched arms of both Pau Gasol and Dwight Howard before softly dropping home.
It was a painful loss, but really, the Lakers didn't deserve to be anywhere close at the end. Going forward, many of the key issues during the Mike Brown era remain at the forefront under Mike D'Antoni.
First of all, the offense seems to put players in uncomfortable positions. Pau Gasol was particularly out of sorts, consistently catching the ball in the corners, 22 feet away from the basket. No matter how much he's been working on his jumper, that's no the optimal place for Gasol to make offensive contributions.
In addition, the bench continued to be a massive area of weakness, mustering just five points.
The Lakers will try to move on after this one, but the problems that reared their heads against the Pacers need solutions. Fast.
Begin Slideshow

»
I'll say this for Darius Morris: he was consistent. Morris put up zero points in the first quarter, and only contributed a steal in the period. Then he did the exact same thing in the second quarter. With Steve Blake and Steve Nash still sidelined, Morris didn't do much with the opportunity he had Tuesday night.
Morris hardly got better after his goose egg in the first half.
He played just 22 minutes in the game, registering a single point, no assists and one rebound. Worst of all, he lost playing time in the fourth quarter, as D'Antoni went with Chris Duhon at the point. Just as an aside, it's not a good thing to lose minutes to Chris Duhon under any circumstances.
Morris seemed to be growing more comfortable over the last couple of weeks, but against the Pacers, he suffered a major regression. This will be one he'll try to forget.
Final Grade: D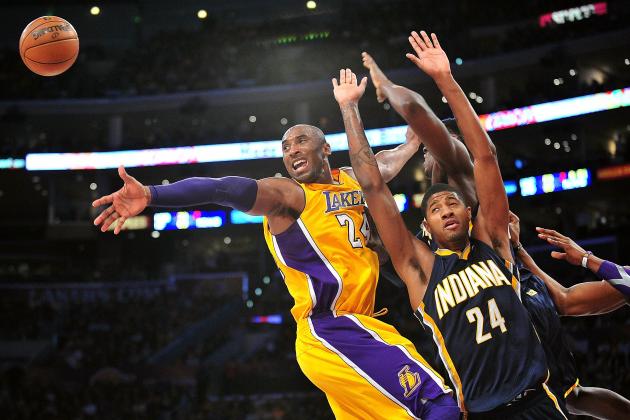 Gary A. Vasquez-US PRESSWIRE

Kobe Bryant didn't look good in the hours leading up to the Lakers' tilt with the Pacers, but he laced up and battled anyway. Despite suffering from flu-like symptoms, Bryant played the entire first quarter, dropping 13 points (including a ridiculous fall-away on which he was also fouled).
Kobe was clearly ailing, as he spent all of his time on the "bench," reclined on the baseline on top of a pile of towels.
After his valiant first-quarter heroics, Kobe lost his legs in the second quarter. His jumpers were short, he looked physically exhausted and he wasn't getting any help from his teammates. Bryant played another eight minutes in the second period, but his weakened condition, combined with the Lakers' clunky offense and some harassing D, led to four first-half turnovers and some pretty ugly shots.
Kobe came out in the third quarter looking better, and by the time the period was over, he had more than half of the Lakers' total output. You read that right: Kobe finished the third with 29 of L.A.'s 57 points.
Little changed in the fourth, as Kobe continued to be his team's only real option. He even played a little "hero ball," drilling a game-tying three with 24 seconds left.
Overall, the Lakers wouldn't have been in the game if not for Bryant, who finished with 40 of the team's 77 points. Bryant didn't have a perfect game by any stretch, as his team-leading 43 minutes clearly led to uncharacteristic mistakes.
His triple-double wasn't the good kind, as he matched his 10 rebounds with 10 turnovers.
Final Grade: A-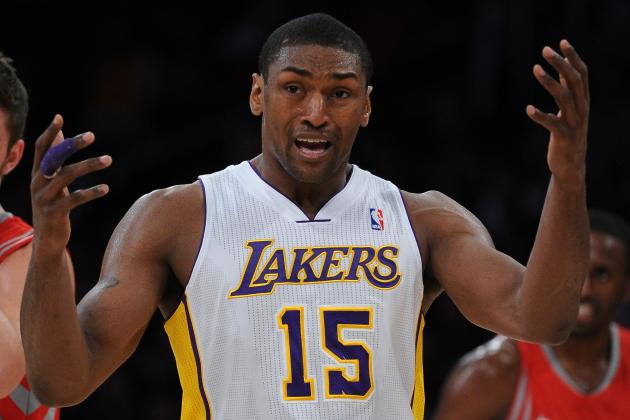 Jayne Kamin-Oncea-US PRESSWIRE

Clearly, Metta World Peace got all of his early scoring out of his system against the Dallas Mavericks on Saturday. He had 16 in the first period then, but none in the first against the Pacers.
MWP hit his only basket early in the third, a three-pointer, but he simply couldn't throw it in the ocean all night, rattling out a handful of open looks. On the break, he continued to be one of the most shockingly awful transition players in the league. He took the ball to trouble often and couldn't elevate at the rim.
To his credit, Metta made a spectacular play in the second half, diving into the crowd to save a ball that led to an extra possession and a Gasol dunk. MWP's hustle play cut the deficit to four, but the Lakers never did get over the hump.
It's worth mentioning that despite MWP's awful stat line, his effort never waned. In a game where many players struggled to stay mentally engaged because of their scoring struggles (I'm looking at you, Mr. Jamison), World Peace gets a lot of credit for continuing to fight.
He finished with four points, 12 rebounds and four assists on 1-of-8 shooting.
Final Grade: B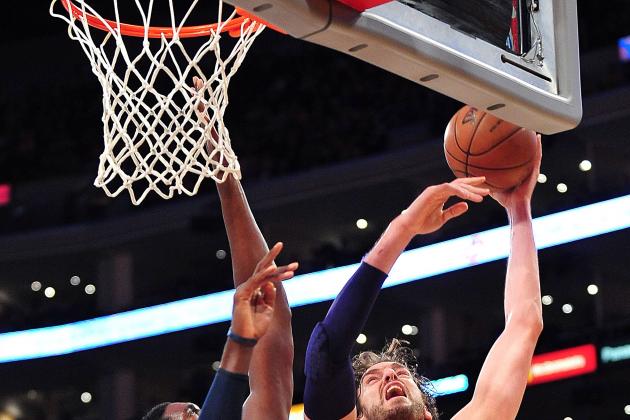 Gary A. Vasquez-US PRESSWIRE

Pau Gasol struggled on both ends of the court. David West, a terrific mid-range shooter, dragged Gasol all the way out to the top of the key early and often. Gasol was a little uncomfortable sticking with West early, surrendering 12 points in the first half. West's scoring pace slowed down from there, but things didn't get any better for Gasol.
The Spaniard was hardly featured offensively, shooting 1-for-6 in the first 24 minutes. He was constantly stationed 20 feet from the basket, where he often caught the ball with no real idea of what to do with it. He had his shot blocked five times in the contest, drew no fouls and scored 10 points overall.
On the bright side, five of Gasol's seven misses were technically blocked. So of the shots that actually made it to the rim, Gasol hit two of four.
It's not a great sign that the Lakers' TV team was actually surprised to see Gasol enter the game in the fourth quarter. It's possible that never would have happened if Howard's fifth foul hadn't forced D'Antoni to insert Gasol at center.
It was an ugly game for Gasol, and going forward, there are real questions about where he fits on this Laker team. Offensively, he simply doesn't have a clear role. On defense, Howard's presence means Gasol has to chase quicker players around at the power forward position. More and more, it feels like a trade involving Gasol is imminent.
Perhaps most frustrating about Gasol's night is that he still managed to showcase some of the skills that made him one of the league's most dynamic big men over the past decade. His bullet pass to Dwight Howard with two minutes left led to a game-tying dunk. It was a brilliant look, and one that few bigs have the vision to make.
The Lakers either need to figure out how to utilize Gasol in ways that maximize his talents, or find a trade partner who will.
Final Grade: C-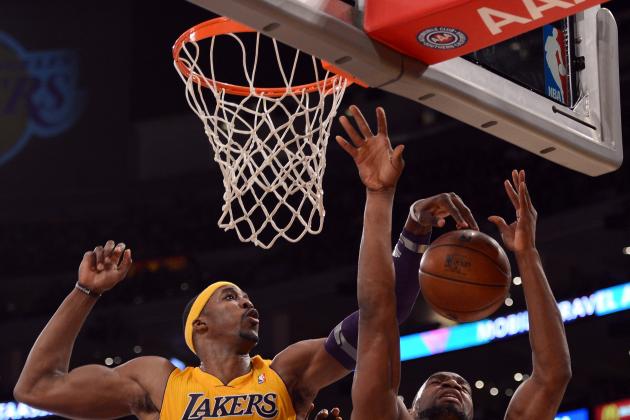 Harry How/Getty Images

Howard picked up two quick fouls and got his third with 7:25 remaining in the second quarter. D'Antoni gambled, bringing Howard back in with four minutes left in the first half. That move paid off, as Howard avoided his fourth foul and was the only Laker to shoot better than 50 percent in the half (4-of-6).
But Howard, as has been the story all season, never looked like himself. He lacked lift on a couple of dunk attempts and didn't move laterally with as much agility as we've seen in the past.
His ever-present free-throw troubles managed to infect the rest of the Lakers, as well. He made just 3-of-12 and clanked a pair that could have given the Lakers the lead with less than a minute remaining. Overall, the team shot an abysmal 54 percent from the stripe for the game.
Howard's overall stat line looks decent, with 17 points and eight rebounds in a game where foul trouble limited him to just 34 minutes. Yet it's the way he's playing that should concern Laker fans. He simply lacks the explosion he showed before back surgery.
Going forward, the Lakers must get more production from Howard. With Gasol struggling mightily to fit in, Howard needs to assume the second-option role. He didn't do enough against the Pacers.
Final Grade: B-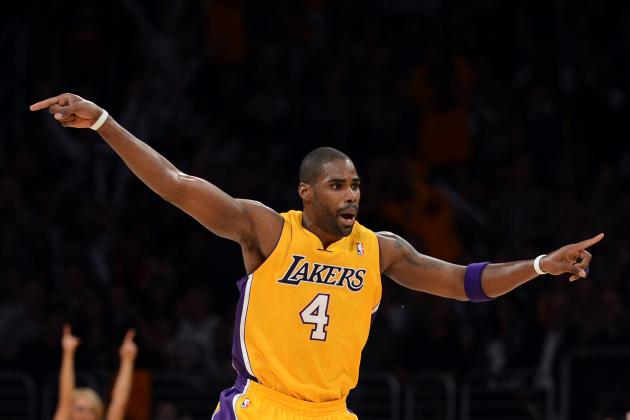 Harry How/Getty Images

Antawn Jamison would probably like a do-over. His 1,000th NBA game probably didn't go as desired.
The Lakers' veteran sixth man made just 1-of-7 from the field and also missed three out of his four free-throw attempts. He finished with just three points and wasn't on the floor at the end of the game, when the Lakers desperately needed scoring.
Coming off his best game of the season, Jamison simply never got things going.
As the Lakers continue to figure out how to get consistent offensive production, it's going to be very interesting to see where Jamison fits in. If he can't score, he really has no value to the team.
Final Grade: D+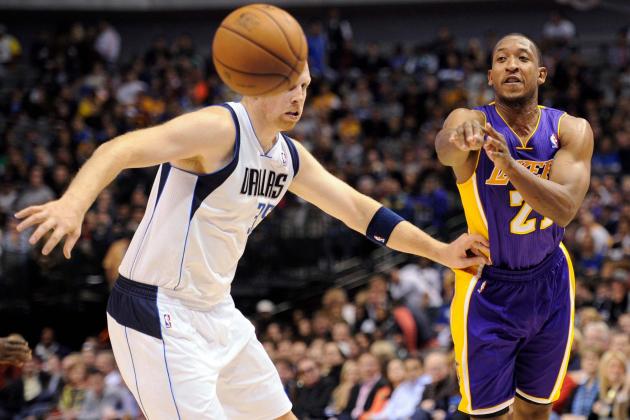 Jerome Miron-US PRESSWIRE

Apparently, Mike D'Antoni has a little more faith in the Lakers bench than most of the Lakers fanbase. D'Antoni's answer to a nine-point first-quarter deficit was to insert Antawn Jamison, Jodie Meeks and Jordan Hill together in the first quarter. The Lakers got back into the game, but that had everything to do with Kobe and nothing to do with the Laker reserves.
Jordan Hill didn't do any better than Gasol on West, as the Pacer forward continued to hit jumpers and crash the boards.
Jodie Meeks was a complete non-factor, going scoreless in seven minutes.
Chris Duhon took Darius Morris' minutes down the stretch, but he also couldn't get on the board. In 24 minutes, Duhon managed no points, four fouls, three assists and three boards. This was just another reminder of the age-old lesson: Chris Duhon is never the answer.
The only reason the terrible Laker bench avoids an F is because we're grading on a curve and the Lakers starters were hardly any better. In fact, the only positive plus-minus figures for the Lakers belonged to Meeks, HIll, Duhon and Jamison.
Final Grade: D-