Boston Celtics: Mailbag Questions Answered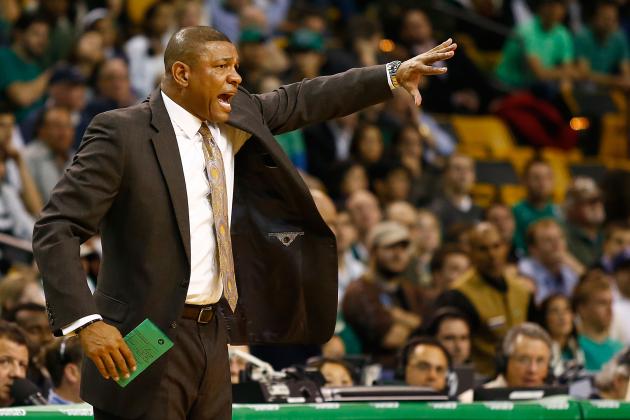 Jared Wickerham/Getty Images

Here we are, a little over a week after the inaugural Celtics Mailbag, and the questions keep on coming.
It's indicative of the Celtics season so far. This team has left us with countless questions. We are all searching for answers after a mediocre start to the season.
As a result, I have taken it upon myself to at least try to answer the biggest questions on the minds of Celtics fans. And in the past week, I have received some great questions, all of which I will answer here.
(Got a question that wasn't answered here? Then just submit it to the next mailbag by commenting it on this article or posting it to my Bulletin Board here.)
Begin Slideshow

»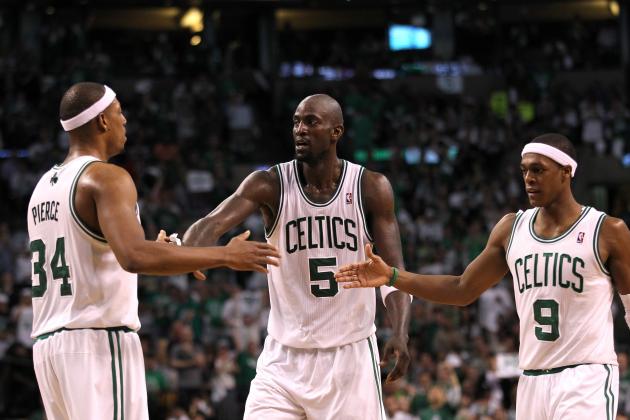 Jim Rogash/Getty Images

Other than Rondo, Pierce and Garnett, which player do the Celtics most need to step up on a consistent basis?
This is one of the biggest questions on the minds of many Celtics fans. The new Big Three of Rondo, Pierce and Garnett do what they can to secure a win, but they need more outside help.
Now, in terms of who needs to step up the most, there isn't exactly one clear-cut answer.
You could argue that Jason Terry should be able to score in double digits more consistently as the starting shooting guard. Or you could argue that Courtney Lee needs to make more of an impact in his reserve role.
While the Celtics certainly need more consistent play from both of these shooting guards, the more pressing need is consistency from Jeff Green.
Consider his past two games. Coming off a 17-point performance against the Oklahoma City Thunder, Green mustered just one point on 0-of-9 shooting against the Magic.
He doesn't need to score 17 points every game, but he absolutely cannot be a non-factor in a game like he was against the Magic.
If he can step up and consistently score eleven points a game, it will take a lot of pressure off of the Big Three and greatly help the Celtics down the stretch.
He certainly has the talent to do it. Now he just needs to finally put that talent to use consistently.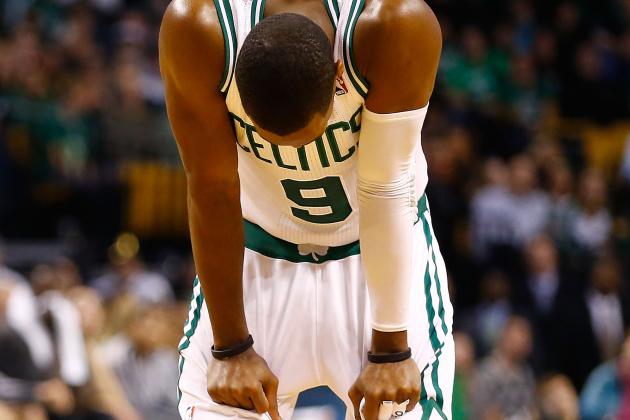 Jared Wickerham/Getty Images

Are you concerned with the Celtics' mediocre start to the season (8-6)? What needs to improve to start racking up the W's?
Had you asked me this question a few days ago when the Celtics stood at 6-6 after losing back-to-back games to the Detroit Pistons and San Antonio Spurs, I would have said that I was worried. But now, as the Celtics are on a two-game winning streak, I'm a bit more optimistic.
Don't get me wrong. That doesn't mean that I'm content with the way they're playing, because I'm not. They still have a lot of work to do on the glass and even more work to do on the defensive end (which I'll touch on more in a later question).
Once they can return to normal form defensively and improve to at least mediocrity on the boards they will start winning on a more consistent basis. Unfortunately, that's not going to come overnight.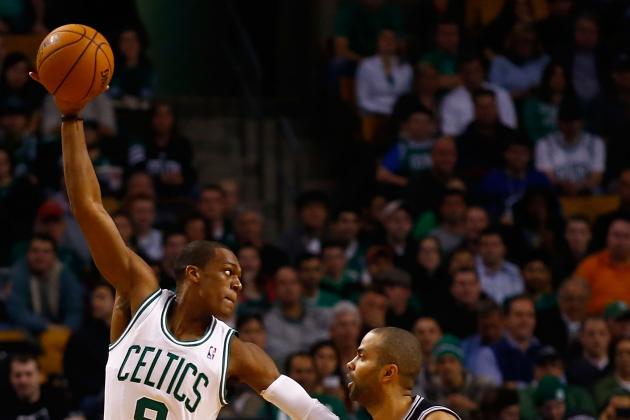 Jared Wickerham/Getty Images

Do you think Rondo will break Magic Johnson's record for most consecutive games with 10+ assists? If so, how many games in a row will Rondo record double-digit assists?
With just Magic Johnson and the record in his sights, I am certain that Rondo will break the record. He is just too competitive to let this opportunity pass.
You can see that the record is in the back of his mind while he plays, too. As an already unselfish player, he has been even more willing to pass lately. In the last game, for example, he had a wide-open layup on the break and waited to pass the ball to Brandon Bass who took a contested layup and missed. This was in the fourth quarter of a game destined for overtime.
What's more, Doc Rivers is also on board with Rondo breaking the record. Against the Pistons, he left Rondo in during garbage time to get his tenth assist.
So, whether it's best for the team or not, Rondo will beat this record because he and Doc are just too committed to it. Once he beats it, I don't see him having too many more games with double-digit assists. He'll probably end up with a streak in the low 50s before failing to get at least ten assists. But at that point, it won't really matter.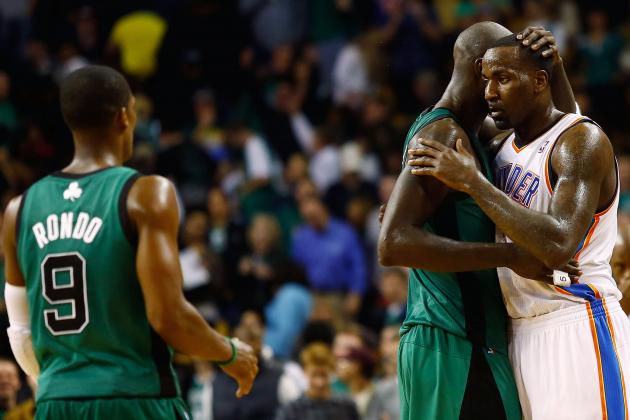 Jared Wickerham/Getty Images

I have yet to see the defensive fire from the Celtics that we've become so used to these last few years. Is this a personnel problem? What can we do to fix it?
Of all the issues this Celtics team has had, I personally find this one the most frustrating.
For the past few years, defense has been the backbone of this organization. Now, it just simply isn't the same.
The passion isn't there as much, the rotations aren't as crisp, the on-ball defense isn't as smothering and the pick-and-roll defense can hardly be called great.
A small portion of it is personnel-related. Switching Jason Terry for Avery Bradley as the starting shooting guard certainly didn't help the defense, but it can't be blamed for the giant step backwards.
The Celtics just need to bring the same intensity as in the past. Defense is based mostly on desire, and we need to see true desire from this team on the defensive end.
Don't be surprised if we see it soon, though. I have a feeling that Doc and KG are just as frustrated as I am over the lack of defense.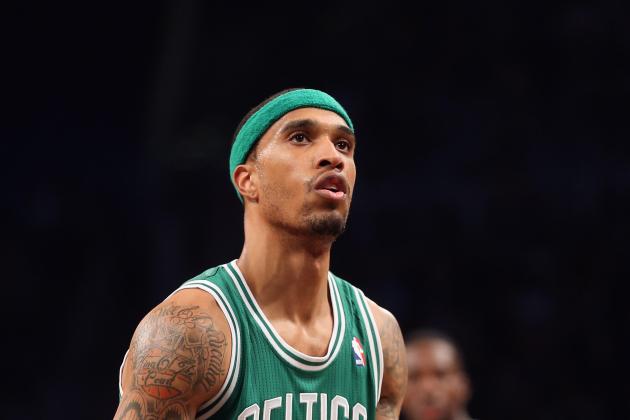 Bruce Bennett/Getty Images

Is it worth it for Ainge to make a major trade?
Right now, it is definitely worth it for Ainge to explore trade options. The Celtics are too deep at shooting guard. When Bradley comes back, there won't be enough minutes to go around.
Of the shooting guards, Lee is the most dispensable and has decent trade value. If the Celtics could somehow package him with a couple of other players (not including Garnett, Pierce, Rondo, Terry or Bradley) and make a run at a solid big man, it would be worth it.
A move for Marcin Gortat or Al Jefferson, at the right price, could really push Boston over the top and solve two problems at once: the extra depth at shooting guard and the rebounding woes.
One caveat for Ainge, though. Don't float the rumors or include major players in them.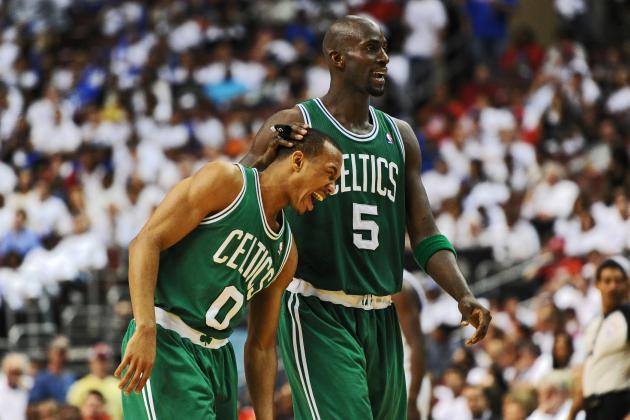 Drew Hallowell/Getty Images

If there is any doubt of Bradley's longevity, should Ainge trade Bradley before the deadline?
If there are potentially serious issues with Bradley's health going forward (which I hope is not the case), then he obviously becomes dispensable. But other than that, there is no reason to trade him. When he returns, he could be one of the most valuable players on the team as he was last year.
His impact on the defensive end is unparalleled. Even if there is some doubt about his longevity, I still wouldn't trade him. Ainge knows the kind of impact Bradley has and I trust he will not trade him, unless he catches a case of Greg Oden.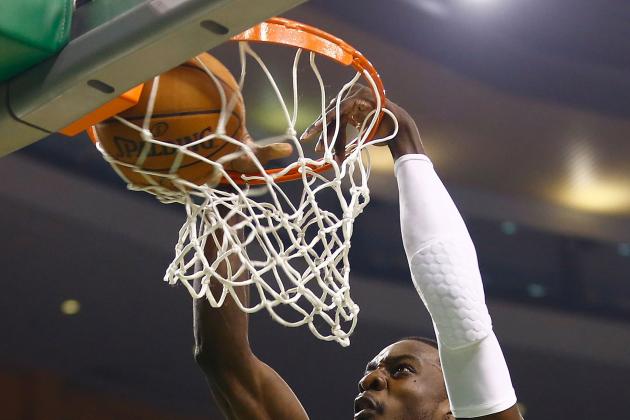 Jared Wickerham/Getty Images

Do you think that Doc is handling Green's development properly or would you handle things a bit differently?
I always hesitate to question Doc Rivers, as he is without doubt one of the best coaches in the NBA, but he could do more to facilitate the development of Jeff Green.
Now, part of this is on Green himself, but Doc could set him up for more success.
Very few plays or sets are run for Green, and he is often not involved much in the offense. Doc shouldn't run the entire offense around him, but keeping Green more consistently involved will certainly help him develop more.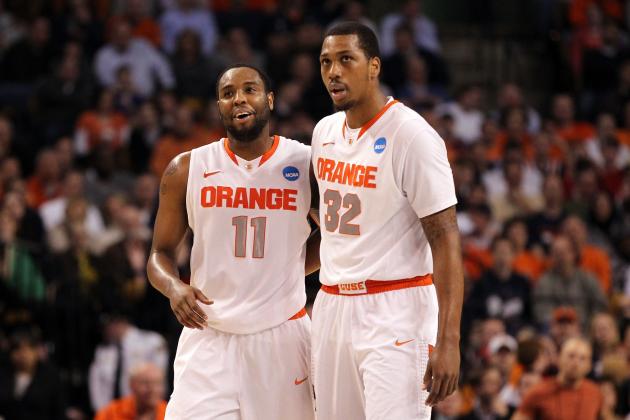 Jim Rogash/Getty Images

What are your impressions of Kris Joseph?
We haven't been able to see much of Kris Joseph, playing in the D-League. All we have on Joseph is his performance in college, the summer league and preseason.
We've seen that he has solid athleticism, yet is still pretty raw. The experience Joseph will get in the D-League will serve him well.
Right now, that's where he belongs.
Going forward, he can hopefully gain enough experience to develop into a solid NBA player.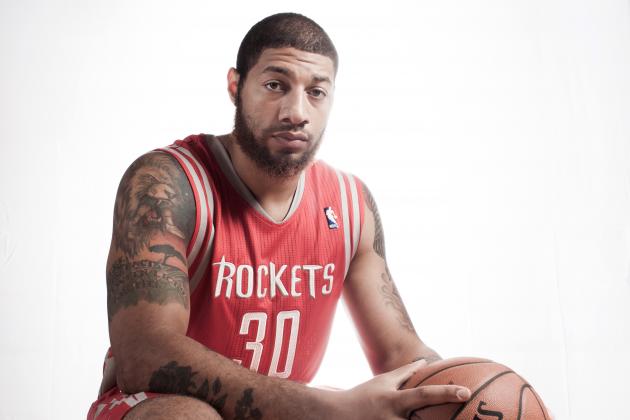 Nick Laham/Getty Images

With Royce White and Houston falling out, how about Boston offering a second-rounder next year for him?
Before the draft, I was all for the Celtics drafting Royce White. I underestimated White's anxiety disorders, but that doesn't mean I still don't want him.
Despite his anxiety disorders and fear of flying, there's no denying White's tremendous talent. The Celtics could definitely use someone with his talent, especially at the likely reduced cost.
What's more, White could definitely fit in well with the Celtics. If any coach can reach White and help him overcome his anxiety, the ultimate player's coach can: Doc Rivers.
Definitely worth a shot at some point.