Surprise NBA Players Who Are Here to Stay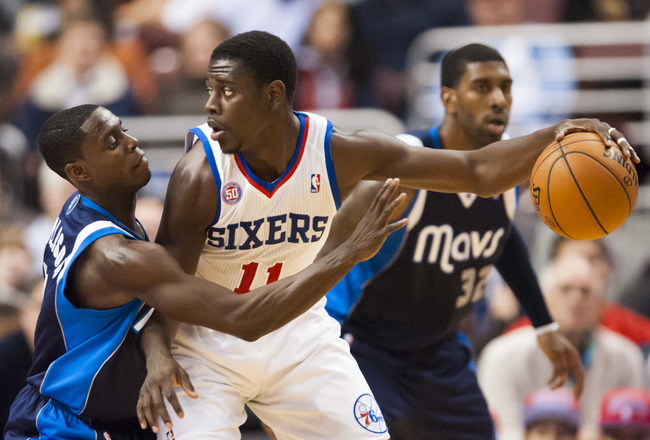 Howard Smith-USA TODAY Sports
Each season, young players emerge in the NBA who were not expected to thrive. This season has been no different.
What is different, however, is that this year's crop of surprise players won't be here today and gone tomorrow. The ensuing slides will offer insight into why they are performing at a sustainable level.
Here are 10 players who are taking the league by storm in a manner that can be maintained.
10. Glen Davis, Orlando Magic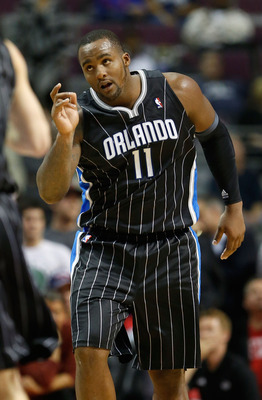 Gregory Shamus/Getty Images
Position: Power forward
Age: 26
Experience: Five seasons
2011-12 Season: 13.28 PER, 9.3 PPG, 5.5 RPG
2012-13 Season: 15.93 PER, 16.2 PPG, 8.6 RPG, 2.1 APG
Glen Davis has long been known as a productive reserve who will score and rebound at an adequate level. Although his numbers will never jump off the box score, you'd find close to 10 points and five rebounds a night.
That all changed during the 2011-12 NBA postseason.
Matched up against Roy Hibbert and the Indiana Pacers, Davis posted averages of 19.0 points and 9.2 rebounds during the first round of the 2012 playoffs. Although his recent performances might be surprising to most, the previous postseason have a hint of what was to come.
Davis' 2012-13 season averages of 16.2 points and 8.6 rebounds per game are just a follow-up to what began in April.
Davis is playing this well by virtue of his massive frame and overwhelming strength. Big Baby has finally learned how to utilize his power. He's attempted 52.9 percent of his shots from within the paint or restricted area, places on the floor where he's shooting 53.1 percent, a number that is unlikely to change any time soon.
9. Omer Asik, Houston Rockets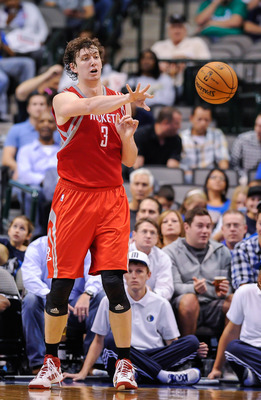 Jerome Miron-US PRESSWIRE
Position: Center
Age: 26
Experience: Two seasons
2011-12 Season: 13.44 PER, 14.7 MPG, 3.1 PPG, 5.3 RPG, 1.0 BPG
2012-13 Season: 13.27 PER, 10.3 PPG, 11.7 RPG, 1.2 APG, 1.1 BPG
Entering the season, the consensus view was that Omer Asik was grossly overpaid. Considering the Houston Rockets signed Asik to a $25.1 million contract just one year removed from a season in which he averaged 14.7 minutes a game, it's not too difficult to see why (via ESPN).
Little did we know that Asik would rank third in the NBA in rebounds per game.
Amid the hype surrounding James Harden and Jeremy Lin, the most consistent contributor for the Rockets r has been Asik. Although his hands are still made of stone and he lacks sound offensive fundamentals, Asik has been a monster.
With 3.8 offensive rebounds per game, he is finding a way to score points without having his number called.
The irony is that Asik is performing better when he hunts down an offensive rebound than when Harden or Lin run a play for him. That's why he's shooting 7.7 percent in the paint and 52.6 in the restricted area.
He's also shooting 2-for-25 from 3-to-9 feet.
With all of that being said, expect Asik to continue crashing the boards and averaging a double-double. His work ethic isn't going anywhere, nor is his in-game motor.
The only thing that will be moving is whichever player is crazy enough to battle him for a rebound.
8. DeMar DeRozan, Toronto Raptors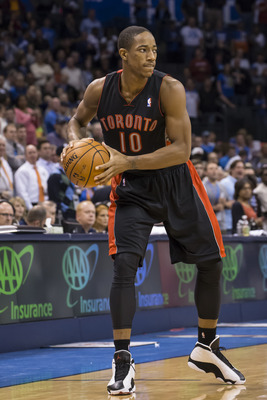 Shane Bevel/Getty Images
Position: Shooting guard
Age: 23
Experience: Three seasons
2011-12 Season: 12.87 PER, 16.7 PPG, 3.3 RPG, 2.0 APG, 0.8 SPG
2012-13 Season: 14.86 PER, 18.1 PPG, 5.0 RPG, 1.9 APG, 1.1 SPG
DeMar DeRozan's average of 18.1 points per game is far from surprising. After all, he had averaged at least 16.7 per in each of the past two seasons.
What is surprising, however, is the that DeRozan is actually contributing in other areas.
Entering the 2012-13 season, DeRozan had posted career averages of 14.4 points, 3.5 rebounds, 1.5 assists and 0.8 steals on 22.3 percent shooting from beyond the arc.
Thus far, DeRozan sits at 18.2 points, 5.0 rebounds, 1.8 assists and 1.1 steals on a career-best 30 percent shooting from distance.
The true issue with DeRozan in the past has been his shot selection. A solid shooter of the corner three, the former USC Trojan attempted far too many three-point attempts in 2011-12.
DeRozan shot 40 percent on corner threes, but only 21.5 percent on all his other attempts from beyond the arc.
This season, DeRozan has found balance and shifted his jump shooting to the mid-range area. This has resulted in his shooting 44.3 percent from the floor, up from 42.2 in 2011-12.
That number that should remain steady as Terrence Ross emerges as the go-to three-point marksman.
7. Kemba Walker, Charlotte Bobcats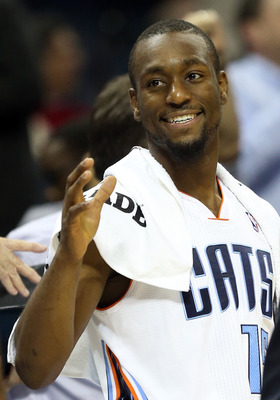 Streeter Lecka/Getty Images
Position: Point Guard
Age: 22
Experience: One season
2011-12 Season: 14.98 PER, 27.2 MPG, 12.1 PPG, 4.4 APG, 3.6 RPG, 0.9 SPG
2012-13 Season: 18.97 PER, 36.3 MPG, 17.1 PPG, 6.2 APG, 3.7 RPG, 2.1 SPG
During Kemba Walker's rookie season, he struggled to translate his college game to the NBA. As a result, Walker's solid rookie averages of 12.1 points and 4.4 assists came on an underwhelming 36.6 percent shooting from the floor.
One year later, Walker's true potential is on full display.
Walker is averaging 17.1 points and 6.2 assists on 41.9 percent shooting from the floor. That's an improvement of 5.3 percent from a year ago.
While conventional wisdom would tell you that Walker's numbers have gone up by virtue of an increase in minutes, the reasoning goes deeper than playing time. Walker has adjusted to the NBA pace and discovered what his strengths are within a new offense that will continue to demand his attempting an average of 15.0 shots per game.
With this high demand of the Bobcats' most gifted offensive player, it's fair to assume that Walker's numbers will remain close to his current levels. Although his steals per game could decrease, head coach Mike Dunlap's system puts Walker in position to create turnovers.
One way or another, Walker will thrive in Charlotte. This is just a glimpse of what is to come in a promising career.
6. Nicolas Batum, Portland Trail Blazers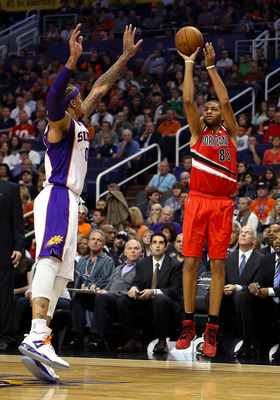 Christian Petersen/Getty Images
Position: Small forward
Age: 23
Experience: Four seasons
2011-12 Season: 17.32 PER, 13.9 PPG, 4.6 RPG, 1.4 APG, 1.0 SPG, 1.0 BPG
2012-13 Season: 17.45 PER, 16.8 PPG, 6.0 RPG, 3.2 APG, 1.7 SPG, 1.1 BPG
Whether fans want to hear this or not, the only reason Nicolas Batum's numbers have improved is an increase in playing time. For those who want to debate that, note that Batum is averaging fewer points per 40 minutes than a year ago: 17.3 per 40 in 2012-13 and 18.3 in 2011-12.
His improvements in the rebounding department, meanwhile, are marginal at best: 6.1 boards per 40 in 2011-12 and 6.2 in 2012-13.
With that being said, Batum is going to continue to produce at this level.
The Portland Trail Blazers have the least second-unit depth of any team in the NBA. This has led to Batum's outrageous average of 38.8 minutes per game.
Unless general manager Neil Olshey acquires some much needed reserves, that won't change.
Batum has displayed flashes of brilliance. He already has two games with at least 35 points, as well as seven with at least 20.
Barring injury, Batum is set to maintain this pace of impressive two-way numbers. An exciting season in Portland is being marred by a lack of depth.
5. Greivis Vasquez, New Orleans Hornets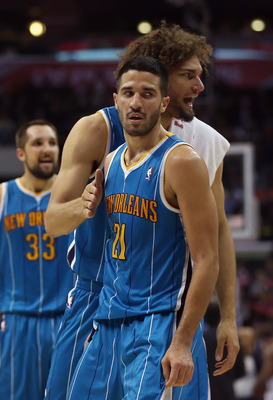 Jeff Gross/Getty Images
Position: Point guard
Age: 25
Experience: Two seasons
2011-12 Season: 14.27 PER, 25.8 MPG, 8.9 PPG, 5.4 APG, 2.6 RPG
2012-13 Season: 14.57 PER, 33.0 MPG, 12.7 PPG, 8.7 APG, 3.7 RPG
One of the most pleasant surprises of the young 2012-13 NBA season has been New Orleans Hornets point guard Greivis Vasquez.
Vasquez ranks fifth in the NBA with 8.7 assists per game. He's also hauling in 3.7 rebounds and scoring 12.7 points per game.
All in all, Vasquez has been one of the better point guards in the NBA.
Although his low shooting percentages of .416/.360/.780 could increase, that will occur once the Hornets are healthy. With rookies Anthony Davis and Austin Rivers each having missed time, Vasquez was caught playing hero ball.
With Davis, Rivers, Ryan Anderson and the rising Al-Farouq Aminu at his disposal, however, Vasquez should return to his role as facilitator.
With a head coach who has mastered the art of coaching point guards in Monty Williams, expect this production to continue from the former Maryland Terrapin.
4. Larry Sanders, Milwaukee Bucks
Jared Wickerham/Getty Images
Position: Forward/center
Age: 24
Experience: Two seasons
2011-12 Season: 13.34 PER, 12.4 MPG, 3.6 PPG, 3.1 RPG, 1.5 BPG
2012-13 Season: 18.84 PER, 22.9 MPG, 7.8 PPG, 7.7 RPG, 3.1 BPG
If you haven't had the pleasure of watching Larry Sanders perfect the art of interior defense, do yourself a favor and watch a Milwaukee Bucks game. Then go back and study film from his days at VCU to admire how far he has come.
Sanders' league-high 6.22 blocks per 48 minutes sends a clear message. As does the fact that Roy Hibbert ranks second at 4.98.
Sanders is miles ahead.
He has always been a phenomenal athlete. In 2012-13, however, his fundamentals are beginning to catch up with his tremendous physical gifts, as he's averaging 7.7 rebounds and 3.1 blocks in just 22.9 minutes per game.
Sanders' claim to fame was a rare triple-double, as he picked up 10 points, 12 rebounds and 10 blocks against Kevin Love and the Minnesota Timberwolves.
He was the first Buck since Kareem Abdul-Jabbar to achieve that feat. How's that for rare company?
With the way he's thriving and Ersan Ilyasova is struggling, it's likely that Sanders will carve out more minutes in Milwaukee. As a result, he will rival Serge Ibaka for the shot-blocking crown.
With that being said, Sanders is at 6.22 blocks per 48 and Ibaka rests at 4.82. I think we know who has emerged as the best shot-blocker in the league.
That's not going to change any time soon.
2012-13 Season Averages
18.84 PER, 22.9 MPG, 7.8 PPG, 7.7 RPG, 3.1 BPG
3. Anderson Varejao, Cleveland Cavaliers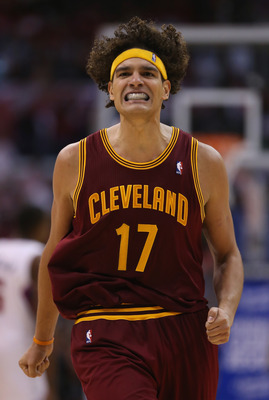 Jeff Gross/Getty Images
Position: Center
Age: 30
Experience: Eight seasons
2011-12 Season: 18.93 PER, 10.8 PPG, 11.5 RPG, 1.7 APG, 1.4 SPG
2012-13 Season: 23.63 PER, 14.4 PPG, 15.4 RPG, 3.2 APG, 1.5 SPG
Varegao has been phenomenal, grabbing at least 15 rebounds in 14 of the Cleveland Cavaliers' first 20 games. His 15.4 rebounding average leads the league. He's followed by Zach Randolph at 12.9.
Although Varejao remains a non-factor in terms of altering shots, he's averaging career-best marks of 3.2 assists, 1.5 steals and six offensive rebounds per game. So why won't these outrageous numbers go away?
Varejao gave Cleveland fans a preview of this in 2011-12.
During his injury-shortened campaign, Varejao averaged 10.8 points, 11.5 rebounds, 4.4 offensive boards, 1.7 assists and 1.4 steals in 5.2 fewer minutes per game than he's playing now.
So why has he gone from borderline elite to the best rebounder in the NBA?
The answer may not be what you'd expect to hear, but it's Tristan Thompson. As the second-year power forward has progressed as a two-way threat, Varejao has made a living around the basket, passing to a slashing Thompson and boxing out smaller opponents off Thompson's help-side defense.
As long as both he and Thompson can remain healthy, Varejao isn't going anywhere.
2. O.J. Mayo, Dallas Mavericks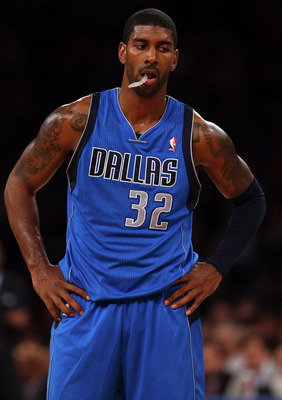 Elsa/Getty Images
Position: Shooting guard
Age: 25
Experience: Four seasons
2011-12 Season: 14.76 PER, 12.6 PPG, 3.2 RPG, 2.6 APG, 36.4% 3PT
2012-13 Season: 18.19 PER, 19.8 PPG, 3.6 RPG, 3.5 APG, 51.0% 3PT
O.J. Mayo has gone from an elite jump shooter to one of the top-10 scorers in the NBA. Although one could debate that statement based on pure ability, Mayo presently ranks eighth in the league at 19.8 points per game. He's also shooting a league-best 51.0 percent from beyond the arc.
The former USC Trojan has achieved those feats by maximizing his strengths and developing a more responsible style of play. This has been the polar opposite to his time in Memphis, when Mayo often threw up shots just to make us remember he was there.
In Dallas, everything Mayo puts up appears to go in.
Along with his top-tier scoring, Mayo is also posting a slash line of .473/.510/.836. This should come as no surprise, as Mayo's true shooting percentage in 2011-12 was a very solid .513.
The difference in Dallas is that head coach Rick Carlisle is running plays to find openings for Mayo in the defense.
The more Mayo escapes isolation, the better his slash line will look. Although he's more than capable of creating off the dribble, Mayo thrives as a catch-and-shoot player.
Once Dirk Nowitzki returns from injury, Mayo's star will shine even brighter.
1. Jrue Holiday, Philadelphia 76ers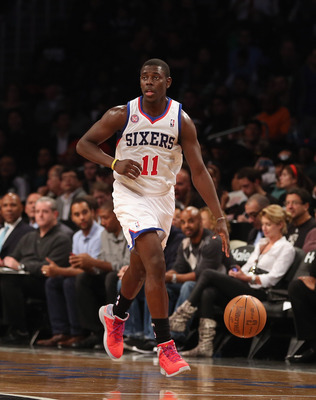 Bruce Bennett/Getty Images
Position: Point guard
Age: 22
Experience: Three seasons
2011-12 Season: 14.74 PER, 13.5 PPG, 4.5 APG, 3.3 RPG, 1.6 SPG
2012-13 Season: 18.13 PER, 18.0 PPG, 9.0 APG, 3.7 RPG, 1.5 SPG
Who would have thought that we'd be referring to Jrue Holiday as an MVP candidate? Chances are, he did.
After all, Holiday was the one who claimed he deserved a max contract (via Yahoo! Sports). Now he's playing like it.
During the 2011-12 season, Holiday averaged 13.5 points and 4.5 assists per game. One year later, he's averaging 18.0 points and 9.0 assists.
He's also leading the Andrew Bynum-less Philadelphia 76ers to an 11-8 record. How's that for progression?
Holiday continues to be a solid contributor on the glass and defensive end, hauling in 3.7 rebounds and 1.5 steals per contest. He's also shooting an impressive 42.5 percent from mid-range.
The only area in which Holiday must improve his consistency is with his three-point shooting.
He's one of the NBA's most underrated three-point shooters, making 41.1 percent in 2011-12. Unfortunately, he's sitting at a solid but not spectacular 34.7 in 2012-13.
As soon as that shot falls, as it usually does, Holiday will become an unstoppable force. That's a scary thought.
Keep Reading