Fantasy Basketball Rankings: Top Players for Each Points Category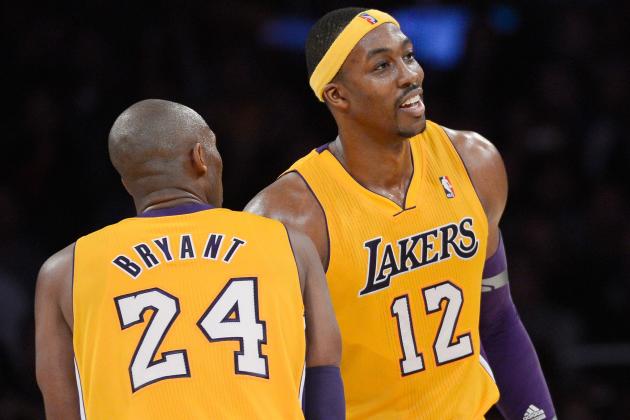 Kevork Djansezian/Getty Images
Kobe and Dwight Howard have both been dominant in fantasy categories this season.
Fantasy basketball players come in all shapes and sizes. Each category has its own specialist: a player who provides more of an impact than anyone else in the league with regard to the results of a specific skill.
Often, the absolute pinnacle of specialists in a category tends to be a superstar player like Dwight Howard or Kobe Bryant. In rotisserie leagues, guys like this can help you in multiple categories, but be massive positive influences on one in particular.
Top guys in each of the eight mainstream fantasy categories constitute this list. Each player's chances of keeping up his categorical dominance will also be addressed. Turnovers are omitted because of the negative-scoring nature of the statistic in fantasy hoops.
You and I would be top options for the turnover category simply because we don't touch the ball.
We can't turn it over.
All statistics are accurate as of November 18.
Begin Slideshow

»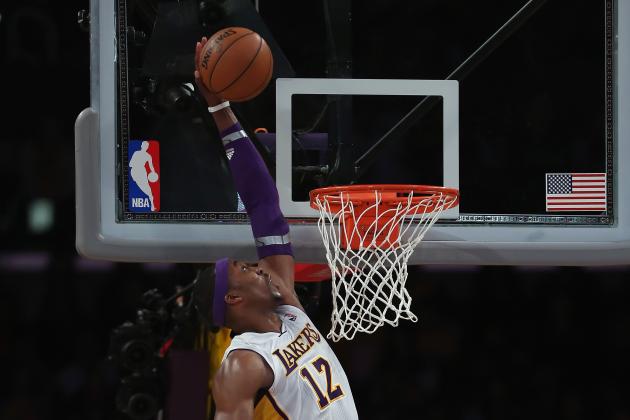 Jeff Gross/Getty Images

Dwight Howard lives in the paint. He gets dunks—put-back dunks, alley-oop dunks, post move dunks and more—all kinds of dunks. As a result, his field-goal percentage is sky-high; Howard is shooting 60.8 percent from the field this season.
It's the volume of attempts that makes him so valuable in the field-goal category. Howard is putting up 12 shots per game.
He should continue to make this sort of impact for the remainder of the season. He has shot better than 57 percent on more than 10 attempts per game in each of his last six full seasons.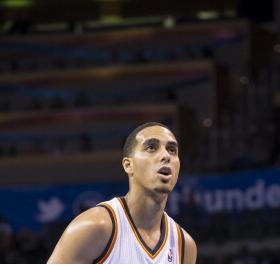 Shane Bevel/Getty Images

Kevin Martin's move to the Oklahoma City Thunder was perhaps the best thing that could have happened to him in terms of a positive effect on his scoring efficiency. He's currently shooting a career-high 48.7 percent from the field—and a staggering 53.6 percent from beyond the arc—but his free-throw shooting has also improved.
Martin's volume of shots from the line has decreased this season because he's not the primary offensive option. This is a guy who used to shoot eight, nine and 10 free throws per game for entire seasons.
In Oklahoma City, he's only shooting 5.2 times from the stripe per night—but he's knocking down 94.7 percent of those shots. His previous career-high percentage was 92.4.
A small decrease in his season percentage can be expected as the season goes on, but Martin should be a positive influence on free-throw percentage for the weeks and months to come.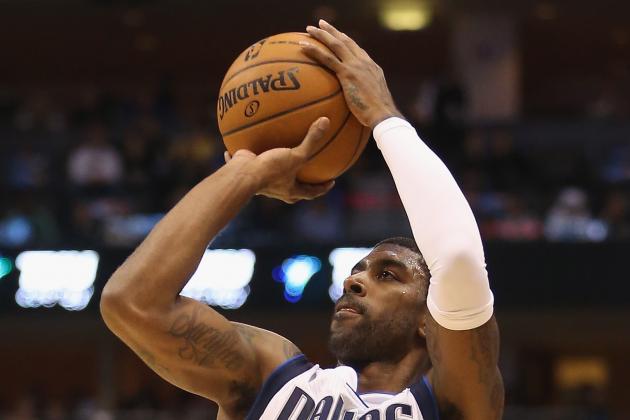 Ronald Martinez/Getty Images

Dallas Mavericks guard O.J. Mayo has knocked down a blistering 3.3 threes per game this season, putting him atop the most influential list of players for that category.
His numbers are heavily weighed by his first six games, when the former lottery pick converted 4.3 shots from deep on average. Since then (five games), he has averaged 2.0 threes per game.
That's a lot more sustainable.
However, even those numbers may dip as Dirk Nowitzki's imminent return grows closer—whenever that will be. Mayo may be a sell-high candidate if you can convince your fellow fantasy owner that the numbers from his first couple of weeks will persist.
The reality is that defenses seem to have adjusted to his hot hand.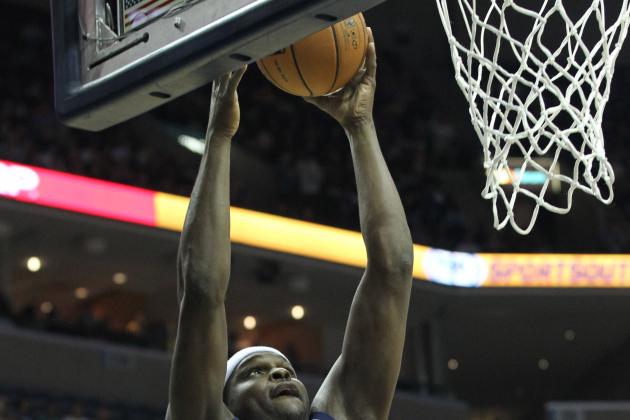 Nelson Chenault-US PRESSWIRE

The only NBA player to secure double-digit rebounds in nine straight games, Memphis Grizzlies power forward Zach Randolph has been a terror on the boards. The reason he may not keep a stranglehold on the rebounding title (in terms of average boards per game) is the expected return of Minnesota Timberwolves PF Kevin Love.
Love's return is nearing and he, like Randolph, is a walking double-double. Love averaged 13.3 boards per game last season in 39.0 minutes a night.
Through nine games, Randolph is pulling down 13.9 rebounds in 37.2 minutes per contest, giving him the potential to give Love a run for his money. He'll have to stay on the court to do it, though—Randolph missed 38 games last season.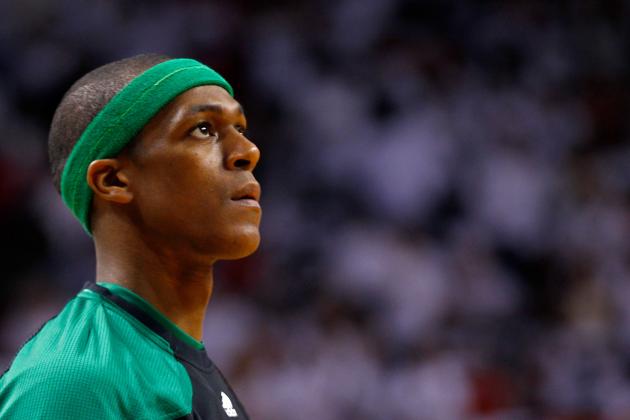 Mike Ehrmann/Getty Images

Rajon Rondo may not score very much (seven of 10 games with fewer than 15 points), but he's the only guy in the NBA who can be penciled in for 10 assists per night—every night, without exception.
That's been the case so far this season.
Rondo is averaging 13.4 assists per game and has two two-dollar games—meaning he's reached 20 dimes. Twice. He's also a prime candidate to come up with a triple-double on any given night. The closest he's come to the milestone was November 12 against the Chicago Bulls: 20 points, nine rebounds, 10 assists and five steals.
Now In his seventh season, the Boston Celtics point guard has increased his assist average in every year as a professional. He can definitely keep up this pace as long as Boston stays healthy and he isn't forced to score more.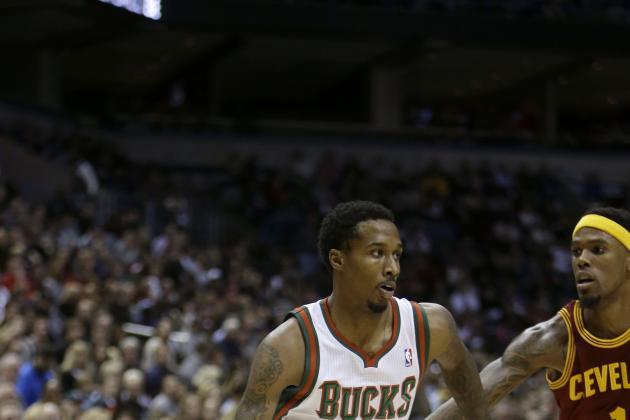 Mike McGinnis/Getty Images

Hide your kids, hide your wives: Brandon Jennings is taking everybody's cookies.
The Milwaukee Bucks point guard started the season off with six steals against the Boston Celtics and now leads the league—by a wide margin—with 3.3 per game. Kemba Walker is second with 2.5.
Jennings has slowed down in terms of taking the ball away, averaging 2.8 in his last four, which would still lead the NBA. However, Jennings' steals figure could revert to his career average (1.5 per game). It might be time to jump ship if you're relying on his steals production.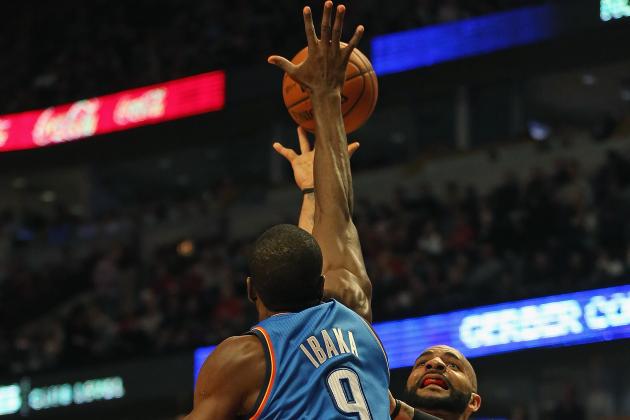 Jonathan Daniel/Getty Images

Serge Ibaka led the NBA in blocked shots per 48 minutes in each of the last two full (or lockout-shortened) seasons. This year, he's back atop the list in that category. Combining that metric with Ibaka's MPG (32.7) this season makes him the NBA's leader in blocks per game.
He's swatting 3.5 shots per contest.
This is what Ibaka does—he's capable of single-handedly winning the blocks category for fantasy owners in head-to-head matchups. Ibaka is a major influence in the rotisserie game as well—especially given his efficiency from the field (56.4 percent this season) and free-throw line (90.3) and his newfound scoring punch.
The Oklahoma City Thunder big man is scoring 14.6 PPG this season. His previous career high was 9.9.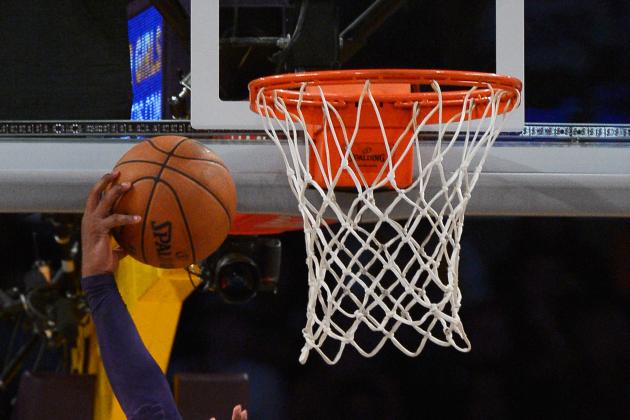 Kevork Djansezian/Getty Images

The clubhouse leader in points per game is none other than The Black Mamba, Los Angeles Lakers 2-guard Kobe Bryant. Bryant had a shot to go for the scoring title last year before sitting out L.A.'s last game of the season in 2012.
Kobe now leads the league with 26.4 points per game—even without one of the NBA's most effective facilitators in Steve Nash.
His ability to get buckets is well-documented (and perhaps unmatched), but Kobe's assist numbers are what have him in the James Harden (40 minutes per game) territory of fantasy usefulness as a 2-guard.
Aside from being more efficient as a shooter, Bryant is also averaging 7.6 assists in his last five games, culminating in his 11-dime outing against Harden's Houston Rockets on November 18. Kobe had a triple-double (22 points, 11 rebounds, 11 assists) in that game.
He's averaging 36.3 minutes a night.
Follow Jamal on Twitter: Follow @StatManJ