Boston Celtics vs. Brooklyn Nets: Postgame Grades and Analysis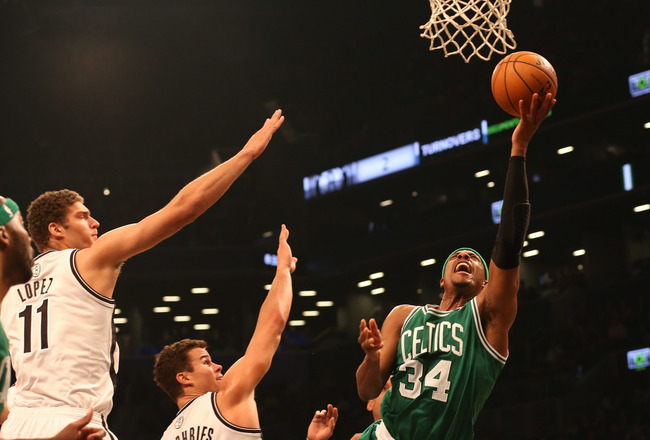 Anthony Gruppuso-US PRESSWIRE
The Brooklyn Nets entered Thursday night's matchup with the Boston Celtics in search of their first win over an Eastern Conference contender, and emerged victorious despite an up-and-down second half.
After a first half in which they dominated the Celtics on the glass, the Nets faltered throughout much of the third quarter, failing to exhibit the aggression and fearlessness they displayed throughout the game's opening stages.
However, timely offensive contributions from Brook Lopez and Joe Johnson helped give the Nets a confidence-boosting win, as the Nets defeated the Celtics at home by a score of 102-97.
Playing without their star point guard Rajon Rondo, who suffered a sprained right ankle on Wednesday night against the Utah Jazz, the Celtics offense didn't skip many beats, but they simply couldn't convert on several key opportunities in the fourth quarter.
Deron Williams and Brook Lopez finished the night as the game's leading scorers, each totaling 24 points.
Point Guard
Deron Williams, PG, BK: A-

The biggest beneficiary of Rajon Rondo's absence? Deron Williams. Although trying to work past Courtney Lee was no picnic, Williams was playing with visible confidence, picking his spots and dishing the ball with ease.
Williams collected six first-half assists to go with 10 points in the game's first 24 minutes.
Williams stayed hot in the second half despite tweaking his knee, and finished with 24 points and eight assists.
Leandro Barbosa, PG, BOS: B

Hardly a conventional floor general, Barbosa was a point guard in name only Thursday night. A shoot-first guard, Barbosa did actually look quite energized in the early going, scoring 10 points on 3-of-5 shooting (4-of-4 from the free-throw line) in the first half.
Barbosa continued his up-tempo play in the second half, taking advantage of some poor Brooklyn defense, and finished the evening with 17 points on 5-of-10 shooting (6-of-6 from the line).
A surprising performance from the Brazilian scorer, Barbosa proved to be an adequate replacement for Rondo for at least one night.
Shooting Guard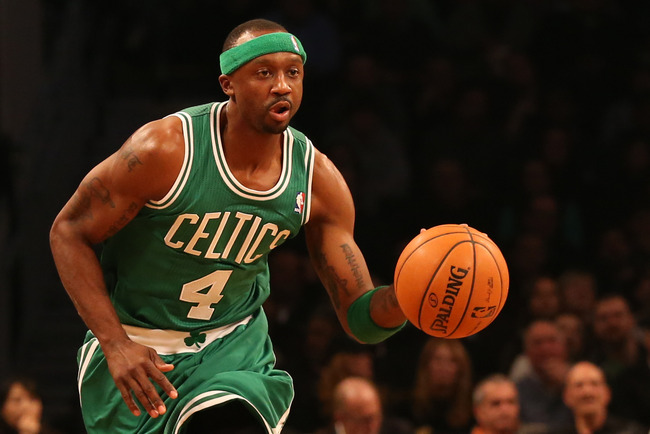 Anthony Gruppuso-US PRESSWIRE
Keith Bogans, SG, BK: D

Starting in place of the injured Gerald Wallace, Keith Bogans was asked to simply hold down the fort, and he did so to the best of his abilities.
Bogans let the game came to him, converting on two of his three first-half shots en route to five points in 12 minutes. However, Bogans was silent in the second half and finished the game with five points in 18 minutes of action.
The sooner Wallace returns, the better off this Nets team will be.
Jason Terry, SG, BOS: B-

Jason Terry's involvement in the Boston offense didn't increase exponentially with Rondo's absence. Still, Terry's play in the second half was solid once again, though he did not seem to be getting loads of opportunities to score.
With Leandro Barbosa and Paul Pierce dominating most of the touches, Terry hoisted just seven shots en route to 10 points.
Small Forward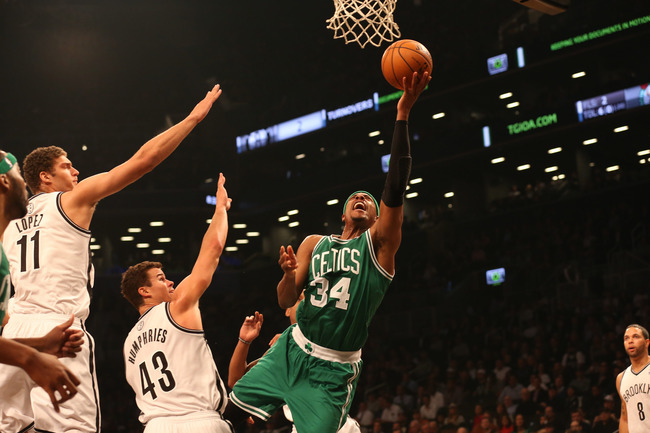 Anthony Gruppuso-US PRESSWIRE
Joe Johnson, SF, BK: C+

Joe Johnson's shooting woes continued throughout much of the game's first half, converting on just two of his first seven shots for five points.
Johnson finished the first half with 10 points on 3-of-11 shooting, and couldn't take advantage of a porous Celtics' defense early.
Things didn't change much for Johnson, as his shot selection remained very questionable after half. However, the Nets' big offseason pickup did knock down two consecutive shots to extend the Nets lead to four with under two minutes to go, helping propel the Nets to victory.
Johnson totaled 19 points (6-of-19 shooting) and eight rebounds on the night.
Paul Pierce, SF, BOS: B

With Rajon Rondo out of the lineup, Paul Pierce operated with the ball in his hands far more versus Brooklyn.
However, Pierce's revised role did not result in promising early returns. Pierce was held to just six first-half points, but that number would increase in the second half.
Pierce kicked his game into high gear in the third quarter but missed two huge free throws that could have led to a possible game-winning or game-trying possession late in the fourth quarter.
Pierce finished the night with a team-high 22 points on 8-of-12 shooting.
Power Forward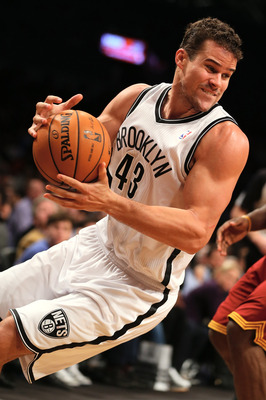 Elsa/Getty Images
Kris Humphries, PF, BK: B

Kris Humphries simply feasted on the Celtics' lack of size, totaling 10 points and eight rebounds in the first half, while posting a team-high plus-14 in the plus/minus column.
Humphries remained steady on the boards, pulling down 13 rebounds to go with his 10 points.
Brandon Bass, PF, BOS: C-

Brandon Bass had been held in check for most of the game's first half, but came alive in the final two minutes of the second quarter.
Using his quick first step off of the dribble, Bass was able to score four quick points that helped trim the Brooklyn lead to six, and finished the first 24 minutes with eight points on 4-of-5 shooting.
Bass was benched early in the second half for some lackluster defensive play, and recorded zero second-half points. Bass finished with eight points and five rebounds.
Center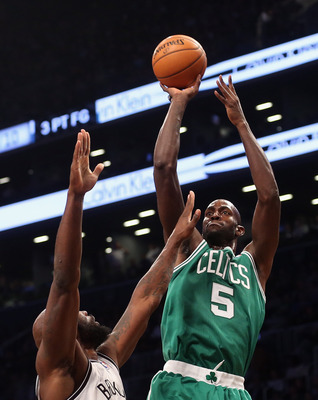 Bruce Bennett/Getty Images
Brook Lopez, C, BK: A

Lopez sought to take advantage of the Nets' size advantage from the opening tip and was quite successful throughout the early stages of the game.
Perhaps the NBA's most improved big man, Lopez finished the night with 24 points, six rebounds and four blocks, turning in his most impressive performance of the season to date.
Kevin Garnett, C, BOS: B-

The Big Ticket was particularly quiet throughout the game's first 12 minutes, but stepped up once Brook Lopez and Kris Humphries took seats on the bench.
Straying from the Nets' size down on the blocks, Garnett tailored his game around his polished mid-range jumper, attempting to neutralize the Nets' massive size advantage.
Showing marked improvement on the defensive end, Brook Lopez was key in limiting Garnett to just 14 points on 6-of-12 shooting. But Garnett was able to knock down a few key fourth-quarter buckets that helped keep his team alive.
Sixth Man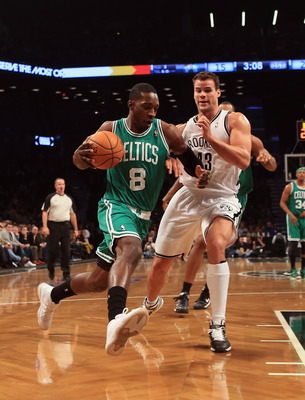 Bruce Bennett/Getty Images
C.J. Watson, PG, BK: D

Deron Williams' backup played with some welcome energy in the first half, as he kept the Brooklyn offense moving at a nice pace.
C.J. Watson posted five points on 33 percent shooting in the first half, but would finish with that same total while dishing out just two assists.
Jeff Green, G/F, BOS: D

It was expected that Jeff Green would take over a more prominent role with Rajon Rondo sidelined, but he didn't look like a particularly big piece of the game plan.
Green didn't look particularly assertive with the ball in his hands, but he did look to have more confidence in his shot, even if it wasn't falling all that often. Green saw very few looks in the game's first half, but knocked down a big three to cut the Nets' lead to one with under a minute remaining in the fourth quarter.
The Celtics sixth man finished the night with five points, six rebounds and a team-high four turnovers.
Bench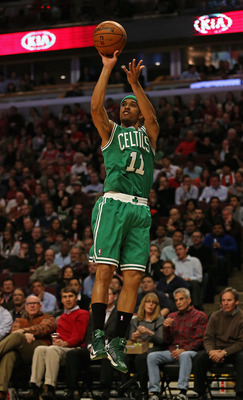 Jonathan Daniel/Getty Images
Brooklyn Bench: C

The Brooklyn Nets' signing of Andray Blatche was questionable, but he made his presence felt versus the C's.
Taking advantage of the small Celtic lineup, Blatche recorded seven points and four rebounds in the game's first half, helping to give the Nets a 26 to 17 rebounding advantage by half.
Blatche would go on to finish the game with seven points, while fellow big man Reggie Evans chipped in with three points and nine rebounds.
Boston Bench: C

Doc Rivers called upon his bench to step up in the absence of Rondo, and Courtney Lee responded in a big way.
The strongest Celtic bench contributor on the evening, Lee took advantage of the aged Jerry Stackhouse with his speed, ultimately pulling the Celtics back into the game in the second quarter. Lee ended the night with 13 points on 4-of-8 shooting.
Aside from Lee, the Celtics didn't have any stellar bench contributors. Rookie Jared Sullinger continued his recent struggles, failing to record a single point or rebound on the night.
Keep Reading