10 Stars to Avoid in Your Fantasy Basketball League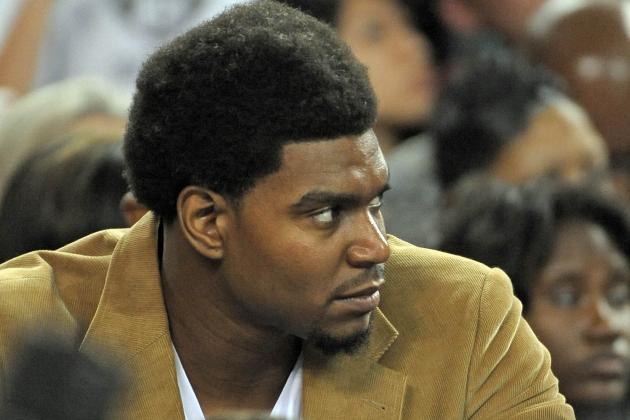 Eric Hartline-US PRESSWIRE
We have yet to see Andrew Bynum on the court for the Philadelphia 76ers.
Early-season injuries are never a good thing for a fantasy basketball star's value. Sometimes, they make a guy borderline untouchable—in a bad way—in terms of his desirability as a fantasy asset.
Kevin Love of the Minnesota Timberwolves is the exception to this phenomenon. He will miss the first few weeks of the season with a broken hand but when he returns, it should be business as usual. Returning from a broken hand isn't the same as working back from an injury to a weight-bearing body part such as a foot or knee—which is why the Philadelphia 76ers' Andrew Bynum makes this list.
Injuries aren't the only thing that can make stars less attractive to fantasy owners. Sometimes, they have specific weaknesses that make them less valuable in fantasy hoops than they are in the NBA.
Enter Dwight Howard and Blake Griffin.
The 10 guys on this list are players that should be avoided—or at least undervalued—in fantasy basketball for one reason or another. Every player was drafted in the top 50 in ESPN.com fantasy leagues, on average.
Begin Slideshow

»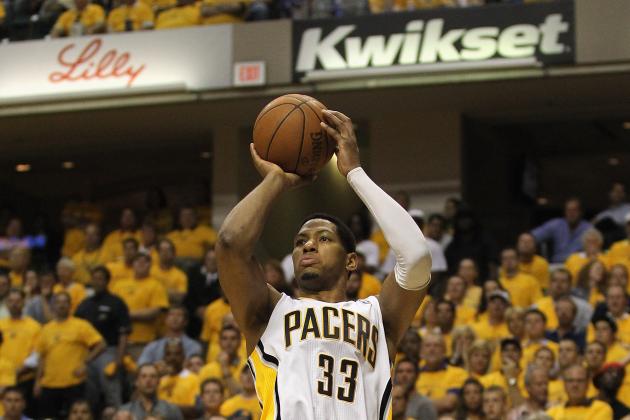 Jonathan Daniel/Getty Images

Average Draft Position (ADP): 46.7
We might know who the NBA All-Stars are by the time Danny Granger hits the court this season. One thing's for certain, though: Granger won't be one of them. The Indiana Pacers' star small forward is out indefinitely and could miss as much as three months.
Missing half the season is a predictably tremendous blow to a player's fantasy value.
When active, Granger is a versatile fantasy player with the ability to contribute to every category with some respectable degree of weight—except field-goal percentage. He'll knock down a bunch of threes, but Granger is a volume scorer (and career 43.8 percent shooter).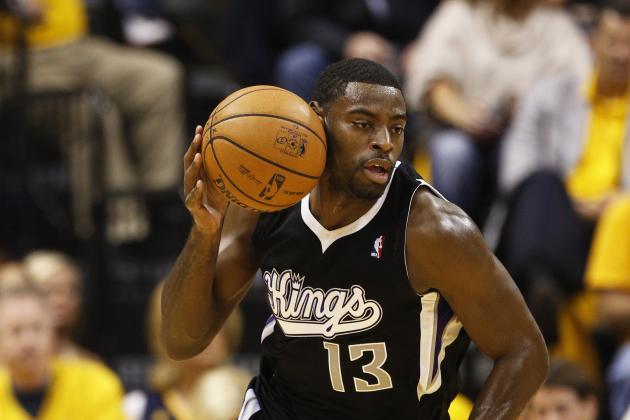 Joe Robbins/Getty Images

ADP: 42.1
Tyreke Evans' rookie campaign was his best single season as a pro: 20.1 PPG, 5.8 APG, 1.5 SPG and 45.8 FG% all represented career-highs for the fourth-year Sacramento Kings guard. That seems to be the value that fantasy owners expect when grabbing Evans for their teams in the early fifth round (of 10-team leagues).
However, his points, rebounds, assists and steals averages have all remained constant or dropped from season to season in his NBA career. He's shooting a career-low 38.0 percent from the field this season as well.
One thing that is trending in a positive direction is Evans' free-throw shooting percentage. It has improved every year, though his attempts have dropped.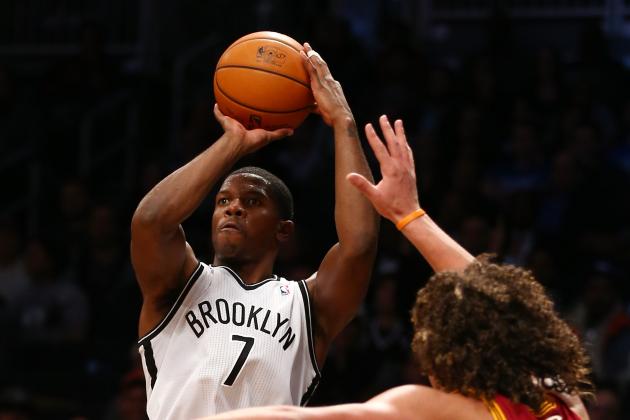 Elsa/Getty Images

ADP: 37.2
Joe Johnson's fantasy expectations have dipped from a 20-5-5 guy a couple of years ago to an 18-4-4 fantasy wing. With the Brooklyn Nets this season, his numbers haven't even reached those standards.
Through six games, Johnson's shooting 40.0 percent from the field and 81.3 percent from the line to go with 15.5 PPG, 3.1 RPG, 3.5 APG, 0.2 BPG and 1.0 SPG in 37.0 minutes per night. He's not that bad of a shooter—his career average is 44.4—but if you can find another owner in your league who thinks he has 20-5-5 ability in Brooklyn, a trade is probably worth exploring.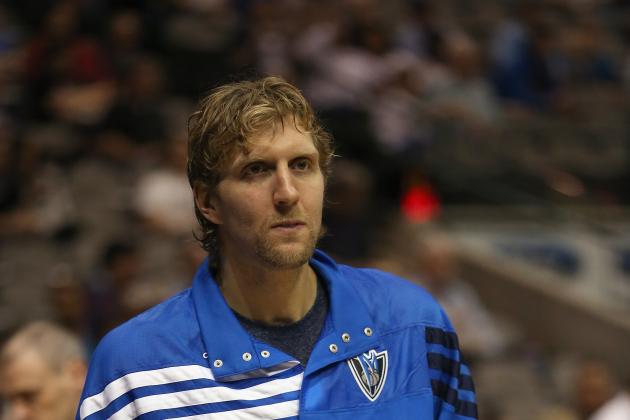 Ronald Martinez/Getty Images

ADP: 30.9
Add Dirk Nowitzki's name to the guys dealing with knee rehab at the beginning of this season. When healthy, he's a top-10 fantasy option based on his scoring (21.6 PPG, 1.3 threes made per game last season) and efficiency (45.7 FG%, 89.6 FT%, 1.9 TOPG).
But if he's not playing, he can't help you.
If you can stomach Nowitzki's uncertainty in terms of when he will return to the court, he is an intriguing buy-low target. However, healthy, top-25 fantasy options shouldn't even be in the discussion as compensation for the Mavs' seven-footer right now.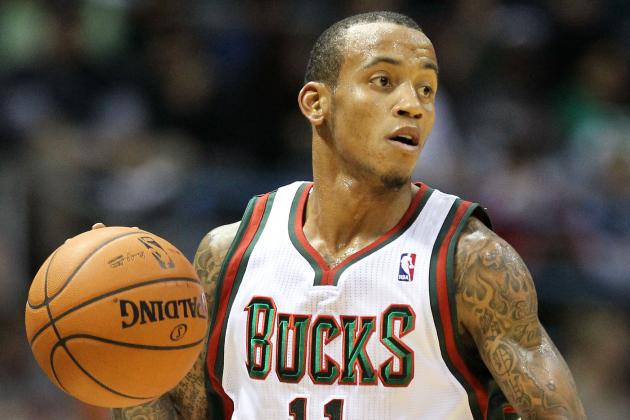 Mike McGinnis/Getty Images

ADP: 29.2
Monta Ellis has gaudy scoring numbers at times. He put up 32 points and eight assists against the Boston Celtics on November 10. Yet, his field-goal percentage tends to tank fantasy teams more often than not.
Through six games this season, the Milwaukee Bucks 2-guard is shooting just 39.3 percent from the field on 19.5 attempts per game, and he's turning the ball over 3.3 times a night. As a member of the Bucks last year, he shot 43.2 percent on 16.0 attempts per game.
In order to account for this regression, you'll have to sacrifice other roster spots to make up for Ellis' field-goal deficiencies with high-efficiency guys like Brandan Wright.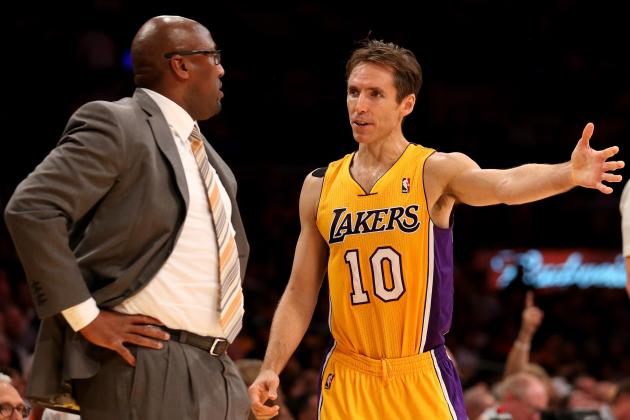 Stephen Dunn/Getty Images

ADP: 27.6
First, it was the infamous Princeton offense. Now, it's a left-leg fracture that's taking the ball out of Steve Nash's hands. Nash's fantasy owners have depended upon his frequent possession of the basketball for years.
He's hurt right now and when he returns, he'll have Mike D'Antoni as his head coach—a development that should be exciting for his fantasy owners. However, his consistent double-digit assist potential is still in question. There's a man named Kobe Bryant in L.A. who tends to get the ball a lot in his own right.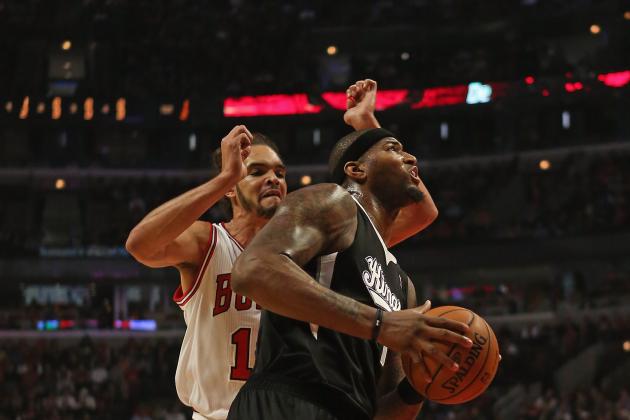 Jonathan Daniel/Getty Images

ADP: 19.4
His sometimes troublesome demeanor notwithstanding, DeMarcus Cousins is a young big man who most NBA teams would love to have in their frontcourts. As a fantasy big, however, he offers a perplexing combination of low field-goal percentage and next-to-zero career threes made.
This season (six games), Cousins is shooting 42.6 percent from the field without even taking a three-point attempt. It makes his 17.3 points per game less attractive and, though he gets 9.9 boards and 2.0 steals, he isn't blocking many shots (0.8).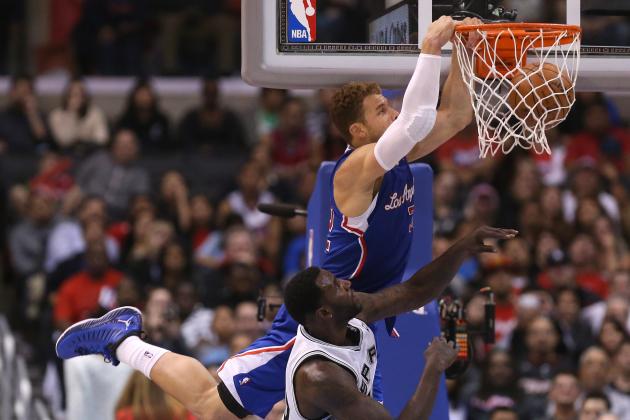 Stephen Dunn/Getty Images

ADP: 19.3
The good news for Blake Griffin's fantasy owners is that his free-throw percentage is at a career-high pace for the Los Angeles Clippers power forward through seven games. The bad news is that Griffin's free-throw percentage this year is 64.9 percent and his field-goal percentage is at a career-low 49.4 percent.
Each of those numbers could regress to his career averages (52.3/59.5 percent from the field/line), but his minutes are down (32.0 this season, 37.0 career) and his turnovers are up (3.1 this season, 2.5 career).
He's also still blocking just 0.7 shots per game, which is confusing considering his immense athleticism and the fact that Griffin's in his third season. Maybe the big-time blocks numbers will never come.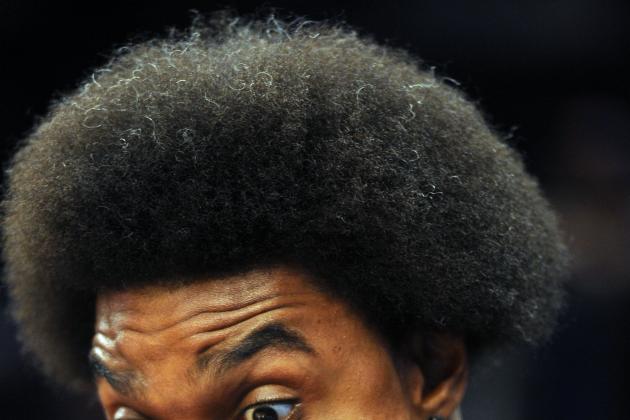 Joe Camporeale-US PRESSWIRE

ADP: 11.4
Andrew Bynum may not be in a 76ers uniform until after the calendar ticks over to 2013. Add to that a three-time-zone change in scenery (from Los Angeles to Philadelphia) and a whole new team to boot, and his situation understandably causes a lot of fantasy uncertainty this season.
Last season, Bynum put up respectable fantasy numbers: 18.7 PPG, 11.8 RPG and 1.9 BPG on 55.8 percent shooting from the field and 69.2 percent from the line. But those numbers aren't happening for him right now because he can't get on the floor.
At least he's got the hair working for him.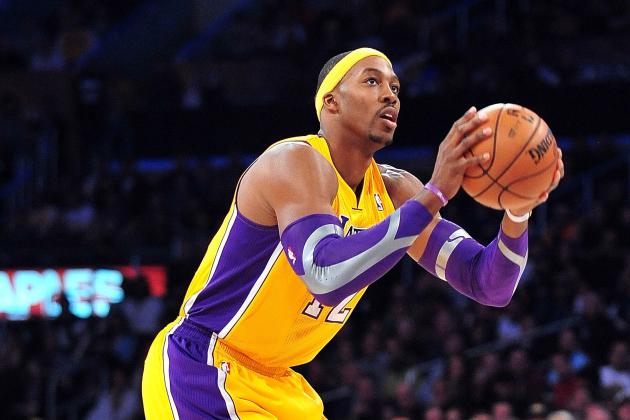 Gary A. Vasquez-US PRESSWIRE

ADP: 10.5
Having Dwight Howard on your fantasy team is equivalent to kissing your chances of winning free-throw percentage battles goodbye. He shoots such a high volume of attempts from the line (10-plus attempts in each of the last six seasons) and converts them at such a rate (49.3 percent since the start of last season) that resistance to his shooting is almost futile.
You'll either have to build a team around high-volume free-throw mavens to try to even out that category or punt it entirely.
High-volume, high-percentage free-throw shooters tend to be either incredibly expensive or have deficiencies in other areas that work toward nullifying the benefits that Howard provides. He is dominant in the scoring, rebounding, blocks and field-goal percentage categories.
However, guys like Kevin Martin—who shoots 86.6 percent on 6.6 free-throw attempts per game in his career—tend not to be. Martin, for example, averages 44.3 percent from the field on 12.5 shots a night over the course of his career.
Martin is shooting a career-high 48.1 percent off the bench for the Oklahoma City Thunder this season. Averaging the season numbers of the two players would yield a fantasy force that shoots 55.8 percent from the field and 65.6 percent from the line.
That "player" would average 36.4 points, 2.3 threes, 13.9 boards, 4.1 assists, 2.6 steals and 2.8 blocks per game. But "he" would require two roster spots to do it.
Follow Jamal on Twitter: Follow @StatManJ