Russell Westbrook and 7 NBA Stars Still Searching for Their Rhythm in 2012-13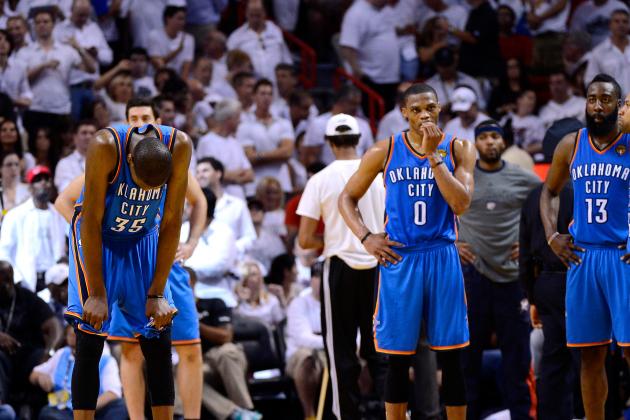 Ronald Martinez/Getty Images
With No. 13 out of the picture, Westbrook is going to have play better.
The NBA season is young, and it's still a little premature to sound a warning siren on any given team in the league, but teams like the Nuggets have to start wondering how they are going to address the issues they have and get their stars performing to the level we are accustomed to seeing out of them.

The Nuggets earned the ignominious honor of having three of the eight players in this slideshow, a testament to not only how poorly they have played but also to how much talent is on the team to have three stars to begin with.
Outside of the Nuggets, the struggles of the Celtics, Thunder and Clippers have flagged a few underachieving stars, while two others are playing bad ball for teams that are winning.

All in all, it's too early to say any guy is in for a bad season, but all eight of these guys are going to have to find their rhythm for their teams to begin winning (or to keep winning in two instances).
Begin Slideshow

»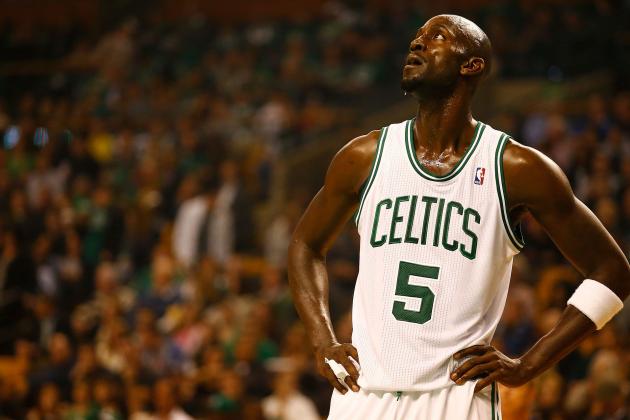 Jared Wickerham/Getty Images
Garnett hasn't played horribly, but not his usual self either.
The Celtics (1-2) have struggled out of the gates. Kevin Garnett is underperforming but by no means the entire cause of the struggles. So far, Garnett has shot just 45 percent from the floor, while putting up pedestrian averages of 13.0 points per game and 7.7 rebounds per game in 29 minutes of action a night.

While KG may not be the biggest example of an early failure, he has yet to establish his rhythm and will shoot better than 50 percent from the floor when the season is done.

When Garnett gets cooking and the C's start to gel (not to mention get Avery Bradley back in December), his production should rise. Last year, Garnett averaged 15.8 points and grabbed 8.2 rebounds per game, while shooting 50.3 percent from the field. Expect his production to increase as the C's play better.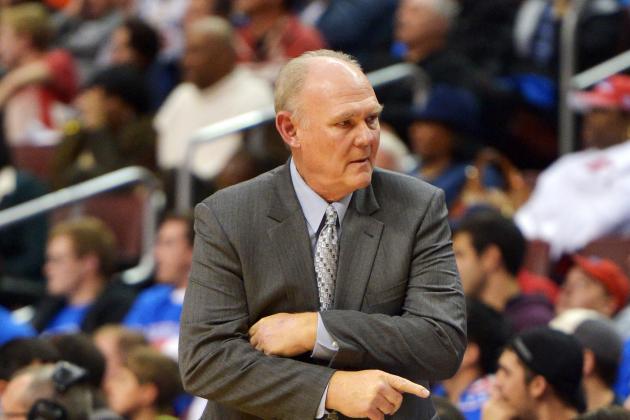 Drew Hallowell/Getty Images
George Karl is searching for answers with his entire team struggling.
I've listed three Nuggets starters in this slideshow, all of whom are playing far below their expected levels of production. Their performances have led to an 0-3 start for the Nuggets, with losses to Philadelphia, Orlando and Miami.

The loss to the Magic was especially embarrassing, as they lost by 13 to a team that many have pegged to be among the worst in the league.

Andre Iguodala has never been much of a scorer, but this year, he's shooting 27 percent from three-point range and 56 percent from the line. His scoring average is about on par with the last few seasons, but his efficiency is nowhere near as good, and he's turning it over four times per game.

Lawson has been a huge disappointment, and he just inked a $48 million, four-year contract about a week ago. His minutes have increased this season, but his production has tailed off. He's hitting just 42.6 percent from the floor on an increased workload of 15.7 shots per game, while making just 20 percent from three-point range and 50 percent from the line.

Lawson has kept his turnovers down (2.3 per game), but his teammates haven't, and the Nuggets really have to start playing less carelessly and more under control, or it won't matter how deep and talented their team is.

Lastly, Danilo Gallinari has been the absolute worst of the worst for the Nuggets. He's hitting 25.8 percent on 15.5 shots per night and has made 16.7 percent from three (3-of-18) in the two Nuggets games in which he has played. For a sharpshooter that doesn't really bring much defense to the court, this is beyond unacceptable.

Many had pegged the Nuggets as a sleeper team in the Western Conference coming into this year, but with Lawson, Iggy and Gallo all underperforming so badly, they might sleep their way right into the lottery.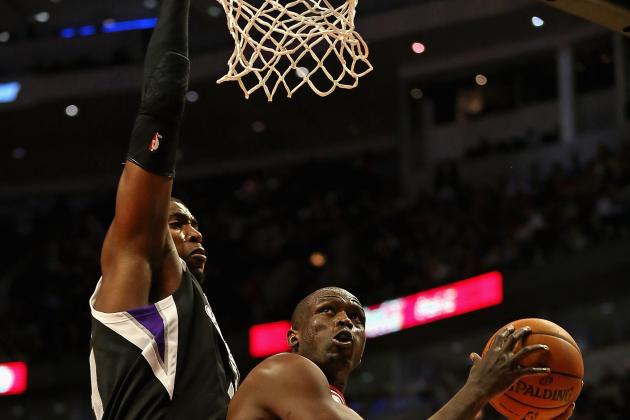 Jonathan Daniel/Getty Images
Expectations are high for Luol Deng with Rose out.
The Bulls have won two of their first three games, but de facto star player Luol Deng isn't the reason why. Deng has shot just 38.9 percent from the floor and hit just one of his nine three-point field-goal attempts.
In his defense, he has rebounded the ball well and played well defensively, but his shooting stroke hasn't been sound.

With Derrick Rose sidelined, the Bulls are going to need more from Deng than 13 points per game, and even in 2010-11, with Rose, Deng averaged 17.4 points per game. Deng should be scoring 20 a night if the Bulls plan to make any run of contention with Rose out.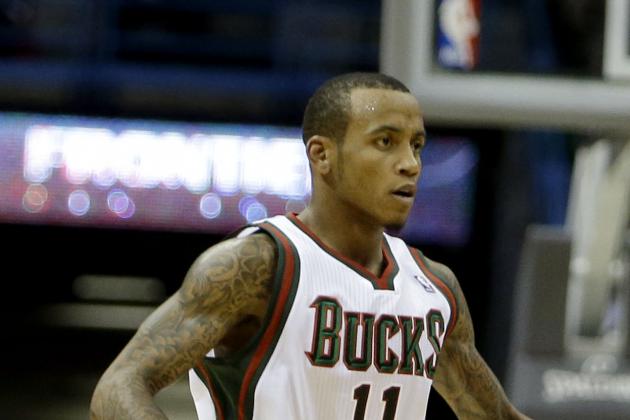 Mike McGinnis/Getty Images
The Bucks are thriving without Ellis playing his best ball.
The Milwaukee Bucks are 2-0, but things could get even better if Monta Ellis finds his way offensively. Last year, after joining Milwaukee, Ellis saw his usage rate go down a good bit, but he still made the most of his opportunities and hit his usual 43 percent from the floor.
This year, however, Ellis has made just 35 percent of his shots (14-of-40), and he's turned the ball over seven times in two games.

The Bucks have Brandon Jennings in the backcourt, who has been decent (17 points per game) and hit a game-winner in Saturday night's victory over the Cavaliers. But neither Jennings nor Ellis is playing his best ball right now, which means it's possible that teams may be "fearing the Deer" if their talented backcourt duo gets it cooking offensively.

The tandem shot a combined 2-of-10 from downtown in the win over the Cavs and combined for nine turnovers. Once they become more efficient and find their strokes, this Bucks team could make some noise in the Eastern Conference.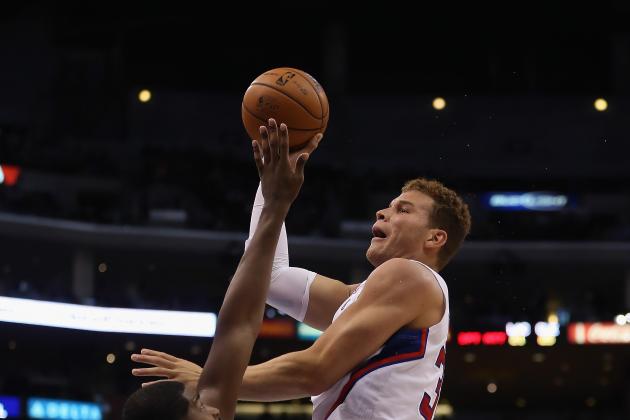 Jeff Gross/Getty Images
Griffin may have got it going tonight against the Cavs...
Blake Griffin struggled badly in his first three games, but had a much better offensive performance against the Cavaliers on Nov. 5. In the Clippers' first three games, Griffin averaged just 15 points per game on 37.8 percent shooting.

Improbably, Griffin's free-throw percentage has spiked to a career-high 67.9 percent this season, but Griffin isn't hitting his field goals, and he's also not rebounding the ball as well as he usually does, with only 8.0 rebounds per game, down from his career average of 11.4.

While Griffin made his shots against the Cavs, going 9-of-14 from the floor, he still didn't do his share on the boards. Griffin grabbed only six rebounds, and the Clips were outrebounded 43-38.

The Clippers now sit at 2-2, but losing to the Cavs isn't going to help them reach the promised land, and Griffin's improved shooting still resulted in a loss.

As the co-franchise player of the Clips, Griffin commands a lot of attention from defenses, and his offensive arsenal is reportedly much improved. But he hasn't shown those improvements yet this season.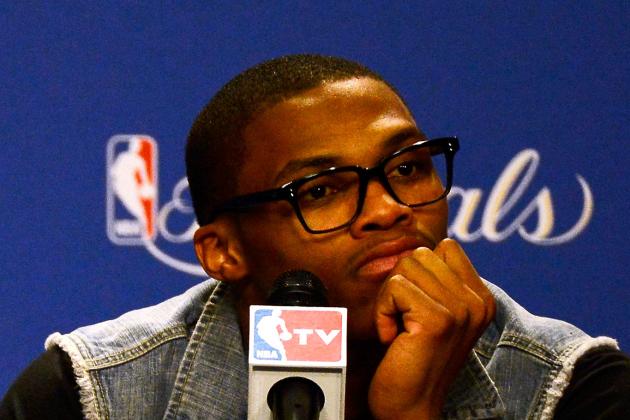 Ronald Martinez/Getty Images
Russell is searching for answers.
The Thunder have lost two of their first three games in the post-James Harden era, and a big reason why, so far, has been not only Kevin Durant's turnovers, but also Russell Westbrook's poor shooting (and usual contributions of his own coughing the ball up).

Westbrook has hit just 38 percent of his shots, down seven percent from last season, and he's shooting even more of them (21 attempts per game). He's hitting just 18 percent from distance, which is low even for him (career 28.7 percent three-point shooter).
No. 0 has distributed the ball a little better and rebounded exceptionally well, but until he finds his stroke, the Thunder are going to have trouble winning many games.

Now, more than ever, the Thunder need Westbrook to take over stretches in games where Harden may have previously carried the weight.