The 10 Most Hilarious and Entertaining NBA Videos on the Internet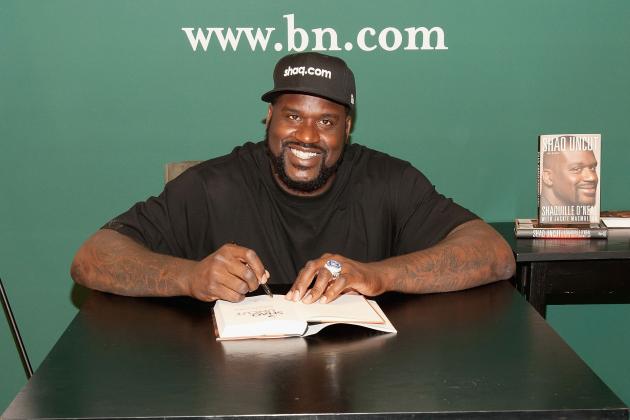 Slaven Vlasic/Getty Images

Basketball is fierce. It's a game of serious competition where intimidation runs rampant and power and height rule all. It also requires intelligence and a unique mental aptitude to play the game at the highest level.
But sometimes things just turn out funny. Intentionally or not.
The sport has its classic jokesters—guys like Charles Barkley and Shaquille O'Neal who have taken the world by storm with quotes and sound bytes that could warrant their own slideshows alone.
But it's often the most serious players and personnel in the most serious of circumstances contributing to the hilarity.
Compiling a list like this is subjective and quite difficult, but also a ton of fun. Reliving some of the funniest moments in NBA history was hilarious, and I ended up browsing for hours just laughing at material.
It's a league dominated by passion and seriousness, but often consumed in its own hilarity.
Begin Slideshow

»
Amare Stoudemire did not have a pleasant NBA season this past year. Fans were aggravated by his injuries, his apparent lack of enthusiasm and his lack of production.
He helped contribute to what ended up being a wildly overhyped New York Knicks team that was shown the door by the eventual NBA champions, the Miami Heat, in the first round of the playoffs after only earning a seventh-seed berth.
He will be remembered in the 2012 playoffs for taking his own frustration out on a fire extinguisher, slashing his hand wide open in a fairly gruesome injury.
But this video sums up Stoudemire's season of disappointment.
To be fair, Shane Battier totally flopped and Stoudemire was fouled out of the game. Frustration in the heat of the moment made for a pretty hilarious video, pun only slightly intended.
First of all, let me go ahead and preface this slide by saying I hate Skip Bayless. It is a rare occasion for me to agree with him, and nine times out of 10, I hate everything he says.
With that out of the way, this is one rare occasion where I actually agree with Skip. I think Tiago Splitter is a great player and vastly underrated, and I completely disagree with Stephen A. Smith in this one.
But the way Smith goes about making his point is pretty hilarious.
He doesn't seem to have a huge problem with Splitter's basketball skills...his main issue seems to be Splitter's incredibly foreign name.
A lot of people take issue with Smith's demeanor and opinions as much as Bayless', but I find Smith's delivery, as over the top as it often is, to be pretty hilarious...especially in this one.
"Tiagooooo Splitterrrrrrr!"
The Round Mound of Rebound is one of my favorite players in NBA history. Charles Barkley was a dominating force in the NBA, commanding the respect of everyone he was matched up against.
He also had his fair share of hilarious moments, and this won't be his only appearance in this slideshow.
Not shy about his love of golf, Charles Barkley talks with the confidence and swagger of Tiger Woods but has a swing that makes Happy Gilmore look completely plausible.
This video shows perfectly how intensely he struggles to hit a golf ball. It's like with every swing he takes, he second guesses himself halfway through, pulls back, but decides to finish it in about 15 awkward movements.
It's seriously one of the ugliest things I've ever seen. But since it's from Barkley, I can't help but be allured by the beauty of it.
Los Angeles Lakers general manager Mitch Kupchak was not happy as he watched Kobe Bryant and his Lakers become victims in the 2012 NBA playoffs.
He did nothing to express his frustration but stand starkly in the middle of a hostile Oklahoma City Thunder crowd and frown.
Fortunately for us as fans, producers knew exactly where he was standing at the moment of LA's elimination, and knew exactly what to do as they were eliminated.
Zoom in. Dramatically.
Kupchak's pained expression did the rest, and the commentary on ESPN's Around the Horn only improved the moment.
Apparently, Kupchak took it personally and helped put together what was one of the best NBA offseasons in recent history, and Lakers fans will hope he's not forced to make this face again this season.
Shaquille O'Neal is arguably the most dominant big man the NBA has ever seen, but he also was a dominating personality and absolutely hilarious on and off the court. He's one of the funniest players ever to grace the hardwood.
Sometimes it was out of intense hatred. Usually it was just him Shaq being goofy, as is the case in this video.
In this press conference, after an inexplicable question, Shaq shows his wit on the spot by owning the reporter that asked the question. He then makes a hilarious gesture acknowledging his own joke at the end of the video.
Is the "your wife" joke or Shaq's reaction at the end of the video the funnier moment? I honestly can't decide. Either way, it was pure gold.
"My whole life I've been booed."
Joakim Noah sums up his life during a press conference in which an interview where he tore into Cleveland was brought up.
Noah, a polarizing and high-octane personality on the court, took his act off the hardwood when he decided to talk about how much he hated Cleveland, and then backed up that hate during a press conference, unfazed by Cleveland's fans.
Probably the funniest part of this video is his impromptu reaction and nonchalant response during the press conference where he assures the crowd of reporters not to worry because he has his friends.
It's hard to feel bad for the harsh reaction Noah got in Cleveland after his comments, but you have to admit...he does have a point. Who goes on vacation to Cleveland?
This video is full of a slew of Charles "Barkleyisms", all of which were taken within a very brief time span during the 1992 Summer Olympics.
"I don't know anything about Angola, but Angola's in trouble"
"It's like spring break in the ghetto"
The video's commentator sums up Charles' view of publicity perfectly when he said that Barkley relished the crowded streets and constant attention.
While this video is full of quick wit by Barkley, perhaps Barkley's best quote of all time occurred during the 1992 Olympics and is not included in this video, so for humor's sake, I'll include it right here...
After a brief physical altercation during a dominating win against Angola, Barkley stated, "somebody hits me, I'm going to hit him back. Even if it does look like he hasn't eaten in a couple weeks. I thought he was going to pull a spear on me."
Barkley at his unadulterated, offensively hilarious best.
As a young child, I grew up idolizing Allen Iverson. His intense personality on the court, the fact that he was an undersized player willing to go up against much bigger foes without fear and the fact that he grew up in my hometown all fueled my wildly ridiculous dream of playing in the NBA.
He has fallen on tough times and his character has been called into question frequently, but as a childhood hero, I still like to think he'll be remembered as one of the best undersized players of all time, and one of the best pure scorers in NBA history.
And for skipping practice once.
If you haven't seen this video, I'd be absolutely shocked. It's been parodied, mocked and replayed to the point where it's one of the more famous sports gaffes of all time.
It's easy to see why...Iverson gets so frustrated about practice during this press conference that he goes on a rant unlike anything seen before or seen since.
And then he caps it off perfectly at the end with an emphatic exclamation of, "how the hell can I make my teammates better by practicing?!"
Oh, and he's wearing a Boston Red Sox hat during a Philadelphia 76ers press conference. It's like he wanted to be hated.
I think you're probably starting to get the point...Barkley is a really funny dude. I wasn't kidding when I said he probably deserves his own slideshow of quotes and sound bytes.
This video beautifully highlights some of what made Barkley so incredibly brilliant during his tenure as a player in the NBA. His willingness to interact with fans, his wit and most importantly, his charisma on and off the court.
During his career, Barkley was incredibly frustrating to players, coaches and fans who had to watch him dunk and rebound against their teams. But it was nearly impossible not to fall in love with his almost-infantile demeanor, even as their teams were being slaughtered.
It's an attitude that he still carries to this day, as Barkley wisely made the transition from player to NBA commentator and television personality.
It's a career that suits him, and he's gotten quite comfortable (and overweight) in a job that allows him to sit around and crack jokes. But for now, let's remember part of the reason Barkley earned his job as a personality in the first place...his humor as a player.
First of all, I apologize for the rhyme in the title of this slide. I absolutely couldn't resist.
Second of all, duh.
Debates will rage until the end of time over who the funnier big man was...Charles Barkley or Shaquille O'Neal. But for my money, as far as YouTube moments go, Shaq gets the nod.
Perhaps it's because Shaq was gaining his popularity in the age where the Internet was growing at an exponential rate, but he always just seemed to be ready to do something completely ridiculous in front of a camera.
In this video, ESPN's SportsCenter does a great job of summing up some of his better moments in the NBA, from his gaudy dance moves to his biting remarks about Kobe Bryant.
It's a toss-up between Barkley and Shaq in the "all-time funny" department. Barkley gets the win in shocking quotes that either weren't filmed or easily accessible on the Internet in the form of video, but Shaq definitely wins in an age where everyone had a camera and a video ready to upload to the Internet.