Biggest Deficiency of Every Top 15 Young NBA Star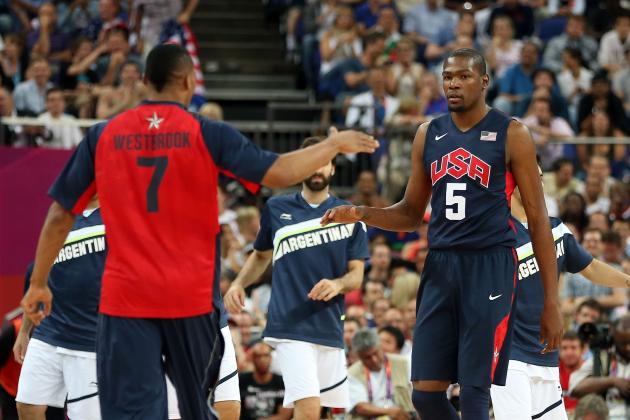 Christian Petersen/Getty Images

As one will rise, another will fall. Inevitably, the fortunate ones who made their way up the food chain will realize that perfection is something to stride toward.
Even if it is impossible to reach.
With this statement holding weight, it's suddenly applicable to the young stars of the NBA. From the established superstars to those on the rise, each player possesses abilities that classify them as borderline or full-fledged elite.
They also have traits that one might want to fix up.
From the injury-prone to the passive, a variety of players are on this list. In turn, there are more than a handful of possibilities as to what is holding back their development.
Fortunately, the following slides will offer insight as to where each one of the Top 15 rising stars must improve.
Begin Slideshow

»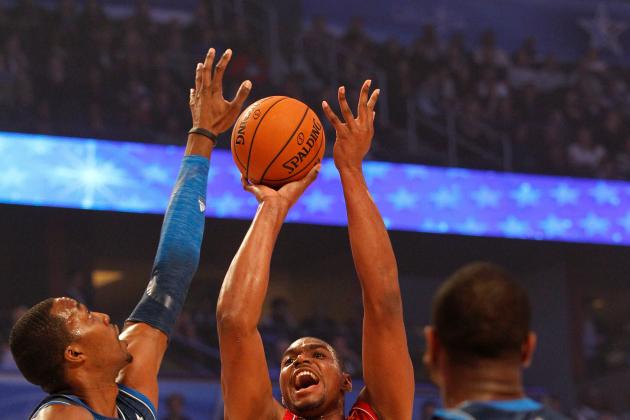 Ronald Martinez/Getty Images

Position: Center
Age: 24
Experience: 7 Years
Biggest Deficiency: Defensive Effort
If Andrew Bynum were to put forth a consistent effort on the defensive end of the floor, it would be fair to state that he's the best center in the NBA. Unfortunately, the skills are not met by the effort, and Bynum remains one of the more frustrating players in the league.
Even if he does have some championship bling to quiet the critics.
Bynum is coming off of a career year in which he averaged 18.7 points, 11.8 rebounds and 1.9 blocks per game. Those blocks and general shot alterations could increase, however, if Bynum committed more to playing help-side D.
It could also help if Bynum kept his head on a swivel when the games get heated.
Regardless of which way you cut it, Bynum's greatest deficiencies are of a mental capacity. As long as head coach Doug Collins can get through to Bynum in Philadelphia, we could see this complaint disappear in no time at all.
A fundamental freak with elite size and skill is something to marvel. One with a great motor is just screaming "superstar."
2012 Season Averages
21.72 PER, 18.7 PPG, 11.8 RPG, 1.4 APG, 1.9 BPG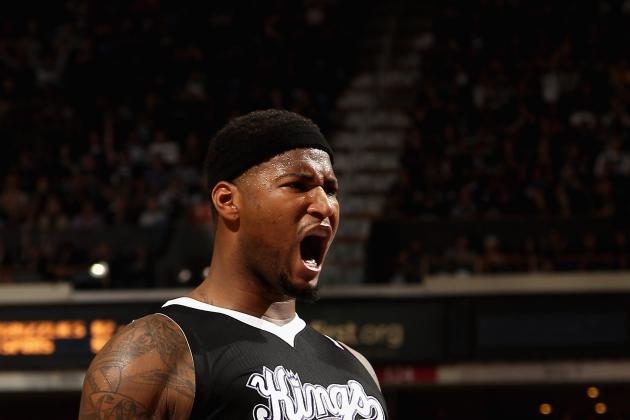 Ezra Shaw/Getty Images

Position: Center
Age: 22
Experience: 2 Years
Biggest Deficiency: Maturity
Physically speaking, DeMarcus Cousins is as dominant a force as any we've seen in recent memory. Not only is the Kentucky alum of a 6'11" and 270-pound physique, but he's one of the strongest and most agile big men in the game.
For that reason alone, it's not hard to label him as a legitimate star on the rise.
Unfortunately, DeMarcus Cousins lacks in one important area: mental maturity. Such has been on display throughout the duration of his young career, as his fouls per game average of 4.0 would reflect.
The fact that both Jerry Colangelo and Carmelo Anthony had nearly identical complaints about Cousins' maturity is only further evidence of such a claim.
While the production may remain, true progression as a player will be stunted for Cousins until this issue is addressed. The unheralded amount of fouls he commits leads to less time on the court. His questionable ability to keep his cool during heated games suggests that he may not be fit for postseason ball.
Regardless of how you cut it, mental toughness just isn't one of this young man's virtues.
2012 Season Averages
21.72 PER, 18.1 PPG, 11.0 RPG, 1.6 APG, 1.5 SPG, 1.2 BPG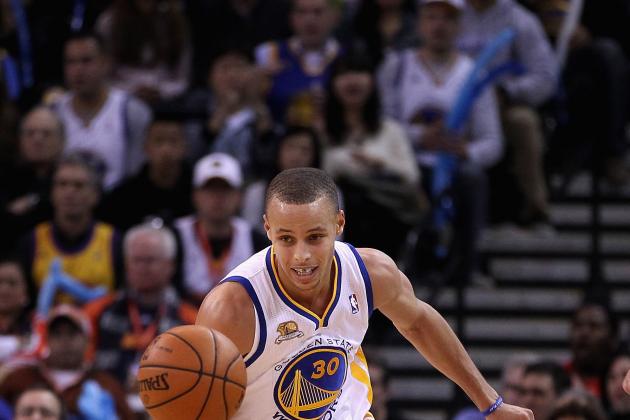 Ezra Shaw/Getty Images

Position: Point Guard
Age: 24
Experience: 3 Years
Biggest Deficiency: Health
There is no denying how talented Stephen Curry is. Not only is Curry one of the game's elite three-point shooters, but he has proven all critics wrong as he's established himself as a legitimate NBA point guard.
Unfortunately, Stephen Curry missed 40 games during the 2012 NBA season. This comes after a 2011 campaign in which he missed 12 games and was hounded by injuries throughout the duration of the regular season.
No matter how talented Curry might be, he can't possibly contribute without being on the floor.
As the 2012-13 NBA regular season rolls around, it is pivotal that the Davidson product can remain in good health.
The Golden State Warriors have higher expectations than Curry is accustomed to, as the arrival of Andrew Bogut and the progression of Klay Thompson have fans quietly labeling the team as a breakout unit.
The key, of course, is Curry fighting off the injury bug.
2012 Season Averages
26 GP, 14.7 PPG, 5.3 APG, 3.4 RPG, 1.5 SPG, 45.5% 3PT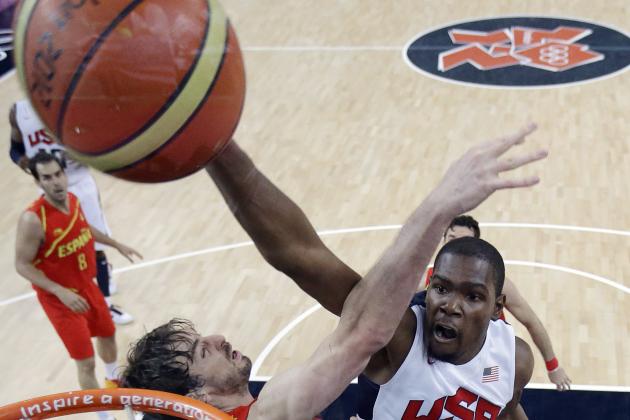 Pool/Getty Images

Position: Small Forward
Age: 23
Experience: 5 Years
Biggest Deficiency: Passive Nature
There are a select few who will stand by their guns as they claim it's Kevin Durant, and not LeBron James, who is the best player in the world. While James has strengthened his argument by winning the NBA title in 2012, this should speak to how great of a player Durant truly is.
Unfortunately, with great skill comes an underdeveloped scorer's mentality.
For what it's worth, Durant's decision to allow his teammates to find their rhythm before he takes over is of positive intentions. This enables Russell Westbrook, James Harden and Co. to develop the offense as Durant picks his spots.
Contrary to the positive tone, however, those spots are picked far too scarcely.
While an average of 28.0 points per game and three consecutive scoring titles suggests this opinion is null and void, numbers don't tell the full story here. If Durant were more aggressive, his scoring numbers could reflect that of Kobe Bryant during the 2005-06 season.
The year Bryant averaged 35.4 points per game.
More importantly, a more aggressive Durant could lead to a more legitimate Oklahoma City Thunder. Although Russell Westbrook is an elite scorer in his own right, one of the main reasons for his reckless play is the lack of control Durant is willing to take.
Should he step up, however, we all know what to expect.
2012 Season Averages
26.26 PER, 28.0 PPG, 8.0 RPG, 3.5 APG, 1.3 SPG, 1.2 BPG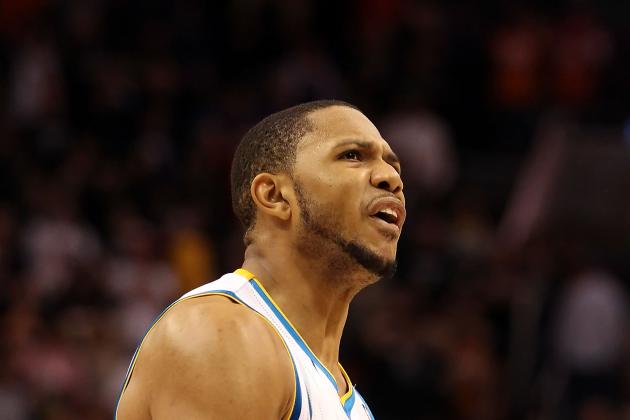 Christian Petersen/Getty Images

Position: Shooting Guard
Age: 23
Experience: 4 Years
Biggest Deficiency: Health
Much like Stephen Curry of the Golden State Warriors, Eric Gordon is an immensely talented guard who simply can't keep himself on the floor. Missing 107 games in a span of four years should be enough evidence this time around.
Especially considering Gordon missed 57 games during the 2012 NBA season.
While Gordon has holes in his game, such as his lack of height or length and his subpar passing skills, his health is the true issue. After all, no on-court deficiency could truly hold any weight if the player is not on the court to begin with.
Should EG remain in good health, the NBA could discover whether the hype was warranted. It will also be unveiled whether Gordon is worth the max contract the New Orleans Hornets just sent his way.
Otherwise, this will be yet another promising career cut short by an inability to keep a body in good health.
2012 Season Averages
9 GP, 20.6 PPG, 3.4 APG, 2.8 RPG, 1.4 SPG
Ronald Martinez/Getty Images

Position: Power Forward
Age: 23
Experience: 2 Years
Biggest Deficiency: Jump Shot
We're all aware of Blake Griffin's shortcomings on the defensive end of the floor. Considering Griffin has taken on an offensive approach, however, it's fair to say that the Los Angeles Clippers' young star has one glaring feat missing from his game.
A face-the-basket attack.
Blake Griffin can slash and dunk with the best of them. What he can't do, however, is keep opposing defenses on their heels. We're all aware of what is going to occur when Griffin makes his way down the court; defenses simply haven't found a way to stop it from happening.
Yet.
To avoid being a flash over fundamental player for the remainder of his career, Griffin must add a mid-range game to diversify his approach. This would enable the former Oklahoma standout to transfer from a dunk-or-die player to one of the most unstoppable forces in the game.
It'd also open up a surplus of opportunities for the Los Angeles Clippers as a whole. No longer would their frontcourt be limited to close-to-the-basket scores, but instead they'd be able to spread the floor with a stretch 4.
After all, a jump shot has become the trait that all great power forwards have added to their game.
2012 Season Averages
23.50 PER, 20.7 PPG, 10.9 RPG, 3.2 APG, 0.8 SPG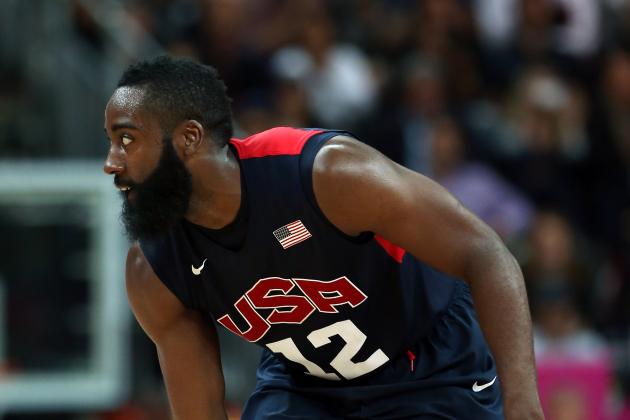 Ezra Shaw/Getty Images

Position: Shooting Guard
Age: 23
Experience: 3 Years
Biggest Deficiency: Defensive Footwork
James Harden of the Oklahoma City Thunder won the Sixth Man of the Year award for good reason. He's a phenomenal scorer, underrated facilitator and active defender.
Unfortunately, defensive activity does not guarantee positive results.
All in all, Harden is a respectable defender. He presses his man well and creates turnovers at a solid rate. What must be noted, however, is that Harden is often caught out of place by virtue of his poor defensive footwork.
This leads to a high foul rate and a rather frustrating amount of times in which Harden is taken off the dribble. Manu Ginobili can testify to that.
Truth be told, Harden is actually one of the most well-rounded shooting guards in the NBA. He's solid in virtually every category and merely needs to polish his skills to contend for the title of "best shooting guard in the NBA."
But being well-rounded does not mean you're sound in every category. Harden ranked 26th among shooting guards in terms of steals per personal foul at just 0.41, which came as a direct result of his defensive footwork deficiency.
For the Oklahoma City Thunder to move forward as a franchise, this quality must improve.
2012 Season Averages
21.13 PER, 16.8 PPG, 4.1 RPG, 3.7 APG, 1.0 SPG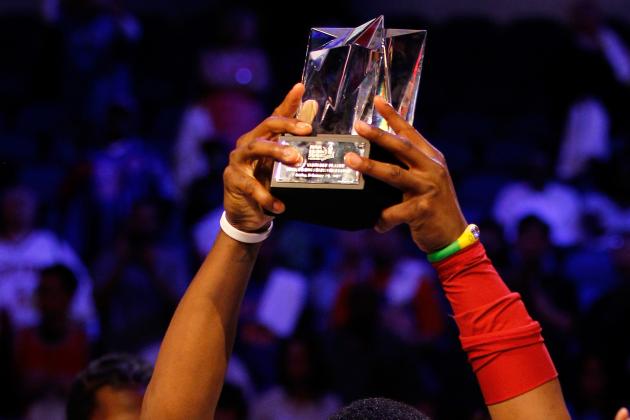 Mike Ehrmann/Getty Images

Position: Point Guard
Age: 20
Experience: 1 Year
Biggest Deficiency: Health
For a brief moment, I had to sit back and ponder whether Kyrie Irving actually has a true deficiency. Despite overwhelming the NBA during his rookie season, however, it is true that the former Duke recruit actually possesses a flaw.
Even if Cleveland Cavaliers fans believe he does not.
The fact of the matter is, Irving was guilty of the same faults during his rookie NBA season as he was during his tenure at Duke. This, of course, can be classified under "health-related issues," as Irving missed 15 games of the 2012 NBA season.
Right after he missed all but 11 games during his one year in college.
A majority of Cavaliers fans will resort to the argument that the Cavaliers simply shut Irving down to protect their investment. The truth is, however, that Irving is rarely at 100 percent health.
Until that is no longer an issue, critics of his athletic ability need not speak their peace. Those in support of his career must simply accept this unfortunate truth and pray for healthier days in the future.
Otherwise, the next best point guard in the NBA has a disappointing series of events ahead of him.
2012 Season Averages
21.49 PER, 18.5 PPG, 5.4 APG, 3.7 RPG, 1.1 SPG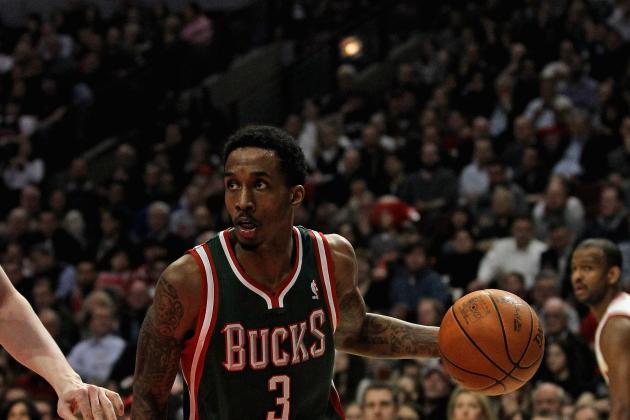 Jonathan Daniel/Getty Images

Position: Point Guard
Age: 22
Experience: 3 Years
Biggest Deficiency: Street Ball vs. NBA
In terms of pure ability, Brandon Jennings is one of the best players this game has to offer. His ball-handling skills are unmatched, while his ability to attack the basket and finish around the rim is top notch.
Throw in the ability to knock down a J from anywhere on the floor, as well as strong passing and ball-hawking skills, and you have a legitimate star. Unfortunately, Jennings has yet to turn street ball skills into NBA performances.
Hence the reckless play, poor shot selection and tendency to go without a pass in the half-court offense.
For Jennings to go from a human highlight reel to an All-Star, he must improve as much as his statistics have. The 19.1 points and 5.5 assists per game certainly jump off of the paper. His 41.8 percent shooting from the floor and 33.2 percent from distance on an average of 5.9 attempts are of equal significance.
As is life for a player stuck in a Drew League setting.
Once Jennings finds a way to comprehend the reason street ball does not translate to the NBA level, he will be a legitimate superstar. Until then, he is a player with flashy statistics and a skill set in need of sculpting.
2012 Season Averages
18.46 PER, 19.1 PPG, 5.5 APG, 3.4 RPG, 1.6 SPG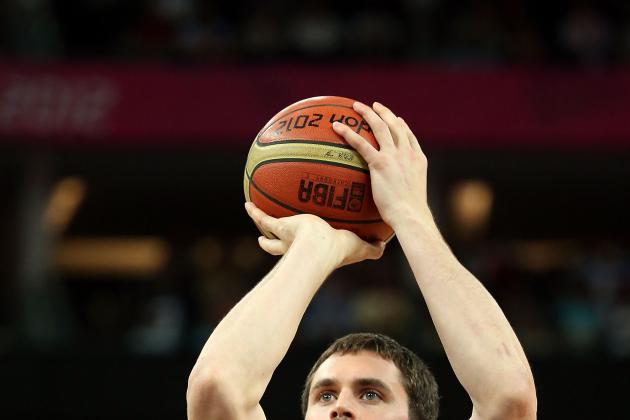 Christian Petersen/Getty Images

Position: Power Forward
Age: 23
Experience: 4 Years
Biggest Deficiency: Interior Defense
There is no way around the fact that Kevin Love is the best power forward in professional basketball. The former UCLA Bruins standout ranked fourth in the NBA by averaging 26.0 points per game.
Love also finished second in the league with 13.3 rebounds, the main reason for the league's infatuation with the Minnesota Timberwolves superstar.
Unfortunately, for all of Kevin Love's brilliance, there is one gaping hole in his game. That hole does not come on offense, where Love is a versatile scorer who can take over any game. Instead, that comes where the rest of the game is played.
On defense.
Kevin Love is not a careless defender, as he actually puts forth a respectable effort. Unfortunately, that effort is not met by positive results as Love struggles to play man-to-man defense and contest shots. His average of just 0.5 blocks per game should offer sufficient evidence.
Upon evolving into a more respectable defender, Love will be able to stake his claim as one of the world's best. Until then, he's on the outside looking in of the game's top five.
2012 Season Averages
25.41 PER, 26.0 PPG, 13.3 RPG, 2.0 APG, 0.9 SPG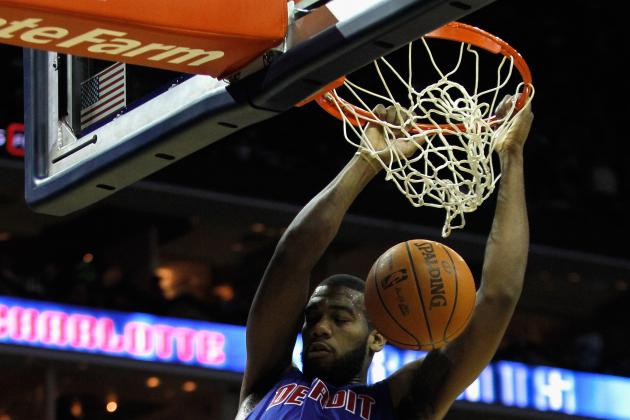 Streeter Lecka/Getty Images

Position: Center
Age: 22
Experience: 2 Years
Biggest Deficiency: Interior Defense
Much like Kevin Love of the Minnesota Timberwolves, Greg Monroe is one of the inferior interior defenders at his position. This is quite a shame, as the Georgetown alum is one of the most dynamic offensive players in the game.
Between his ability to score, facilitate out of the post and dominate the glass, it's pretty hard to find another major void in Monroe's arsenal. Unfortunately, defense just so happens to be of equal importance to scoring the basketball.
It's not as if Monroe doesn't try hard enough, he simply lacks the necessary know-how on that end of the floor. He's also slightly undersized to defend your traditional 5, while being less than athletic enough to lock down a 4.
Such a tweener status is why Monroe should feel blessed to have Andre Drummond coming to town.
Much like the other names on this list, Monroe's ability to contribute elsewhere makes him a star. Until the Detroit Pistons' big man can play respectable defense, however, he will fall out of favor with those in search of a well-rounded big.
2012 Season Averages
22.09 PER, 15.4 PPG, 9.7 RPG, 2.3 APG, 1.3 SPG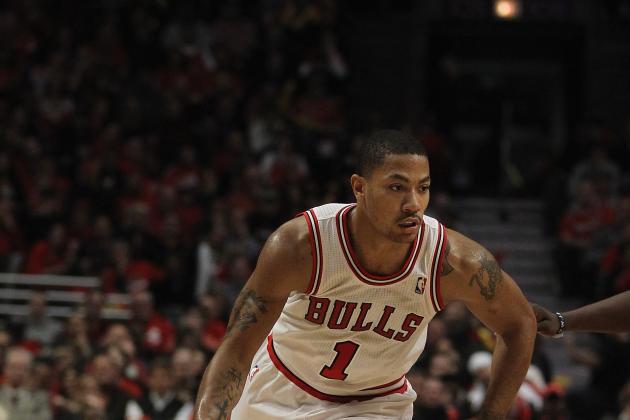 Jonathan Daniel/Getty Images

Position: Point Guard
Age: 23
Experience: 4 Years
Biggest Deficiency: Health
Derrick Rose is not perfect, so let's get that out of the way. What Rose actually is, however, is one of the better players the NBA has to offer.
After winning the 2011 NBA MVP award, very few will debate such.
Unfortunately, there is a debate in which Rose cannot win. This comes with the topic of health, something Rose has all but destroyed over the past five months.
Many remember the infamous postseason injury Derrick Rose sustained. What the average fan appears to forget is that Rose had been having troubles with his lower body throughout the duration of the regular season.
Nevertheless, the world appears ready to forgive D-Rose for a single season of injuries.
Should D-Rose prove to be injury-prone, his promising career could come to a rapid pace of disappointment. The true issue, however, is how rapidly Rose will recover.
If he opts to rush back once again, we could see another sideline stint in the very near future. Should Rose opt to remain in rehabilitation until he is perfectly fixed up, however, we could be seeing the rise of the next great Chicago Bull.
2012 Season Averages
39 GP, 23.10 PER, 21.8 PPG, 7.9 APG, 3.4 RPG, 0.9 SPG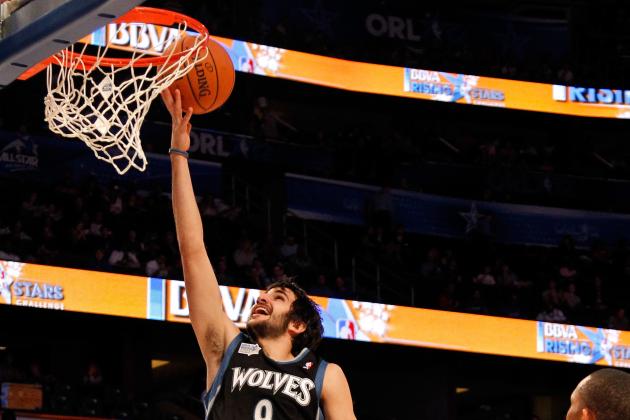 Mike Ehrmann/Getty Images

Position: Point Guard
Age: 21
Experience: 1 Year
Biggest Deficiency: Jump Shot
Ricky Rubio made quite the impact on the NBA during his rookie season. The Spaniard led the Minnesota Timberwolves to a 21-20 record before missing the remainder of the season with an ACL injury.
As a result, the T-Wolves plummeted to a 5-20 record to close out the season, thus finishing at 26-40.
While Rubio's averages of 8.2 assists, 4.2 rebounds and 2.2 steals per game are certainly impressive, not all was well in Minnesota. The rookie shot just 35.7 percent from the floor and proved to be a virtual non-factor for defenders when shooting the ball.
A strange development considering the fact that Rubio is actually a sound jump shooter from beyond the three-point line.
Nevertheless, it's clear that Ricky Rubio is having a tough time adjusting to the NBA game in that instance. As a result, Rubio could become relatively predictable and face defensive sets that focus on his one-dimensional attack.
Fortunately, Ricky Rubio is an elite ball hawk who can create transition finishes in his sleep. The question is, could we witness any individual finishes once Rubio is healthy again?
If so, an elite player will emerge.
2012 Season Averages
41 GP, 14.64 PER, 10.6 PPG, 8.2 APG, 4.2 RPG, 2.2 SPG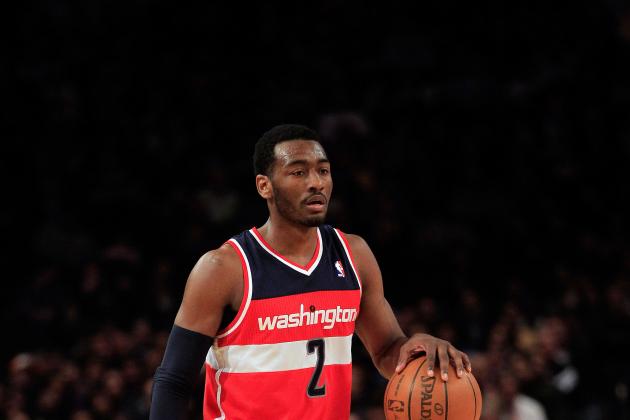 Chris Trotman/Getty Images

Position: Point Guard
Age: 21
Experience: 2 Years
Biggest Deficiency: Flash over Finish
John Wall is one of the most phenomenal athletes we have ever seen. At 6'4", Wall is already a physical specimen worth marveling at the point guard position.
With an ability to jump out of the gym and explode in transition, his physical ability becomes all the more impressive.
Unfortunately for the young point guard, it appears as if the athleticism may have gone to his head. Wall may be able to occasionally score and distribute because of these factors, but he cannot dictate a game.
The reason for this is that Wall appears more concerned with the flashy finish than the fundamental execution.
This is an understandable and expected development in the young career of a first overall draft choice. Often times, hyped players believe that they can get the job done based off of their physical assets. Such a reaction is understandable, as it has worked for some players in the past.
Just ask LeBron James.
What Wall must learn entering his third season in the league is that progression is key. Should Wall be able to run the pick-and-roll with more efficiency and apply more focus to the defensive end, this Washington Wizards team could be scary.
Otherwise, Wall can be expected to take difficult shots and go for unnecessary defensive gambles. Attempts that will often come up short.
2012 Season Averages
17.77 PER, 16.3 PPG, 8.0 APG, 4.5 RPG, 1.4 SPG, 0.9 BPG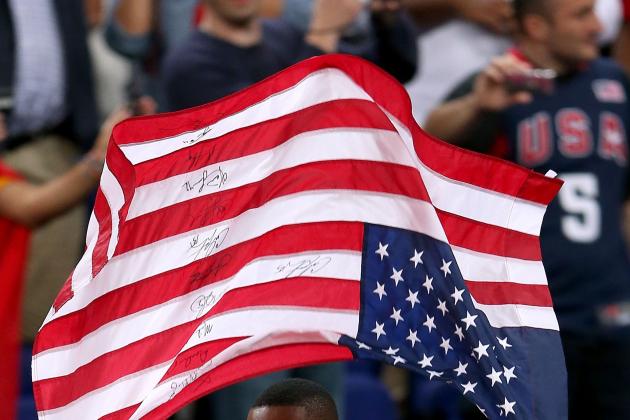 Streeter Lecka/Getty Images

Position: Point Guard
Age: 23
Experience: 4 Years
Biggest Deficiency: Shot Selection
When a player averages upwards of 23 points per game, it's fair to say he is one of the game's premier scorers. When that player also has elite ball-handling skills and some of the most explosive athleticism one has ever witnessed, it's clear that said player is of an elite stature.
This description, with elite defensive ability tacked on, describes Russell Westbrook. For those in search of proof, check out the 2012 London Olympics where the former UCLA star smothered any and every player who came his way.
Once Westbrook finds himself on the other end of the floor, however, that discipline disappears.
Westbrook may be a profound scorer, but his shot selection must improve for the Oklahoma City Thunder to have a realistic chance to win the title. His shooting percentages of 31.6 percent from distance while attempting 3.0 threes per game should offer insight.
It's also a reflection of the ultimate contradiction.
Westbrook has, arguably, the best form of any player in the NBA on his jump shot. Nevertheless, it is inconsistent and often the cause for criticism. Relying heavily upon 15-to-20 foot jumpers will do just that to a stat sheet.
Should Westbrook clean up his shot selection, things could change. In fact, Westbrook could potentially become one of the top 10 players in the NBA.
2012 Season Averages
23.00 PER, 23.6 PPG, 5.5 APG, 4.6 RPG, 1.7 SPG