How the Miami Heat 'Big 3' Blueprint Changed the NBA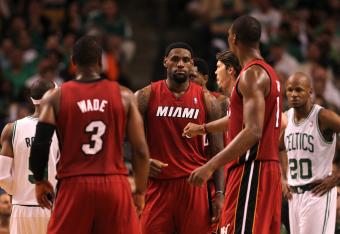 Jim Rogash/Getty Images
Gone are the ideas of a singular superstar leading a team consisting of one or two All-Stars and a plethora of role and specialty players to championship glory.
See Dirk Nowitzki and his gang of role players win a title in 2011? It may be the last time you see a team constructed as such winning a title. Because if the Miami Heat and Oklahoma City proved anything to us this past Spring, it's that the "Big Three" model is going to win titles, and not the former traditional method of having a superstar coupled with a few borderline stars and then a number of key role players.
The Thunder had no trouble breezing through Dallas, the Los Angeles Lakers and San Antonio Spurs, as Kevin Durant, Russell Westbrook and James Harden handled the scoring load. On the other side of the country, the Heat ran through the New York Knicks and the Indiana Pacers, needing only 11 games to get through their first two postseason series.
While I'd like to say the Pacers gave the Heat trouble, it's tough to argue when Indiana was beaten by two superstars.
The two teams that gave them trouble? Teams that were built off the "Big Three" model: the Thunder and the Boston Celtics, who created this idea of forming a three-headed monster to do the majority of the work. Without the Celtics leading a coup in the Summer of 2008, we may not be seeing all of these superteams being formed.
The Celtics completed the first "Big Three" and put a stamp of perfection on it by season's end. Upon trading for Kevin Garnett and Ray Allen to play alongside Paul Pierce, the Celtics won an NBA-best 66 games and an NBA championship in their first season. The "Big Three" played incredibly on both sides of the ball, with their chemistry telling the story of how they were able to execute and win an NBA title so quickly.
While Pierce, Garnett and Allen didn't do it all on their own, they received the help they needed from the role players who carried far less significance than the "Big Three" outside of Rajon Rondo, who acclimated to the Celtics system with ease.
Boston hasn't won a title since then, but they have threatened each year since winning it all in 2008. They won 62 games the following year and would have made a deeper run if not for the injury to Kevin Garnett. They won 50 games the next season and made a surprising run all the way to Game 7 of the NBA Finals. They then won 56 games the season after with the Heat's "Big Three" standing in their way.
If injuries and age didn't play such a large role, the C's could have easily gone for three consecutive titles between 2008 and 2010. Alas, that's the main concern when these teams create a "Big Three"—a heavy dependence on three players will cause problems if one of those three is injured or not playing up to par.
Over time, Rondo made it into a "Big Four" but that only came about because of the construction of the "Big Three." When you see consistent results such as winning a championship, making it to two NBA Finals and remaining dominant atop the Conference, obviously you're going to see other franchises attempt to create their own version.
Other teams wanted in on this and the first team to jump on the idea was the Miami Heat. Similar to how the Celtics surrounded Paul Pierce, the Heat surrounded Dwyane Wade with LeBron James and Chris Bosh. However, unlike the Celtics who created their "Big Three" with aging veterans who were looking to secure a title before their career's came to an end, the Heat managed to sign three players in their primes.
The Heat over the past two seasons have proven just how difficult it could actually be. The Celtics had the right idea to sign three players who all had set niches in the system, while the Heat signed two players who possessed nearly the same exact game. At first, this created problems because you had the two deferring to each other, getting wires crossed and taking turns handling the ball.
Compare that to the Celtics who had a slasher/shooter in Pierce, a perimeter shooter in Allen and a low-post and mid-range player in Garnett. These three had the chemistry not just because they were wily veterans who had played the game of basketball a few times, but also because each player had a role coming in and didn't have to make too large of an adjustment.
The Heat, on the other hand, needed their star players to make significant adjustments before finally righting the ship. However, like the Celtics "Big Three" when Garnett went down in 2009, the Heat couldn't make up for the loss of LeBron James when he mentally went down in the 2011 Finals. Living and dying by the sword.
Since then, the Heat's experiment has panned out well with two NBA Final appearances and a championship to show for it. Face it: when you get chemistry like this, it's incredibly difficult to find ways to limit it.
Not only has the Heat's "Big Three" continually formed great chemistry, but their influence is being shown in the amount of players who want to come along for the ride. Role players like Udonis Haslem, Mike Miller, Ray Allen, Rashard Lewis and Shane Battier have all taken pay cuts just to sign on with the Heat.
Clearly this team has separated themselves from the rest of the pack in the East. What it has done, however, has created inequality between a select number of elite teams and the rest of the league. Unless there is another team like the Thunder that is fortunate enough to build through the draft, you won't see too many dark horses emerge and give teams like Miami and OKC a significant run for their money.
When it comes down to it, those two teams are too powerful. They each have three players who can take turns leading their team and they have the role players, whether they were acquired through free agency or the draft, to give them the boost they need. There's no competing for the teams that either don't have a "Big Three" or the depth to compete.
So as the old saying goes: "If you can't beat them, join them."
We are seeing an influx of "Big Threes" forming across the league. The New York Knicks, Brooklyn Nets, Los Angeles Lakers and Memphis Grizzlies are just a few teams who have attempted to create their own version of a "Big Three" in an attempt to compete with teams like Boston, Miami and Oklahoma City.
While some aren't as successful, there are juggernauts like the Lakers being created and it's painful to the league.
As entertaining as it may be to watch these teams, it's incredibly disappointing to know the only teams that stand a chance at winning the title next year. There aren't any teams out West touching the Lakers or Thunder and it'll be a surprise to see any team challenge the Heat outside of the Celtics. You can vouch for Brooklyn and Indiana out East and you can do the same for Dallas or Denver out West, but it's not going to make a difference come May.
There is too much talent and firepower loaded onto so few teams, which is creating a lack of opportunities for the average and lower-tier teams to catch up.
The teams with low salaries don't even stand a fighter's chance. How do they expect to compete with team's that are giving $20 million away like they were free iPods? Teams like Detroit and Sacramento can't match any elite team, unless they miraculously find a once-in-a-blue-moon player like Kevin Durant.
Of course, we simply can't blame those elite franchises for managing their money well and making the convincing argument on why superstars should swallow their pride and play with other superstars. It's the players who are wanting to jump ship in order to win a title without having to be the singular focus on their former team. The money isn't as good, but the endorsements that come with winning titles make up for it real fast.
In all honesty, it's tough to say whether this is a good or bad thing for the league. On one end of the spectrum, you have an enormous barrier between four or five select teams and the rest of the league, but on the other you have the best television ratings the NBA has seen since Michael Jordan made his "final" shot against Utah in 1998.
In other words, David Stern has no problem with it, and neither do the fans who made the 2012 NBA Finals the second most-watched Finals in history.
We're going to continue seeing "Big Threes" pop up around the league because there are franchises that want to compete with L.A., Miami and OKC. While the Lakers may go away in a few years and the Heat will soon follow, the Thunder have three All-Star caliber players under the age of 24 and two of them are signed for the long run.
NBA franchises are either going to have to make significant moves or hope and pray that this eventually blows over. Otherwise, it's going to be Miami vs. Los Angeles or Miami vs Oklahoma City in the NBA Finals for the next five years.
It's not like you, dear reader, will have a problem with it, right?
This article is
What is the duplicate article?
Why is this article offensive?
Where is this article plagiarized from?
Why is this article poorly edited?

Miami Heat: Like this team?