Comparing Top NBA Rookie of the Year Award Candidates to Previous Winners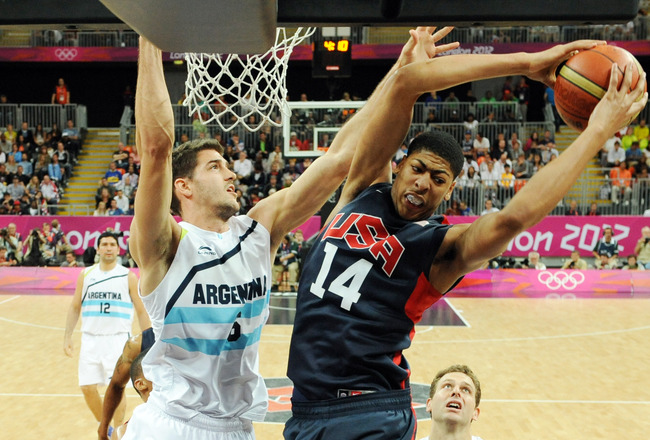 Pool/Getty Images
The end of the Olympics left us with a huge basketball hole in our lives, especially now that most of the free agents have been signed, the NBA draft is long past over and Dwight Howard finally got traded. Most teams seem to be looking to sit tight until training camp, possibly adding one or two more middling guys along the way.
However, sitting and doing nothing can't satiate our thirst for basketball. We need to do something with our downtime, so we might as well start looking forward and prematurely making predictions and handing out awards. What else is the offseason for but speculation, right?
For the want of entertainment and a conversation, let's take a look at the top of the incoming rookie class and what they could potentially bring to the table this season. More specifically, let's gander at the Rookie of the Year Award contenders and think about who they remind us of from the past.
Who is going to win the award is still very much up in the air, even though everyone seems to be convinced that it's Anthony Davis' to lose. Who do these top rookies most resemble of the guys who have won the award in the past?
Thomas Robinson: Buck Williams
Jeff Gross/Getty Images
It's a bit depressing how easily some of the more hard-working yet slightly less prominent players slip into obscurity in the years following their retirement, because Buck Williams seems to be a guy for you to teach your kids to play like.
Buck Williams wasn't a guy who was going to take the roof off the arena with high-intensity scoring, but he was a guy who would rebound like a man and relish playing hard-nosed defense night in and night out, plus he could score in the post when asked to. Sound like anyone to you?
Sacramento basically drafted Thomas Robinson based on his ability to rebound and play defense with hope that his offensive game will follow in the years to come. Robinson could end up being more than just a rebounder and defender in the future, but for now he's an athletic Buck Williams, and that's not a bad thing.
Others Considered: Backward Blake Griffin; rich man's Emeka Okafor.
Michael Kidd-Gilchrist: Brandon Roy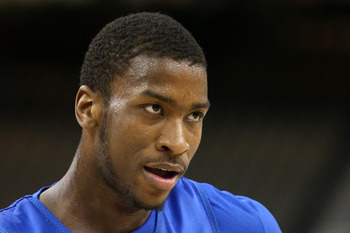 Ronald Martinez/Getty Images
Brandon Roy and Michael Kidd-Gilchrist are very different players, but they have built their game from the same two principles. Both are hard workers, and both have a very high basketball IQ.
Roy went on to become a great offensive player whose defense was bolstered by his athleticism and his knowledge of the game, while Kidd-Gilchrist looks to be a great defensive player with an offensive game bolstered by his athleticism and his knowledge of the game.
What is interesting about the two players is that they are both (or used to be, in Brandon Roy's case) extremely athletic, but it's not the basis of their game. They rely on more refined basketball knowledge and their own determination and motor to be great basketball players.
It's not their skills that make them similar basketball players, but rather the way they approach the game.
Others Considered: Vince Carter; small Chris Webber and Grant Hill.
Jonas Valanciunas: Amar'e Stoudemire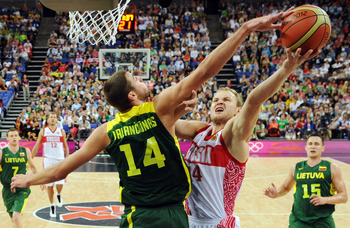 Pool/Getty Images
Let me first say that this is being very generous to Jonas Valanciunas and his abilities, but there are few people who have ever won the award that compare to Valanciunas, and almost none that play his position.
As an international phenomenon, Jonas has gained acclaim for his athletic ability, his ability to run the floor incredibly well and the ever-increasing range on his jumper. There's a lot of room for him left to grow, however.
Amar'e was similarly athletic and raw in his rookie year back in 2003, but he wasn't nearly as skinny, and his athleticism went beyond just jumping. His speed was explosive.
Valanciunas could very well end up putting together a fine NBA career, even averaging out as good as or better than Stoudemire if everything goes right. Let's just hope that he has insurable knees.
Others Considered: Giant, less athletic Larry Johnson; bizarro Emeka Okafor.
Bradley Beal: Mitch Richmond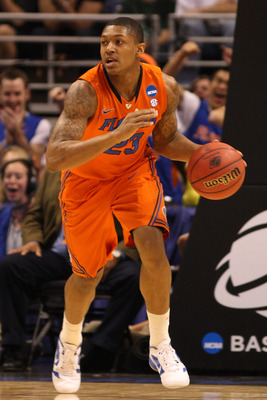 Christian Petersen/Getty Images
Bradley Beal looks to be a remarkable young basketball player, even drawing comparisons to Ray Allen in the months leading up to the draft. But I'm not ready to call someone the next great shooter of a generation before he even plays a minute of NBA basketball, especially after shooting 34 percent from three-point range last year.
However, there's still a lot to see in Beal. He's a very good ball-handler, he can get his own shot and he's fast. Plus, he does have a pretty jump shot, even if he struggled a bit from beyond the arc last season.
The 1989 ROY winner Mitch Richmond was able to run and gun with the Run TMC Warriors of the early '90s very well, as Beal should be able to do with the Run WBN (I don't think that one works quite as well) Wizards.
Others Considered: Darrell Griffith for his ability to score in bursts and his prowess above the rim; Geoff Petrie for his pretty jumper and versatility.
Anthony Davis: Tim Duncan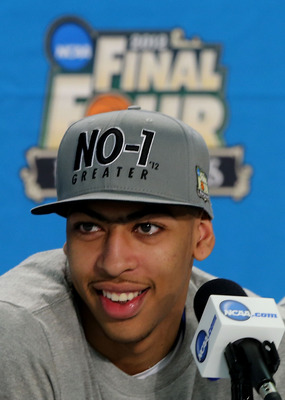 Jeff Gross/Getty Images
The comparison has been made over and over again at this point, but Anthony Davis has a lot of Tim Duncan in him.
For one, he's a superb defensive talent. That's the biggest reason people see Davis going on to have a terrific NBA career. He locks onto rebounds like a heat-seeking missile, blocks shots like he doesn't get fed if he doesn't match a quota and never complains if he doesn't get the love on the offensive end.
Like Duncan, Davis has a tremendous basketball IQ, plays hard and is consistent to no end, with few visible flaws to his game.
Unlike the 1998 Rookie of the Year, Davis' offensive game isn't quite as polished yet (Duncan did spend four years at Wake Forest, whereas Davis played just one at Kentucky), but his offense should grow as the season and his career wade forward.
Others Considered: Blake Griffin for his potential as a game-changer and ability to put down alley-oops like a fat kid puts down cake; Dave Cowens for his unique style of play, defensive dominance and unruly motor.
If you are one of those twitterers, you can follow me @JDorsey33.
Keep Reading