7 Biggest Threats to Anthony Davis Winning NBA Rookie of the Year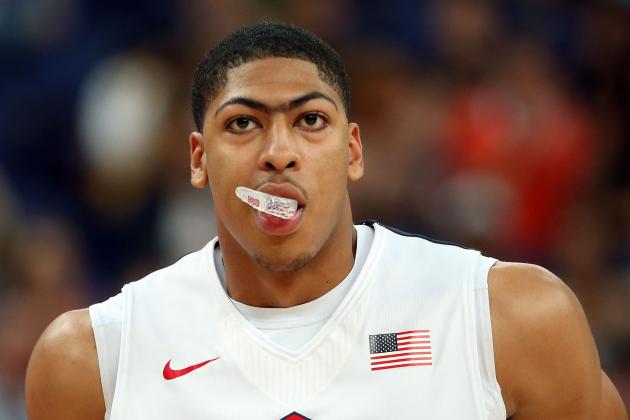 Christian Petersen/Getty Images

Thus far in 2012, Anthony Davis has won an NCAA title with the Kentucky Wildcats, locked up National Player of the Year honors as a freshman and been selected first overall in the NBA draft by the New Orleans Hornets. He capped it all off by winning a gold medal at the Summer Olympics with Team USA.
Needless to say, it's been a tremendous year.
NBA Rookie of the Year is likely the next award on his radar. As the first overall pick in the draft, Davis is the early favorite to win the award. However, there is a group of rookies threatening to steal the award out from underneath Davis' unibrow.
We won't know the true favorites to win the award until the season is in full swing, but here are seven early threats to take what Davis has been projected to win during the 2012-2013 season.
Begin Slideshow

»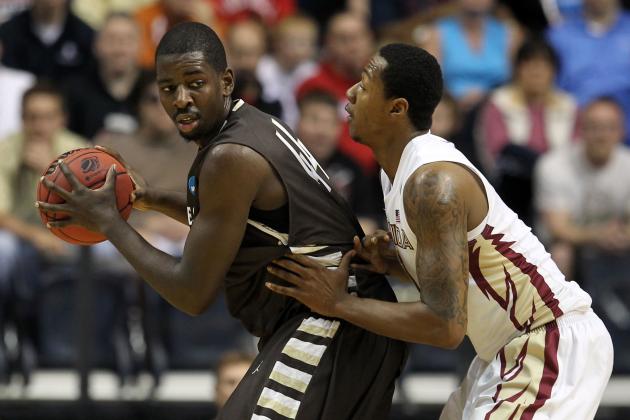 Jamie Squire/Getty Images

Following the four-team trade that sent Dwight Howard packing from Orlando, the Magic are an absolute mess. The haul they got in return for the league's best center was a quantity-over-quality bunch that Grantland's Bill Simmons likened to a Pu Pu platter.
Instead of taking Brooklyn's trade offer in July, which would have sent Brook Lopez, MarShon Brooks, Kris Humphries and four unprotected first-round picks back to Orlando, the Magic ended up with Arron Afflalo, Al Harrington, Nikola Vucevic, Moe Harkless, Josh McRoberts, Christian Eyenga, three protected first-round picks and two second-round picks.
Needless to say, Magic GM Rob Hennigan should have pulled the trigger on the first deal.
At power forward and center for next season, the Magic have Vucevic, Harrington, McRoberts, Glen Davis, Kyle O'Quinn, Justin Harper, Gustavo Ayon and Andrew Nicholson.
Nicholson, the team's 2012 first-round draft choice, should be able to find a steady niche among that grab-bag of mediocrity. However, with so many other players on the roster prepared to outplay the competition and secure a slot in the rotation, Nicholson's odds of receiving big minutes are admittedly murky.
During his senior season at St. Bonaventure, Nicholson averaged 18.5 points, 8.4 rebounds and two blocks per game. He was an extremely productive player in college, and although that may not translate to the NBA level, I'm confident in his abilities.
Even so, the Magic's mess of a roster may not allow Nicholson the minutes he needs to thrive as a Rookie of the Year candidate.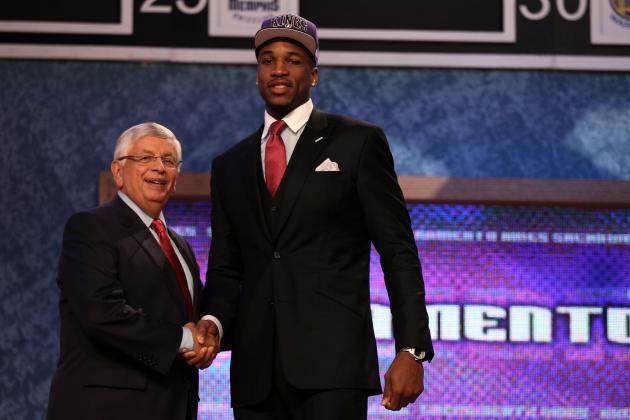 Elsa/Getty Images

Many mock drafts leading up to the 2012 NBA draft pegged Thomas Robinson out of Kansas as the second overall pick.
On draft night, however, Robinson fell all the way to No. 5 overall to the Sacramento Kings.
As a junior at Kansas last season, Robinson averaged a comfortable double-double of 17.7 points and 11.9 rebounds. The 6'10" power forward also shot a highly respectable 50.5 percent from the field.
Those numbers were impressive, but Robinson's stats during the NBA Summer League left a lot to be desired.
Over the course of five summer league games, Robinson averaged 13 points and 9.8 rebounds per game. Although those numbers were both down from his college averages, they were tolerable stats.
What wasn't tolerable about Robinson's performance was the fact that he shot a pathetic 34.4 percent from the field and 53.8 percent from the free-throw line and notched 4.6 personal fouls per game and an astounding 4.8 turnovers per game (including eight turnovers in one game against the Charlotte Bobcats).
Robinson was picked fifth overall in the NBA draft for a reason, but he didn't show why he deserved to be taken that high with his summer league performance. Luckily for Robinson, five summer league games do not define the type of NBA player you'll become.
Derrick Rose struggled in summer league and went on to win an MVP award, so you can take the numbers Robinson had with a grain of salt.
Although Robinson has looked shaky in the early stages of his NBA career, he'll likely be a starter by day one. If not, he'll still get a great deal of playing time beside the Sacramento Kings' stud big man, DeMarcus Cousins.
Robinson has a long way to go before he embraces his potential, but he should display a solid rookie year regardless of his raw basketball skills.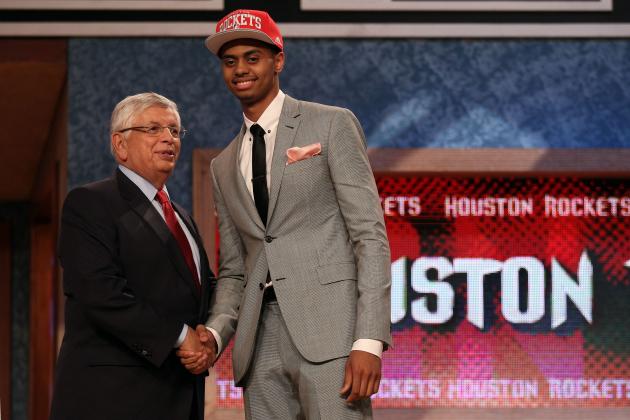 Elsa/Getty Images

Jeremy Lamb—or "Sleepy," as I enjoy calling him—is one of the most talented pure scorers entering the NBA from this year's draft class.
Lamb averaged 17.7 points per game for UConn last season, while shooting 47.8 percent from the field. Continuing the scoring trend, Lamb averaged an even 20 points per game during the NBA Summer League, leading the Houston Rockets to a 4-1 record.
So why does Lamb lock in at just No. 5 on the list?
Well, although Lamb is a great scorer and put up impressive numbers during summer league, he's hindered by the fact that other rookies (Royce White and Terrence Jones) will be fighting for extra playing time. He's also bumped down on the Rockets' depth chart behind the current shooting guard, Kevin Martin.
For his career, Martin averages 18.4 points per game. Not only is he a pure scorer like Lamb, but he's proven that he can be consistently successful at the NBA level.
While Martin probably doesn't fit in with the Rockets' current framework, he's entering the final year of his contract, which is set to pay him more than $12.4 million.
Even though the Rockets would love to develop Lamb as much as possible next season, you simply can't bench a guy who's set to make the most money on the roster.
The chances Houston chooses to trade Martin moving forward, however, seems like a high possibility. If that speculation comes to fruition, Lamb will undoubtedly take over the starting job at shooting guard and could very well win this season's Rookie of the Year.
For the moment, though, Lamb is overshadowed by the veteran.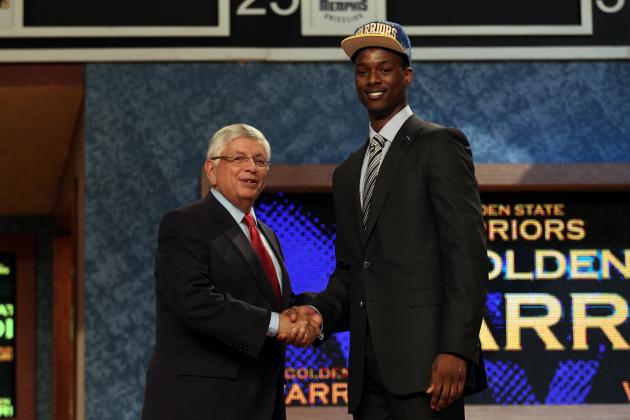 Elsa/Getty Images

Harrison Barnes may not be the Golden State Warriors' first or second offensive option next season playing beside Stephen Curry, Klay Thompson, David Lee and Andrew Bogut, but he'll no doubt be in the scoring mix.
The Warriors have a chance to be one of the most high-powered offenses next season, which is good considering they won't be a very good defensive squad.
There will be plenty of scoring opportunities on this athletic, up-tempo squad, so don't be surprised if Barnes ends up leading all rookies in points per game a season from now.
If Barnes ends up winning Rookie of the Year next season over Anthony Davis, he'll have to score a ton of points while playing a significant role on a Warriors team that may have to make the playoffs. If the Dubs fall back in the draft lottery with high expectations for next season, Barnes may get overlooked in the voting.
Even so, Barnes and Thompson created a dynamic one-two scoring punch in the summer league. If that scoring prowess continues into the regular season, Barnes has a legitimate shot at the award.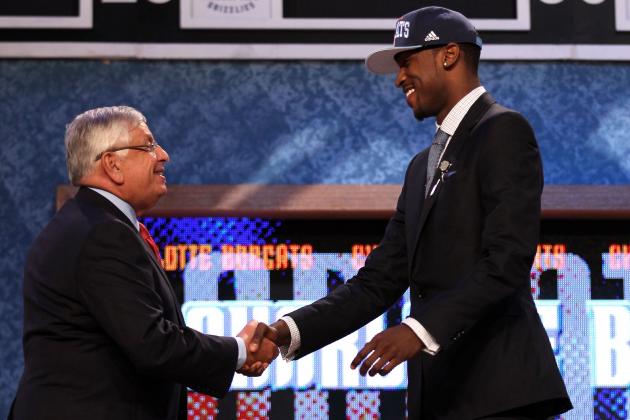 Elsa/Getty Images

Michael Kidd-Gilchrist gained a reputation leading up to the draft as being a lockdown defender who has a long way to go on the offensive end of the court.
Well, during his lone summer league game, MKG silenced a lot of doubters with his performance.
Not only did Kidd-Gilchrist swipe four steals and grab eight rebounds, but he also notched 18 points on 7-of-12 shooting from the field (knocking down his only three-point attempt).
MKG didn't look raw or inept on the offensive end of the court at all. In fact, he looked quite solid. Unfortunately for MKG fans, a knee injury prevented him from playing in more than just the one game.
Kidd-Gilchrist will still rely heavily upon his defensive prowess to start fast breaks for easy baskets over the course of his first NBA season, but he may surprise a lot of scouts with his mid-range and outside shooting abilities.
Defense is often overlooked by casual NBA fans, and MKG's former teammate, Anthony Davis, will likely be just as brilliant on the defensive end of the court next season. But Kidd-Gilchrist may add in the offensive package to a well-rounded game.
MKG will get a ton of minutes on a putrid Charlotte Bobcats team next season. However, even though he'll get plenty of minutes to put up solid numbers, he may get overlooked while playing for the league's worst team.
The Bobcats can't possibly be worse than they were a season ago, so although they'll be better, being improved from the worst season in NBA history isn't saying much.
Kidd-Gilchrist is certainly a threat to win Rookie of the Year, but playing for the lowly Bobcats may hinder his chances at the award.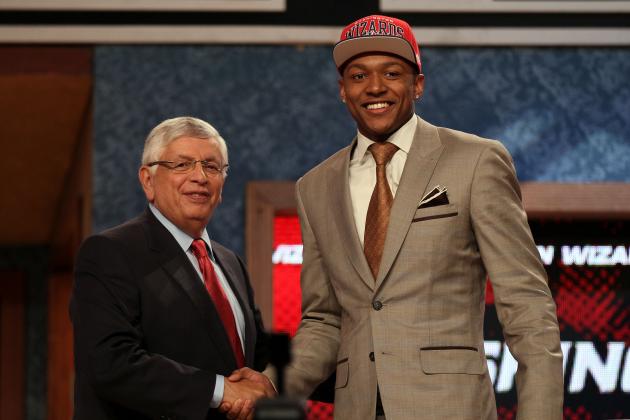 Elsa/Getty Images

As the third overall pick in the 2012 NBA draft, Bradley Beal is drawing early comparisons to Hall of Fame-bound sharpshooter, Ray Allen.
Beal was projected as the best jump shooter in the 2012 draft and landed with the Washington Wizards, which is arguably the best situation he could have asked for.
The revamped Wizards have Nene and Emeka Okafor in the post, Trevor Ariza out on the wing and John Wall directing the offense. What they sorely needed was an outside shooter who could spread the floor with his range.
They got exactly what they needed in Beal.
Although the former Florida Gator is in a great situation to aid his development and play to his strengths, the Wizards will need to spread the wealth in the offense to be successful. Wall needs to be aggressive and score the ball while setting up teammates. Ariza needs to slash to the basket and knock down open threes. Nene has to assert his dominance in the post and put up points.
With all of the other options available, Beal probably won't have the opportunity to put up huge scoring numbers.
He'll be an efficient scorer next year, but he may only average about 15 points per game. Will that be enough to outplay Anthony Davis next season? We'll have to wait and see.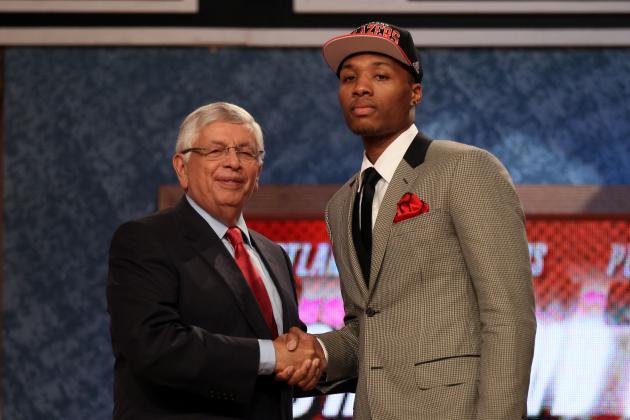 Elsa/Getty Images

Damian Lillard may hail from Weber State, where he played lackluster college competition and put up huge numbers as a result, but he's proving again and again that despite playing for a lesser-known basketball program in college, he's no joke.
Lillard absolutely eviscerated the NBA Summer League (h/t David Page of Hoopsworld), leading to co-MVP honors with Josh Selby (h/t Alex Kennedy of Hoopsworld).
For good reason, Lillard also has no evident lack of swagger and confidence.
According to Alex Kennedy of Hoopsworld, leading up to the NBA draft, Lillard felt he was the best point guard in the draft class.
Draft scouts thought that Lillard's ability as a pure point guard should be questioned because the most assists per game he ever recorded in four seasons at Weber St. was just four per game during his senior season. Although that appeared to be a valid concern, Lillard had something to say about that, according to Kennedy:
I think my game will translate well to the NBA. I think I'll still be able to score the ball, especially since I'll have NBA-level players around me, but I'll be able to make the players around me better as well. I don't think I get enough credit for how I pass the ball because at Weber State I had to score a lot. That's fine though. People will see what I can do at the next level.
With his scoring ability and underappreciated passing skills, Lillard could create a formidable one-two scoring punch with the All-Star potential of LaMarcus Aldridge in Portland.
In the early going, Lillard is my favorite to unseat Davis as the Rookie of the Year front runner next season.