It was another outstanding day for the Americans in a slew of Olympic events.
Day 14 will be considered the day the US took a slight lead over China and extended it out of reach. With the conclusion of action on Friday, the US now has 94 total medals (41 gold) while China has 81 (37).
While it's premature to consider America the overall winner, it's time to put the champagne on ice. Here are some of the tweets, pictures and Instagrams from Day 14 of the Olympic Games in London.
#BoutTime
Wrestling is finally in full swing and the hope of American gold resided on the shoulders of Jordan Burroughs. He had to endure some rough sledding early and was placed in this rather uncomfortable position (via Olympics Twitter feed):
Down but not out instagr.am/p/OKDLY5GLnd/

— Olympics (@Olympics) August 10, 2012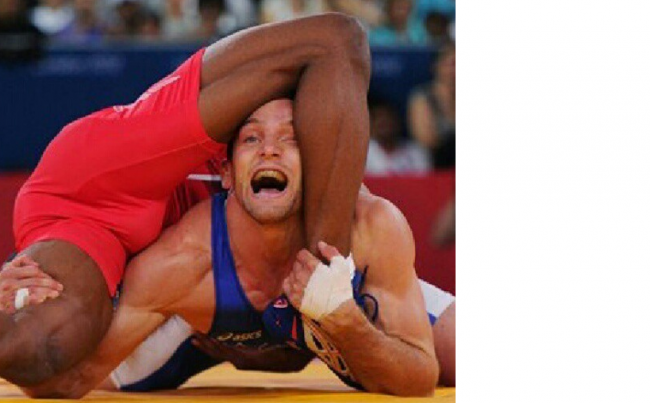 Burroughs came through for the US by winning gold in the 163-pound division over Sadegh Goudarszi of Iran. Afterwards he snapped a shot of his new favorite piece of jewelry:
I did it! 2012 Olympic Gold Medalist! twitter.com/alliseeisgold/…

— Jordan Burroughs (@alliseeisgold) August 10, 2012
What makes the day even better is the $250,000 bonus he received from USA Wrestling for the win.
Life is good.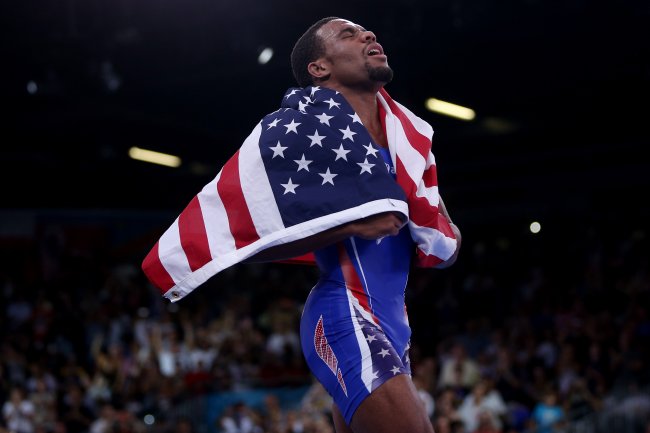 Feng Li/Getty Images
#BusinessAsUsual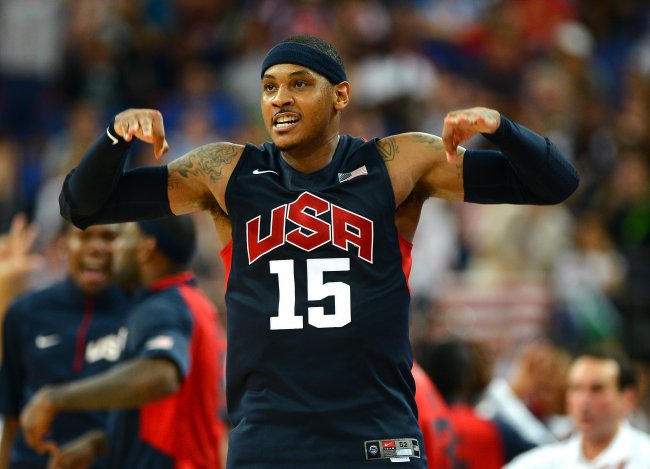 Lars Baron/Getty Images
The US men's basketball team easily beat Argentina 109-83 to reach the gold-medal match in a game that followed the same script of the entire tournament. That includes a postgame Instagram of the team from Chris Paul:
Post Game...#1MoretoGo instagr.am/p/OKiK_dSjeI/

— Chris Paul (@CP3) August 10, 2012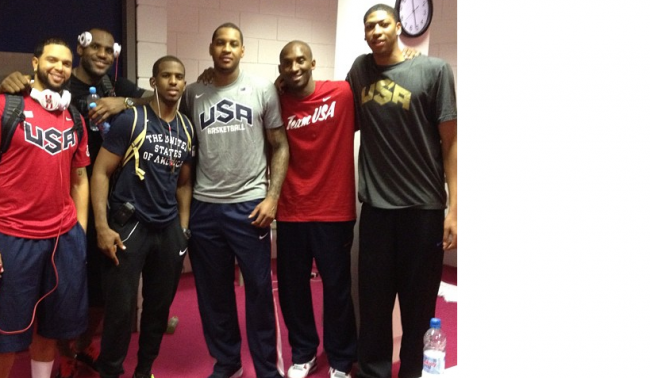 #WorldRecordShattered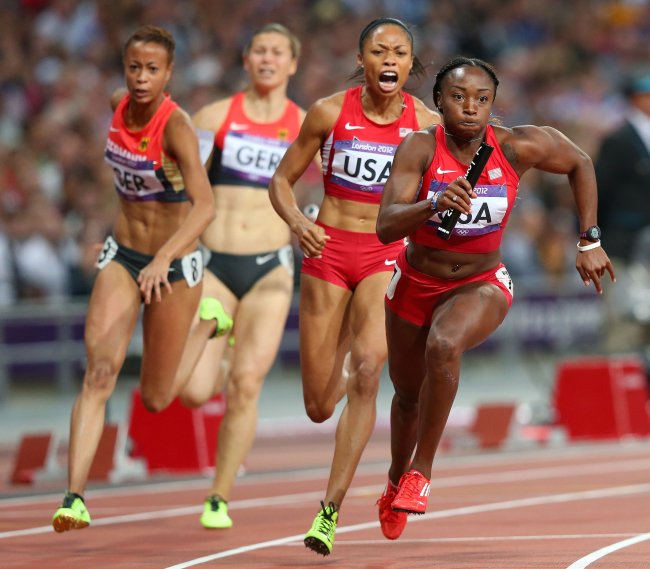 Alex Livesey/Getty Images
Remember the names Tianna Madison, Allyson Felix, Bianca Knight and Carmelita Jeter. They are now the world record holders in the 4x100 after a eye-popping time of 40.82 seconds. The East German's 1985 record of 41.37 has been destroyed.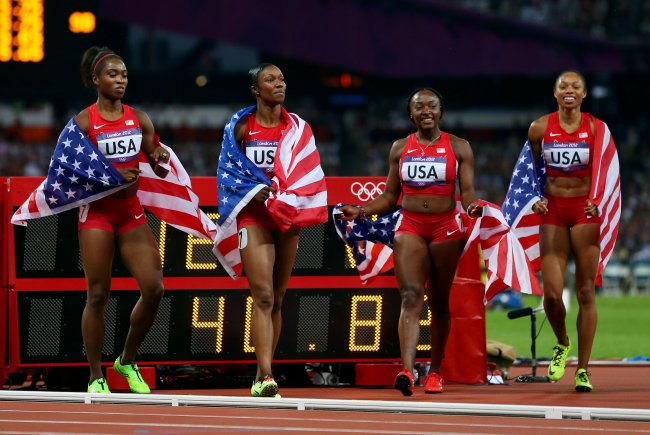 Alexander Hassenstein/Getty Images
This image gives you a look at just how badly the squad beat the competition (via london2012.com):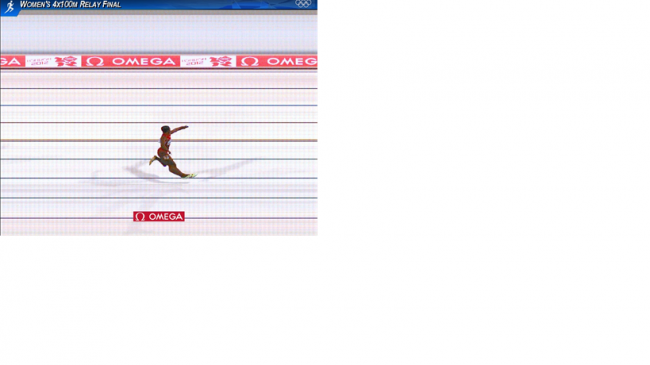 #BaskingInOlympicGlory
With most of the Olympics now completed, it's time for athletes to relax and enjoy all of the fame and success coming in their direction.
For women's soccer goalie Hope Solo and swimmer Ryan Lochte, it's appearing on NBC's Today Show:
@hopesolo and I on the @todayshow twitter.com/ryanlochte/sta…

— Ryan Lochte (@ryanlochte) August 10, 2012
Jamaica's Usain Bolt is arguably the fastest runner in the history of the world, so clearly the only thing left to do is tweet a picture of yourself holding up some sort of hand signal:
Just posted a photo instagr.am/p/OJ9UIZIcRw/

— Usain St. Leo Bolt (@usainbolt) August 10, 2012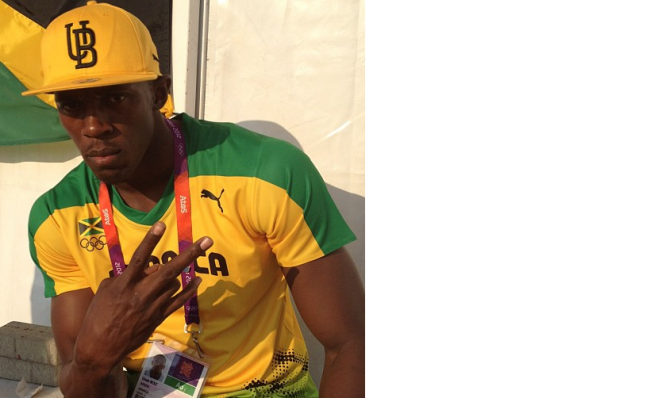 Then there is the classic medal pose.
American boxer Claressa Shields won the middleweight gold medal in women's boxing in dominating fashion at the age of 17. The Flint, Michigan native was one of the only athletes to come through for her country in the sport, and you bet she was proud to show off her prize:
I'mma gold medalists and I know it!!!!!!!!! Bow! instagr.am/p/OJ49groam-/

— Claressa Shields (@Claressashields) August 10, 2012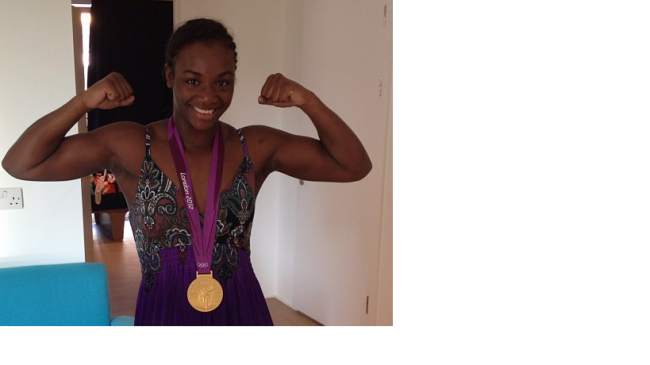 #GoodMorningDenver
The Dwight Howard four-team trade went down around midnight ET in the states, and odds are Andre Iguodala was fast asleep in London.
Imagine waking up in a time zone five hours away to find out you've been traded from the Philadelphia 76ers (the only team you've ever played for) to the Denver Nuggets. Iggie certainly took the news in stride:
I'm excited to be joining the @denvernuggets and I know my best basketball is ahead of me!

— Andre Iguodala (@mindofAI9) August 10, 2012
#AirUpThere
Sometimes watching an event on TV doesn't give the sport justice. Sometimes a still photograph is the only way to truly appreciate the breathtaking ability of these athletes. Put the long jump into that category (via Olympics Twitter feed):
Long distance leap #athletics #olympicsinstagr.am/p/OJ-rCEmLkQ/

— Olympics (@Olympics) August 10, 2012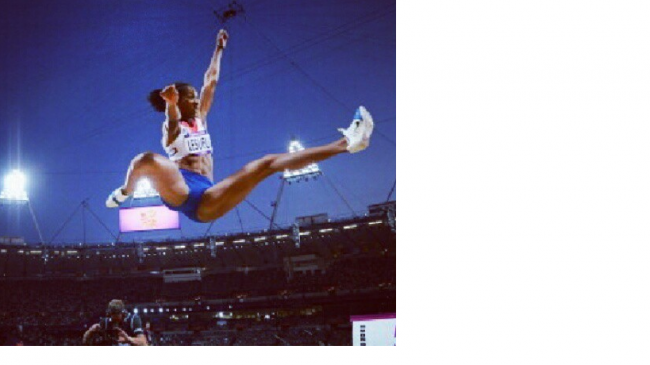 #StarPower
Great Britain's field hockey team won their first medal in 20 years, and a certain British celebrity was on hand to watch according to the USA Field Hockey Twitter account:
Kate Middleton was in the crowd to watch Great Britain's women win their first Olympic field hockey medal in 20 years #bronze

— USA Field Hockey (@USAFieldHockey) August 10, 2012
#GoodNightLondon
After another day of thrilling track and field events, NBC's Joe Battaglia provides us with a picture of the Olympic Stadium light show after the crowd cleared out:
Tonight's light show at #olympic stadium twitter.com/JoeBattagliaNB…

— Joe Battaglia (@JoeBattagliaNBC) August 10, 2012