NBA Trade Rumors: Stars Who Could Be Moved Early Next Season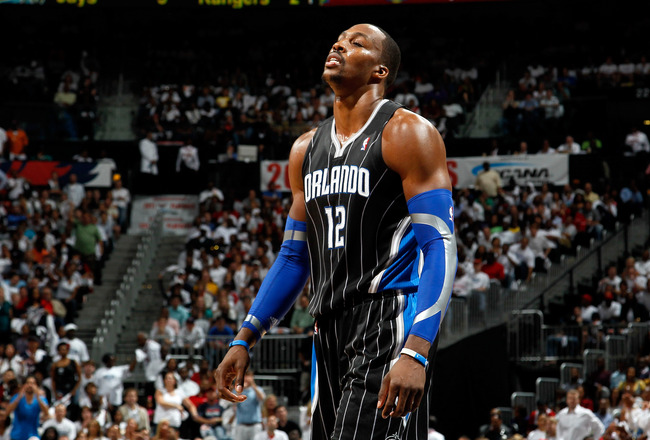 Kevin C. Cox/Getty Images
All has been relatively quiet on the trade front lately, but there's a pretty good reason for that. Until the first all-important domino that is Dwight Howard falls, the rest of the league's buyers and sellers will have to take a wait-and-see approach.
If Fox Sports' Sam Amico is correct about the Orlando Magic's time frame, those other organizations might not have to wait much longer. Amico suggests there could be some serious movement early this month:
While some sources said the Magic could possibly hold on to Howard until the February trading deadline, the majority seem to think the team will again try working the phones to see what develops.
Of course, things rarely work out as conventional wisdom suggests they should. That means all those sources could be in for a few surprises.
Howard might start the season with the Magic after all—though he probably wouldn't stick around for too much longer.
He's not the only one who could be in store for an early departure. Here's a look at some big names who could be on the move after the season is underway.
Andre Iguodala, Philadelphia 76ers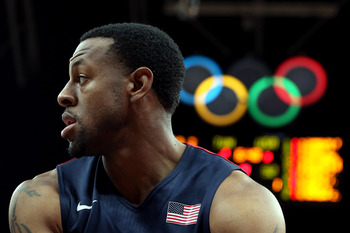 Christian Petersen/Getty Images
It wouldn't be especially classy to trade a guy while he's busy representing his country in the Summer Olympics.
Perhaps that's why CSNPhilly.com's John Finger is reporting that Andre Iguodala isn't going anywhere this offseason:
According to a source, a trade involving Iguodala "won't happen" during the off-season. As a result of that, the Sixers' off-season tinkering to their roster is complete and aside from a few free agents who get invitations to training camp, the team is set.
Notice that Finger doesn't make any promises beyond this summer.
There's good reason for that.
Iguodala isn't exactly ancient, but he's one of the older and more expensive pieces of a young cast. Though he's still a versatile athlete, it's not entirely clear that he fits with the 76ers' plans.
Iggy has a player option to return in 2013-14, but the 76ers might look for other ways to spend their money. That would mean parting ways with Iguodala first.
Dwight Howard, Orlando Magic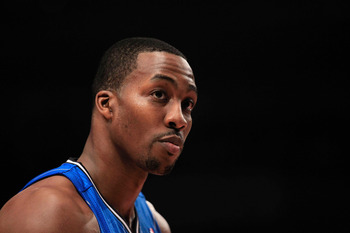 Chris Trotman/Getty Images
Though there's a compelling argument for why Dwight Howard will be well on his way before the summer is over, don't be too sure.
According to the Orlando Sentinel's Josh Robbins, new Orlando general manager Rob Hennigan isn't committing himself to a particular time frame:
"As I've said all along, we're going to just continue to stay true to our process and let the process sort of dictate the opportunities and the scenarios that present themselves," Hennigan told the Orlando Sentinel in a telephone interview Saturday.
As painful as it would be for the saga to draw on any longer, there's little doubt that Hennigan is attempting to compensate for any appearance of desperation.
By assuring suitors that they're in no rush, Orlando's front office hopes to create something of a bidding war. With so few teams in a position to make a serious run at Howard, that bidding war hasn't emerged as naturally as you might expect.
A similar tactic worked for the Denver Nuggets when Carmelo Anthony wanted out, so the Magic could find themselves benefiting from a patient approach.
Andrew Bynum, Los Angeles Lakers
Stephen Dunn/Getty Images
If Dwight Howard is on the move, there's a good chance Andrew Bynum will be too.
ESPN's Ric Bucher explains that any deal sending D12 to the Los Angeles Lakers would likely send Bynum to either the Houston Rockets or Cleveland Cavaliers, who'd in turn send young assets to the Orlando Magic.
Perhaps there's a reason Bynum's agent hasn't had any conversations with Lakers general manager Mitch Kupchak about a contract extension for his client. If a deal is indeed looming, those talks wouldn't make a whole lot of sense.
The 24-year-old Bynum had a career year last season, and his value is at an all-time high. He's developed an impressive post game and stands out as one of the best rebounders in the league.
James Harden, Oklahoma City Thunder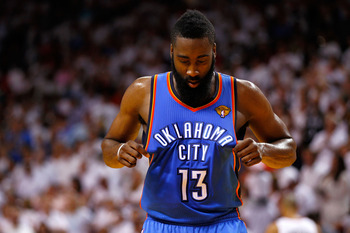 Mike Ehrmann/Getty Images
After giving opponents reason to fear the beard for the better part of the postseason, he gave his own fans a reason to fear it in the NBA Finals.
But, if Harden is on the move, it won't be because the Oklahoma City Thunder think they can do better. OKC could find itself struggling to retain both Harden and Serge Ibaka in the near future as they both approach big pay days.
If the Thunder believe the writing is on the wall, they could opt to deal Harden for a veteran or two that will fit within the budget for the next few years.
Harden may be better than Ibaka at this point, but it would be easier for the team to trade a backcourt scorer given that it also has Kevin Durant and Russell Westbrook filling it up on a nightly basis. Ibaka's ability to control the paint and block shots is a bit harder to replace.
Danny Granger, Indiana Pacers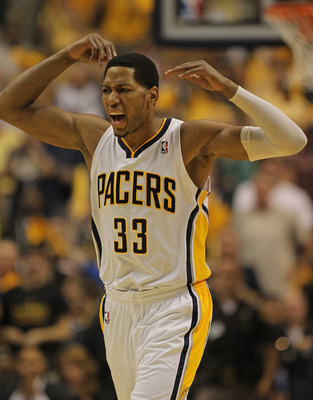 Jonathan Daniel/Getty Images
Danny Granger isn't old by any means, but it appears that his best days with the Indiana Pacers may already be behind him. If this roster struggles to maintain the improvement it displayed last year, Granger could be one of the first to go.
The organization has a new front office and could be taking its time to assess its next steps. As currently constructed, it's hard to imagine the Pacers consistently coming out ahead against teams like the Miami Heat, Boston Celtics and a healthy version of the Chicago Bulls.
Additionally, there's an argument to be made that the 29-year-old is somewhat redundant now that Paul George is coming into his own as a younger, more versatile version of Granger.
It's hard to assess Granger's value, but the Pacers should be able to land a shooting guard who can create his own shot and get to the free-throw line. At the moment, that would reason to be the team's biggest need.
Keep Reading