USA vs Nigeria: Report Card Grades for Every Team USA Player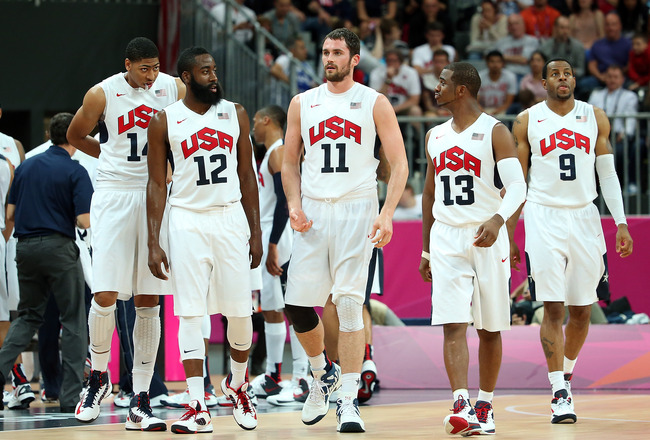 Christian Petersen/Getty Images
Team USA's dominant 156-73 performance against Nigeria will go down as one of the most lopsided Olympic displays of all time. This kind of shooting exhibition may well be matched one day, but it's hard to imagine that day coming anytime soon.
It was a team effort to be sure, but it was also the product of some exceptional individual performances.
Not a single member of the United States' star-studded squad had a bad game, but some stood out from the pack. From Kobe Bryant's flawless first quarter to Carmelo Anthony's record-setting outing, there were several achievements worth highlighting.
Here's a look at how each member of Team USA measured up in a game that wasn't close by any measure.
Tyson Chandler–Center
Mike Hewitt/Getty Images
It's not Tyson Chandler's fault that he was so irrelevant in this game.
When your team is shooting 71 percent from the field and attempting 46 three-pointers, there's only so much for a big man to do. Nevertheless, Chandler still managed to rack up five rebounds and contribute his usual intangibles.
In just 13-and-a-half minutes of action, he couldn't have done much more than that.
Grade: C+
LeBron James–Power Forward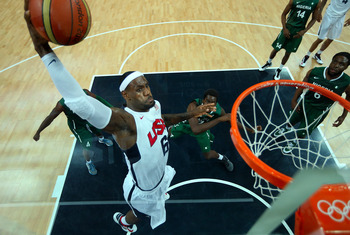 Christian Petersen/Getty Images
In a game like this, who needs LeBron James?
The world's best player took a backseat tonight, contributing six points and five assists in just under 11 minutes of playing time. Though his scoring wasn't needed, James deserves some credit for consistently setting up his teammates in a 49-point first quarter.
He reprised the facilitating role he played against Tunisia, and once again made everyone wonder just how many point guards do a better job of passing than the ever-versatile James.
Here's a hint: not many.
Grade: B-
Kevin Durant–Small Forward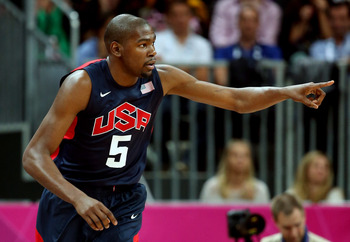 Christian Petersen/Getty Images
Kevin Durant wasn't the only one setting the tone in the first quarter, but he certainly had a lot to do with this squad's rare fast start.
Durant contributed 14 points in under 17 minutes, including four treys. More impressively, he added on six uncharacteristic assists. When a prime scorer like KD is doing that kind of damage, you know your team is moving the ball pretty well.
This guy may not go down as his team's most important player, but he's quietly been an integral to part to its ongoing success.
Grade: A
Kobe Bryant–Shooting Guard
Christian Petersen/Getty Images
Kobe Bryant has been used sparingly thus far in London, and it was beginning to look like he was saving his best for the medal rounds.
He was used sparingly once again against Nigeria, but that didn't stop him from tallying a quick 16 points. He was 6-of-8 from the field and looked as sharp as he's looked since the NBA playoffs.
If there were any doubt that he's interested in helping the United States get a gold medal, that doubt was erased in a silky smooth first-quarter shooting exhibition.
Grade: A
Chris Paul–Point Guard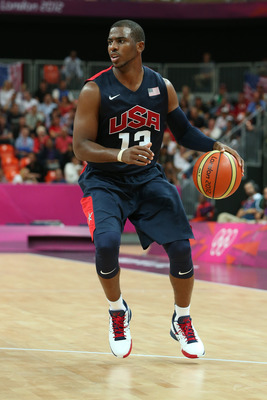 Christian Petersen/Getty Images
Chris Paul has been an afterthought through most of his stint with Team USA, but he looked pretty good against Nigeria.
Given the opportunity to pass the ball like it was an All-Star Weekend Skills Challenge, Paul made the most of it and dished seven dimes to go along with his seven points and two steals. The numbers weren't especially impressive given that the starting point guard played for over 21 minutes, but they were still a good sign.
Grade: B+
Kevin Love–Power Forward
Christian Petersen/Getty Images
Kevin Love picked up where he left off against Tunisia, scoring 15 points and grabbing six rebounds.
His ability to step outside and make perimeter shots once again confounded the opposition. The spread-4 has proven a useful weapon against Team USA's two most recent opponents. Love may not get big minutes in closer contests, but he's taken full advantage of his extended playing time in these blowout victories.
Grade: B+
Carmelo Anthony–Forward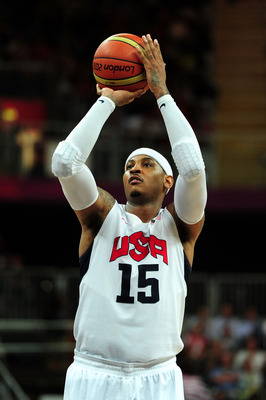 Mike Hewitt/Getty Images
If there were some kind of sixth-man award in the Summer Olympics, Carmelo Anthony would already have it locked up.
He's averaging over 20 points a game, and he put on a record-setting display with an insanely efficient 37 points. He scored those points in just 14-and-a-half minutes and made 13 of his 16 field-goal attempts.
Even more impressively, he made 10 of 12 three-point attempts.
We all knew this guy was one of the NBA's best scorers, but that doesn't make this any less amazing.
Grade: A+
Andre Iguodala–Forward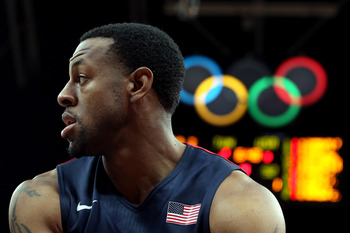 Christian Petersen/Getty Images
Andre Iguodala looked like a three-point specialist against Nigeria.
That's a first.
He scored all nine of his points going 3-of-3 from range, and he tacked on four rebounds for good measure. Iggy won't take over any of these games, but he's proven to be a steady presence and the kind of defender who deserves much of the credit for holding a team like Nigeria to 73 points.
Grade: B
Russell Westbrook–Guard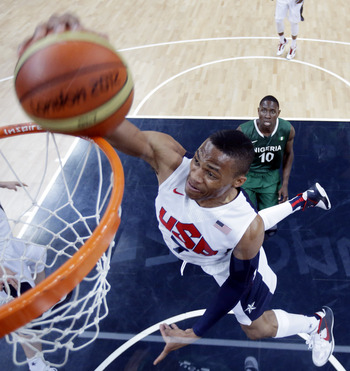 Pool/Getty Images
He threw down some nice dunks. He hit some three-pointers.
He even got three steals in his continued effort to remind the rest of Team USA that there was still some defense to be played.
Yes, Russell Westbrook did the things he does best. If it weren't for the brilliance Carmelo Anthony has brought to the floor, Westbrook would be getting a lot more recognition. He scored 21 points in just over 14 minutes, going 7-of-8 from the field in the process.
Good game. It might have gotten more attention had he made his mark before this contest was no longer a contest at all.
Grade: A+
Deron Williams–Point Guard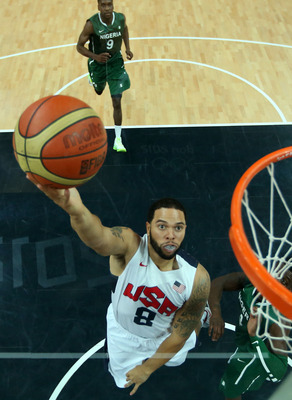 Christian Petersen/Getty Images
Deron Williams is quietly having one heck of a showing in the Summer Olympics. By the numbers, there's little question he should be starting.
If these lineups reflected actual performances instead of who had the biggest names, he probably would be starting. Maybe, just maybe, he's making something of a statement, at least to anyone who's paying attention.
Williams notched a double-double, and that's not easy to do in a little over 18 minutes. Nevertheless, he contributed 13 points and 11 assists to Team USA's effort.
Most importantly, he got Carmelo Anthony the ball.
Grade: A
James Harden–Shooting Guard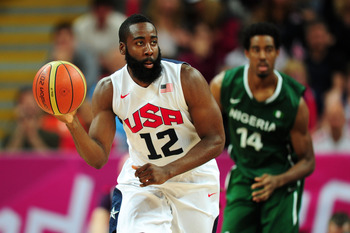 Mike Hewitt/Getty Images
You know it's a blowout when James Harden is playing over 20 minutes. But even the 11th man couldn't keep this game from getting out of hand.
Sure, he went just 1-of-5 from beyond the arc, but he still got seven points and four assists. Compared to his struggles in the NBA Finals, this was an MVP performance.
Harden may be a bit of a stretch as an Olympian, but the young star has held his own and looked pretty good on the receiving end of an alley-oop from NBA teammate Kevin Durant.
Grade: B-
Anthony Davis–Forward/Center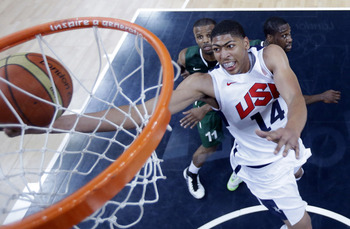 Pool/Getty Images
Anthony Davis has made the most of every single opportunity he's had to show his rookie stuff to the world.
And he's looked like anything but a rookie in the process.
He had nine points and six rebounds in just over 15 minutes against Nigeria. He didn't miss a shot either. Granted, he's not facing NBA competition, but New Orleans Hornets fans still have to be pleased as punch.
This number-one overall draft pick is going to be good.
Grade: A-
Keep Reading