Steve Nash vs. Jeremy Lin—Which Media Darling Will Steal Headlines This Year?
Use your ← → (arrow) keys to browse more stories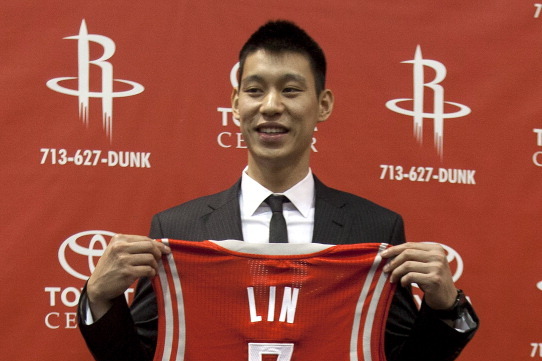 Bob Levey/Getty Images

Deron Williams was undoubtedly the best point guard to stir up the NBA's free-agent circus this summer. The three-time All-Star also signed the biggest contract (five years, nearly $100 million) to play in the biggest city (Brooklyn) with the most hyped team in the league (the Brooklyn Nets) heading into the 2012-13 season.
And yet, as far as the impending media feeding frenzy is concerned, once the season starts, D-Will will have to take a backseat to two other former free agents with ties to the Big Apple: Steve Nash and Jeremy Lin.
Linsanity's saga with the New York Knicks dominated the headlines in July—a remarkable accomplishment for a guy whose rise to stardom last season lasted all of 26 games.
Almost as remarkable as the three-year, $25 million "poison pill" contract that Lin's exploits netted him from the Houston Rockets.
The Knicks' decision not to match—perhaps to avoid paying approximately $43 million total in Year 3, when counting luxury tax penalties to be incurred by Lin's $14.8 million salary—rekindled a wide-ranging discussion about owner James Dolan's idiocy, the power and influence of William "World Wide Wes" Wesley, the incompatibility of Carmelo Anthony and Amar'e Stoudemire and the general quagmire that is and has long been Knicks basketball.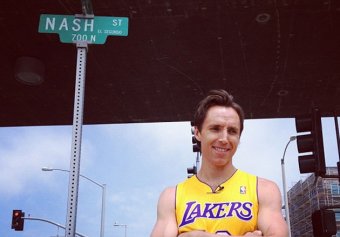 It's no wonder, then, that Nash ended up pushing for a deal with the Los Angeles Lakers, his arch rivals from his days with the Phoenix Suns, rather than signing on the dotted line with the Knickerbockers.
Well, that and his desire to keep his family close and his former enemies closer.
And, perhaps, his pursuit of an NBA title, which he probably didn't feel would be helped by joining the most dysfunctional franchise in The Association.
Instead, he'll be suiting up for one of the league's most successful outfits, on a squad that has all the makings of a championship contender. Rather than serving as the lubricant in New York's poorly constructed machinery or elevating a roster of nobodies in Phoenix (not to mention fulfilling some patriotic duty to waste away with the Toronto Raptors), the eight-time All-Star and two-time MVP will be the fourth in the Lakers' quartet of elite talents, alongside Kobe Bryant, Pau Gasol and Andrew Bynum.
And if Bynum gets swapped for Dwight Howard, all the better for Nash, who will be hailed as a savior for putting the Purple and Gold back on top if the Lakers lift the Larry O'Brien Trophy at season's end.
Or, perhaps Howard somehow winds up with Lin and the Rockets. That may or may not still be on the table, after Gery Woelfel of The Racine Journal-Times reported that Houston had "no chance of obtaining him." Adrian Wojnarowski of Yahoo! Sports also wrote that Howard's camp has warned the Rockets that he'll sign with the Dallas Mavericks next summer if he winds up in H-Town in the interim.
Superstar center or no, Lin will be there, hoping to spark a threadbare Rockets roster back into the playoffs and, in the process, rekindle the franchise's connection with the burgeoning markets of East Asia.
Chris Chambers/Getty Images
And while he won't have the monstrosity that is the New York sports media to prop him up in Houston, Lin's encounters with the Knicks this season will be as overhyped as any dates on the NBA calendar.
Especially considering the quality (or lack thereof) of the teams involved. There figures to be a fair share of fanfare surrounding the Knicks' visit to the Toyota Center on November 23.
The real fun, though, will have to wait until December 17, when Lin makes his triumphant return to Madison Square Garden. Will he be cheered by the Knicks faithful for saving their team and bringing unfettered excitement back to MSG for the first time in years last season? Or will he be jeered as a traitor for supposedly having his agent negotiate a deal with the Rockets that the Knicks were bound to find unpalatable?
Or, perhaps, will there be an outpouring of nostalgia for Linsanity, coupled with resentment for Raymond Felton and Jason Kidd, his de facto replacements in New York?
There won't likely be such a massive stir for Nash alone on any of the Lakers' stops this season. To be sure, he'll garner plenty of pub when the Lakers meet the Knicks in New York on December 13 and in LA on Christmas Day, with everyone and their mother rehashing stories of the Knicks' near-miss with Nash.
But the bigger games to watch (for Nash anyway) will come on January 30 and March 18, Steve's first and second trips back to Phoenix in enemy garb.
Not that anyone should expect mass tabloid hysteria for a trip to the desert, at least not anything to rival Linsanity's journey back to Manhattan.
Which star point guard will have the better 2012-13 season?
In any case, both Nash and Lin will be the subjects of much pontification in the season to come. Nash figures to be an accessory to more discussions overall, as but one member of the star-studded Lakers amidst their march through the Western Conference.
Lin, on the other hand, will be the focus of his very own circus, but he won't likely be seen or heard from as often, unless he can miraculously fashion Houston's hodgepodge of youngsters and spare parts into a competitive unit.
And when Nash and Lin meet—in LA on November 18 and April 17 and in Houston on December 4 and January 8—then...well, the blogosphere just might implode and the sports section in your local paper may cease to exist entirely.