Kevin Durant vs. LeBron James: Who Is the Early Favorite for 2012-13 NBA MVP?
Use your ← → (arrow) keys to browse more stories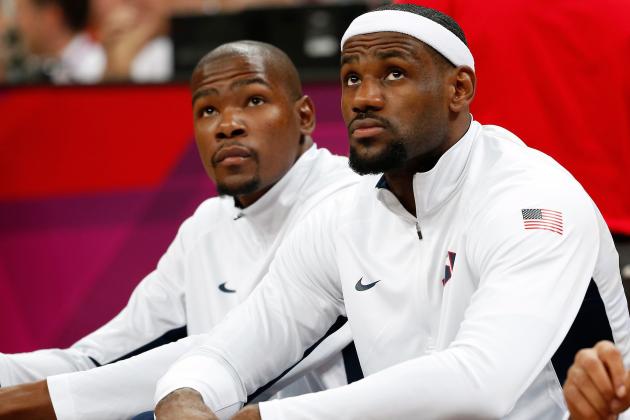 Jamie Squire/Getty Images

Miami's LeBron James already has three MVP awards, and if his 2012-13 campaign is anything like his performance from this past year, he'll need to clear space on his mantle for a fourth trophy.
Oklahoma City's Kevin Durant has yet to capture the NBA's highest individual honor, but some believe that he should have taken home the hardware last season.
With James and Durant clearly distinguishing themselves from the rest of the pack in the Association, which player is the odds-on favorite to win the MVP next year?
It's a legitimate debate, to be sure. After all, Durant has won three consecutive scoring titles, and the 23-year-old forward might be the toughest person to guard in the league.
In Game 1 of June's NBA Finals, Durant scored 17 of his 36 points in the fourth quarter and outplayed James in the Thunder's 105-94 victory. The performance made it clear that one day down the road, Durant will replace James as the standard-bearer for the NBA.
We're a long way from that day, however.
Whether you use the "best player on the best team" argument or the judging criteria of the "most talented player in the league," James wins on both fronts.
Who is the early favorite for 2012-13 MVP?
We have never seen anyone as versatile on offense as LeBron James. He has the court vision and passing ability of Magic Johnson, the athleticism of Michael Jordan and the strength and build of Karl Malone. It's as if James is a created player in NBA 2K12 with most of the attributes jacked up to 100.
Those who believe that Durant has the inside track on the 2012-13 MVP award are at least partially oblivious to the fact that James was nothing short of otherworldly last season. James—who won't turn 28 until December 30—averaged 27.1 points, 7.9 rebounds and 6.2 assists per game last year while shooting a remarkable 53.1 percent from the floor.
His Player Efficiency Rating of 30.8 in 2011-12 was markedly higher than Durant's PER of 26.26. Quite simply, James fills up the stat sheet like no one else in the NBA.
Defensively, while Durant isn't as bad of a defender as some make him out to be, James is still head and shoulders above his Oklahoma City counterpart. The Miami forward's defensive rating of 97 points per 100 possessions is staggeringly good, and the 6'8", 250-pound James is capable of guarding all five positions.
There's no reason to believe that James can't carry his level of play into next season. Not only is he in the midst of his prime, but the team around him improved with the additions of Ray Allen and Rashard Lewis. With two legitimate three-point threats forcing opponents to guard the perimeter that much tighter, it should be open season for James to attack the basket on a regular basis.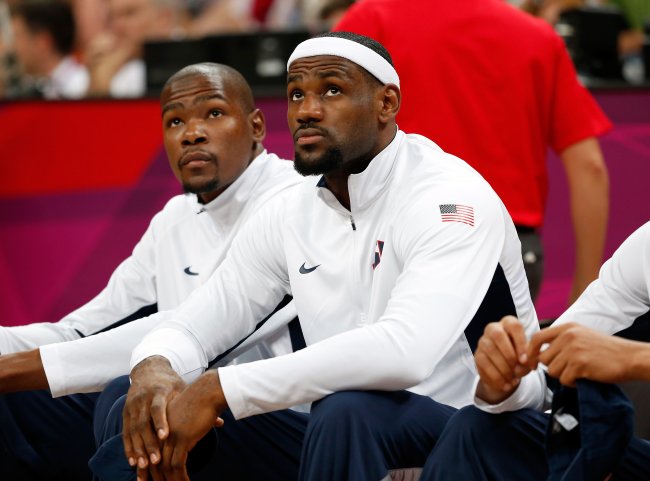 Jamie Squire/Getty Images
However, it would be naive to think that Durant won't become a better player by the time opening night rolls around. He's been impressive this summer for the U.S. Men's National Team, and the sting of the Finals loss will only serve to provide him with a never-ending source of motivation.
James, meanwhile, is playing with house money at this point. With the pressure of winning an NBA title finally off of his back, he can go out and play his game without the white-hot glare of the media focusing on his every move.
With the rest of the league gunning for the Miami Heat, a second consecutive title for the franchise isn't necessarily a given. Even still, a second straight MVP award for LeBron James is almost a certainty.