5 NBA Rookies with Most Pressure to Deliver from Day 1
Stu Forster/Getty Images
Kyrie Irving didn't have any problems living up to the expectations accompanying his selection as the first overall pick in the 2011 NBA draft.
The 20-year-old averaged 18.5 points, 5.4 assists and 3.7 rebounds en route to the Rookie of the Year honors that he unquestionably deserved. In the process, he made the Cleveland Cavaliers look awfully good for showing faith in him despite the fact that he played in just 11 games during his freshman (and only) year at Duke.
Second-overall pick Derrick Williams, however, didn't have the same luck.
He struggled to earn a consistent role with the Minnesota Timberwolves and wound up playing just 21.5 minutes a contest while struggling from the field.
Suffice it to say, there are no guarantees in this league, especially when it comes to young talent.
But that doesn't alleviate the pressure on young players to perform. Whether they're actually ready to do so, the teams with the most elite rookie talent are typically the ones who need it most. Sometimes those teams hit the jackpot, and sometimes they're left wanting.
If they can afford to wait, that is. Here are a few rookies who will be asked to step in right away and make their front offices proud.
Anthony Davis: F/C, New Orleans Hornets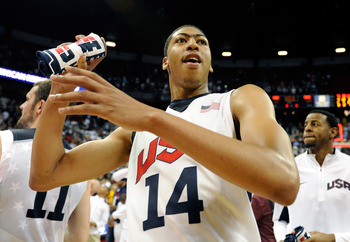 David Becker/Getty Images
Anthony Davis is currently enjoying a marginal role with Team USA at the 2012 London Summer Olympics, but the fun and games won't last long.
He'll be asked to make immediate contributions to the New Orleans Hornets, and fans will expect him to begin confirming the exceptional hype that surrounded his fated selection as the first-overall pick in June's draft.
Chances are Davis will be up to the challenge. While there remain a number of things he should work on when it comes to the offensive end of the floor, there was no more dominant defender in the college ranks.
At the very least, he should give the Hornets a unique advantage in the painted area thanks to his quickness and ability to block virtually any shot.
Yes, there will be pressure on the 19-year-old, but he'll be prepared to answer the bell.
Dion Waiters: SG, Cleveland Cavaliers
Jayne Kamin-Oncea-US PRESSWIRE
Let's hope the Cleveland Cavaliers' front office knew what they were doing. Dion Waiters was hardly the no-brainer that Kyrie Irving was, and this organization's fans are in no mood to wait around while former savior LeBron James collects championship rings.
There's indeed a chance that Waiters turns into a poor man's Dwyane Wade, but there's also a chance he falls far short.
We probably won't know which direction he's headed after one season, so this could be a rough year for Waiters and his believers. He certainly didn't have the most impressive Summer League performance, especially in comparison to standouts like Jeremy Lamb , who were drafted long after the Cavs took Waiters.
Don't be surprised if Cleveland is in store for another rough year of rebuilding, and don't be surprised if drafting Waiters draws some of the blame.
Damian Lillard: PG, Portland Trail Blazers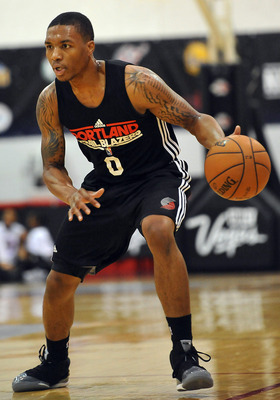 Jayne Kamin-Oncea-US PRESSWIRE
The Portland Trail Blazers will be depending heavily on Damian Lillard from the outset.
The organization made no effort to bring in additional help at the point and appears to be confident in the 22-year-old's ability to run the offense and serve as one of the team's go-to scorers. Lillard has done nothing but reward that confidence thus far, leading the Las Vegas Summer League in scoring and sharing MVP honors with the Memphis Grizzlies' Josh Selby.
Despite all the reasons to believe Lillard is up to the task, there will still be pressure.
With young stars like LaMarcus Aldridge and Nic Batum at his side, Lillard's team will have an outside shot at making the playoffs. It might be asking a bit much to expect that progress right away, but Blazers fans know this team is better than advertised and could begin making some noise in the postseason before most of us thought possible.
Harrison Barnes: SF, Golden State Warriors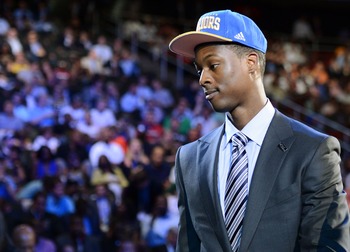 Jerry Lai-US PRESSWIRE
The Golden State Warriors jettisoned starting small forward Dorell Wright to the Philadelphia 76ers for a reason.
They have every expectation that seventh-overall pick Harrison Barnes will be ready to make an instant impact. And they probably should.
Barnes is as NBA-ready as just about anyone in his draft class. He's an intelligent player who can shoot from the wing, rebound and play solid defense. Whether or not he has All-Star Games in future, there's little doubt he should remain a consistent starter for a number of years in this league.
Golden State is hoping he proves as much right away.
Barnes will have plenty of help. The Warriors have a talented young backcourt in Stephen Curry and Klay Thompson, as well as a much-improved frontcourt now that Andrew Bogut has joined David Lee.
Despite their youth, this franchise is in no mood to rebuild. A productive season from Barnes would go a long way in ensuring the Warriors become serious playoff contenders in the near future.
Austin Rivers: PG/SG, New Orleans Hornets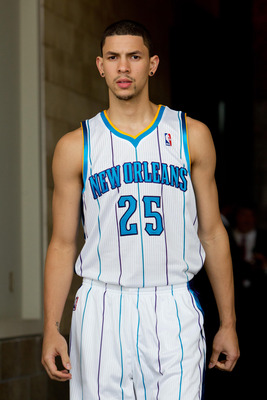 Derick E. Hingle-US PRESSWIRE
It's hard to find a more controversial draft pick than Austin Rivers.
On the one hand, opinion about his ability and NBA upside ranges from the belief he'll be a star to the more pessimistic view that he'll never amount to more than a J.J. Redick-like role player. In other words, there's a lot of uncertainty surrounding this guy.
It doesn't help that he'll be asked to shoulder some point-guard duties for a New Orleans Hornets team that already has rising star Eric Gordon. Playing the role of a deferential passer thus far hasn't been Rivers' strong-suit, so his transition to the pro level will be even more challenging than usual.
If all doesn't go according to plan, Hornets fans will be wondering why general manager Dell Demps didn't take a forward like Terrence Jones or another big man to play alongside Anthony Davis. Meyers Leonard and John Henson were both on the board at the time, and you can imagine how dangerous one of those combos would be in two or three years.
They may also wonder why New Orleans didn't simply trade the pick for some veteran help that could step in right away.
Of course, Rivers can put all of those doubts to rest soon enough. There will be plenty of pressure to do so.
Keep Reading