Jeremy Lin Must Be Careful to Avoid Letting Linsanity Get to His Head in Houston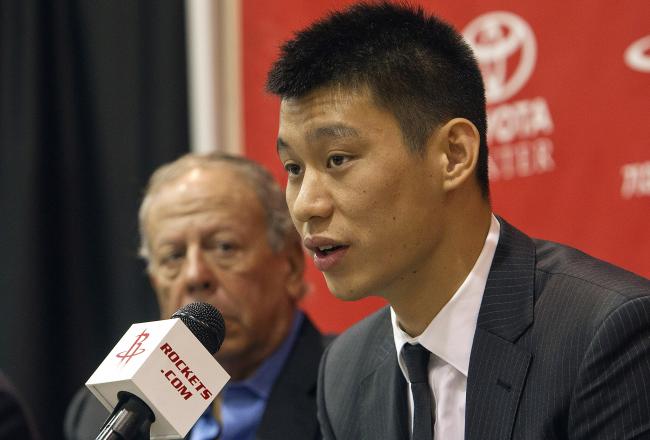 Bob Levey/Getty Images
Jeremy Lin acknowledged that he may have let Linsanity get the best of him during his short but impressive stint with the New York Knicks. Linsanity might have even led to the end of his career in the Big Apple.
But Lin won't let himself make the same mistake with the Houston Rockets. He'll go back to doing precisely what put him in the position to be a star with the Knicks: working hard and just playing basketball without any of the distractions.
In an interview with the Mercury News' Marcus Thompson II, Lin was asked if the Linsanity madness got to his head. He responded:
If I'm being honest, in some ways, yes. I fought it every day. But I think subconsciously it had its effect, everyone catering to you. People were saying only good things for so long that when people said negative stuff, it was like, "Whoa, what's going on?"
The fact that Lin admits he might have hurt himself by getting caught up in his own hype isn't something you see every day from NBA players, where massive egos are the norm. And the fact that he admitted his error is a signal that even in the last few weeks, Lin has undergone tremendous growth.
A lot of young players doubtlessly deal with the same issues Lin dealt with in the last few months. When a player emerges from the woodwork and starts playing like one of the best point guards in the league, the cult following that ensues is impossible to ignore.
And Lin is right: For months, no one (save for Stephen A. Smith) said anything negative about him. It was all positive. He was a good player, had a good head on his shoulders, always said and did the right thing and stayed out of the limelight, even in New York City.
He was every coach's dream player, but then he made the mistake of gambling with the intentions of the Knicks' front office. He signed a $25 million offer sheet with the Rockets and, by all indications, expected the Knicks to match it so he could stay in New York and make millions more than he made in 2011-12.
And then, when the Knicks declined to match, he experienced a reality check.
The Rockets are lucky. Lin isn't angry, bitter or self-righteous. He's intelligent, grounded and can see exactly where everything went wrong with the Knicks. He's willing to admit that things didn't quite go as planned, and that is the first step toward rectifying this mess.
Will Jeremy Lin succeed with the Rockets?
Lin could be furious. He could play with a chip on his shoulder and lament about how the Knicks don't know how much he's worth. That's the reaction you'd expect from 90 percent of NBA players.
Instead, he's taking the high road—just like he did when people doubted him early in his run with the Knicks, just like he did when that unfortunate ESPN editor gave the go-ahead for that unfortunate headline.
Even if Linsanity follows Lin to Houston, he won't let it affect him the same way. He's learned his lesson, and now, the Rockets get a better player for it.
They get someone who's going to be worth that $25 million investment, even if he doesn't sing his own praises at every opportunity. They get someone who's going to tune out all of the side commentary, good or bad.
They get someone who's focused on becoming a star, not basking in all the perks that come along with it.
This article is
What is the duplicate article?
Why is this article offensive?
Where is this article plagiarized from?
Why is this article poorly edited?

Houston Rockets: Like this team?