NBA Free Agency 2012: How the New CBA Justifies the Philadelphia 76ers' Moves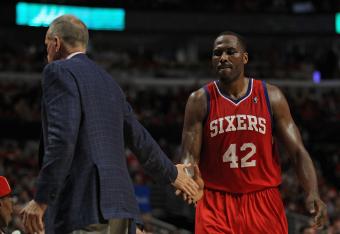 Jonathan Daniel/Getty Images
Maybe there's a method to the madness after all.
Despite making a series of seemingly random moves in free agency, the Philadelphia 76ers' long-term plan finally appears to be rising to the surface.
This summer has been a tough one to digest for Sixers fans. As soon as the team feels like it's taking a step forward, it takes two steps back.
Signing Lavoy Allen to a completely reasonable, two-year, $6 million deal? Not overpaying Lou Williams and replacing him with Nick "Swaggy P" Young on a one-year, $6 million contract?
Somehow stealing sharpshooter Dorell Wright from the Golden State Warriors for the rights to a European player who had never played a minute in the NBA?
All great things.
Then, they re-signed Spencer Hawes to a two-year, $13 million deal.
Kwame Brown, universally considered a bust, received a two-year, $6 million contract with a player option in the second year.
And Sixers coach Doug Collins went in front of the media this week to announce his plans for a Hawes-Brown starting frontcourt this season (Philly Burbs.com).
So, there's that.
As tragically awful as that Hawes-Brown pairing sounds, a greater plan for the Sixers appears to be in the works, albeit if not somewhat poorly executed.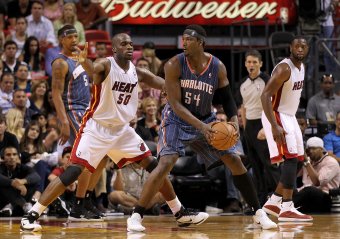 Mike Ehrmann/Getty Images
If the recent Jeremy Lin free-agent saga taught us anything (besides, of course, that the Knicks will be mediocre as long as James Dolan owns the team), it's that the new collective bargaining agreement's punitive luxury tax packs a legitimate punch for any owner.
Houston general manager Daryl Morey offered Lin a three-year, $25.1 million contract, with $14.9 million of that coming in the final year. The new CBA allows Houston to spread the cap hit evenly among all three seasons, but had the Knicks matched, the same would not apply to them.
Instead, all $14.9 million of Lin's final season would have counted against the Knicks' cap in 2014-15. For a team with $63 million already committed to only five players that season, the luxury tax penalty with Lin's deal was estimated to land somewhere in the $35-40 million range according to Business Insider.
Thus, to the chagrin of Knicks' fans nationwide, Dolan let Lin go.
This happened despite the fact that The Madison Square Garden Company, since Lin's first start in February, added roughly $600 million of value, according to Nate Silver of the New York Times.
If Dolan, who hasn't ever hesitated to hand out "ridiculous" contracts in years past, finally bit the financial restraint bullet on a marketing cash-cow, there's reason to believe this new CBA may have the effect that small-market owners desired.
After all, the Knicks rank as the second most valuable franchise in the NBA, trailing only the Los Angeles Lakers, according to Forbes. Assuming Dolan didn't spurn Lin out of spite (which, at this point, sounds entirely possible), a $40 million luxury tax bill simply may have been too much to stomach (NY Daily News).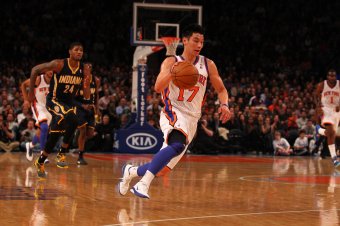 Al Bello/Getty Images
Maybe, in that case, Dallas Mavericks owner Mark Cuban was right about the new CBA.
In December, Cuban said via ESPN that "in the new system, cap room will have far more value than it had in the past," as justification for some of his then-recent moves.
"Once a team hits the tax level, the ability to improve our team is reduced dramatically," he said.
Tax-paying teams don't get a bi-annual exception to offer, and their mid-level exception ($3.09 million in 2012-13) falls nearly $2 million short of the non-taxpayers' mid-level exception ($5 million) this season.
Starting in 2013-14, tax-paying teams also can't participate in sign-and-trades.
In other words: If Dwight Howard wants to force his way to the Brooklyn Nets in a trade, his last chance comes at the trade deadline this February.
Given that lens, let's look back at the 76ers, who haven't signed a single free agent this summer to longer than a two-year deal.
Based on rough math, the Sixers should enter next offseason with a cap figure of roughly $51.3 million, assuming they pick up all team options and extend a qualifying offer to Jrue Holiday. The only player they currently have under contract through 2014-15 is Thaddeus Young.
We looked at it with the idea that it's nice to have guys on contracts where they're playing, man, they're playing for their futures, Collins said this week, according to Bob Cooney of the Philadelphia Daily News. We'll work and see who fits and how we'll move forward. Flexibility was key.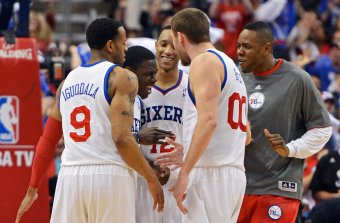 Drew Hallowell/Getty Images
I think the one thing l've tried to establish is that if we have a very competitive nature about our team, and that when we do things, competitors are going to find the floor, and I think our guys thrive on that.
For this season and next, that competitive nature will define the Sixers.
These next two seasons, the front office and coaching staff needs to continue stripping away emotion (which they've done well this summer) and focus on each roster situation objectively.
These next two seasons need to be about talent evaluation, plain and simple.
Should Jrue Holiday be a long-term building block for this team?
Should Evan Turner?
It's time for the Sixers to figure out the answers to those two questions, once and for all. No matter what Frankenstein-esque rotations Collins cooks up for this season, those two players must play integral roles for the team's long-term health.
If Turner and Holiday work out, the Sixers will have the cap room to rightfully reward them.
If the two don't work out, and the Sixers decide it's time for a total rebuild in the next two years, their flexibility has them well positioned.
Get those poison-pill offers ready.
This article is
What is the duplicate article?
Why is this article offensive?
Where is this article plagiarized from?
Why is this article poorly edited?

Philadelphia 76ers: Like this team?