London 2012: Kevin Durant Is Most Important to Team USA's Gold Medal Bid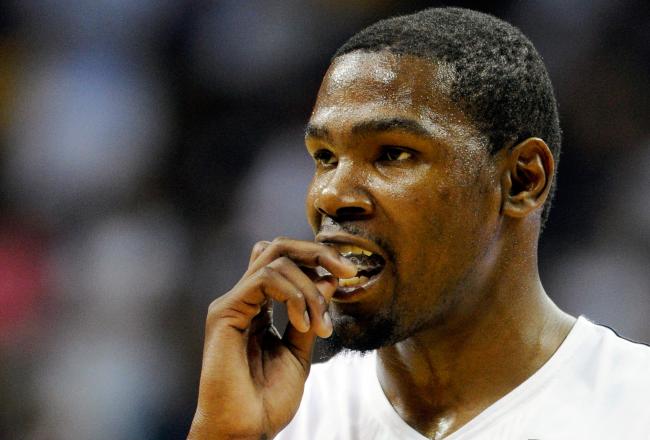 David Becker/Getty Images
This may come as a surprise to some, but Kevin Durant will be the linchpin player during Team USA's quest for a gold medal at the 2012 London Olympics.
LeBron James isn't the most important player. Carmelo Anthony won't be the X-factor at the end of the month. Neither will Chris Paul, Russell Westbrook, Kobe Bryant or any other of the mega-stars that make up Team USA's juggernaut roster.
As many have predicted, it won't be hard for Mike Krzyzewski and Team USA to pummel their competition and take first place in the Summer Olympics.
That statement is contingent upon one thing: Kevin Durant's play. If Durant isn't at his best, Team USA's gold medal bid will get a little harder.
The beloved face of the Oklahoma City Thunder led the charge for Team USA in its first training game against the John Calipari-coached Dominican Republic. The Dominicans didn't exactly provide stark competition, but the United States won by a lopsided score of 113-59.
Durant scored 24 points on 9-for-11 shooting. He went 5-for-6 from behind the arc and pulled down 10 rebounds to rack up the only double-double of the night.
His incredibly efficient 82-percent clip from the field was brilliant to watch. Collectively, Team USA wasn't at its best against the Dominican Republic, but "The Durantula" was.
It's almost comical to watch, unless you aren't a fan of USA basketball. Durant has the easiest time knocking down three-point shots in international play thanks to the smaller dimensions instituted by FIBA.
The difference between the NBA three-point line and the FIBA three-point line is only 1'7" (22'2" in international play, 23'9" in the NBA). While that may not seem like a lot, it seriously helps Durant and makes it look like taking candy from a baby.
Of course, we're only one contest into training games, and the real tests will begin once Team USA starts off their gold medal journey for real against France on Sunday, July 29.
Krzyzewski knows what he's going to get out of James, even if his offensive game isn't consistently up to par with his usual performance. James will provide stellar, lockdown defense when necessary, and he'll be able to spring plenty of fast breaks.
Durant is more important, because he's a better outside shooter. Against the lesser teams, it won't be such a big deal if Durant goes cold from the outside. But when Team USA encounters Spain, it will need Durant to be dead on.
Who is the most important player to Team USA's gold medal bid?
With Pau Gasol, Marc Gasol and Serge Ibaka clogging up the middle, James is going to have a tougher time driving to the hoop than he will against other teams.
No matter what, Durant is going to get open outside shots, because he has the talent around him to take some attention away from him.
Pundits are worried about Team USA's ability to dominate the paint, but they won't have to if Durant is knocking down shots at an 82-percent clip. If he stays hot through the whole competition, Team USA is going to saunter into London and win the gold medal.
This article is
What is the duplicate article?
Why is this article offensive?
Where is this article plagiarized from?
Why is this article poorly edited?