LeBron James vs. Kevin Durant: Which Superstar Is Better Franchise Star?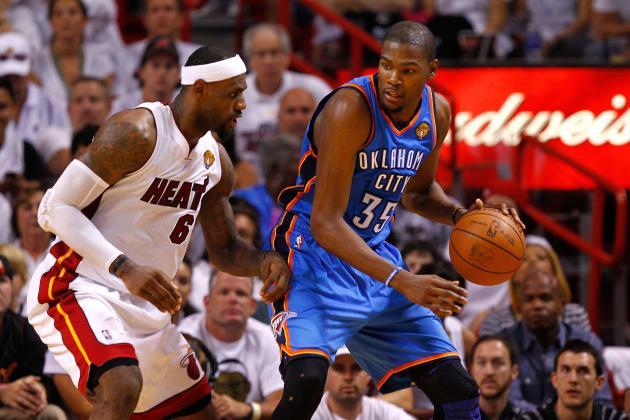 Mike Ehrmann/Getty Images

LeBron James and Kevin Durant will represent Team USA at the London Olympics very shortly, but I'd like to go back and discuss when they squared off against each other during the 2012 NBA Finals. It was a case of James, the league MVP, against scoring champion Durant.
James and his Miami Heat won the series in five games, but the debate pot shouldn't be taken off the fire yet. If you had to build a team from scratch and could choose one of these two studs to be the star of your team, who would you pick?
Would it be the versatile and powerful James, or would it be the sweet and smooth Durant? Despite how we may feel about either player, it's a tough choice.
That said, let's have a look at each aspect of their respective games and determine just who has the edge when it comes to being the better star.
Begin Slideshow

»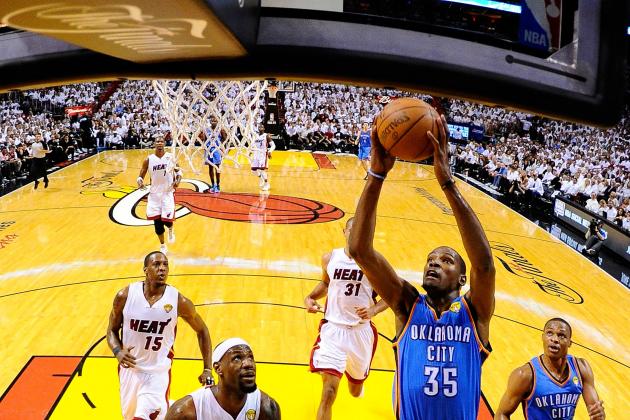 Pool/Getty Images

Trying to compare the scoring touches of Durant and James is like trying to compare Fuji and Gala apples. They're just too similar.
James has averaged 27.6 points per game for his career compared to Durant's 26.3 but keep in mind that James also has four years of NBA experience over the former Texas Longhorn. As a result, he has had more time to develop his shot.
However, Durant cannot be counted out as in just five NBA seasons, he has already won the scoring title three seasons in a row. Over that stretch, he has averaged 28.6 points per game. James, while great at putting points on the board, has only one scoring title under his belt.
Thus, regarding pure scoring, I think we know who the better man is.
Edge: Durant
Ronald Martinez/Getty Images

Based on size and athleticism alone, both James and Durant seem like they should be good rebounders.
Durant is 6'9", 235 pounds and drives the lane well, so in some cases, he could easily outclass the competition under the basket and pull down the ball after a bad shot. Yet, despite his skills, he has only averaged 6.6 per game for his career.
The 6'8", 250-pound James' career average in that department isn't much higher at 7.2 per game, but he has one distinct advantage. He plays as though he's much larger than he is, and when it comes to rebounding, that's never a bad thing.
Edge: James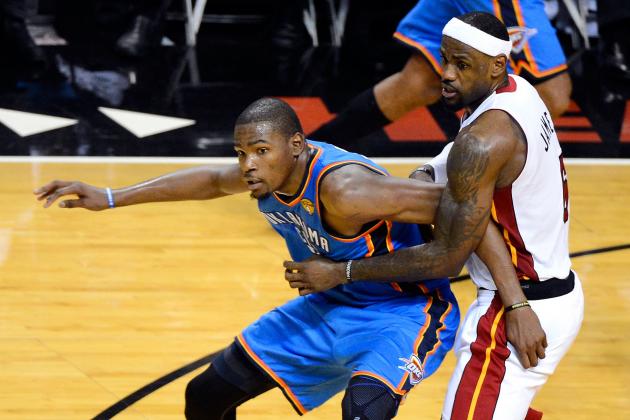 Ronald Martinez/Getty Images

Though Durant is one of my favorite players, I'm not blind to the fact that he's little more than a scorer at this point in his career. His defense isn't awful, but it's just average compared to that of James.
Simply put, James is one of the more underrated pests in the NBA, and his career 1.7 steals per game don't get nearly enough attention, though he has been named to the All-Defensive first team four years in a row. If he's in an opposing player's face, chances are that said player isn't going to make the shot or get to where he needs to be.
To be honest, I'm shocked he hasn't been named Defensive POY at least once at this point.
Edge: James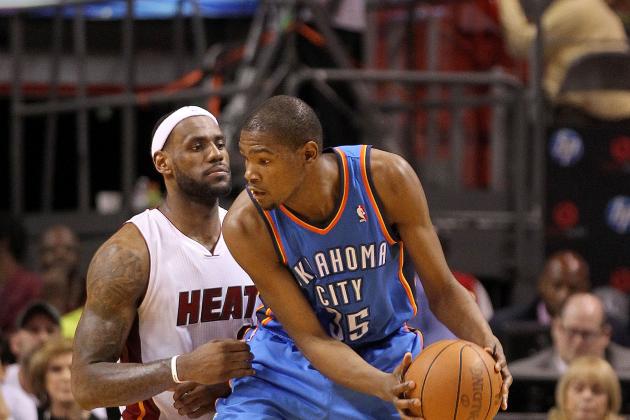 Mike Ehrmann/Getty Images

The argument as to who's the more consistent between Durant and James is one of the toughest calls to make. Both players are great at what they do, and it's hard to find any knocks against them.
I could go into how James pretty much didn't show up in the fourth quarter throughout the 2011 NBA Finals, but that isn't even relevant anymore.
Long story short, it's just too close to call.
Edge: Tie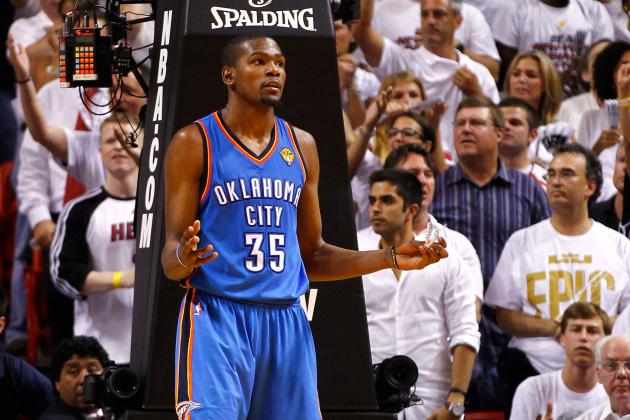 Mike Ehrmann/Getty Images

Were this article being written five years ago when he was with the Cleveland Cavaliers, James would be the hands-down winner. Yet, he's now on a star-studded Miami Heat squad, and given how he shares the ball with Dwyane Wade, it's hard to say if he's the team's true alpha dog.
That said, I have to give this one to Durant. He joined the Oklahoma City Thunder back when they were the Seattle SuperSonics and the complete laughingstock of the NBA. In just five short years, he has consistently been the main go-to guy as his team has gone from being a young lottery team to the reigning Western Conference champions.
Take him out of the equation, and the Thunder are nowhere near as good.
Edge: Durant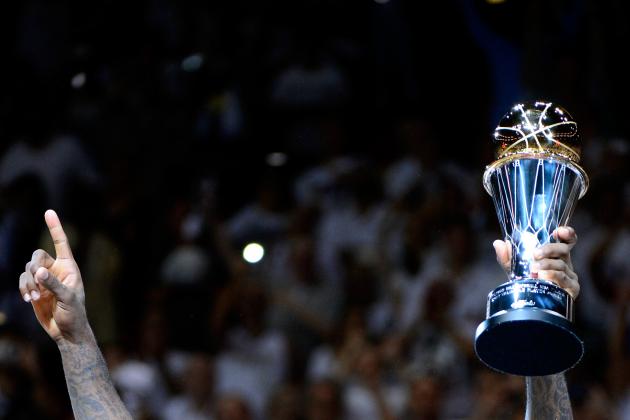 Ronald Martinez/Getty Images

Though I am a New York Knicks fan, and thus, required to despise the Miami Heat until the day I die, James' career speaks for itself. He's just so great in every way, shape and form and is so unpredictable as a result. One night, he may put a ton of points on the board, and another, he may just rack up the rebounds and assists.
I love Durant, but he's just a scorer at this point in his career and still has a lot of developing to do. James, on the other hand, has a championship ring, three MVP trophies and has been to the NBA Finals three times—all before the age of 30.
On top of that, if someone was to join Oscar Robertson and become just the second player to average a triple-double for the season, it'd be James.
With his versatility, I'd definitely pick him to be the go-to guy on a team.
Winner: LeBron James