USA Olympic Basketball: The 1992 vs. 2012 Debate Is Closer Than You Think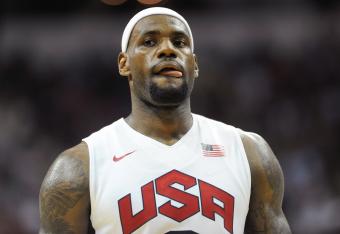 Could LeBron lead the 2012 Olympic Team to victory over the Dream Team?
David Becker/Getty Images
If you're not a fan of hypothetical debates, I urge you, don't read any further.
There will never be an answer to this question because it can never happen. I get that. Man is it fun to think about though? All we need is Doc Brown to perfect that Delorian already and maybe we could turn this dream into a reality. Until then, sadly all we can do is speculate.
With the recent documentary on NBATV about the 1992 Dream Team and the 2012 Olympic games in London being right around the corner, there has been an abundance of conversation lately about what would happen if these two versions of America's National team (which are pretty indisputably the two best basketball teams, American or otherwise, ever put together) squared off.
The knee-jerk reaction from anyone over the age of 30, or anyone who played for the '92 team is to scoff at the prospect of the 2012 team avoiding an embarrassing blow-out against the Dream Team because it is blasphemous to think anyone could beat them.
When asked the question during the broadcast of the first exhibition game for the '12 team on Thursday night, Scottie Pippen predicted that the elder statesmen "would beat this team by 25."
Via Twitter on Thursday afternoon, Magic Johnson chimed in with this response to the question that is approaching "age-old" status already: "The 1992 Dream Team had 11 HOFs, 23 champ rings & the greatest player of all time in Jordan. No chance this years team would take us."
When Kobe Bryant sparked the debate the Don Corleone of the Dream Team, Michael Jordan could only laugh when giving his response, saying via The Associated Press (h/t northjersey.com), "For him to compare those two teams is not one of the smarter things he ever could have done." That quote almost sounds like MJ is considering rounding up the squad to prove they could still take the young guys!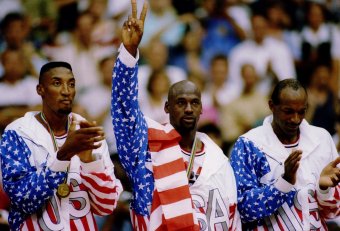 Mike Powell/Getty Images
Putting all of the condescending replies that we've heard so far, and are sure to hear from everyone right down to Christian Laettner in the coming days, I assure you it is closer than they think.
The '92 team has been called the greatest team ever assembled and to this point that can't be argued. When the 1992 games kicked off in Barcelona, Spain, the team had 56 All-NBA selections and 12 championship rings (the 23 that Magic mentioned is not really a fair statistic, being that the current guys still have plenty of years to add to their total). Clearly the depth of stars and difference-maker level NBA players was staggering on the Dream Team.
However, the '12 squad has a respectable 40 All-NBA honors and seven rings. Given these statistics a slight advantage can be given to the '92 team in the experience department, although their average age as of August 1, 1992 was over 31 years. The '12 team's average age at the start of the games will be a hair under 26.
Another advantage the '92 squad would have, this one being far more decisive than experience, is their inside scoring. The front court combination of Patrick Ewing, David Robinson, Karl Malone, and Charles Barkley averaged nearly 50 points per game during the 1992 games. Without the injured Dwight Howard, the '12 boys would have a very difficult time stopping that quartet in the paint and on the glass.
A huge factor in the game would be Tyson Chandler's ability to stay out of foul trouble while also doing an effective job of slowing down Ewing and Robinson. If Chandler failed to do so, it would be left up to the 19-year-old Anthony Davis, who is yet to play an NBA game, to stop the two Hall-of-Famers. Yikes.
The Dream Team was world renowned for its unselfish play with everyone on the team buying into the team ball concept. Despite their concerted effort to share the ball, they still were able to keep their turnovers relatively low. During the '92 Olympics, they averaged 32.4 assists and just under nine turnovers per game.
Combine those passing statistics with their perimeter defense which yielded 10 steals per game from its three best defenders on the outside (Jordan, Pippen, Clyde Drexler) and you have a Molotov cocktail for successful transition basketball, the trademark of the Dream Team.
Although it didn't seem like it, the Dream Team actually did have some weaknesses that could be exploited by their '12 counterparts. When either of their point guards (Magic or John Stockton) were on the floor, they were a liability defensively. Specifically against the '12 boys, they would be HUGE defensive liabilities. Take a look at the '12 roster and tell me who Stockton or Magic can guard. Go ahead. I'll wait.
Welcome back. Along the same lines of that point, the ages/miles on their bodies/rust of Larry Bird and Magic Johnson would render them useless in a game against a team as athletic as this years squad. People tend to forget that Magic didn't play in the 1991-92 season and Larry Bird spent that year sitting on the bench like this due to a bad back.
Here's where the debate gets interesting. Coach Krzyzewski's team is far more versatile than Coach Daly's team. We just witnessed LeBron James' championship run with the Miami Heat where we saw him play some form of every position throughout the playoffs. I would argue that the best lineup Coach K could throw on the floor is Chris Paul at the point, Kobe at the two guard, Kevin Durant as the small forward, Carmelo Anthony at the four, and LeBron James as the center.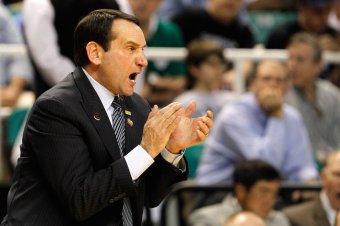 Streeter Lecka/Getty Images
How does the Dream Team counter that lineup? Its hard to say how long LeBron could get away with fronting Ewing/Robinson and trying to contain them on the low block if they could get a catch, but for the sake of the argument lets say he can. Who guards those guys on the other end?
There is no one in that group of five that David Robinson or Patrick Ewing could dream of guarding one on one. They would have to try to play a zone defense and hope Kobe, Durant, and Melo don't light them up from the three-point line. Or, they could make substitutions to match up.
Daly would have to counter that lineup with Stockton on CP3, Drexler on Kobe, Jordan on Durant, Charles Barkley on Melo, and Pippen on LeBron. In other words, the versatility of the best players of the 2012 team would allow them to dictate how the game would be played. This is a huge advantage.
If LeBron can handle guarding the centers, which he has proven is a stupid question to even ask because he can do everything, then it takes away the biggest advantage the Dream Team would have in its low post scoring.
Then the game would become a track meet. Something tells me that the level of ball that would be produced by those two lineups would be something we haven't seen since the second half of the big game in Space Jam.
Imagine Chris Paul sprinting up the floor in transition three on two with Durant and LeBron flanking him and MJ and Pippen waiting at the other end. I just got chills.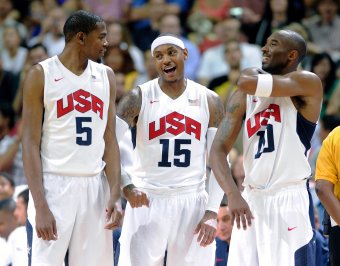 David Becker/Getty Images
In fairness, if the Dream Team threw out its best lineup in an attempt to dictate pace, the '12 team would have a tough time countering as well. A Magic, MJ, Pippen, Barkley, Ewing/Robinson lineup is as dominant as it gets. But I believe the '12 would match up better against this lineup than the '92 squad matches up against the best five Coach K could throw out there.
Chandler would guard the center, which would be a tall order whichever one happens to be on the floor. Melo would have to man up on Barkley which would be one of the cooler match ups we could get in this game--a flat out war between two strong, super-competitive dudes. Barkley would get the best of Melo over an extended period, but I think Melo could hang with him in short stretches. Kevin Love would likely get some minutes on the Chuckster as well.
Durant and LeBron would take on the task of guarding MJ and Pippen, maybe in shifts. These two match-ups would be the key to the game. My guess is that LeBron would take MJ for the majority of the time, which if it ever actually could happen would be the day that Twitter exploded.
There is no debate that Jordan is the best player to ever play the game and has the most polished offensive game we've ever seen from a perimeter player. But there's also no debate that he never had to try and score on a guy who matched him athletically and was also two inches taller and 40 pounds heavier. That guy never existed before King James came along. There's no doubt that LeBron's robotic like combo of size and speed would frustrate MJ.
Finally, someone like Kobe Bryant, James Harden, or Andre Iguodala would likely take on the task of stopping the slightly slower then his prime Magic Johnson. What any of the three would give up to Magic in height they would match in strength and athleticism.
The bottom line is that the '12 team would match up better against the '92 team's best lineup than the '92 team would match up against the '12 team's best lineup. This may seem insignificant, but when you can dictate how your opponent has to play, then you force them to beat you at your own game.
If you held a gun to my head, I would probably believe that the Dream Team would be able to squeak out a victory and beat the 2012 version at its own game. The 1992 squad would be decisively better in the half court offensively then Kobe's team, while the young guys would be better in transition by the smallest of margins, if at all.
Beyond the way the game looks on paper the riveting aspect of this fairy tale game would be the way that the two teams interact with each other. The competitiveness and trash talk would be so intense that the game would probably require a fourth referee. I don't think there's any doubt Melo and Barkley would come to blows at least once, and the same goes for Jordan and Kobe. Just thinking about it, I'm going to go ahead and confirm that if I'm ever granted three wishes, seeing this game played out would be one of them.
If Dwight Howard, Derrick Rose and Dwyane Wade were healthy, I think I'd give '12 my full endorsement. Unfortunately that hypothetical renders the hypothetical of the game even happening a moot point altogether.
There's two things all basketball fans can agree on in this debate: when time travel is perfected, this should be the first stop, and the 2012 USA Men's Basketball team luckily doesn't have to beat the Dream Team to take home the Gold.
This article is
What is the duplicate article?
Why is this article offensive?
Where is this article plagiarized from?
Why is this article poorly edited?