NBA Free Agency 2012: Top Suitors for Impact Players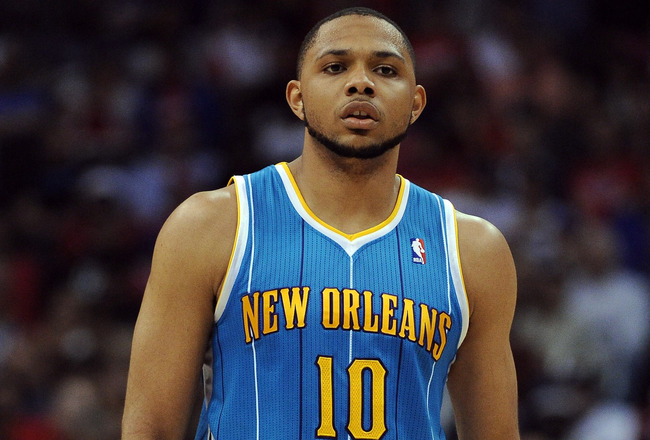 Harry How/Getty Images
The free agent frenzy of the NBA offseason has barely begun, and teams are already fighting tooth and nail to add the top free agent players to their squads over someone else's. Each impact player is rumored to be in talks with different teams, but many of the same teams are involved with multiple players.
Here, we'll let you know who the top suitors for every impact free agent are, and give a prediction on which team will come out on top. It's never easy to predict who will go where, and we've already had a few surprises along the way.
Click on to find the top suitors for each high-end free agent still on the market.
(Note: Players who are reported to have already agreed to deals with teams are not included, unless that deal was a qualifying offer that their team can still match.)
Eric Gordon, SG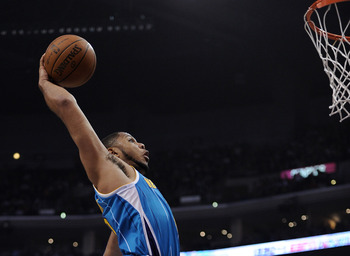 Harry How/Getty Images
Suitors: New Orleans Hornets, Phoenix Suns
Eric Gordon is one of the young prizes of this free agent class, but he's not as easy to get considering that he's a restricted free agent. His current team, the New Orleans Hornets, will have to pay him top-dollar if they wish to keep him away from the Phoenix Suns, who signed him to a $58 million offer sheet.
If the Hornets don't choose to match that offer, Gordon will be a Sun. If they do, he'll be a Hornet. He has no choice in the matter, and no other team will even have a chance at him now. I can't see New Orleans letting him go. He's too good.
Prediction: New Orleans
Brook Lopez, C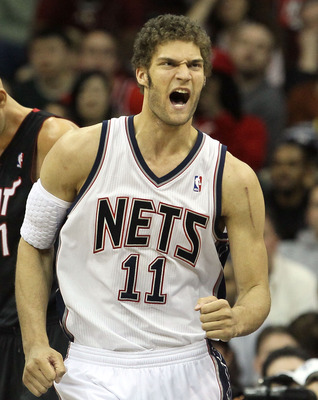 Jim McIsaac/Getty Images
Suitors: Brooklyn Nets, Orlando Magic
Brook Lopez has been mentioned in Dwight Howard trade rumors for over a year now, and it seems like that won't stop until the deal actually happens. Lopez, as a legit 7-feet-tall center, would be a commodity even if he was terrible. The fact that he actually has some skills makes him very valuable.
Whether or not he's worth Dwight Howard isn't something that anyone really seems to be talking about. However, Lopez will end up with one of these two teams. He'll either be traded to Orlando for Howard, or he'll remain with Deron Williams and Joe Johnson in Brooklyn.
My bet is that the Howard deal happens, and Lopez becomes the centerpiece of Orlando's rebuilding project.
Prediction: Orlando
Roy Hibbert, C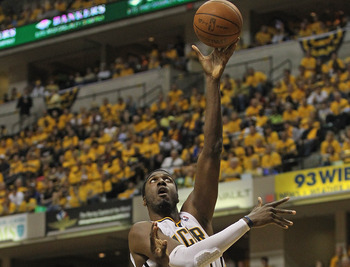 Jonathan Daniel/Getty Images
Suitors: Indiana Pacers, Portland Trail Blazers
Roy Hibbert—much like Brook Lopez—is a skilled 7-footer, so he has tremendous value in the NBA. Reportedly, the Trail Blazers signed him to a max contract. However, according to the same report, he is a restricted free agent and the Pacers will match the offer.
Hibbert was an All-Star in 2012 and may be the only center who can physically match Andrew Bynum and Dwight Howard for the next decade. He's worth the money, and Indiana will pay it.
Prediction: Indiana
Nicolas Batum, SF
Harry How/Getty Images
Suitors: Portland Trail Blazers, Minnesota Timberwolves
Another restricted free agent, Batum was signed by the Timberwolves to an offer sheet worth around $45-50 million for four years. That's a nice increase after making just $2.2 million last season.
Batum is a very good young player who has proven himself as a shooter and could be a future star. If Portland was going to get Hibbert, they probably wouldn't match. However, since Indiana will probably match, that will give Portland enough cap room to match Batum's offer with Minnesota.
Prediction: Portland
Tim Duncan, PF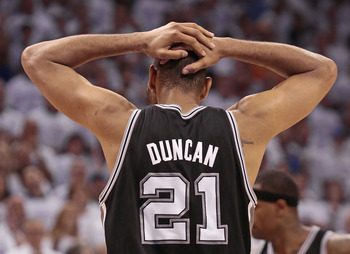 Brett Deering/Getty Images
Suitors: San Antonio
The truth is that no one is going to sign Tim Duncan other than San Antonio. While it isn't impossible, the odds of the Hall-of-Fame big man even speaking to other teams seem to be growing less likely.
Duncan will likely finish his career with the Spurs, and will probably even do so for less money. He's a classy player who has always valued winning and the environment more than money. That shouldn't change now.
Prediction: San Antonio
Keep Reading