London 2012: Why Blake Griffin's Presence on Team USA Basketball Is a Joke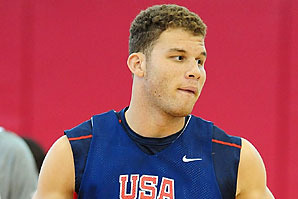 I've written a couple of articles speculating on who should be on the USA men's national basketball team for the 2012 Summer Olympic Games.
In breaking down the rest of the USA roster, you can see the team was looking for versatility.
LeBron James can play literally any position. Kevin Durant and Carmelo Anthony can probably be slotted anywhere from the 2 to the 4. Deron Williams and Chris Paul can both play point and off guard. The list goes on.
The Olympic or international brand of basketball has different rules than those found in the NBA, including a five-foul substitution limit, wider lanes and looser rules on physical play. There's also a shorter three-point line. Logically, these rules benefit teams that have players who can shoot decently, move the ball well and play through the physicality.
More specifically, you want big men who can do this.
The Spanish have Pau and Marc Gasol. The Argentines have Luis Scola. The Brazilians have Tiago Splitter, Nene, and Anderson Varejao.
So, if you're following me, you've realized that Blake Griffin can't shoot outside the paint (beyond 10 feet, he shoots 32.5 percent), doesn't move the ball well (3.2 assists per game with a 2.3 turnover rate), is unable to shoot free throws (55 percent) and has gone on record talking about how he doesn't like hard fouls (via Kelly Dwyer at Yahoo! Sports Canada).
Oh really, Blake? You don't like hard fouls in the NBA, where guys play a less physical style and where—at least if you get hit—the refs call a foul for you? How will you be able to hold up in games officiated by FIBA refs who don't care that you're the LA Clippers' golden boy?
Blake's game is pretty much catching lobs and dunking (only useful when Team USA is blowing up some awful team), running the floor and shooting that turnaround jumper or hook shot of his (harder to do with the wider lanes and the actual enforcement of the three-second rule)
I don't see how this guy is more useful than an Eric Gordon—a guy who can actually shoot—or a versatile swingman like Rudy Gay. Or somebody who plays defense like Anthony Davis, even if he has no NBA experience.
Blake Griffin does not deserve to be on this team. Since he is, he should only be played in mop-up duty as the eleventh or twelfth man off the bench.
This article is
What is the duplicate article?
Why is this article offensive?
Where is this article plagiarized from?
Why is this article poorly edited?