NBA Trade Rumors: Andrew Bynum for Dwight Howard Isn't the Better Move for Magic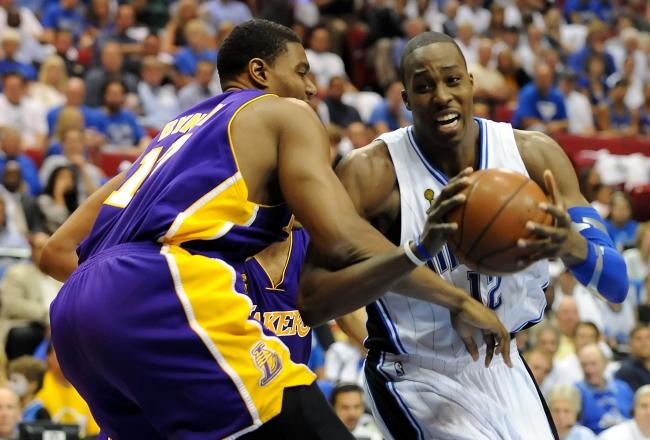 Ronald Martinez/Getty Images
The Dwight Howard trade saga appears as if it will never end. Every day the situation changes and it gets harder and harder to predict how it will end.
Right now, it appears that the Brooklyn Nets are doing whatever it takes to make Howard's wish of playing for them come true.
The Nets have reportedly offered Brook Lopez, MarShon Brooks, Kris Humphries and several draft picks to the Orlando Magic. The Magic may not be thrilled with this offer, and the Nets are working to get a third team involved to improve it.
It is also being reported that the Magic are targeting the Lakers' Andrew Bynum in return for Howard. The issue here is that Howard has said he will only re-sign with the Nets. That makes the Lakers and other teams hesitant to make a deal, in fear that Howard will only be a one-year rental.
So, if the Lakers say "we will trade you, Bynum," the Magic appear to be ready to immediately say deal. But is that actually the best move for them?
Bynum is considered the second-best center in the game. However, there are plenty of concerns that come along with trading for Bynum.
His knee injuries should be a cause for concern, and his ability to stay healthy this last season could be deceiving. Before last season, Bynum averaged 51 games a season over the last four years. You have to be worried when a big man like Bynum has problems with his legs.
What we also started to see more of this past season was an attitude issue. At times, Bynum didn't listen to and was disrespectful toward coach Mike Brown. He took plays off and at random times would chuck up three-pointers.
Would you be afraid to trade for Bynum if you were the Magic?
If you are going to rebuild your franchise around a player, you don't want them to have character issues. Especially after the Magic just dealt with everything they did with Howard.
Another issue with Bynum being the trade piece in the Howard trade is that his contract expires after this season. The Magic are going to have to try and convince Bynum to stick around as they rebuild.
Bynum has been a Laker for his entire career. The Lakers have always been a title contender and all he knows is winning. While Bynum probably wants to be "the guy" on his team, he also probably wants to win. If the team struggles in his first year with the Magic, it is going to be very difficult to convince him to stay.
There is the possibility that the Magic trade for Bynum and then he leaves after one season.
Whereas with the Nets package, Lopez will be sent in a sign-and-trade, which causes him to be under contract with the team for multiple years.
The Magic would also be getting a promising young shooting guard in Brooks. Lopez and Brooks would continue to develop and be key pieces as the Magic rebuild their team.
The Nets are also offering the Magic multiple draft picks. While those picks may be late picks in the draft, the Magic could find valuable players with them or even package those picks to get a lottery pick. Another thing to note is that the Lakers don't have any picks to offer the Magic.
The Nets' offer to the Magic is a safer and smarter package than Bynum. The Magic would be throwing away two young developing players and multiple first-round draft picks for a rather risky but talented player. If they trade for Bynum, they will be getting the second-best center in basketball, who has serious knee problems, an attitude problem and could potentially leave after his first year.
This article is
What is the duplicate article?
Why is this article offensive?
Where is this article plagiarized from?
Why is this article poorly edited?