NBA Rumors: Atlanta Hawks' Bold Moves Must Entice Dwight Howard, Chris Paul
July 3, 2012

Ronald Martinez/Getty Images
If Dwight Howard wants out of Orlando as much as the reports would have you believe, the team that should be the most enticing to him is the Atlanta Hawks. 
The Hawks pulled off a shocking trade on Monday night, moving Joe Johnson's albatross contract to the Brooklyn Nets for almost every expiring contract in the NBA right now, per David Aldridge of TNT.
Breaking: Nets "very close" to acquiring Joe Johnson from Hawks for Farmar, Petro, Morrow, Williams, Stevenson and protected pick (Houston).

— David Aldridge (@daldridgetnt) July 2, 2012
If that wasn't enough, they also dealt Marvin Williams to Utah for the expiring contract of Devin Harris. Put all these contracts together, and you have a lot of money coming off the books, according to Marc Stein of ESPN.
Just going online and on SportsCenter: Hawks have agreed in principle to deal Marvin Williams to Utah for Devin Harris to shed even more $

— Marc Stein (@ESPNSteinLine) July 2, 2012
How much money?
Well, as John Hollinger of ESPN.com writes, enough to potentially land Howard and Chris Paul next summer, when both superstars become free agents, as well as keep Josh Smith. 
Atlanta can sign Paul and Howard to max contracts next summer, re-sign Smith for roughly the same money he makes now (which would trump any other offer he'd likely get since the Hawks can give him a five-year deal), and likely juuuuuust squeeze in under the current cap.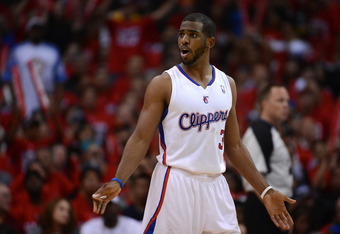 Harry How/Getty Images
According to Sam Amick of Sports Illustrated, the Magic are taking offers for Howard and a slew of teams have serious interest, including Atlanta.
The source said the Magic are open for business on trade calls now, and various reports indicate that talks are heating up with the Hawks, Lakers and Nets.
Howard might see Brooklyn as the best opportunity to market himself, or whatever he sees with that franchise that no one else does, but if he is looking for a situation that will give him the best chance to win a championship, it would be hard to look past what Atlanta could potentially do. 
In a league geared more toward building top-heavy rosters, the Hawks can theoretically do something akin to what the Miami Heat were able to do when LeBron James and Chris Bosh joined Dwyane Wade in South Beach. 
Paul is the new development in this whole thing, as no one seems to be talking about his free agency after next season. (Probably because he isn't out there making a public spectacle of his career, unlike Howard.)
If the Hawks are able to make the money work, there is no logical basketball reason for Howard and Paul not to look at it.
Howard, in particular, desperately needs an image rehabilitation right now. His constant whining about the situation in Orlando is making him one of the most despised athletes in sports today. Moving to Atlanta wouldn't necessarily fix all that, but if this "Big Three" comes together, it would give him a great chance to win a title. 
We all saw what winning a title did to repair James' image this season. Given how mentally fragile Howard seems to be, he needs to do whatever he can to repair his image as fast as possible.